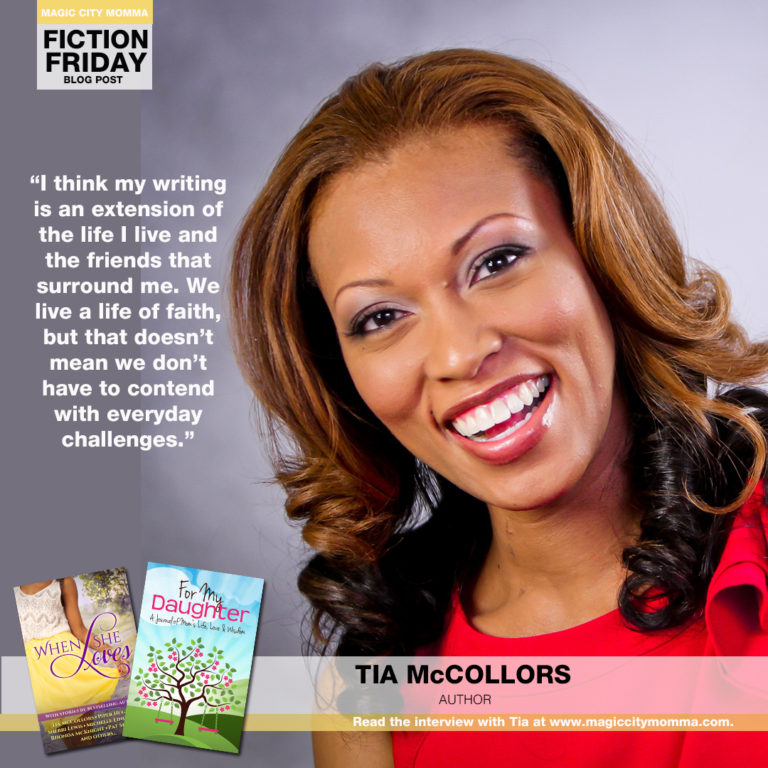 What do you get when you combine Tia McCollors' love of fiction and her author friends?When She Loves, an anthology by some of today's top fiction authors. Magic City Momma recently spoke with McCollors about When She Loves.
Tell me about the anthology, When She Loves.
When She Loves is a collection of fictional short stories by bestselling, rising and new authors. With this book, I wanted to show the different perspectives into why women love the way they do, or what causes that love to rise out of them. I'm sure readers will relate to the things that brings the love out of women—whether it's their relationship with men, their children, or their dreams.
Why did you decide to create this anthology?
My main purpose was to showcase some new literary voices. I think short stories are the perfect way to introduce new readers, but at the same time, give those aspiring authors a chance to build their confidence as they seek to enter the publishing/writing world. I remember when my first book, A Heart of Devotion, was released in 2005. Although I was over-the-top excited, I was also extremely nervous about how well the book would be received. After all, I was putting it all on the line for both praise and critique for something I'd poured my talent into.
And secondly, don't we always love reading books by our favorite bestselling authors?When She Loves is a way to get stories from six of us. It's like having snacks to hold you over (short stories) until their next big release (the novels).
You recently released a journal called For My Daughter. Why did you decide to publish this?
I published For My Daughter because my eight-year-old daughter is full of questions. And the older she gets, the more questions she has. I've always thought about a way that I can capture some of my life moments for her to cherish. What are the things I enjoyed in elementary school? What are my cherished moments with my siblings? What were my summers like growing up? What's my biggest regret? What are ten things that every woman should do? What to look for in a friend? What to look for in a husband? How do I make tough decisions? This is just a glimpse of the things you can share with your daughter by recording your life, love and wisdom in this journal. I'd hope that my daughter would come to me with her biggest dreams and her biggest fears. But even if she doesn't, she can seek my advice in the pages of this journal.
Why did you decide to write Christian fiction?
I think my writing is an extension of the life I live and the friends that surround me. We live a life of faith, but that doesn't mean we don't have to contend with everyday challenges. My characters face what any woman you pass by in a grocery store would—betrayal, marriage, divorce, challenges to their faith, building relationships with close friends, financial woes, seeking purpose, dating, raising children—you name it. But I place them in a situation where their faith will be challenged, yet grow as a result.
What advice do you have for people who want to write a book?
Start with the first word. So many people ask how you start, and sometimes it really can be as simple as taking the time to sit down to write something. At least that can get the creativity going. After a few days of establishing the discipline of writing—then begin to work on the mechanics and technique of the craft. Things such as building a plot, doing character sketches, learning about show versus tell, the technique of goal, motivation and conflict, how to write believable dialogue, etc. will all help in building a great book—not just a good book.
How do you juggle being an author, wife and mom?
One day at a time! There are some days—let me take that back, some weeks—that I don't get to do anything creatively as it pertains to writing. After many times of frustration and feeling that I'd never reach a pinnacle in my career (I'm still climbing there), I learned how to be content and confident on the journey God has me on.  I always wanted to have a family, so what's the use of me complaining when I can't write because I have to take care of responsibilities with my children or handle things as a wife for my husband and household? For me it meant adjusting my schedule and being very particular with how I spent my time so that I could fit in writing times—before they wake, after they go to bed, in the car riders line at school, etc.
What advice do you have for moms interested in pursuing their dreams?
Don't give up. We're all given the same amount of time in a day, so it specifically matters what we do with that time. Do something. Do anything. Something small is better than nothing at all.
What's next for Tia McCollors?
Well because I did a For My Daughter journal, I definitely have to do a For My Son. I don't want my two boys left hanging. Other than that, I'll be getting back to another novella that I've been working on. It's the sequel to the one I released last year, Give Me A Reason. However this time instead of focusing on Vaughn Holiday and her now fiancé, Trace, it's going to be about the love life of her favorite cousin and best friend, Kiysha. It's a cute story.
To learn more about Tia McCollors, visit her website or connect with her on Facebook,Twitter or Instagram. Use our affiliate links to purchase a copy of A Heart of Devotion,Give Me A Reason or For My Daughter.