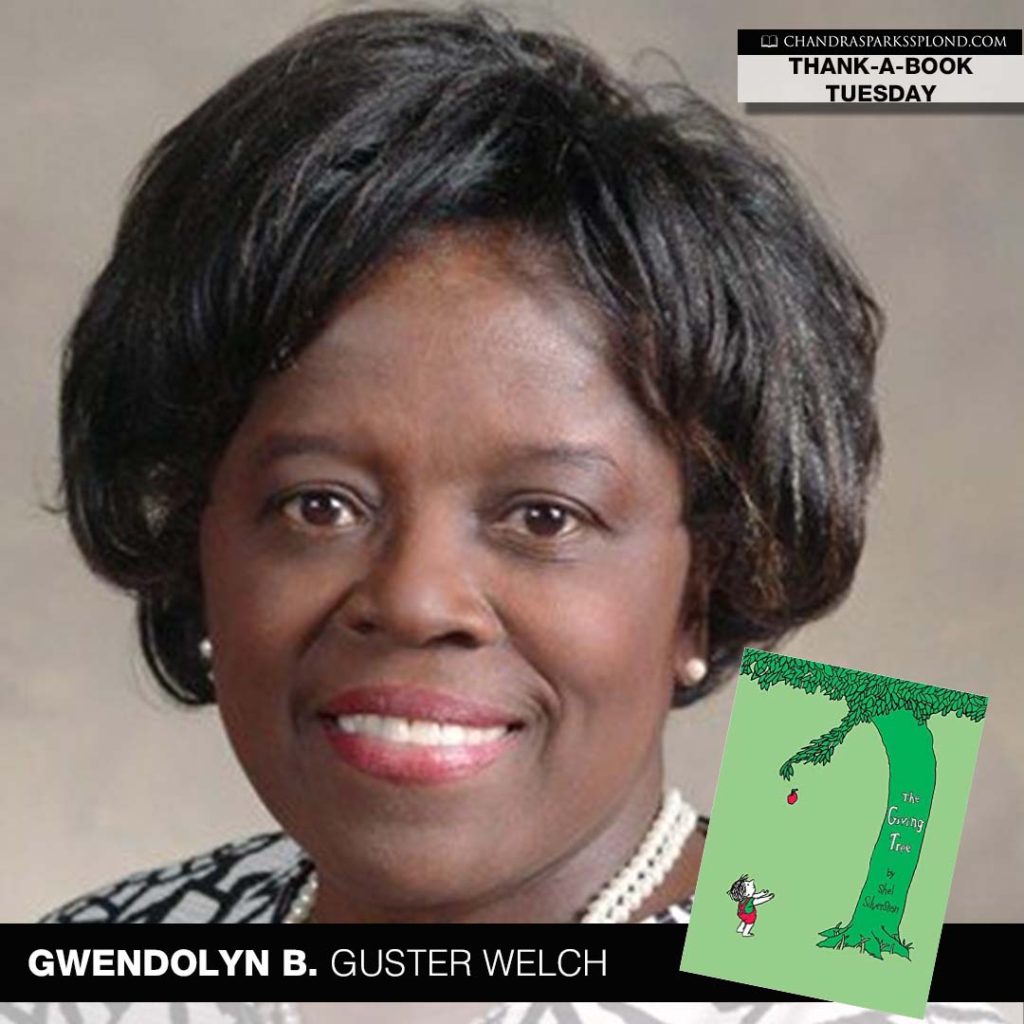 It's Thank-a-Book Tuesday where I interview people about the book that changed their life. Today, meet Gwendolyn B. Guster Welch.
Name: Gwendolyn B. Guster Welch
Occupation: Retired
What is the book that changed your life? The Giving Tree by Shel Silverstein
Tell me about the book.
There are two main characters in this book: a little boy and a tree. The tree takes on a mother role, giving the boy whatever he desires. The boy eats her apples, swings from her branches, and slides down her tree trunk. He's happy. She's happy.
As the boy grows older, he begins to want more from the tree. Not wanting to disappoint, the tree gives her all, no matter what. When the boy grows into a man, he realizes how dedicated the tree was to his every desire. He also sees that time has not changed the tree's commitment to serving him. No matter how the boy may have treated the tree, the tree always offered him a place of comfort and love.
 Why did it impact you?
This book has a timeless and ageless message about love, giving, greed, selfishness and receiving. It will make you see things in a new way. Many of us feel that we are "entitled" to receive certain blessings without showing appreciation and/or gratitude to those who've made such blessings possible. But we need to take time to give thanks for all things, no matter how big or small, to those who've made them possible.
Is there anything you would like to add?
I read this book to my son, Eric L. Welch Guster, when he was a child. He enjoyed its message. The same was true for the K–5 students when I read it to them at Glen Iris and Curry elementary schools, where I once worked as a school media specialist/librarian for Birmingham City Schools.
For those looking to reinforce a giving spirit in a child, I suggest they consider giving this book as a baby shower gift or a "just because'' gift. It really will leave a mark.
As people read this book, I challenge them to think about the following:
Did the boy really need the items he requested or was he trying to "Keep up with the Joneses?"
Did the boy understand the true meaning of love?
The tree reminds me of how Christ gives love without limits. Christ's love is continuous and unconditional. The tree never asks for anything in return for all the love she shows. When the boy grows old and bent, he returns to what is now a tree stump. The tree stump welcomes him. The boy (old man) realizes that though the tree has changed in appearance, the tree's giving spirit has not. And even though the tree is now a stump, it still offers a service: a place for him to rest and sit.
Use my affiliate link to purchase your copy of The Giving Tree.
Interested in being featured for Thank-a-Book Tuesday? Email me. The only requirement is that you share a book that has changed your life.