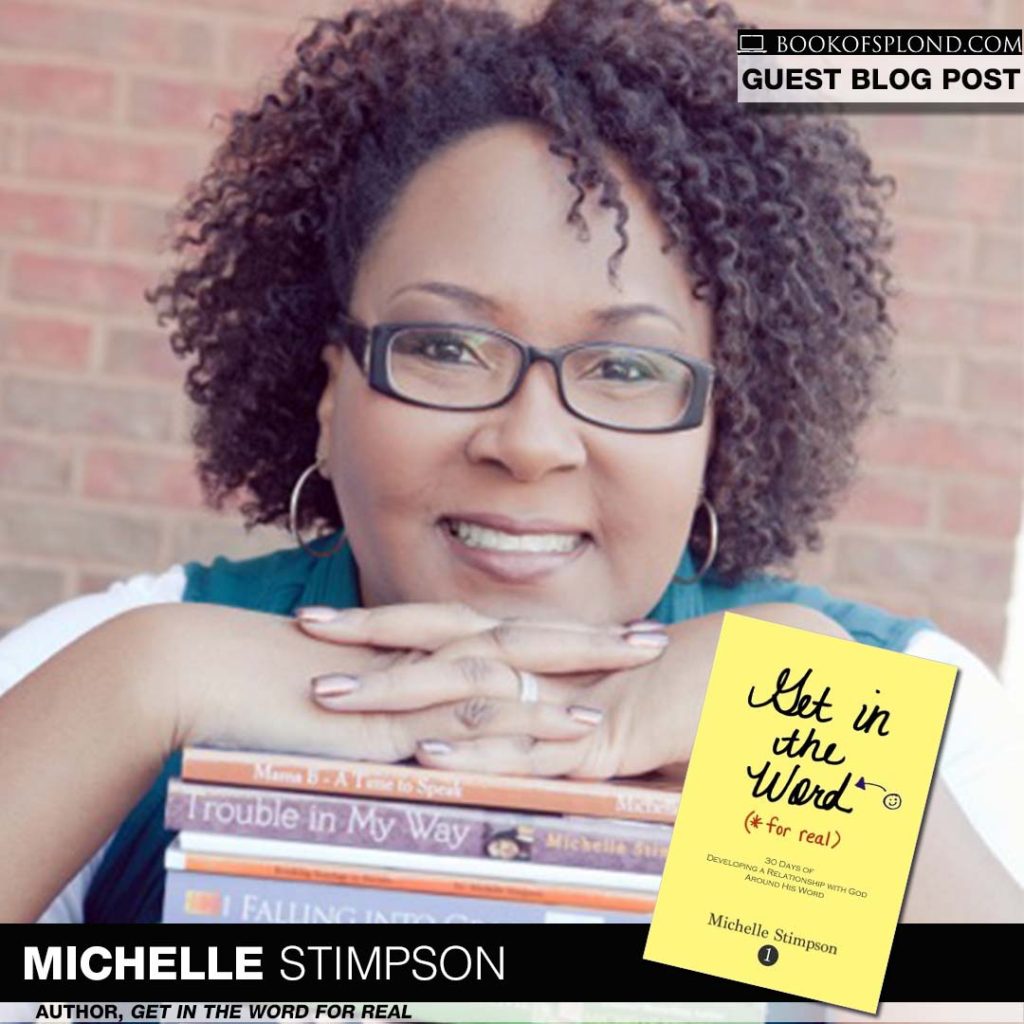 Working on my relationship with God is always at the top of my priority list. I know I need to pray and spend time in the word, but sometimes it can be difficult to figure out how to make it happen. That's why I was so excited when I found out about Michelle Stimpson's new book, Get in the Word For Real: Developing a Relationship with God Around His Word (Volume 1). Stimpson graciously agreed to do a guest post to give us the story behind the book, and she's including a free download.
Take it away, Michelle.
It happened on a regular Wednesday. I was sitting in my office discipling a sister in Christ who said she wanted to know God on a personal level, but she didn't know how to experience Him. She was upset about many things in her life—and she had good reason to be. I got the feeling that if she didn't start getting to know God for real in like the next two or three days, she would snap on a whole buncha folks.
So I told her about journaling and how talking to God about everything is my daily bread-and-butter. (I honestly don't know how I would make it through life without spending dedicated time in His presence daily.)
So this dear sister then asks, "But how do you do that? I like to write and I like the Bible. What do you tell God? What does He say to you? What if what you want to say to God isn't right? Like, what if you want to say a cuss word?"
And then it happened. I grabbed one of my journals from off the closest table and gave it to her. "Here. Take it. Just read whatever you want to read. You'll see it all—the good, the bad, and the ugly. And you'll see how He gets me through it."
She looked down at my journal—my diary!—in her hands. With an awestruck expression, she said, "This is insane!"
I replied, "I know." My heart was pounding. What's in that journal? What year is it from? What in the world have I done?
She left my house with that journal in hand. Over the next few weeks, she read it.
When we talked again, she told me that sharing my journal was one of the most transparent things anyone has ever done to show her not just me, but the Christ who shows up every day to live in me. (After all, the point of transparency isn't just so people will know us and our faults better—it's so they will know Him and the victory, right?) She realizes now that everyone has struggles in life, everyone has disappointments with their husband, their kids, their jobs, their weight, that dog in the house next door who keeps barking in the middle of the night. This is life! But we have a hope in Christ! And God is our very real and present comfort throughout this life on earth. His Word speaks to everything we will encounter, and getting to know Him is as easy and as near as sitting down with a Bible and an open heart.
That's when this series, Get in the Word For Real was born. I pray that people will not in any way think of what I've shared in this book as the "right" way to be. I'm just one person sharing what I have has been revealed to me in the Scriptures. What I hope more than anything is that this book shares the "right" way to be honest before God and talk to Him (via writing) about His Word, His heart, and the life of Christ in us. David wasn't perfect, but he was real before God, which is why so many of us love the Psalms. I pray that this book will open our eyes to His will for us, even when it seems contrary to our circumstances or even our own desires.
Let His ways and His salvation be known (Psalm 67:2) to everyone who seeks Him diligently (Hebrews 11:6). He IS the reward!
About Michelle Stimpson
Bestselling author Michelle Stimpson has penned more than thirty Christian fiction books including traditional bestseller Divas of Damascus Road, Amazon #1 bestseller, Stepping Down, the award-winning Mama B series, and Falling Into Grace, which has been optioned for a made-for-TV movie. She has also published more than fifty short stories through her educational publishing company, WeGottaRead.com. Michelle holds an English degree from Jarvis Christian College and a master's degree in education from the University of Texas at Arlington.
She is a part-time language arts consultant and serves in women's ministry through teaching and publishing. She and her husband have two young adult children and one bizarre dog. Visit her online at www.MichelleStimpson.com.
Download your freebie from Get in the Word For Real, and sign up for Michelle Stimpson's mailing list.
Use my affiliate link to purchase Get in the Word For Real.