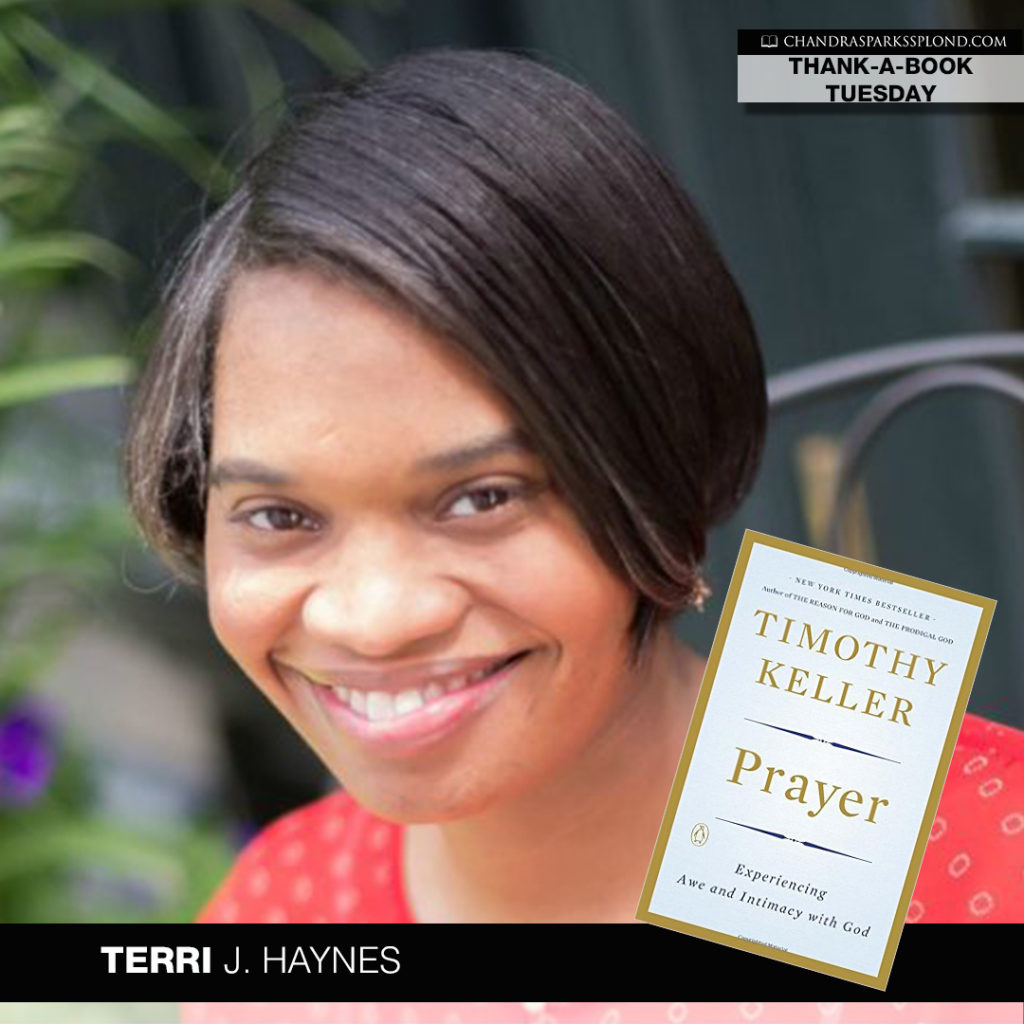 Terri J. Haynes knows the importance of reading and the power of prayer. I recently spoke to Haynes about the book that changed her life for this week's installment of Thank-a-Book Tuesday.
Occupation: associate pastor and worship leader for Living Faith Community Church, community business development manager for Barnes & Noble, author, book reviewer, graphic designer, knitter, wife and mom
What is the book that changed your life? Prayer by Timothy Keller
Tell me about the book: Christians are taught in their churches and schools that prayer is the most powerful way to experience God. But few receive instruction or guidance in how to make prayer genuinely meaningful. In Prayer, renowned pastor Timothy Keller delves into the many facets of this everyday act.
With his trademark insights and energy, Keller offers biblical guidance as well as specific prayers for certain situations, such as dealing with grief, loss, love, and forgiveness. He discusses ways to make prayers more personal and powerful, and how to establish a practice of prayer that works for each reader.
Why did it impact you? I have been an intercessor since my early twenties. The divine communication between God and His children resonates deeply with me. I love praying. I have read many books on prayer, but this one stands apart from the others because it contains solid, rightly divided theology. I've only seen that level theological analysis of prayer in the theology textbooks I've read. Meaning, this book moves beyond the popular trends like how to pray in certain situations or season. It instead gives a strong biblical foundation for prayer as a vital part of our relationship with God. It contained so many powerful revelations that I felt like I had never prayed before. It brought freshness to my perspective, prayer life and relationship with God.
Is there anything you would like to add? If you want to continue to explore the topic of prayer, I recommend Prayer by Richard J. Foster (another great prayer theology book) and Praying the Lord's Prayer for Spiritual Breakthrough by Elmer Towns (known for the popular book, The Daniel Fast for Spiritual Breakthrough).
Use my affiliate link to purchase your copy of Prayer by Timothy Keller.
Connect with Terri J. Haynes:
terri@terrijhaynes.com
www.terrijhaynes.com
Facebook: Author Terri J. Haynes
Twitter: @TerriJHaynes