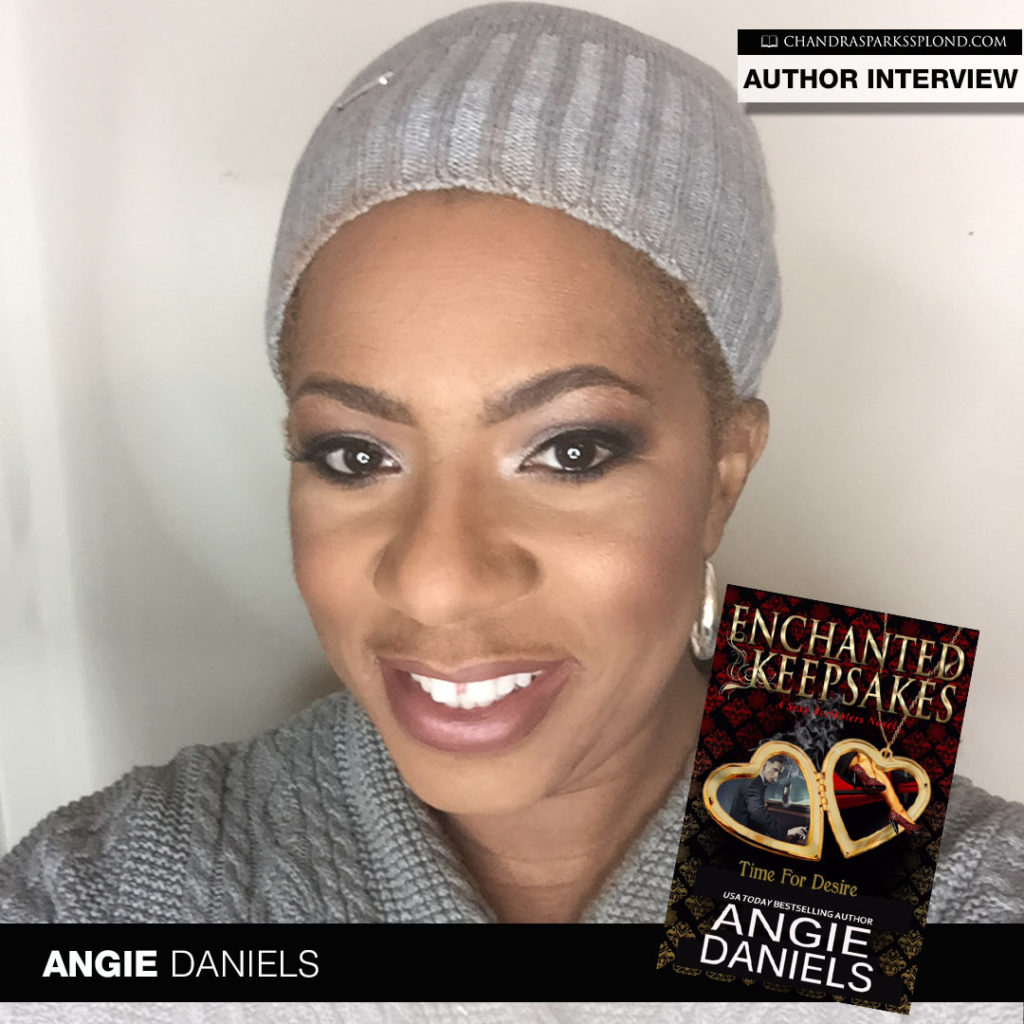 USA Today bestselling author Angie Daniels is back with another treasure. I recently spoke with her about her latest book, Time for Desire. 
Tell me about Time for Desire.
Songbird Rebekah Anne Carson discovers half of an old heart locket that to her confusion has a younger photograph of her grandmother inside that transports her back to 1979. Assuming her grandmother's identity, Rebekah finds herself finally living the dream, singing at a jazz club where she catches the eye of piano player, Lenox Lovato. As she falls in love, she's unsure what she would do if she found her way back home. However, when she meets her grandfather, Rebekah realizes changing the past comes with a personal cost that might ultimately manipulate the fate of her existence.
Why did you decide to write it?
The book is part of the Enchanted Keepsake series that I have written along with a group of amazing ladies. We call ourselves the Sexy Scribblers. The books are standalones but have the same legend in each story. I decided to do a time travel because I have always been fascinated about the past. My mother used to live in an historical district and there was an antique shop that I loved to go in and browse. I used to see all of these old Time magazines, and an idea came to mind to write a time travel series. I figured I'd write one and then see how readers respond to me writing something different.
What do you want readers to learn from the story?
The story is my first time travel. I would like readers who have never read one to have a chance to enjoy the flash from the past and the pleasures of a simpler life in 1979. We take so many things for granted because we forgot that they weren't always there.
What do you want people to learn from your life?
A lot of the story I took from my own mother and her relationship with my grandmother. I was in grade school, so it was fun being able to go back and experience life in 1979. I'd really like to do a series of books during that era.
Who is your favorite established author and why?
I don't get to read for pleasure like I used to but lately when I do it's either K'wan for urban fiction or I'm all about James Patterson. I love to escape with a good book when time allows.
Who is your favorite new author and why?
Recently, I have jumped on the audiobook bandwagon and discovered two books by E.N. Joy. I really like the way she writes.
What has been the biggest surprise about your publishing career?
After being a multi-published author, I never imagined enjoying being an indie author so much more. I was recently offered a contract by a traditional publishing house that I turned down. I love being in control and feeling empowered.
What's next for Angie Daniels?
I will be releasing my first women's fiction in years. Misery & Company will drop June 1. It's book four of my Company series.
To learn more about Angie Daniels, visit her website or connect with her on Facebook or Twitter.