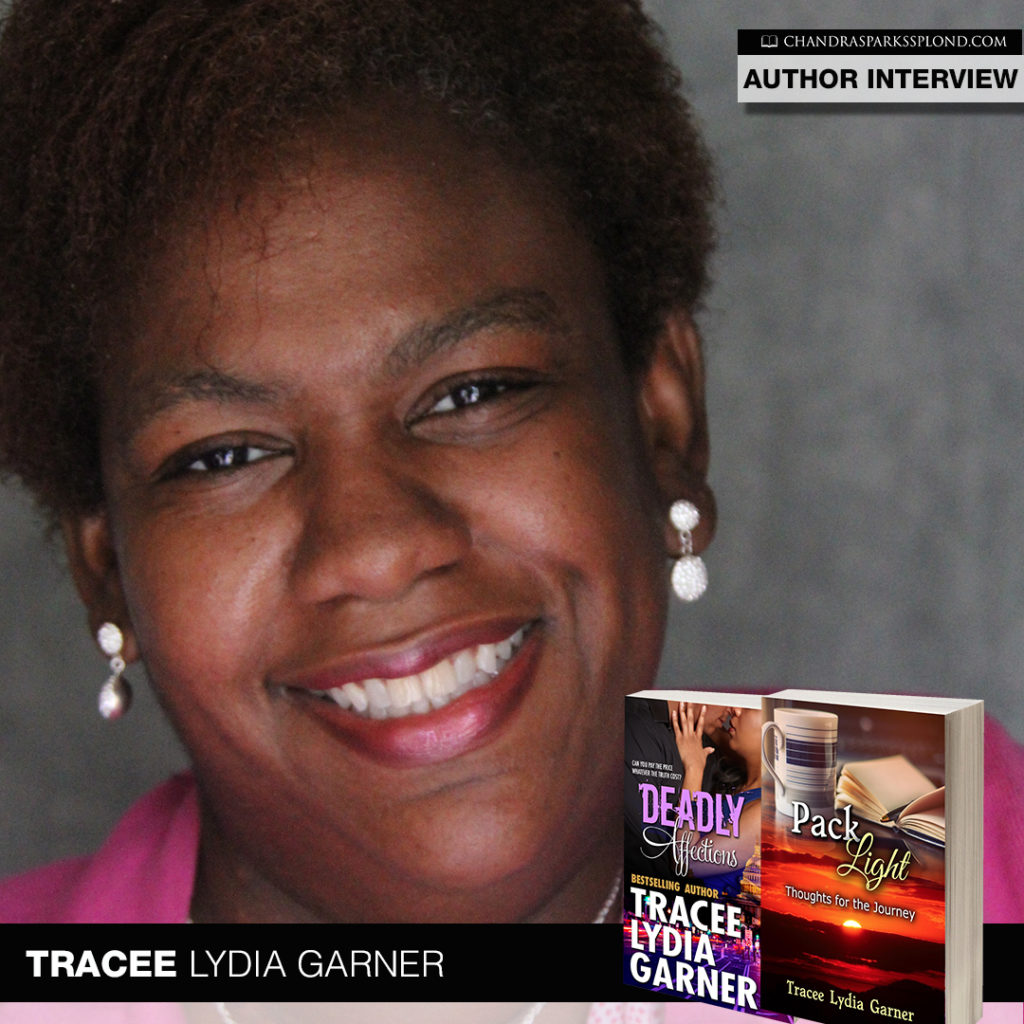 Author Tracee Lydia Garner is offering readers a taste of love and life with two new releases.
 Tell me about your books, Deadly Affections and Pack Light.
Pack Light: Thoughts for the Journey is my sixth published book and my first nonfiction foray into the genre. As I grow in my writing I honestly never thought I'd write nonfiction and here I am. Pack Light is very short, so I think it's a really nice primer into the world of nonfiction.
Why did you decide to write them?
I wrote Pack Light because I had been through a couple of things in my personal and professional life that I just felt the need to 1. Get out 2. Share with others. The reason to get out is because it's so cathartic but the reason to share with others is I hope it might help people to look at something that happened and prevent them from conducting themselves in a way they will later regret.  I'm not huge on self-help books—I do love many of them but I feel I would be able to read them all if they were just shorter and offered me a way to write out some ideas and reflect on what occurred. I'm sure there are some short self-help books out there, but then they miss the reflection part. These seven experiences I share are not at all different from other humans, but what is unique about writing is the voice and the delivery. Many of us are saying the same thing, even in fiction, same story, different voice and different manner in which to convey the ideas and lessons gained from each version.
I believe people will take action where needed and choose to be still in other areas, and I don't know that I've read many instructional types books that give short, bite size lessons.
I wrote Deadly Affections as it is the second story in a trilogy about five adopted brothers. I'm only exploring three of those five. The trilogy began with Cole and Allontis's story in (2015)  Anchored Hearts. Deadly Affections visits Dexter Parker, a single father and a doctor. Years prior in his initial foster care family, he was a part of a family that was everything except good, respectable people. Dexter was also in love with another young person there in the foster home, Leedra Henderson. Leedra is all grown up, returns to Virginia and rekindles her romance with Dexter. Leedra is searching for her missing sister and that as her singular goal. Some of the themes throughout the story include forgiveness and a theme I didn't realize was there that became clearer toward the end, is how we as human beings often lump people together thinking they are one way and they turn out not to be that way. Dexter often thought his father was one way, and such thinking caused him to miss out on the time he could have spent getting to know his biological father and permitting his father to know him and his family. By the time we realize the truth, it's often too late. It's easier to reach for negativity and falsehoods, than it is to ask and seek the truth. That is a painful lesson to learn and even harder when you're running out of time. Dexter and Leedra learn lessons about love and letting go.
What do you want people to learn from your life?
From my life, I want people to learn about a can-do spirit and attitude. I work in social service. I see people that don't want to do anything—not all of them, mind you, but many I know that want things to be this way or the other. I work to try to do my best and go as much as I can and push myself. I know that's the grace of God. I wish I could be more impactful in getting people to realize their potential, and I have to work equally as hard for those in a professional setting to remove attitudinal barriers that exclude and prohibit full participation of the disability community. It's almost no wonder that no one wants to try to make it and to be more optimistic because they have already been witness to a society that excludes and thinks less than their ability. I want to be demonstrative of how God can use you and do my best to be a good daughter—human being. People aren't always inspired, and I'm not sure how to reach them, but I want to be known for trying as hard as I can in every single instance presented to me.
What do you want readers to learn from Deadly Affections and Pack Light?
I hope they take away the lessons I've described above, loving again, forgiveness, seeking the truth but being okay regardless of what that truth is. I hope they think more critically and truly learn from the little life issues that get us all riled up, set us back or cause us to miss the lessons offered.
Who is your favorite established author and why?
Early on, some of my favorite authors were Sandra Kitt, Brenda Jackson and Donna Hill and Debbie Macomber. All of them were my favorite early introductions into the genre and later their career and work ethic. As I transitioned to the inspirational romance side, Irene Hannon and Julie Lessman have become some of my favorites. In some reading I feel very convicted and that is a hard feeling to have (and to write). The true Christian fiction tales I read today prick my heart in a way that's different from mainstream/commercial romance. I've teetered as I age between truly adopting the clean romance genre with undertones of what many definitions say the genre is and is not. I still read most kinds of romances, and I read a little of everything because I feel from a "what's in the market perspective," that's important. But authors that really have a message about something deeper (God) and can paint wonderful pictures in their prose of deep relationships that still touch your heart but do so with restraint and really hone in on the messages and can stay true to that, is awesome and inspiring, and as a writer, I also see how difficult it is.
Who is your favorite new author and why?
I don't think there is anyone that's all that "new" in the traditional sense of the word. There is "new to me" and those authors include Piper Huguley, Michelle N. Onuorah. One thing that resonates is that Ms. Huguley is one of the nicest people you will ever meet and some of discovering a new author isn't always about their books but you get to know more about them, first, as another human, and I think it's a wonderful thing that we will have more historical fiction to enjoy and no one else, or at least very few have decided to come into that genre since Beverly Jenkins who has nicely cornered the market and is a prolific writer in her own right.
If you could have any profession other than being an author, what would it be?
I used to want to be a Janet Jackson back-up dancer as a child. I love dance and I watch Dancing with the Stars and So You Think You Can Dance, and I've been to a Dancing with the Stars live event locally.  That has taken a backseat to wanting to write plays for Broadway, particularly a mix of musicals and dramas. In the musicals I think that I would still get to do something around dance, or more so (since it would be my own production) have input on the choreographed ensemble. I actually have a story far down the pipe where someone with a disability choreographs a praise and worship liturgical dance presentation. The young woman with a disability is shunned by the church folk who wonder how on earth and why should they include someone who has a physical disability. It is the heroine that happens to be a former pro for Dancing with the Stars' professional dancer that invites this young woman to take part and to help. The heroine is also shunned by the church people. In this version, the parishioners don't approve of her what they call: "booty shaking" profession and judge her because of her past.
In preparation for this story, I've even asked a praise and worship dance leader in my own circles how they go about deciding to choreograph their own interpretations of the songs they use. I secretly hoped they might ask if I had any ideas or would like to contribute in some fashion. I think that just because you are sitting down and can't actually move around or have some other physical limitation, doesn't mean you can't conceptualize potential maneuvers. Visiting this  would be so exciting to me.
What's next for Tracee Lydia Garner?
I hope to finish an idea for a play, I'm actively evaluating local theatre companies and thinking of starting a play writers group, and a down the road goal I have is to actually produce something in four different genres. I already have my novels, but foresee a play, a series of children's book and possibly to pen a Grammy-nominated song or a script adaptation of my own novel for television.  We shall see.  I think often of Rita Moreno, a Puerto Rican actress and singer, who is only one of twelve performers that has an Emmy, Grammy, Oscar and a Tony (also known as an EGOT) and it looks like recent Oscar Winning Viola Davis is one award from that prestigious accomplishment as well.
No matter what, I'll continue writing and releasing books from my heart. They are ultimately, next to God, my first love.
Do you have anything you would like to add?
Thank you for such a wonderful opportunity to share with your readers.
Check out the book trailer for Pack Light.
 To learn more about Tracee Lydia Garner, visit her website or connect with her on Twitter or Facebook. Find inspiring/motivating messages and images for Pack Light at Pinterest.com/Teegarner.
Use my affiliate link to purchase your copy of Deadly Affections and Pack Light.