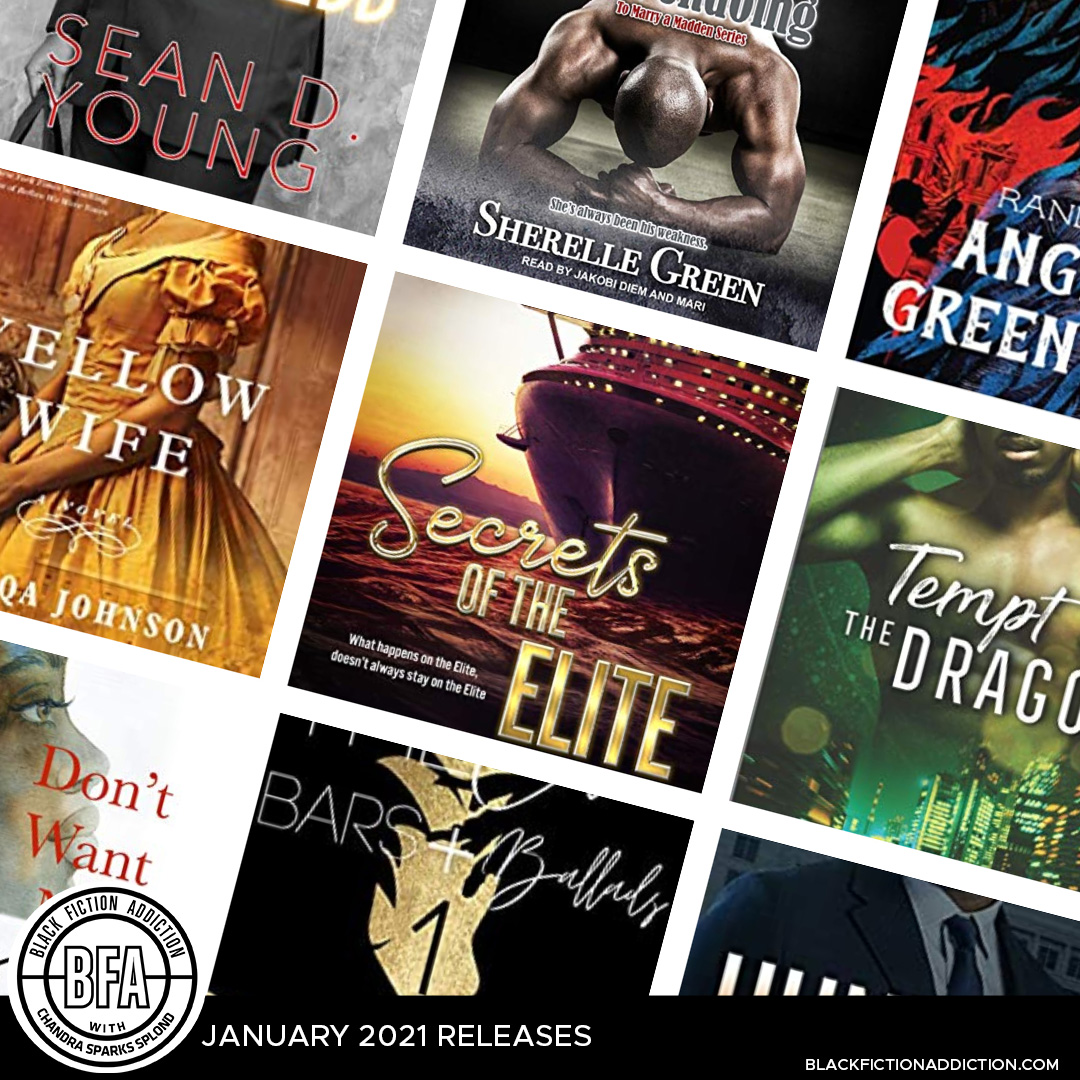 The year 2021 is already off to a great start thanks to these books released in January. There's something for everyone.
Secrets of the Elite
Sydney Addae, Jacki Kelly, Sienna Mynx, Pepper Pace, Renee Wynn
This anthology contains five standalone novellas from five talented, best-selling authors! Centered on an elite cruise ship that is sailing across Europe, you will find stories of romance, intrigue, mystery and even a touch of the paranormal.
Escaping Jonathan Hightower ~ Pepper Pace
Jordan never expected to find herself with a man like Jonathan, not after escaping the refugee camps of Somalia. But she didn't fight for survival only to be treated like some man's property.
Paolo is the new Head Superior Butler for the Elite cruise line, and while he expected to face some difficulties, he could never have expected to be in the center of a mystery that would change everything that he thought he knew about himself as well as the world around him…
No Repeats ~ Renee Wynn
Two years ago, Shayla Carr had one incredible night with wealthy Suede Boucher and didn't want anything else. She didn't need a man, complications or obstacles in her life. She had her business and her friends. As one of the top five financial analysts in her field, Shayla accepts a job to be the closer at a meeting being held on a cruise ship. She never expected to see Suede ever again. But she was now on his turf and he is determined to make her erase her no repeats rule. How can two emotionally wounded people let down their guard to find love and happiness after being deeply hurt?
Tiger King ~ Sydney Addae
It's not every day a man finds the women of his son's dreams, but that's the case with Talon Stone, Tiger King. Over the years his sons have searched high and low for tigresses willing to give them cubs to complete their lives. It had been a fruitless endeavor until now. Seeing the three women leave the hotel enroute to a seven-day cruise, Talon demands his sons drop everything to be on-board the Elite ship before it sails. Meeting Aleshia and her feisty daughters, Cherise and Charmaine, he realizes the price his sons may pay is steeper than they all considered.
Played by the Rules ~ Jacki Kelly
Alexandra moved back home to escape her past. There were plenty of mistakes she wanted to forget. Her life was going well until someone decided to destroy the tranquility. One vicious rumor and her cherished job is gone, someone's hacked her social media accounts, and she's under investigation.
Quentin can get the story of his career, maybe even a Pulitzer Prize. All he needs to do is get Alexandra to talk about her relationship with the soon-to-be City Councilman. But she has every reason to hate him.
When the two of them end up on a luxury cruise, trouble shows up too. Will Alexandra and Quentin forge a friendship long enough to save Alexandra from the rising threats?
Double Jeopardy ~ Sienna Mynx
Leticia fell in love with the man of her dreams. She could not have asked for more from the sexy man with the troubled past.
Adopted by a family that was emotionally aloof, Amadeo knows nothing about his heritage, other than it has given him exotic, eye-catching good looks. But the only woman that Amadeo cares about is the lovely, brown skinned, plus-size beauty with the sweet, innocent attitude–and making her his wife.
Wanting to give his love everything that her heart desires, Amadeo and Leticia embark on a journey across Europe where secrets are revealed—secrets that will forever change everything they thought they knew about each other.
---
Amari and the Night Brothers
B.B. Alston
Amari Peters has never stopped believing her missing brother, Quinton, is alive. Not even when the police told her otherwise, or when she got in trouble for standing up to bullies who said he was gone for good.
So when she finds a ticking briefcase in his closet, containing a nomination for a summer tryout at the Bureau of Supernatural Affairs, she's certain the secretive organization holds the key to locating Quinton—if only she can wrap her head around the idea of magicians, fairies, aliens, and other supernatural creatures all being real.
Now she must compete for a spot against kids who've known about magic their whole lives. No matter how hard she tries, Amari can't seem to escape their intense doubt and scrutiny—especially once her supernaturally enhanced talent is deemed "illegal." With an evil magician threatening the supernatural world, and her own classmates thinking she's an enemy, Amari has never felt more alone. But if she doesn't stick it out and pass the tryouts, she may never find out what happened to Quinton.
---
Noel: Stay Another Day
Tisha Andrews
Noel Lancaster has been in love with her male best friend, Desmond McBride, forever. They have been glued to the hips as kids only for Desmond to make the biggest mistake of his life, severing the trust and ties they once held. While Desmond chooses to spend the holidays with his love, Noel decides to spend it in Mason with her niece and nephew in tow.
Knight Commodore, prestigious millionaire with a not so happy childhood, despises holidays. He'd rather others enjoy it with their families while he struggles to just get through them one holiday at a time. Unfortunately for him, sister Queen has other plans when she suggests they spend this year's Christmas together in Mason with hopes of their family growing closer.
Knight compromises and gives in but asks that he has some time alone before they come together as a family. Especially when Rayelle, a woman he's known almost all of his life, reminds him why he can't let his guard down to trust or love a woman.
When he does, his path crosses with the likes of Noel and the ride takes off hard and fast when they both find a way to turn their personal and family misfortune into a reason to forgive and love.
---
Tempt the Dragon
A.C. Arthur
Aiken and Mel never thought they would see each other again.
Fate, and a brewing war with a vampire army, had other plans.
After the love of his life walked away, powerful half-human, half-dragon Aiken French isn't about to risk his emotions on a woman ever again. It doesn't matter that his Drakon beast wholeheartedly disagrees, or that his powers of telekinesis are suffering as a result. He can't live through that kind of heartbreak again. But with a long-buried vampire stirring, he might not have a choice.
Bounty hunter Mel Kane never wanted a preordained future—she will be in control of her life, not some Drakon beast who supposedly selects her mate for her. She had to leave, even if it just about killed her. But if she's going to decide her own future, she'll need to stay alive long enough to see it, which means trusting Aiken with her life, even though she couldn't trust him with her heart.
With war on the horizon, Aiken and Mel must track down the rogue vampire behind it all. Temptation leads them back into each other's arms, but even fate isn't a sure thing when faced with a legion of the undead determined to kill them all.
---
Black Buck
Mateo Askaripour
There's nothing like a Black salesman on a mission.
An unambitious twenty-two-year-old, Darren lives in a Bed-Stuy brownstone with his mother, who wants nothing more than to see him live up to his potential as the valedictorian of Bronx Science. But Darren is content working at Starbucks in the lobby of a Midtown office building, hanging out with his girlfriend, Soraya, and eating his mother's home-cooked meals. All that changes when a chance encounter with Rhett Daniels, the silver-tongued CEO of Sumwun, NYC's hottest tech startup, results in an exclusive invitation for Darren to join an elite sales team on the thirty-sixth floor.
After enduring a "hell week" of training, Darren, the only Black person in the company, reimagines himself as "Buck," a ruthless salesman unrecognizable to his friends and family. But when things turn tragic at home and Buck feels he's hit rock bottom, he begins to hatch a plan to help young people of color infiltrate America's sales force, setting off a chain of events that forever changes the game.
---
What I Needed
Erika B.
Bobbi Jay Mitchell likes to keep things basic. She's a diner waitress in a small town living an uneventful but content life. Everything is roses until the man who has her by the heart decides they need to cut ties. As if a shattered love wasn't enough to shift her world view, her uncle, whom she relies on for support, is marrying a woman who adamantly wants Bobbi gone from their home. It would seem every string of her happiness had been picked and pulled until unraveling completely. However, if she can put her fear aside and uncover her eyes, she may find love isn't lost after all.
Julian Johnson is an entrepreneurial graphic designer. He's a single father with much on his plate. Still, he tries to make things right with his best friend, particularly when she's panicked, convinced her life is falling apart. Since keeping it together is what he does, Julian offers up the shoulder his friend so desperately needs, but when the fog of tears clears, and his own heartstrings begin to tug, he finds himself longing to offer a different method of comfort.
Is Bobbi ready to receive the love being offered? Will Julian brave the walls his friend has built in order to win her heart? Or will old hurts demand the lovers settle with friendship?
---
Chlorine Sky
Mahogany L. Browne
She looks me hard in my eyes
& my knees lock into tree trunks
My eyes don't dance like my heartbeat racing
They stare straight back hot daggers.
I remember things will never be the same.
I remember things.
With gritty and heartbreaking honesty, Mahogany L. Browne delivers a novel-in-verse about broken promises, fast rumors, and when growing up means growing apart from your best friend.
---
Elise Bryant
Sixteen-year-old Tessa Johnson has never felt like the protagonist in her own life. She's rarely seen herself reflected in the pages of the romance novels she loves. The only place she's a true leading lady is in her own writing—in the swoony love stories she shares only with Caroline, her best friend and #1 devoted reader.
When Tessa is accepted into the creative writing program of a prestigious art school, she's excited to finally let her stories shine. But when she goes to her first workshop, the words are just…gone. Fortunately, Caroline has a solution: Tessa just needs to find some inspiration in a real-life love story of her own. And she's ready with a list of romance novel-inspired steps to a happily ever after. Nico, the brooding artist who looks like he walked out of one of Tessa's stories, is cast as the perfect Prince Charming.
But as Tessa checks each item off Caroline's list, she gets further and further away from herself. She risks losing everything she cares about—including the surprising bond she develops with sweet Sam, who lives across the street. She's well on her way to having her own real-life love story, but is it the one she wants, after all?
---
Need You by Me
Endiya Carter
Courtesy of my controlling father, Marshall and I have been living together for the last couple of years.
Because of his profession, we'd managed to stay out of each other's way.
His age and respect for my father is what kept him from giving in to my flirtatious advances.
Over the years, we'd managed not to cross that line, until that one slightly drunken night…
---
A Groom for Altar
Parker J. Cole
Altar Pennington isn't like most of the widows in Last Chance, Nebraska. After a blizzard takes her husband's life, she's neither mournful nor joyful at his death. Her biggest concern isn't how she's going to live now that she's a widow; but how is she going to raise a child on her own? When the preacher demands that all the widows remarry or leave town, she is forced to seek a husband to provide a father for her child.
When former steel driver Wolfe Laingsburg receives Altar Pennington's letter, he accepts her proposal to meet in Last Chance and from there decide if they can form a life together. Arriving in town, he unwittingly sets a chain of events that lead to Altar and himself being found in a compromising position. With the preacher breathing down their necks to wed for the sake of propriety, Wolfe must make the decision if he can marry a woman he doesn't know much about.
Altar and Wolfe are forced to trust each other…but is trust the only element needed to build a marriage upon, especially when a danger from her dead husband's past rears its head, threatening her life and the life of her child. Will trust be enough for Altar to depend on Wolfe to protect her family? Would it be enough for Wolfe to risk his life to save a woman he barely knows?
---
Hunted
Sharon C. Cooper
She's everything he never knew he wanted…
Former CIA spy Myles Carrington experienced enough danger in his clandestine days. The last thing he needs in his life right now is trouble, but that's what he gets when salon owner Geneva Ramsey crosses his path. She's combative, fierce, and the sexiest woman he's ever met, but he's not looking for anything serious. He promises himself only one night with her and nothing more.
Geneva kissed him on a dare. A dare that altered her carefree life, and she's conflicted. Myles is an enigma, a puzzle she can't piece together. Yet, she's addicted to him—which is just crazy. She never gets serious with any guy, but after one night with Myles, no other man will do. Now, she just needs him to cooperate.
When an unknown enemy from Myles's past begins hunting him, the hunter becomes the hunted. Myles will destroy anyone who dares threaten those he loves, but will Geneva become a casualty of his past? Or can Myles save her and begin a life he thought he never wanted?
Book 6 in the Atlanta's Finest series. All books in this series can be read as a standalone.
---
Milk and Cookies
M.T. Dixon
She's a little naughty.
He's not so nice.
They both run in the same circle, but they don't find out until one night.
The two people who deserve to be gifted coal on Christmas Day end up wrapped up in each other.
Anika and Chance may be destined for one another.
---
The Life I'm In
Sharon G. Flake
My feet are heavy as stones when I walk up the block wondering why I can't find my old self.
In The Skin I'm In, readers saw into the life of Maleeka Madison, a teen who suffered from the ridicule she received because of her dark skin color. For decades fans have wanted to know the fate of the bully who made Maleeka's life miserable, Char.
Now in Sharon Flake's latest and unflinching novel, The Life I'm In, we follow Charlese Jones, who, with her raw, blistering voice speaks the truths many girls face, offering insight to some of the causes and conditions that make a bully. Turned out of the only home she has known, Char boards a bus to nowhere where she is lured into the dangerous web of human trafficking. Much is revealed behind the complex system of men who take advantage of vulnerable teens in the underbelly of society. While Char might be frightened, she remains strong and determined to bring herself and her fellow victims out of the dark and back into the light, reminding us why compassion is a powerful cure to the ills of the world.
---
Scandal in the VIP Suite
Nadine Gonzalez
Two strangers. One bed.
And a kiss as scorching as the Miami heat! When Nina Taylor peeks into the luxury hotel suite that should have been hers, she's caught by the room's occupant, Julian Knight. The Hollywood bad boy quickly offers a compromise: why not share? Soon, the paparazzi is jumping to scandalous conclusions—and Julian and Nina share an incredible kiss. Good thing they're only booked for a week…because, boy, is she in trouble!
---
Carter's #Undoing audiobook
Sherelle Green
For Carter Madden, his time in the military isn't the only thing that haunts him.
For Serenity Taylor, unanswered questions can drive a sane mind mad with speculation.
But a Madden man may not be for every woman. Especially when broken promises cut deep and unknown secrets whisper loudly in the dark.
Contains mature themes.
---
Unique Ties
K. Guess
Kam is a woman who knows her worth and is not afraid to demand it, except when it comes to the love of her life. He is the one that will give her the happily ever after she's been dreaming of. Despite his flaws, she sticks it out because she knows real love is worth fighting for but is she ready to fight for this love to the end?
Winston is a man that speaks his mind and makes his intentions clear. When he steps into a room his presence is overpowering. The women swoon around him like moths to a flame, but the one woman he truly wants he can't have. How long is he going to wait? Will it come down to him taking out the competition to get the grand prize?
Mac is a man who has no problems getting what he wants. He will have his cake and eat to regardless of who gets hurt in the process. When he realizes that the woman he loves may have eyes for another he goes to an extreme and unconventional method to keep her soul tied to him.
Love. Lies. Secrets. What are you willing to do to keep your love alive?
---
Won't Go Home Without You
Cheris Hodges
A refuge in good times and bad, there's nothing the four very different Richardson sisters won't do to sustain their family's legacy—a historic bed-and-breakfast in Charleston, South Carolina. Now, as one sister celebrates new love, another's heart is sorely tested . . .
One night only—that's all Robin Richardson-Baptiste will give the husband she once adored. She thought nothing could shatter their storybook marriage—not illness or a life-saving operation that left her unable to have children. For her husband, Dr. Logan Baptiste, told her in a thousand unspoken ways their love was all he needed. But now, in the face of overwhelming evidence, his co-worker, Kamrie, claims Logan fathered her son.
Logan can't recall what happened with Kamrie—and DNA never lies. He does know he's never stopped loving his gentle, courageous wife. But doing whatever it takes to uncover the truth, and save his marriage, not to mention his career, will challenge them like never before. And one night of undivided attention and desire may be the only thing to heal their hearts, reveal all—or shatter things beyond repair . . .
---
The Rib King
Ladee Hubbard
For fifteen years August Sitwell has worked for the Barclays, a well-to-do white family who plucked him from an orphan asylum and gave him a job. The groundskeeper is part of the household's all-black staff, along with "Miss Mamie," the talented cook, pretty new maid Jennie Williams, and three young kitchen apprentices—the latest orphan boys Mr. Barclay has taken in to "civilize" boys like August.
But the Barclays fortunes have fallen, and their money is almost gone. When a prospective business associate proposes selling Miss Mamie's delicious rib sauce to local markets under the brand name "The Rib King"—using a caricature of a wildly grinning August on the label—Mr. Barclay, desperate for cash, agrees. Yet neither Miss Mamie nor August will see a dime. Humiliated, August grows increasingly distraught, his anger building to a rage that explodes in shocking tragedy.
---
Yellow Wife
Sadeqa Johnson
Born on a plantation in Charles City, Virginia, Pheby Delores Brown has lived a relatively sheltered life. Shielded by her mother's position as the estate's medicine woman and cherished by the Master's sister, she is set apart from the others on the plantation, belonging to neither world.
She'd been promised freedom on her eighteenth birthday, but instead of the idyllic life she imagined with her true love, Essex Henry, Pheby is forced to leave the only home she has ever known. She unexpectedly finds herself thrust into the bowels of slavery at the infamous Devil's Half Acre, a jail in Richmond, Virginia, where the enslaved are broken, tortured, and sold every day. There, Pheby is exposed not just to her Jailer's cruelty but also to his contradictions. To survive, Pheby will have to outwit him, and she soon faces the ultimate sacrifice.
---
Maybe Next Time
Christina C. Jones
Available Now: http://beingmrsjones.com/maybe-next-time/
For better or worse…
That was the promise Denver and Kensa made, but it's a sentiment they've somehow lost along the way. What started as a passionate wildfire has diminished to a flicker, all but snuffed out by unspoken fears, perceived betrayal, and a complete breakdown in communication.
Can either of them tuck their ego away long enough to rekindle their flame?
---
Wish I Never Loved You
Jersey Jones
Regret – feel sad, repentant, or disappointed over
Tulip experienced the biggest heartache one could imagine when she lost her parents at the age of sixteen. After being placed in placed in a home with a brute family member she quickly learns that just because you share the same blood as someone, doesn't mean that you can trust them. Upon being reunited with her older sister Dahlia, they form a bond that can't broken, or can it?
Grady a headstrong, heart broken, alpha male knows how to do everything except treat a woman correctly. After a rocky initial meeting with Tulip, Grady becomes determined to make the off-limits beauty fall for him and fall she did. Little did she know, during that pursuit Grady failed to disclose his true intentions or the fact that he's hiding two adverse secrets.
It's easy to overlook the flaws of the one you love, but what happens when those flaws can no longer be ignored. When those flaws are causing you more pain than happiness? Do you stick it out and hold on to the hope that things will change, or do you count your losses and move on?
---
A Complicated Love
Tiye Love
When the only man you want is not yours to have…
Destiny Montgomery has just landed the opportunity of a lifetime to write singer and dancer, Jacob River's biography. She's more than thrilled to be a part of his project and travel closely with Jacob on his concert tour. However, Destiny doesn't expect the sparks she feels whenever she's near him and is irresistibly attracted to the sexy superstar as he slowly reveals his life and himself to her.
Jacob Rivers is the biggest entertainer in the world and handpicked Destiny to write his biography because he believes she's the only one for the job. She also might be the only one for him. From the moment they meet, Jacob is inexplicably drawn to Destiny and wants her with a passion he must deny. He is legally bound to someone else.
Will they be able to walk away from the tempting love that feels so right even though it's so very wrong?
***This complicated interracial love story contains adultery and if you're uncomfortable with this subject then this story may not be suitable for you.***
---
Champagne Wishes
Chelsea Maria
His toxic moth.
Her broken flame.
Both burned by an unquenchable desire.
Two troubled souls meet during the New Year's upcoming celebration in the city that never sleeps. Experiencing each other in its fullness for two whole days awakened needs and wants that weren't for the weak-hearted. The beats of their in synced hearts choreographing them into a tune made only for two. A whirlwind of emotions dancing alongside them. Orchestrating their steps of uncertainty into steps of possibilities.
Desperation clutched them by the throat. Leaving them lying in puddles of vulnerable passions gasping for air.
Strangers wanting to be lovers. Lovers wanting to be forever's.
He marked her.
She made sure she'd live in his mind as a hallucination.
Why was he set on ruining her?
How did she expect him to walk away?
---
One Day I Saw A Black King (Heritage Collection Book 1)
J.D. Mason
"He stared at himself in the mirror, wondering how he'd managed to lose track of time. Complacency had managed to set in again. . . A decent job, warm home, food on the table, and a body to curl up next to at night; he'd made the mistake of getting comfortable. Comfort fooled him into thinking it was all good when it wasn't. Damn nightmares had a way of reminding him of that."
Ever since he was fifteen, John King has been on the run from the ghosts of his past, always drifting, never settling down in one place or with one woman, though more than one has certainly made the offer of forever-after. But every time his memories of life back in Texas start to haunt him too deeply into the night, John realizes that it's time to move on. That is, until he rolls into Denver, Colorado, grooving to Marvin Gaye's "Let's Get It on," and meets Connie Rodgers, a woman who grew up on the mean streets and has the pain and the battle scars to prove it. And yet, she inspires him to think "If indeed there were a home for the perfect kiss, it would be on her lips." John is reluctant to admit that here is a woman who just may understand his very soul, even if she does have some baggage of her own. But both must face their pasts if they ever hope to be free to live and love.
Filled with completely unforgettable characters, One Day I Saw A Black King is a stunningly powerful story that explores the power of the past over the present, the search for love and belonging and the healing gift of an extraordinary love.
---
Don't Want No Sugar (Heritage Collection Book 2)
J.D. Mason
Everyone knew that Eula May had lost her mind over loving a married man. It was what drove her to kill herself and leave her only daughter, Roberta, in the care of the local mid-wife. So it was no wonder that Roberta became obsessed with Charles Harris the very first time she laid eyes on him. And she was willing to do whatever it took to make sure she was the only woman in his life. So when he is forced to marry her because of her unexpected pregnancy, Roberta feels that she has everything she ever wanted.
Women have always come easy to Charles, so he's wondering how he got saddled with a wife he doesn't love, two beautiful children and a longing for something grander. Then he meets the stunning Sara Tate and discovers a love almost as consuming as the one Roberta feels for him. This deadly love triangle will result in deception and murder, leaving a legacy for generations to come.
---
You Gotta Sin to Get Saved (Heritage Collection Book 3)
J.D. Mason
Charlotte Rodgers has always wanted too much. Too much love, too much attention, and had too many big dreams. It was how she ended up abandoning her two daughters, Connie and Reesy to chase after a man and the promise of a dream life. But Charlotte never anticipated how her world would be irrevocably changed. Now, twenty-seven years later, her whole world shifts yet again with a letter from one of her daughters. And the past is about to bust wide open.
Reesy has always been obsessed with something. Obsessed with finding her birth mother. Obsessed with her sister's life. Obsessed with her own adopted daughter never finding out that Reesy is really her aunt. With a neglected husband, who is unknowingly drifting further and further away, a sister who is trying to escape her well-meaning clutches, and a daughter becoming more and more curious about her true parentage, finding the mother she always dreamed about seems to be an answered prayer to Reesy. That is until Reesy is brought crashing back to earth to find that her perfect life is in tattered pieces.
Connie has always expected too little. Too little from the man she's been living with for years. Too little from her modest jewelry business. And too little from her relationships, or lack thereof, with her daughter, mother and sister. And too little from herself. Until she discovers she is pregnant again and decides that this time she is keeping her baby, sending her life and her relationship into a tailspin. And rediscovering the mother who left them behind is the last thing she wants.
---
Somebody Pick Up My Pieces (Heritage Collection Book 4)
J.D. Mason
Six months ago her three daughters walked out and left Charlotte Rodgers to fend for herself in her small home in Murphy, Kansas. Charlotte is left resentful and bitter toward her children—Clarice, Connie, and especially Camille—for abandoning her when all she wanted was to return home, finally, to Denver and escape from the memories of her painful past. What Charlotte doesn't know is that the past is hot on her trail and, to her horror, will soon catch up with her once again.
Justin and Clarice "Reesy" Braxton are struggling to hold on to what's left of their marriage. Justin's affair has taken its toll on the union, and Reesy has to decide, once and for all, if she can finally forgive him and move forward, or if the lure of revenge—giving Justin a dose of his own medicine—is too tempting to ignore. But is Reesy being honest, telling herself that she's cheating on her husband to teach him a lesson, or are her feelings for her new lover more real than any she's ever had for her husband?
Camille Rodgers has lived her whole life under Charlotte's watchful and critical eye, struggling to be the perfect daughter and giving in to Charlotte's whims. For the first time, she's on her own and is quickly spiraling out of control. Camille lost everything before she moved away from Kansas. She lost the unborn child she was carrying. She lost her husband. And she nearly lost her life in a terrible car accident. Now, she has a chance for a fresh start in a new city, with sisters she never even knew she had until six months ago. By all accounts, Camille should be on top of the world, but she's like a fish out of water and can't seem to connect to the two women who say they love her. When she begins to entertain a dangerous man—and even more dangerous habits—she may lose more than she ever thought she had.
---
Looking for Hope
Mbinguni
In this coming of age tale, Mbinguni weaves a narrative about Hannah "Mouse" Maynard and her transformation from a shy, quiet, girl into a strong and assertive woman.
At seven years old, Mouse encounters a tragedy that forces her to face the evils of the world and leave behind everything she's ever known. With their home destroyed, Mouse and her father travel from Maplewood, Georgia to Virginia and Michigan confronting their past as they move into their future.
Mouse encounters women along the way who help her find the strength to survive and thrive against all she's seen. Through these bonds and their fierce protection, Mouse not only finds her voice but a renewed sense of hope.
---
Black's Obsession (15th Anniversary Edition)
Angelia Vernon Menchan
Black's Obsession was the first book by Angelia Vernon Menchan writing under a pen name. This one book spawned more than a hundred books about the Black and Brown families in Center City, Florida. This book unleashes ALL the backstory information. This 15th anniversary edition is for all who love Center City and those being introduced.
Malcolm Black is a man with everything but the woman he wanted…. Cinnamon Dubois Brown. They have history but Malcolm's timing was always off, but they are now back in their hometown, his obsession has grown even with her being married to his friend. Come inside the obsession and see where it all started.
---
One of the Good Ones
Malika Moulite and Maritza Moulite
When teen social activist and history buff Kezi Smith is killed under mysterious circumstances after attending a social justice rally, her devastated sister Happi and their family are left reeling in the aftermath. As Kezi becomes another immortalized victim in the fight against police brutality, Happi begins to question the idealized way her sister is remembered. Perfect. Angelic.
One of the good ones.
Even as the phrase rings wrong in her mind—why are only certain people deemed worthy to be missed?—Happi and her sister Genny embark on a journey to honor Kezi in their own way, using an heirloom copy of The Negro Motorist Green Book as their guide. But there's a twist to Kezi's story that no one could've ever expected—one that will change everything all over again.
---
Wrath
Victoria Christopher Murray
Chastity Jeffries and Xavier King come from very different backgrounds, though they have one thing in common: they're both living with family secrets. Chastity is the only child of a prominent pastor and has been raised with privilege, but her father's testimony as a philanderer and her mom's role as dutiful wife have tainted her view of love. Xavier never knew his father, and his mother abandoned him. His grandmother raised him in a household built on cruelty and violence instead of love and acceptance, instilling in him a fear of abandonment and an enormous sense of insecurity.
Sparks fly when Chastity and Xavier meet, and their whirlwind romance feels almost too good to be true. Chastity is swept off her feet, but before long, cracks begin to show in Xavier's perfect façade, and it is only a matter of time before that façade comes crumbling down. When Xavier's wrath erupts at a level Chastity has never seen, who will it destroy forever?
---
Intimate Negotiations
Nicki Night
Can she risk her dream job for a night with the man of her dreams?
Zoe Baldwin escaped her poverty-stricken youth to become a successful investment banking dynamo at the top of her game. But a forbidden office affair with her new boss, Ethan Blackwell, could ruin both their careers. And an unexpected pregnancy makes the stakes even higher. Will she and her billionaire playboy come to new terms when business becomes too personal?
---
Angel of Greenwood
Randi Pink
Seventeen-year-old Isaiah Wilson is, on the surface, a town troublemaker, but is hiding that he is an avid reader and secret poet, never leaving home without his journal. A passionate follower of W.E.B. Du Bois, he believes that black people should rise up to claim their place as equals.
Sixteen-year-old Angel Hill is a loner, mostly disregarded by her peers as a goody-goody. Her father is dying, and her family's financial situation is in turmoil. Also, as a loyal follower of Booker T. Washington, she believes, through education and tolerance, that black people should rise slowly and without forced conflict.
Though they've attended the same schools, Isaiah never noticed Angel as anything but a dorky, Bible toting church girl. Then their English teacher offers them a job on her mobile library, a three-wheel, two-seater bike. Angel can't turn down the money and Isaiah is soon eager to be in such close quarters with Angel every afternoon.
But life changes on May 31, 1921 when a vicious white mob storms the community of Greenwood, leaving the town destroyed and thousands of residents displaced. Only then, Isaiah, Angel, and their peers realize who their real enemies are.
---
The Meet-Cute Project
Rhiannon Richardson
Mia's friends love rom-coms. Mia hates them. They're silly, contrived, and not at all realistic. Besides, there are more important things to worry about—like how to handle living with her bridezilla sister, Sam, who's never appreciated Mia, and surviving junior year juggling every school club offered and acing all of her classes.
So when Mia is tasked with finding a date to her sister's wedding, her options are practically nonexistent.
Mia's friends, however, have an idea. It's a little crazy, a little out there, and a lot inspired by the movies they love that Mia begrudgingly watches too.
Mia just needs a meet-cute.
---
Crave
Shae Sanders
I said I'd never love another man again. I had no idea I would soon fall in love with four of them.
I, Skye Bellamy, escaped to this little mountain town to start anew. To focus. It was supposed to be easy, because If there's one thing I know how to do, it's reinvent myself.
But a series of unfortunate events lands me right next to my favorite R&B boy band from back in the day. And they still look good.
Angelo's the cocky one. Jamal is the strong, silent one. G is the gorgeous, sensitive one. And Matt, well, Matt's not on my radar and for good reason.
But I'm already on theirs.
I'm supposed to be working and they're supposed to be rehearsing but temptation abounds and I soon find myself in their clutches…or maybe they're in mine. It's hard to say. But no matter how happy we are with our little arrangement, we're all hiding something and it's only a matter of time before it all blows up in our faces. But in the meantime…
We fall.
***This is book 1 in the Crave Series. Crave is a reverse harem romance, which means the heroine doesn't have to choose; she can have any or all of the guys she wants. Sometimes at the same time. There is no cliff-hanger but this is the first in series so the story continues in the next installment.
---
Bars and Ballads
Sabrina B. Scales
A band brought together by platinum rapper, Plus, has taken the world by storm. But with recent tensions within the group, the label has decided to split the five into three groups. The first of this three part split is rap and r&b duo, Sabre and Bre, who have been fighting off rumors of an entanglement since the day they hit the stage. Find out if all the gossip is a waste of words, or if these two have more in common than bars and ballads!
---
The Awakening of Malcolm X
Ilyasah Shabazz and Tiffany D. Jackson
No one can be at peace until he has his freedom.
In Charlestown Prison, Malcolm Little struggles with the weight of his past. Plagued by nightmares, Malcolm drifts through days, unsure of his future. Slowly, he befriends other prisoners and writes to his family. He reads all the books in the prison library, joins the debate team and the Nation of Islam. Malcolm grapples with race, politics, religion, and justice in the 1940s. And as his time in jail comes to an end, he begins to awaken — emerging from prison more than just Malcolm Little: Now, he is Malcolm X.
Here is an intimate look at Malcolm X's young adult years. While this book chronologically follows X: A Novel, it can be read as a stand-alone historical novel that invites larger discussions on black power, prison reform, and civil rights.
---
Concrete Rose
Angie Thomas
If there's one thing seventeen-year-old Maverick Carter knows, it's that a real man takes care of his family. As the son of a former gang legend, Mav does that the only way he knows how: dealing for the King Lords. With this money he can help his mom, who works two jobs while his dad's in prison.
Life's not perfect, but with a fly girlfriend and a cousin who always has his back, Mav's got everything under control.
Until, that is, Maverick finds out he's a father.
Suddenly he has a baby, Seven, who depends on him for everything. But it's not so easy to sling dope, finish school, and raise a child. So when he's offered the chance to go straight, he takes it. In a world where he's expected to amount to nothing, maybe Mav can prove he's different.
When King Lord blood runs through your veins, though, you can't just walk away. Loyalty, revenge, and responsibility threaten to tear Mav apart, especially after the brutal murder of a loved one. He'll have to figure out for himself what it really means to be a man.
---
Damaged Intentions
Monica Walters
Trying to be there for someone that refuses to do right can be difficult and taxing on the mental. Kema Richardson Semien understands this predicament well, because the love of her entire life has put her in the middle of it. After dating in high school and breaking up due to Philly's involvement with drugs, Kema decides to focus on her rodeo career, not giving another man a second look. When Philly enters her life again over ten years later, it's because his brother had married one of her best friends. Convincing her he'd left the streets behind and was now the owner of a successful mechanic shop, she succumbs to how she still feels for him and gives him a second chance.
Philly Semien has been the local supplier for years and as his street pharmacy expanded its reach, he knew that he was in the position to take over all of Southeast Texas. However, the one thing he wanted was to have Kema Richardson. He vowed that he would do whatever he had to do to get her, including fabricating stories to deceive her. When his truth is discovered, Philly doesn't know which way to turn. He knows that he was wrong for lying to his only love, but he didn't know how to run the streets and give her what she wanted. There wasn't room for both, especially since the life and Kema were like oil and water. His heart was begging for her forgiveness, but it was also longing for that adrenaline rush he got from the fast money the drug game offered.
Kema loves Philly with everything in her, but she knows she can't continue on the path they were on. Philly had deceived her and had betrayed her love in the process. Philly realizes that life just isn't worth living without Kema, but will he be able to convince her that his intentions are pure?
---
Wins & Losses audiobook
Alexandra Warren
Nasir Valentine has one thing on his mind: winning a championship title in his first year as head coach of the boys basketball team.
But when his team captain's father is murdered just before the start of the season, he quickly learns coaching high school basketball in the inner city is a lot more than just drawing numbers and arrows on a dry erase board.
Struck by the tragedy of her father's murder, Carmen Wellington is faced with the tough decision of keeping her life away from home or coming back to her hometown to support her little brother through his senior year of high school. It's a decision that will change her life in more ways than one, especially with her brother's handsome basketball coach in the picture.
Carmen is supposed to be focused on what's best for her and her family. Nasir is supposed to be focused on what's best for him and his team. But with those two worlds colliding and an undeniable attraction developing because of it, the two can only hope for more wins than losses….
---
A Glimmer of Death
Valerie Wilson Wesley
In the first of a thrilling new series, one woman's extraordinary psychic gift plunges her already-troubled present into chaos—and puts her future in someone's deadly sights . . .
Until now, Odessa Jones' inherited ability to read emotions and foretell danger has protected her. But second sight didn't warn her she would soon be a widow—and about to lose her home and the catering business she's worked so hard to build. The only things keeping Dessa going are her love for baking and her sometimes-mellow cat, Juniper. Unfortunately, putting her life back together means taking a gig at an all-kinds-of-shady real estate firm run by volatile owner Charlie Risko . . .
Until Charlie is brutally killed—and Dessa's bullied co-worker is arrested for murder. Dessa can't be sure who's guilty. But it doesn't take a psychic to discover that everyone from Charlie's much-abused staff to his long-suffering younger wife had multiple reasons to want him dead. And as Dessa follows a trail of lies through blackmail, dead-end clues, and corruption, she needs to see the truth fast—or a killer will bury her deep down with it.
---
One More Drink
Elle Wright
Everything about my life is different than before. My deadbeat father died, but I found the family of my wildest dreams. I have more money than I ever thought I'd have, yet all I want is one kiss, one shot with him. The only problem? He's the hot bartender I always fantasize about, the confidante who never lectures, and the gentleman who never quite gets the hint.
How many more drinks do I have to order before he sees that I'm not just his friend's newfound sister, but I might be his one chance at forever?
Maybe just one more…
---
Caught in His Webb
Sean D. Young
Sara Simmons has no desire to go into law or politics, so her brothers will continue the family's legacy of prestige and honor. Making her mark on the world with high fashion has always been her dream. Taking her shot, she is threatened by a situation that could not only ruin her career, but her family's reputation. There's only one person she can run to for help and keep her secret too…Derrick "Spyder" Webb.
Being the man of the house at the age of twelve when his father died unexpectantly, caused Spyder to grow up quickly. It made him a little unforgiving and demanding, but it also made him one of the greatest problem solvers this side of the Mississippi. Now, when people are in trouble, they come to him, but Sara is another story. He'd helped his best friend's baby sister one night so many years ago. What he didn't expect, however, was pulling her in his arms to comfort her and feeling things he hasn't since. Now, she's older, more mature and gorgeous as hell. The problem is she's off limits, but lately he can't deny that her presence makes him want to pull her inside of his web of protection …into his web of desire.
---
This post contains affiliate links.