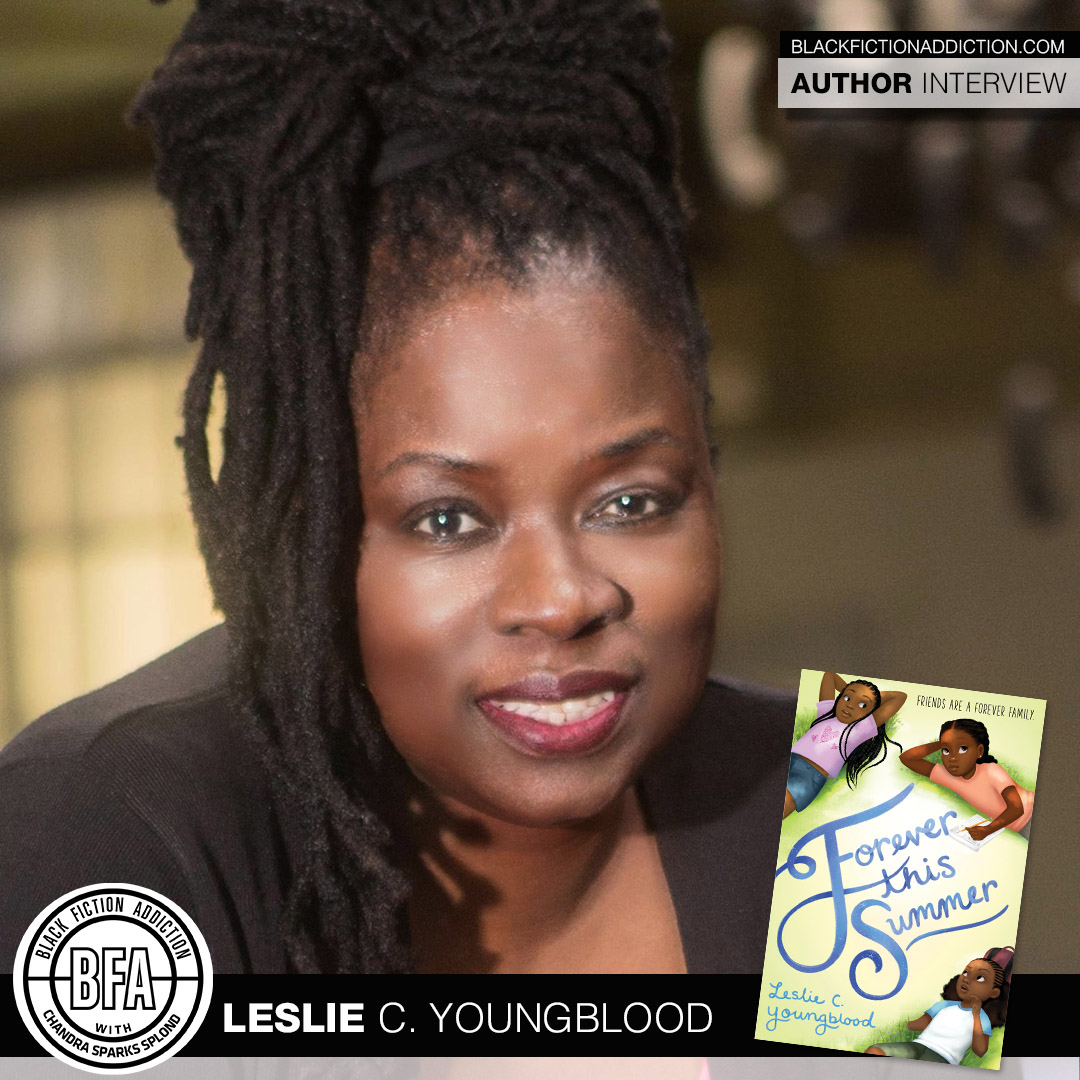 It seems we've been waiting on author Leslie C. Youngblood's next book since forever, and it's finally here. Today she's visiting to talk about Forever This Summer.
Tell me about your latest book.
Forever This Summer is a celebration of family and friendship. And there's plenty of soul food described within the pages to incite a craving for that next Sunday dinner, or trekking to your local black-owned restaurant. Delving a little deeper, though, my eleven-year-old protagonist, Georgie and family, travel to her mother's hometown of Bogalusa, Louisiana, to care for Georgie's great-aunt who has Alzheimer's. But Georgie's mother isn't letting Georgie do much in the way of caring for Aunt Elvie, and she's also stopping Georgie from venturing out. But when Georgie meets another girl, twelve-year-old Markie Jean, Georgie's summer adventure starts to unfold.
What inspired you to write it?
Forever This Summer is a sister book to my first novel, Love Like Sky. Though Forever This Summer can stand alone, several characters will be familiar to those who've read Love Like Sky. The small town that Georgie visits, Bogalusa, is my real-life hometown. The inspiration was a continuation of what inspired Love Like Sky: my desire to write about Black families that focus on children in blended families, sibling relationships, and adults who are flawed yet present.
When did you fall in love with the written word?
I'll never forget this moment. About twenty-plus years ago, I was a receptionist in Atlanta. While I was flipping through a magazine or reading a Sidney Sheldon novel, a secretary gave me a copy of James Baldwin's Go Tell It on the Mountain. That writing evoked emotions in me that no novel ever had. Although my major was marketing at the time, the next day I changed it to English, with a concentration in creative writing. The journey began after that day. A book changed the trajectory of my life.
What's the best part of being an author?
When young readers see me and have a sense of wonder in their eyes, adults too. Then you have the pleasure of letting them know that being an author, living out a dream, is within their grasp. You are living proof.
What's the hardest part of being an author?
The harder part of being an author changes for me. Since I'm writing this just hours before the launch of Forever This Summer, I'd say it's the uncertainty of how my work will be received. After that anxiety passes, I'd say it's avoiding reading reviews, or remaining out of the conversation when my words are being misinterpreted.
What books have you read lately and loved?
The Stars Beneath Our Feet, David Barclay Moore. Ghost Boys, Jewell Parker Rhodes.
What book(s) are you most excited to read next?
Amari and the Night Brothers and Legend Born.
Who would you cast in a movie to play your main characters?
Love this question but it's hard to answer, especially for the child actresses for my primary girls. I'd say let's do an open casting call and go for it. I'd like to represent the girls physically and embody that all important Black Girl Magic. When I think of the aunts, one of the aunts could be Ms. Jenifer Lewis, and another could be Ms. Loretta Devine. In all honestly, I'd gladly let the casting director take reign of all of that while I work on the next project.
What's next for you?
Well, that was a perfect segue. What's next is to continuing to work on various projects, including a self-published book and build my social media following, especially TiKTok (BookTok).
Do you have anything you would like to add?
The first week of publication is critical for Forever This Summer to have a shot at a bestsellers list. Help an author out and order your copy today, or pick it up at your favorite bookstore. I promise you that I've created characters that we can be proud of. And a story that is multi-faceted and centers Black people. Forever This Summer has received three starred reviews by major journals. It should be in bookstores. If not, please ask why. Every reviewer has mentioned the "nearly all Black cast." This is a positive thing that I'm proud of.
Also, I'd love to connect with each of you via social media. Connecting with readers is one of the highlights of being an author.
Lastly, I'd like to take this opportunity to thank you, Chandra, for your early input into my writing career. You are exceptional to work with as an editor and your encouragement certainly helped me arrive at the point. Congratulations on Black Fiction Addiction, as well as your multitude of published work. Continued blessings.
---
Use the Black Fiction Addiction affiliate link to purchase your copy of Forever This Summer and Love Like Sky.
---
To learn more about Leslie C. Youngblood, author, speaker, and creative writing instructor, visit her website or connect with her on social media.
Website: www.lesliecyoungblood.com
Twitter: LesCYoungblood
Facebook: Leslie C Youngblood
Instagram: LesCYoungblood
TikTok: Leslie C Youngblood
LinkedIn: Leslie C Youngblood