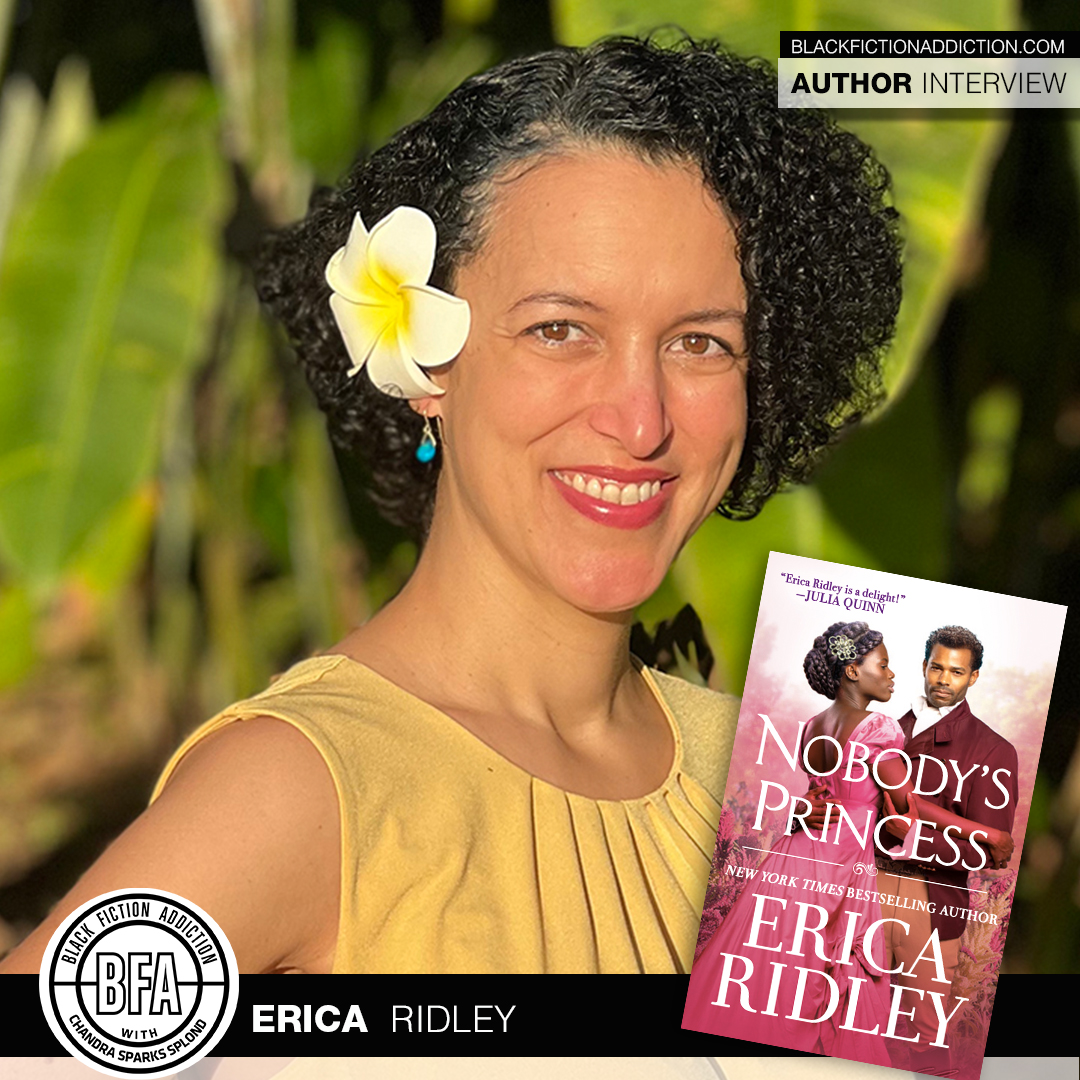 Get ready to fall in love with New York Times bestselling author Erica Ridley. I recently spoke with her about her latest release Nobody's Princess.
Tell me about your latest book.
I am so excited about Nobody's Princess. It's my first traditionally published Regency romance with two Black leads, as shown in classic clinch on the cover. It's hard to believe in 2022 how rare this is to see in my subgenre. The art is so gorgeous!
Our hero, Graham Wynchester, was an acrobat in a circus before becoming the de facto leader of the family and developing a network of spies throughout London. He is obsessed with royalty and dreams of one day rescuing a princess, who will naturally fall in love with him.
The heroine, Kunigunde de Heusch, is a warrior from Balcovia who is not here for Graham's shenanigans or a doomed romance. She's on a mission to prove herself and become the first female guardswoman in a man's world. Accepting any aid from sexy meddling Graham would undermine her efforts.
When the Wynchester family gets a new case, Kuni finds herself treated like an equal, with no need to prove herself. She gets to fight alongside them as part of the team. She's pretty sure too strong to fall in love, but when Graham proposes a temporary fling… what could go wrong?
What inspired you to write this series?
The Wild Wynchesters series has been such a blast. Writing these books is as if Umbrella Academy, Ocean's 11, and Batman were romantic comedies in Regency England. What I love about this series, besides the delightfully over-the-top heists and hijinks, is being given the freedom to give happy-ever-afters to characters who haven't historically been centered in traditionally published regency romances. Protagonists who are diverse in terms of race, gender, sexuality, abledness, and more. As a Black, biracial and bisexual author, it means the world to me to see a wider world not just on the page, but on the covers, too. I want to hug all these books until they pop.
When did you fall in love with the written word?
I fell in love with books as a small child. My grandmother was a librarian, and my mother was an elementary school teacher, so I was always surrounded by books and encouraged to read anything and everything that caught my eye. I wasn't prohibited from reaching for adult books as a child, and in fact, the most effective punishment for me was taking my books away from me! Lol. I feel much the same way about books now. 🙂
What's the best part of being an author?
I love getting to make things up for a living. Letting my imagination run wild, and just going along for the ride. I have more story ideas than it would ever be possible to write. I love meeting new characters and inhabiting their worlds. I love when readers connect to them or share with me how my books have gotten them through tough times.
What's the hardest part of being an author?
The most frustrating parts are everything I have to do that isn't writing a new book. There are so many promotional or administrative tasks that sometimes it feels as though actually writing new words is the smallest part of the job. I'm always so eager to get back to my manuscript and follow my characters on their adventures.
What books have you read lately and loved?
In contemporary romance, I really enjoyed Alyssa Cole's entire Reluctant Royals and Runaway Royals series. In suspense, in addition to When No One Is Watching, some of my favorite authors are S.A. Cosby, Rachel Howzell Hall, and Kellye Garret. I also enjoyed books by Akwaeki Emezi and Tade Thompson.
What book(s) are you most excited to read next?
The Blood Trials by N.E. Davenport, The Memory Librarian by Janelle Monae, and On Rotation by Shirlene Obuobi.
Who would you cast in a movie to play your main characters?
Ohhh, this is so hard. Maybe Letitia Wright and Michael Evans Behling!
What's next for you?
I recently turned in book four of the Wild Wynchester series, My Rogue to Ruin, in which Marjorie Wynchester infiltrates a ring of dastardly forgers to bring the criminal operation down from the inside, only to fall for one of the perpetrators, a charming rogue of questionable ethics and a big heart. It's a forced proximity, enemies-to-lovers romance with lots of heist-filled goodness. Now I'm working on book five, provisionally titled The Earl Extraction, in which gregarious misanthrope Elizabeth Wynchester finally gets to live her wildest swashbuckling dreams when she's called to defend a castle—and its sexy inhabitant—from siege. There's escape rooms and Rube Goldberg machines and plenty of shenanigans.
Do you have anything you would like to add?
If you like Nobody's Princess, you might also enjoy Lord of the Masquerade and One Night with a Duke.
---
Use the Black Fiction Addiction affiliate link to purchase your copy of Nobody's Princess.
---
To learn more about New York Times bestselling author Erica Ridley, visit her website or connect with her on social media.
https://www.EricaRidley.com
https://facebook.com/EricaRidley
https://instagram.com/EricaRidley
https://goodreads.com/EricaRidley