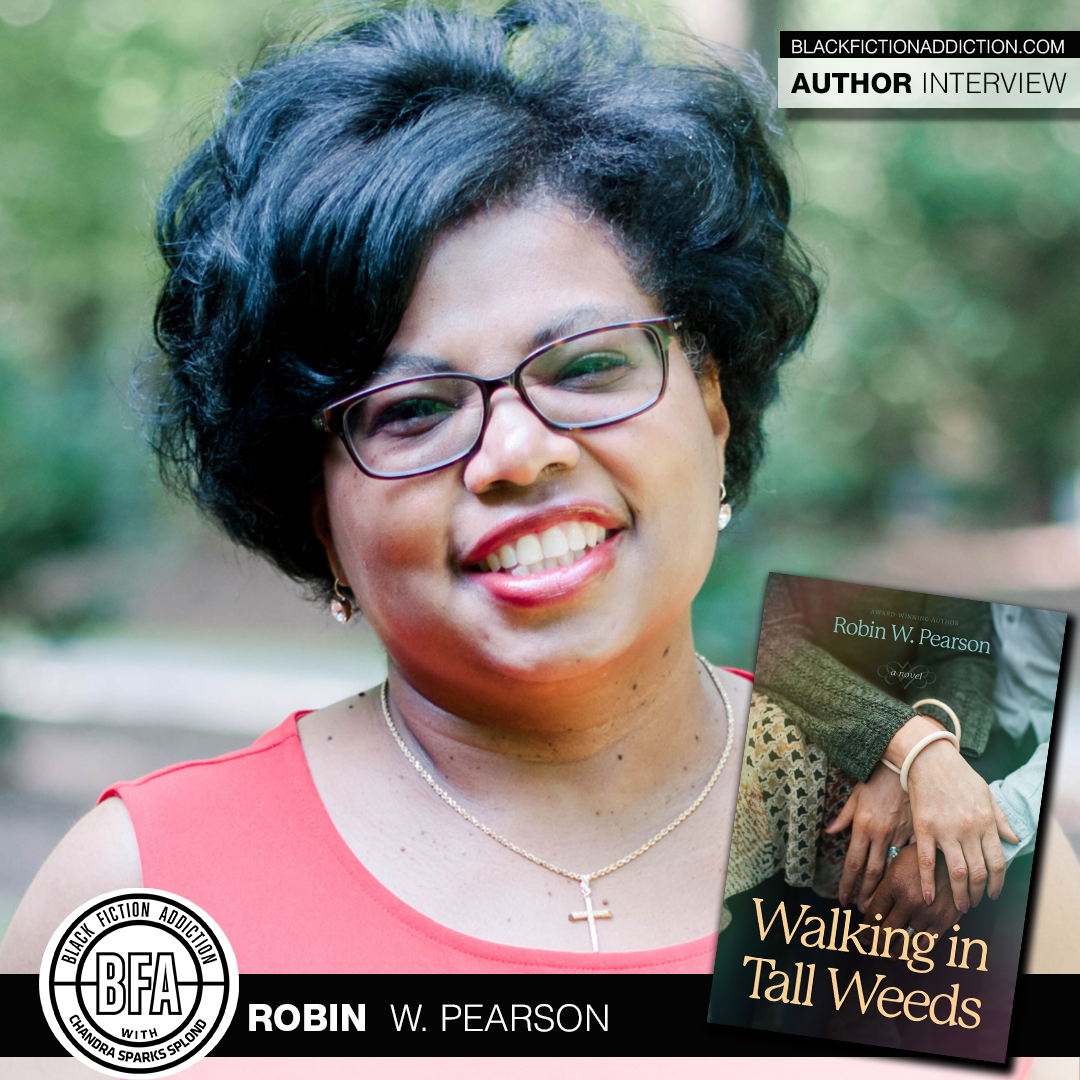 Award-winning author Robin W. Pearson is back with a novel about walking about your faith. I recently spoke with her about Walking in Tall Weeds.
Tell me about your latest book. 
Paulette and Frederick Baldwin find themselves wading through a new season of life in Hickory Grove, North Carolina. Thick "weeds" have broken through three decades of established communication lines. Their only son, McKinley, now works as an interior designer hundreds of miles away, and when he returns home, his visit dredges up even more conflict between Fred and Paulette.
Fred, a furniture designer, has dedicated himself to living up to his family legacy, including the anger and resentment he inherited from his grandfather. But Etta, a former homeschooling mother and piano teacher, strives not to repeat her painful history, even at the expense of her marriage to the man she adores. McKinley must either walk away from all he knows and loves or confront it—and the hardship that comes with it.
What inspired you to write it?
Conversations with my daddy led me to explore 1 Corinthians 13:7—"Love never gives up, never loses faith, is always hopeful, and endures through every circumstance." While our humanity and our personal history—our biases, culture, background, and suffering—affect how we view the world, make decisions, and relate to each other, I believe the love of Jesus Christ should change our perspective. Frederick, Paulette, and McKinley must decide whether to walk out their faith or walk away from it, a choice we make in countless ways.
When did you fall in love with the written word?
Books have always spoken my love language. Written words can transport you and speak for you, something this introvert learned as a child when I'd lug stacks of books home from the library. As a third grader I authored my first book—an autobiography maybe?—about a little girl who loved butter pecan ice cream. Sad to say, my mom tossed out all seventy-two handwritten pages.
What's the best part of being an author?
Connecting with people, definitely. I'm not writing 400-page journal entries, so I love to hear feedback from readers, sharing how they see themselves in my stories or characters.
What's the hardest part of being an author?
As a homeschooling mama of seven (we've graduated three and have four to go), I'm constantly juggling writing, schooling, homelife, and a dozen other flaming swords. It's hard to prioritize all the responsibilities that come with my author life.
What books have you read lately and loved?
The Deep End of the Ocean by Jacquelyn Mitchard and The Words Between Us by Erin Bartels are both fantastic. And Something Good by Vanessa is exactly that, mmm-mmm good.
What book(s) are you most excited to read next?
Anything that I haven't written! Seriously, I've been working on a manuscript that has taken everything in me to finish, so I can't wait to dive into my huge TBR stack. On the list are novels by Daniel Black, a new-to-me author, and some classics for the school year.
Who would you cast in a movie to play your main characters?
Now, this is something to think about! Denzel Washington's portrayal in August Wilson's Fences inspired lots of discussion in our house. Washington brings such depth and sensitivity to every role, so I'd definitely cast him as Frederick. Jennifer Beals would star as Paulette, and O'Shea Jackson Jr. would play McKinley. Clark Peters as Uncle Lawrence and Loretta Devine as Aunt Juju would round out the major roles.
What's next for you?
At the moment I'm working on my fourth novel for Tyndale, a story about three women whose bond is the very thing driving them apart. Each character expresses her shared pain in very different ways and sees her common past through individual—conflicting—lenses. The novel shows how sometimes our preconceived idea of how love should look wars with our view of how it did look. We must stop yearning for a picture-perfect relationship and realize that the beauty of true love is in the eye of the Creator.
Do you have anything you would like to add?
I'm so grateful you hosted me. This story hits close to home, and I hope people will love Walking in Tall Weeds as much as I do and will share their love for this story in a review or on social media.
---
Use the Black Fiction Addiction affiliate link to purchase your copy of Walking in Tall Weeds by Robin Pearson.
---
Readers can find Robin W. Pearson on book-related sites like Goodreads and BookBub, @robinwpearson on Instagram, Facebook, and Twitter, or sign up for her newsletter at robinwpearson.com.