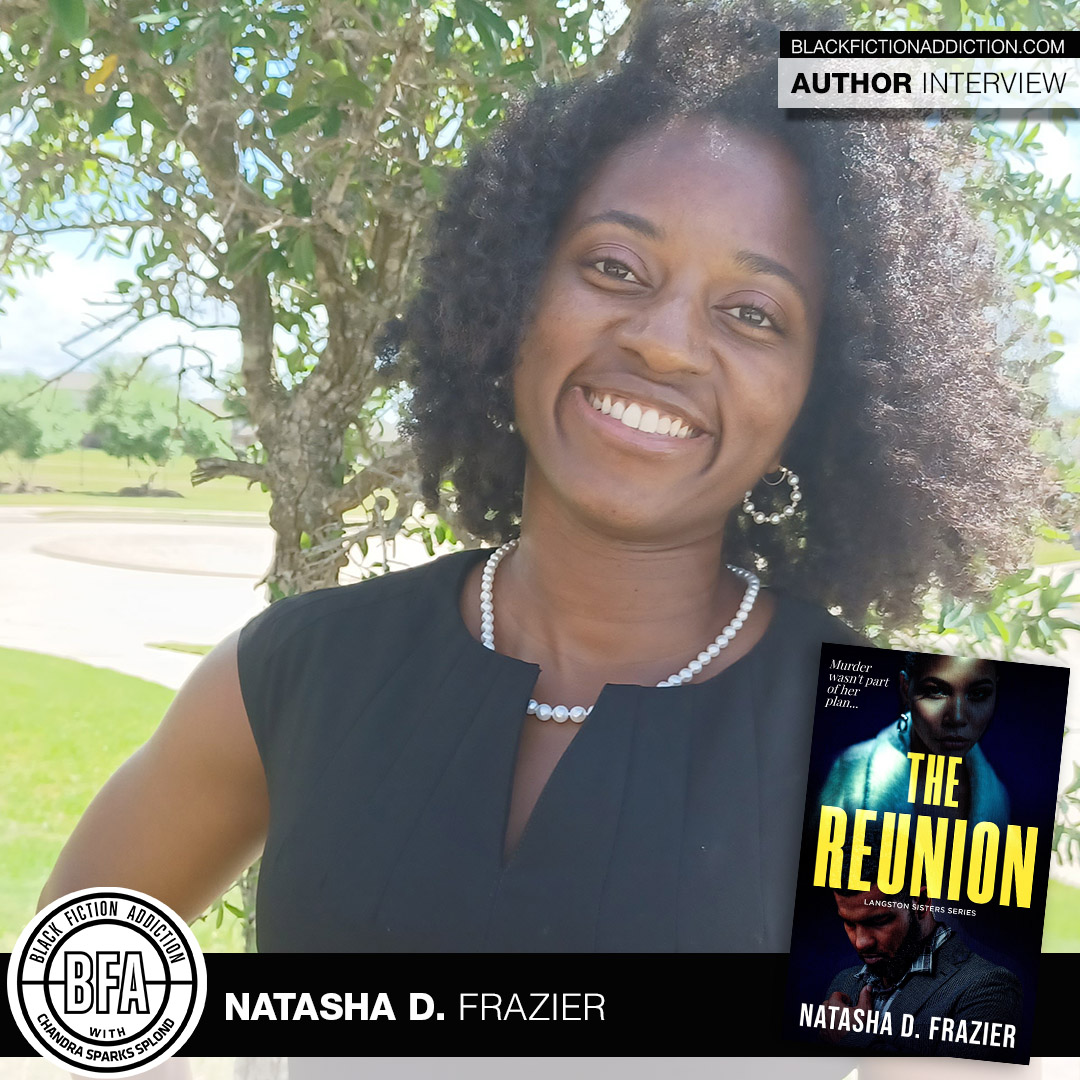 Not only is the Christian Book Lover's Retreat happening this week, but author Natasha D. Frazier who will be attending also has a new release. I recently spoke with her about The Reunion.
Tell me about your latest book. 
The Reunion is book one in the Langston Sisters series, which is my first romantic suspense. Our main character, Crystal Langston, has been divorced from her abusive ex-husband, Dante Green, for over a year. She is now the CEO of her family's luxury handbag company, Langston Brands, and attends their 20th college reunion mixer in an effort to prove to her peers that she's doing okay outside of Dante's shadow. However, Dante ends up dead by the end of the night, and Crystal is the number one suspect.
Marcel Singleton is Crystal's childhood best friend who is a successful criminal attorney in Houston, Texas. Marcel has just launched his campaign for Houston's district attorney when he and Crystal reconnect. He represents Crystal in the murder accusations against her ex-husband, but works to find a delicate balance between his suppressed feelings for Crystal, his district attorney race, and representing a suspected murderer.
Why did you decide to write it?
I toyed with the idea of writing a romantic suspense novel for a while, but the initial story I had in mind wasn't working. Then I received a notification about my 20th high school reunion and the ideas started churning. What if… So I created the characters, and here we are.
What do you want readers to learn from the story?
One of the themes in this book is the idea of second chances, whether that be romance or in other situations. We don't always get a second chance to right our wrongs or fix our regrets, so I'd like to encourage readers to be courageous in love and in pursuing whatever it is that's been placed on your heart.
What do you want readers to learn from your life?
I enjoy telling stories about love and especially second chances because love is the one thing that never fails—God's love that is. We can sometimes believe love has failed us, when it isn't love but people, so we should all trust God's love.
What can readers expect from you if they attend CBLR? 
I'm partnering with Michelle Lindo-Rice for The Reunion book release party. They can expect to have fun and learn more about the characters. We have some fun activities planned for those who attend.
What's something readers would be surprised to know about you?
I'm not sure. I don't think I've done anything that exciting that would make anyone surprised. But what I will say is that The Reunion is my 16th book, and I'm excited about its release. This year marks the 10th year I've been published author.
What books have you read lately and loved?
The two most recent books I read are Toni Shiloh's In Search of A Prince and Dr. Velma Bagby's The Catch No One Wants.
What books are you excited to read?
My mind is overflowing with thoughts to finish my current series, so I've been downloading books to my Kindle and reading in between. Right now I'm reading Joy Avery's Something So Sweet, followed by Unoma Nwankwor's Rent A Bae.
What's next for you?
I'm currently writing book 2 in The Langston Sisters series, featuring Ava. It is currently untitled.
Do you have anything you would like to add?
The Reunion releases October 25, 2022, and will be available online wherever books are sold. Autographed copies can be purchased from my website: www.natashafrazier.com.
---
Use the Black Fiction Addiction affiliate link to purchase your copy of The Reunion.
---
To learn more about Natasha D. Frazier, visit her website or connect with her on social media.
Bookbub @NatashaDFrazier
Instagram @author_natashafrazier
Twitter @author_natashaf
TikTok @author_natashafrazier
Facebook @craves.2012