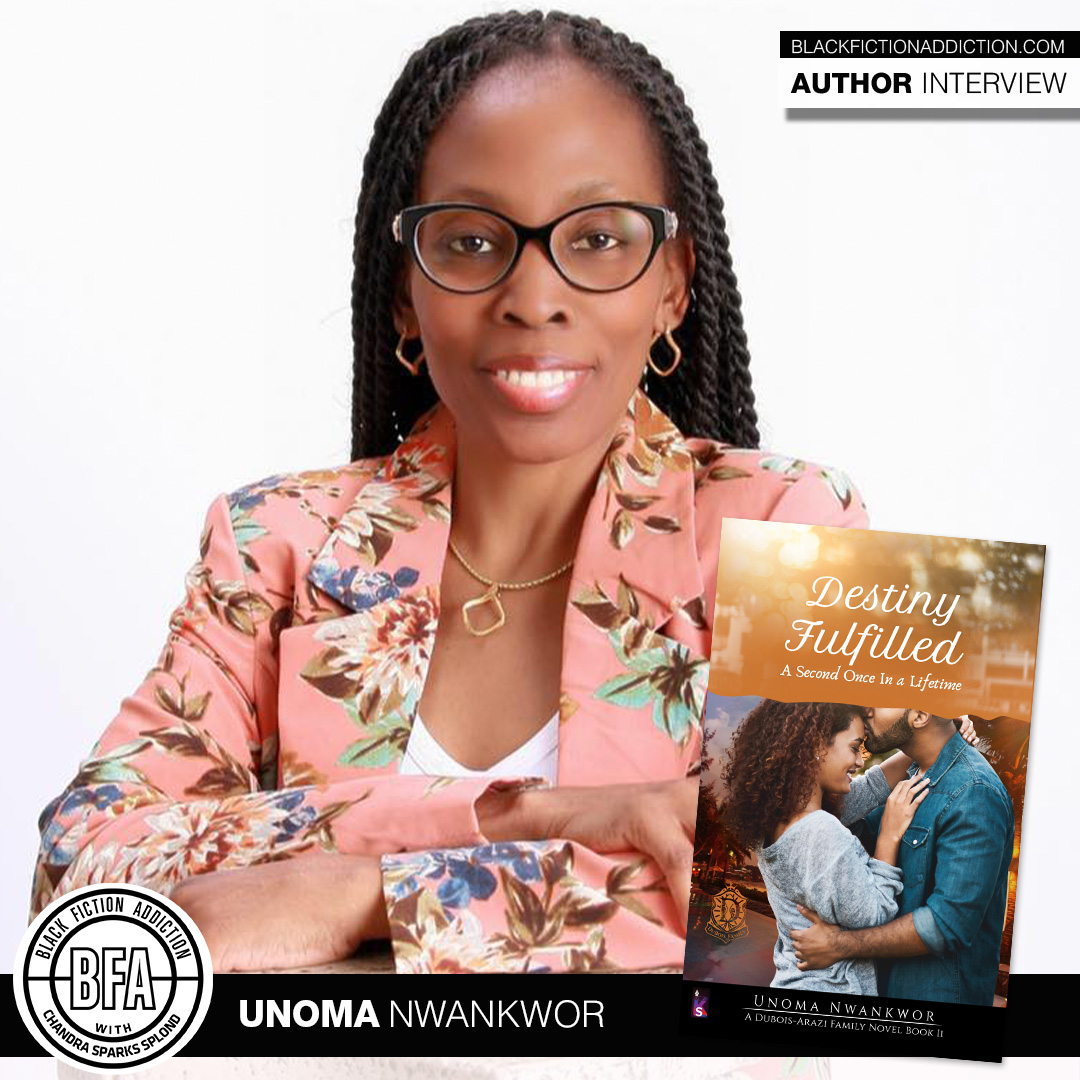 Author Unoma Nwankwor is back with the latest installment in her DuBois-Arazi Family series. I recently spoke with her about Destiny Fulfilled.
Tell me about your latest book. 
Destiny Fulfilled is a second-chance romance. It tells the story of Mustafa DuBois-Arazi and Zaina Bakari. The legacy of Mustafa's family's luxury resort, Grand Amour, is on the line, and he'll stop at nothing to preserve it. Even if it means working with the woman he vowed never to set eyes on again. For Zaina, life is great—well almost. The way she handled Mustafa constantly weighs on her conscience. Years later, she's in his presence again as his environmental consultant. She wants a chance to explain, but he's not the same man she once knew. In this book, I got to explore a topic I never had before, which is environmental conservation.
Why did you decide to write it?
Really, it was just the next book in a family series, The Dubois-Arazi family novels. We met this family first in A Promise Fulfilled. These books are all standalones, but of course they are interconnected because of the family dynamic. As I was writing though, I became enamored with the topic of the environment and sustainability, especially as it pertains to the endangered species in Africa.
What do you want readers to learn from the story?
I want readers to first of all have a nice entertaining time. While doing that, I would also like them to believe in the power of extending grace to others and being aware of how important it is to tackle and understand that we are a sum total of all our experiences, good, bad and ugly but we do not have to allow them to dictate our world view or project them on others.
What do you want readers to learn from your life?
From my life? Hmm, great question. My hope is that my readers learn about or deepen their understanding of the things that I'm passionate about. Faith, the culture and beauty of Africa and the possibility of a happily ever after even after pain.
If you could pick another profession, what would it be and why?
An interior designer. I love putting spaces together. I consider my style minimalistic with flavor.
When did you fall in love with the written word?
I fell in love with the written word at a very early age. I remember reading certain lines in books and taking a pause because the way they were woven together was magical and packed a punch. Something I still do till this day. In my teens, my mom would ask me to look over something she had written and rewrite it. I love words.
What's something readers would be surprised to know about you?
I think the fact that I'm really introverted and that I'm a huge soccer fan. I know introversion is a trait of most writers, but I think I take it to another level.
What books have you read lately and loved?
Gosh, I've read so many it's hard to pick one.
What books are you excited to read?
Oooh, I'm excited about Something Good by Vanessa Miller and The Future King by Kiru Taye
What's next for you?
This summer, I plan to release the Away To Africa series featuring the Kalu family. This is the second volume of my sweet romances under my Afro Luv Bite collection. The first book is titled Rent A Bae. It's prequel, A New Year's Kiss was released earlier this year.
Do you have anything you would like to add?
I just wanna tell the folks out there that these are trying times. Hold on to the confession of your faith, and extend yourself grace.
---
Use the Black Fiction Addiction affiliate link to purchase your copy of Destiny Fulfilled.
---
To learn more about Unoma Nwankwor, award-winning Christian fiction author and co-owner of KevStel Productions & Publications, visit her website or connect with her on social media.
Website http://www.unomanwankwor.com/
Twitter: http://www.twitter.com/unwankwor
Facebook: https://www.facebook.com/UNwankworAuthor/
Instagram: http://www.instagram.com/unwankwor
Pinterest: https://www.pinterest.com/unwankworauthor/