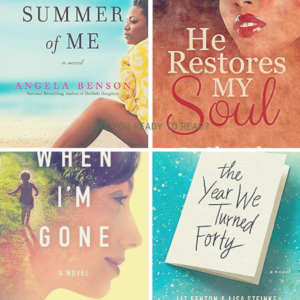 Heading to the beach this summer? Here are a few great reads to check out.
The Summer of Me
Angela Benson
As a single mother, Destiny makes sacrifices for her children—including saying goodbye for the summer so they can spend time with their father and stepmother. Though she'll miss them with all her heart, the time alone gives her an opportunity to address her own needs, like finish getting her college degree. But Destiny's friends think her summer should include some romance.
When I'm Gone
Emily Bleeker
Luke Richardson has returned home after burying Natalie, his beloved wife of sixteen years, ready to face the hard job of raising their three children alone. But there's something he's not prepared for—a blue envelope with his name scrawled across the front in Natalie's handwriting, waiting for him. The letter inside, written on the first day of Natalie's cancer treatment a year ago, turns out to be the first of many. Luke is convinced they're genuine, but who is delivering them?
He Restores My Soul
LaShonda Bowman
When the Langston sisters return home for their mother's funeral, it's not in grief, but in relief. Though Mahalia Langston was known as a gospel music pioneer among the church community, her daughters knew her as someone else altogether. The three women hope that, along with their mother, they can finally bury the secrets that plagued their childhood. But that's no longer an option when tragedy strikes and the sisters are forced to deal with the past they've spent their whole lives trying to forget. With the help of a praying woman, the sisters begin to think emotional healing is a real possibility. Until, that is, they learn their mother had one final secret. A secret so earth shattering, only the grace of God will help them get through it.
The Year We Turned Forty
Liz Fenton and Lisa Steinke
If you could repeat one year of your life, what would you do differently? This heartwarming and hilarious novel from the authors of The Status of All Things and Your Perfect Life features three best friends who get the chance to return to the year they turned forty—the year that altered all of their lives, in ways big and small—and also get the opportunity to change their future.
Don't You Cry
Mary Kubica
In downtown Chicago, a young woman named Esther Vaughan disappears from her apartment without a trace. A haunting letter addressed to My Dearest is found among her possessions, leaving her friend and roommate Quinn Collins to wonder where Esther is and whether or not she's the person Quinn thought she knew. Meanwhile, in a small Michigan harbor town an hour outside Chicago, a mysterious woman appears in the quiet coffee shop where eighteen-year-old Alex Gallo works as a dishwasher. He is immediately drawn to her charm and beauty, but what starts as an innocent crush quickly spirals into something far more dark and sinister than he ever expected.