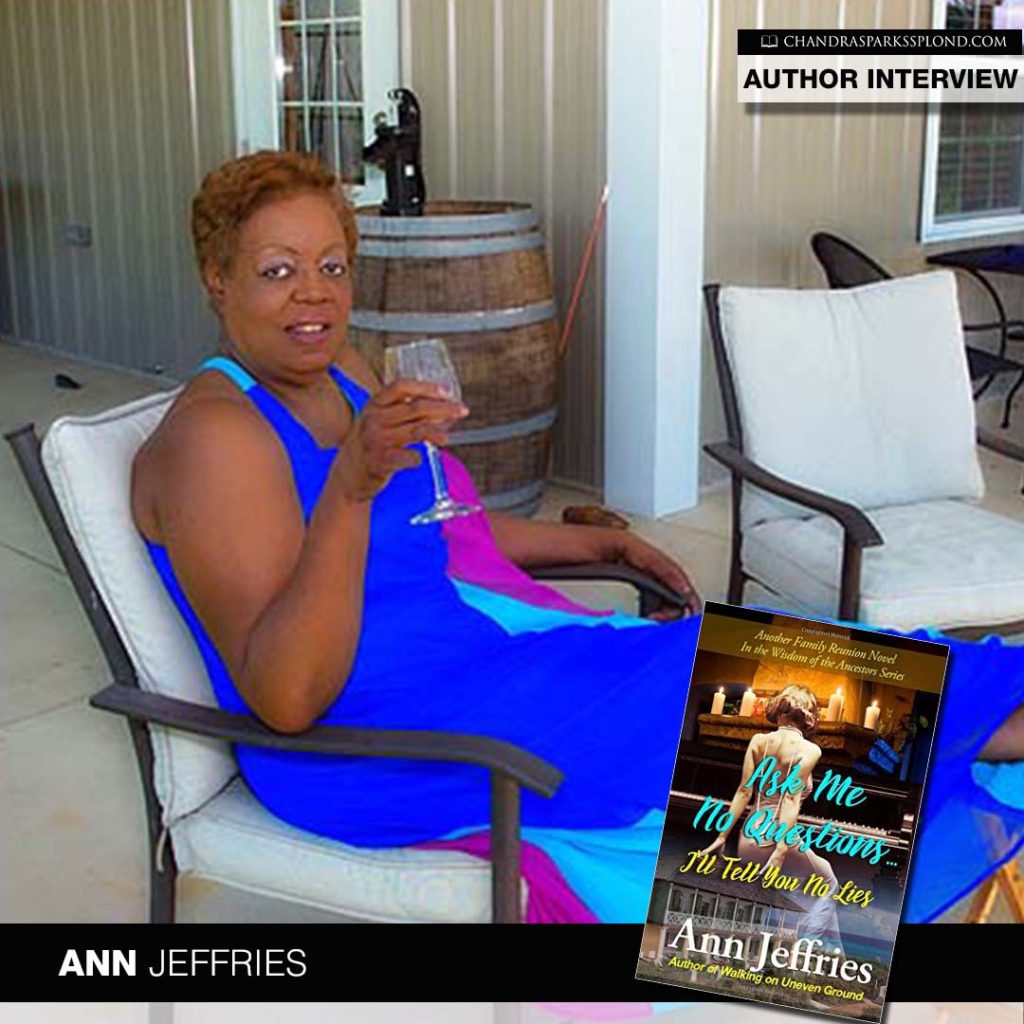 For author Ann Jeffries, there are so many books to write and so little time. I recently spoke with the prolific author about her novel Ask Me No Questions…I'll Tell You No Lies.
Tell me about Ask Me No Questions…I'll Tell You No Lies.
What is a southern, gentile society lady of impeccable taste, breeding, and education to do when her husband of nearly 20 years announces he is divorcing her on the day they deliver their youngest son to college? Loretta Hill Mason, head mistress of the Columbia Academy in South Carolina, did not see her husband's declaration coming and had no idea what she should do next. She couldn't just emulate Miss Scarlet and say "Fiddly dee, I'll think about it tomorrow." Her soon-to-be ex-husband, Randolph, gave her a few weeks to clear her belongings out of the home she made into a show place once featured in Southern Living, listed on the Fabulous Gardens Tour, and envied by their circle of high-society friends and relations. Now she doesn't even have a bank account or credit card in her own name or any other resources to fall back on.
Multi-billionaire Justin W. McCoy learned the hard way from the background of a meager beginning to becoming a titan in the hotel industry. Though he stumbled a few times along the way with an ill-fated marriage, he is now happily divorced, and his teenaged daughter is the brightest spot in his life. Business is good and would be better when he closes the deal to acquire the Delaware Group's hotel chain. That acquisition would make McCoy Hotels, Resorts and Conference Centers one of the top ten travel industry chains in the world. Yet it could come with a dangerous price tag. A pilgrimage to the first resort he ever purchased suddenly reunites him with a woman he fell in love with from afar over 20 years earlier, but had never met. Tagged with the nickname The Rejuvenator in the hotel industry, he never lets an opportunity slip through his fingers in business, and he won't let it happen in his private life this time.
Fate is a fickle finger when the Delaware Group's criminal syndicate wants more than a sale of their hotels to McCoy Enterprises and they will stop at nothing, even involving Justin's daughter, Jessica, and anyone else they can use to their advantage to get what they want. Justin gambles it all to save his business from the criminal element, win his safety, and the safety of the ones he holds most dear, including Loretta.
Why did you decide to write it?
A dear friend suffered through a messy divorce after more than 20 years of marriage.  I believe my friend has the strength to overcome her deep disappointment.  I watched her fight to get back up on her feet.  I wrote the story to demonstrate that life is not over for what my friend and fellow author Evelyn Palfrey calls the "marvelously mature."  Evelyn has written several novels about women in the middle years of their lives. Ask Me No Questions…I'll Tell You No Lies is my first effort to write a novel in this genre.  Not many authors write romantic suspense novels about the over-40-year-old crowd.
What is the biggest lesson you want readers to learn from this story?
Life after 40 can be the beginning of a whole new life and experience.  One should not live life with regrets.
What's the hardest part of being an author?
For me, it's having to divide my time between writing and the sales and marketing sides of the business.  I do a number of book signings each month.  It takes away from the job and joy of writing.  I've set a goal to release four novels in my Family Reunion—Wisdom of the Ancestor series each year.  It's hard when I have to interrupt my train of thought and take time away from the fun I find in the writing process.
Who is your favorite new author and why?
The Carolina Forest Author's Group of Myrtle Beach, SC (of which I am a member), has several new independent authors I enjoy reading.  Those authors are Judy Meinecke because she writes western novels staged in the mid-1800s; Nancy Engle because her novels are based on her genealogy research; Rebecca Bridges because her novels capture images of the present day South Carolina Low Country; Carole O'Neill because her novels are based on true events; and Catherine Lowry because her murder mysteries have her audience learning new things while they are balancing between white-knuckle suspense and the edge of their seats.
Who is your favorite established author and why?
The list is long and distinguished.  However, topping the list, in no particular order, are Sandra Kitt, Janice Sims, Evelyn Palfrey, Nora Roberts/JD Robb, Walter Mosley, J.A Jance, Franky Bailey, David Handler, Barbara Hambly, and Suzanne Brockmann (just to name a few). Why?  In my view, they have the ability to create clear visuals to accompany the engaging stories they write.  Their novels are not flat, repetitive or predictable.  Their characters have substance.  Each author makes me feel as if I'm in the scene watching it unfold real time.
What's next for Ann Jeffries?
I'm very excited about converting my novel, Walking on Uneven Ground, into an audiobook.  It is available now on Audible, iTunes, and Amazon.  Of the 32 books currently scheduled in my Family Reunion—Wisdom of the Ancestors series, I've only release the first 10.  I hope to release each novel in the audiobook format.  I have worked with a very talented actor, Richard Dennis Johnson, toward that end.
Next, I have three mystery novels I plan to release in the New Year in the Jenna Baker series.
Finally, I am floating the Family Reunion series for a screen adaptation through people I know in the industry.
Do you have anything you would like to add?
I have four novels scheduled for release in 2017:  A Different Frame of Mind; All Goodbyes Aren't Gone, Judicial Indiscretion, and Crystal Clear Persuasion.  I'm available for book signings.  Stay tuned.
Use my affiliate link to purchase your copy of Ask Me No Questions…I'll Tell You No Lies.
To learn more about Ann Jeffries, visit her website or connect with her on Facebook.