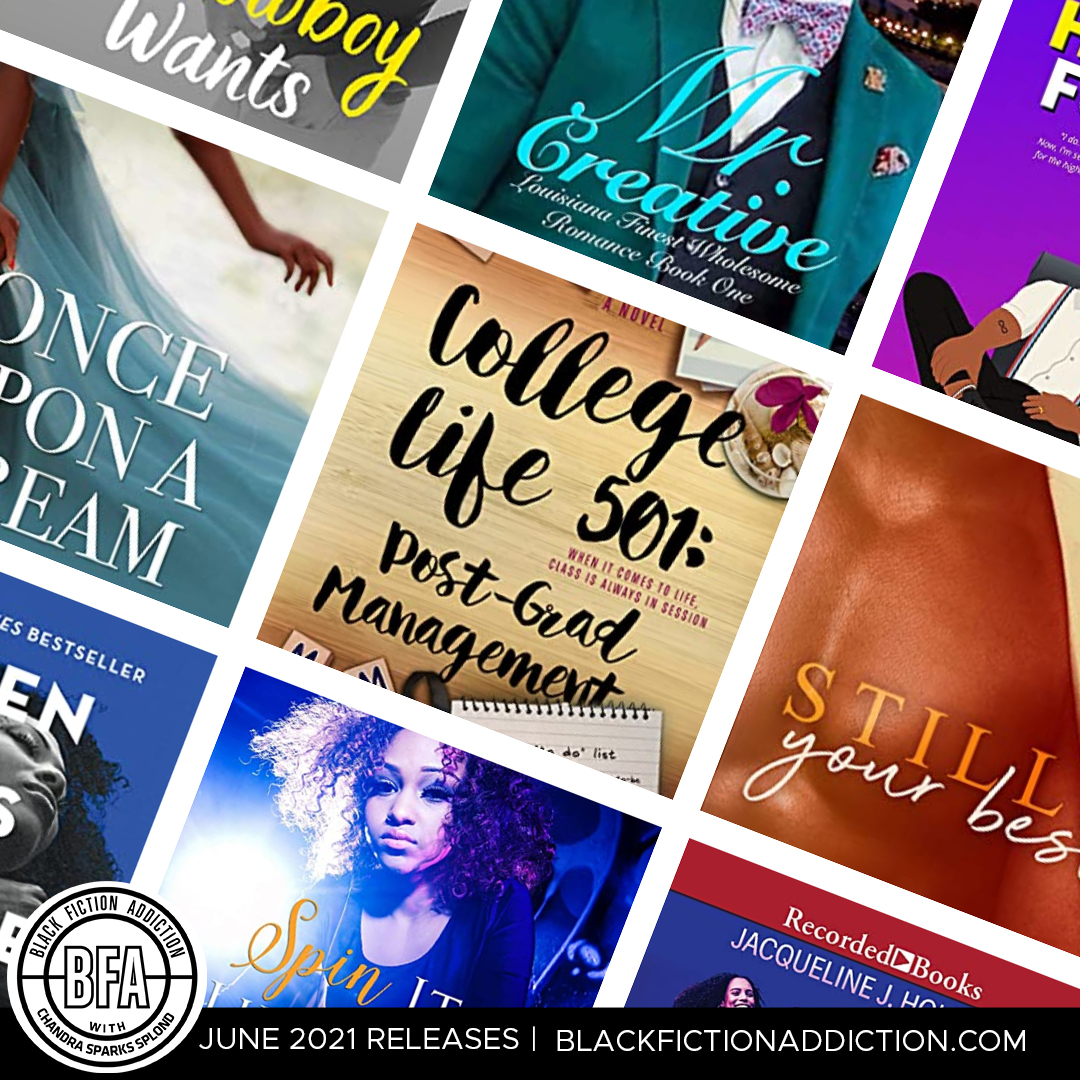 If you are looking for a new read, there are plenty of books to keep you busy during the lazy days of summer. Check out these books that were released during the month of June.
Faridah Àbíké-Íyímídé
When two Niveus Private Academy students, Devon Richards and Chiamaka Adebayo, are selected to be part of the elite school's senior class prefects, it looks like their year is off to an amazing start. After all, not only does it look great on college applications, but it officially puts each of them in the running for valedictorian, too.
Shortly after the announcement is made, though, someone who goes by Aces begins using anonymous text messages to reveal secrets about the two of them that turn their lives upside down and threaten every aspect of their carefully planned futures.
As Aces shows no sign of stopping, what seemed like a sick prank quickly turns into a dangerous game, with all the cards stacked against them. Can Devon and Chiamaka stop Aces before things become incredibly deadly?
---
Nekesa Afia
Harlem, 1926. Young Black women like Louise Lloyd are ending up dead.
Following a harrowing kidnapping ordeal when she was in her teens, Louise is doing everything she can to maintain a normal life. She's succeeding, too. She spends her days working at Maggie's Café and her nights at the Zodiac, Harlem's hottest speakeasy. Louise's friends, especially her girlfriend, Rosa Maria Moreno, might say she's running from her past and the notoriety that still stalks her, but don't tell her that.
When a girl turns up dead in front of the café, Louise is forced to confront something she's been trying to ignore—two other local Black girls have been murdered in the past few weeks. After an altercation with a police officer gets her arrested, Louise is given an ultimatum: She can either help solve the case or wind up in a jail cell. Louise has no choice but to investigate and soon finds herself toe-to-toe with a murderous mastermind hell-bent on taking more lives, maybe even her own….
---
A.C. Arthur
For better or worse, this unlikely hook-up might be the perfect union.
Wedding planner Leah Graham doesn't believe in "Happily Ever After". It's fine for her clients to believe in fairy tales, but when it comes to her own nuptials, her feet aren't just cold – they're frozen. Jaded by her mother's frequent trips to the altar Leah's content to plan gorgeous weddings for clients such as her hair stylist, Ms. Rosie; that is until Ms. Rosie's meddling son turns Leah's life upside down.
Computer programmer Terrell Pierce is on the prowl for his perfect bride, but when he catches his girlfriend in bed with another man, his search comes to a screeching halt. Then, as if he needed more drama in his life, his mother announces her intention to remarry, and her groom-to-be is a suspected criminal. Finding a wife suddenly takes a back seat to proving this joker is no good for his mama!
Terrell and Leah are at instant odds – their positions clashing, their attitudes getting in the way. Still, the passion between them simmers as they travel the streets of Baltimore in search of a drug lord, then cruise the seas to Negril with the FBI hot on their trail. Love-at-fist-sight simply isn't enough to get this couple down the aisle. But murder and mayhem might be!
*NOTE: This book was previously published. The title is the same, but the cover has changed and the content has been refreshed. Please do NOT purchase this book under a different cover.
---
Kalynn Bayron
Briseis has a gift: she can grow plants from tiny seeds to rich blooms with a single touch.
When Briseis's aunt dies and wills her a dilapidated estate in rural New York, Bri and her parents decide to leave Brooklyn behind for the summer. Hopefully there, surrounded by plants and flowers, Bri will finally learn to control her gift. But their new home is sinister in ways they could never have imagined–it comes with a specific set of instructions, an old-school apothecary, and a walled garden filled with the deadliest botanicals in the world that can only be entered by those who share Bri's unique family lineage.
When strangers begin to arrive on their doorstep, asking for tinctures and elixirs, Bri learns she has a surprising talent for creating them. One of the visitors is Marie, a mysterious young woman who Bri befriends, only to find that Marie is keeping dark secrets about the history of the estate and its surrounding community. There is more to Bri's sudden inheritance than she could have imagined, and she is determined to uncover it . . . until a nefarious group comes after her in search of a rare and dangerous immortality elixir. Up against a centuries-old curse and the deadliest plant on earth, Bri must harness her gift to protect herself and her family.
---
Our Reckless Hope (audiobook)
Love Belvin
"I believe it was the night before Thanksgiving of the year I'd fallen for a tomboy fighter from a trailer park in South Jersey. I was in your kitchen when you told me cheating is wrong, and will never be right. But the biggest conflict is when you fall in love with someone who isn't yours.
"You said people fall in and out of love every day, and that most of it is bullshit…being more about passion and temporary emotions. But when the person you're cheating with is worth a commitment and sacrifice, and when you're prepared in your heart and mind to walk through the fire of the mess, it might be something real after all. That was and still is KaToria McNabb."
Fate via her unconceivable success reconnected the unlikely pair. What has happened? Why didn't he call? Why didn't she reach out?
Ashton and Tori unravel the paths their lives took after Blakewood State University. It's been a painful twelve-year journey of losses, betrayal, miscommunications, and death. Even in between the devastation were new lives, burgeoning careers, and millions being earned by them both. Nonetheless, can the wins override the pain in between?
Publisher's Note: "Our Reckless Hope" is book THREE of a THREE-book series. This book contains angst, profanity, and sexually explicit content. If either of these elements is not what you prefer between the pages of a novel, this is not the venture for you.
---
Niobia Bryant
After surviving a shattering betrayal by a former friend, Jaime Pine has every reason to celebrate. Stronger and savvier after her "perfect" marriage crashed-and-burned, Jaime now has Luc, a billionaire music mogul willing to give her everything, including a dazzling career, and what looks like a forever happily-ever-after. Until a no-limits island vacation with her best friends turns up the last person Jaime ever expected to see again . . .
Unforgettable Graham Walker, aka "Pleasure," is an ex-escort skilled at mind-blowing sex. But now, after coming to terms with his own troubled past, Graham is a changed man. And Jaime finds him more irresistible than ever. Yet after one last no-holds-barred night together and a connection that can't be denied, Jaime decides to finally put Graham in the past and move on with her new life as planned. She accepts Luc's proposal of marriage—and then discovers she's pregnant.
Torn and confused, Jaime spins a desperate web of half-truths and lies-of-omission to protect both men—and herself—as she struggles to choose her path. But when her secrets explode in public, the choice is made for her. Can she deal with her mistakes honestly and do what's best for everyone involved?
---
Dhonielle Clayton, Tiffany D Jackson, Nic Stone, Angie Thomas, Ashley Woodfolk, Nicola Yoon
A summer heatwave blankets New York City in darkness. But as the city is thrown into confusion, a different kind of electricity sparks…
A first meeting.
Long-time friends.
Bitter exes.
And maybe the beginning of something new.
When the lights go out, people reveal hidden truths. Love blossoms, friendship transforms, and new possibilities take flight.
---
Delaney Diamond
Fiery passion wages a war between two destined hearts.
Layla Fleming may miss the toe-curling nights between the sheets with Rashad Greene, but it took a long time for her heart to heal. So when she sees the cocky playboy years later, she ignores his advances and moves on. With the first glimpse, Rashad knows he must have Layla back in his bed, but he still holds a dark secret and worries the chemistry between them will fizzle if she knows the truth.
In a battle of wills, both Rashad and Layla are determined to keep their hearts intact. Could full honesty bring them closer together, or will it drive them forever apart?
---
B.M. Hardin
How much is your husband "worth" to you?
Nema has the perfect husband.
But maybe he's too perfect and better for someone else.
Her personal unhappiness causes her to push and push, until one day, her husband is gone.
But little does he know…he needs Nema's permission to move on.
Jealousy causes Nema to realize that she possesses something more precious than gold.
She has the man of every woman's dream.
And like anything of value…he can be sold.
But Nema is in for one hell of a surprise.
Soon, she discovers she's surrounded by lies.
And no matter how hard she tries; she can't undo what she did.
She can't change the fact that she sold her husband to the "devil" for highest bid.
---
Zakiya Harris
Twenty-six-year-old editorial assistant Nella Rogers is tired of being the only Black employee at Wagner Books. Fed up with the isolation and microaggressions, she's thrilled when Harlem-born and bred Hazel starts working in the cubicle beside hers. They've only just started comparing natural hair care regimens, though, when a string of uncomfortable events elevates Hazel to Office Darling, and Nella is left in the dust.
Then the notes begin to appear on Nella's desk: LEAVE WAGNER. NOW.
It's hard to believe Hazel is behind these hostile messages. But as Nella starts to spiral and obsess over the sinister forces at play, she soon realizes that there's a lot more at stake than just her career.
A whip-smart and dynamic thriller and sly social commentary that is perfect for anyone who has ever felt manipulated, threatened, or overlooked in the workplace, The Other Black Girl will keep you on the edge of your seat until the very last twist.
Conference Assistant Manager at the National Harbor Gaylord, Ayira Nelson's largest conference has decided to cancel. A huge loss in sales, Ayira's knows her job is on the line but despite all her efforts, she can't find a replacement and knows her job is on the line. Sydney Kensington is reentering the culinary world after a devastating failure to pay off his debts. To his shame, he returns with a small bakery specializing in cookies. Neither of them is planning to have a merry Christmas.
---
Love and a Whole Lot of Santas
Terri J. Haynes
But when the International St. Nicholas Association arrives for a conference with 1000 Santas in attendance, their presence begins to impact Ayira and Sydney's lives in ways they didn't anticipate. Can they find happiness, joy, and love for Christmas with a little help from a whole lot of Santas?
---
Veronica G. Henry
Evil lives in a traveling carnival roaming the Depression-era South. But the carnival's newest act, a peculiar young woman with latent magical powers, may hold the key to defeating it. Her time has come.
Abandoned by her family, alone on the wrong side of the color line with little to call her own, Eliza Meeks is coming to terms with what she does have. It's a gift for communicating with animals. To some, she's a magical tender. To others, a she-devil. To a talent prospector, she's a crowd-drawing oddity. And the Bacchanal Carnival is Eliza's ticket out of the swamp trap of Baton Rouge.
Among fortune-tellers, carnies, barkers, and folks even stranger than herself, Eliza finds a new home. But the Bacchanal is no ordinary carnival. An ancient demon has a home there too. She hides behind an iridescent disguise. She feeds on innocent souls. And she's met her match in Eliza, who's only beginning to understand the purpose of her own burgeoning powers.
Only then can Eliza save her friends, find her family, and fight the sway of a primordial demon preying upon the human world. Rolling across a consuming dust bowl landscape, Eliza may have found her destiny.
---
Adrianna Herrera
She'll inherit an empire…but only if she can resist her ex—in this Sambrano Studios novel by Adriana Herrera.
She's on track to be the new CEO.
Her ex is the only one standing in the way.
When Esmeralda Sambrano-Peña unexpectedly inherits her father's media empire, it ruffles more than a few feathers. And no one is more conflicted about it than Rodrigo Almanzar. Esmeralda knows her father's longtime protégé—and her ex-lover—wants the executive job for himself. Making matters worse, their renewed passion grows undeniable with every late-night meeting. Will Rodrigo prove to be the perfect partner in business and pleasure…or her professional undoing?
---
Jacqueline J. Holness
Three successful best friends in Atlanta believe they are thriving in the Black Mecca.
Bossy bank executive Senalda breaks down men from business to bed no holds barred. Hip hop PR guru Jarena praises the Lord and pursues married men with equal persistence. Famous and infamous radio personality Mimi fights with her fans and for the love of her on-and-off-again boyfriend.
But when an ABC News Nightline report, "Single, Black, Female – and Plenty of Company" asks why can't a successful Black woman find a man, the friends are suddenly hyper-aware of their inclusion in the sad statistic: 42 percent of Black women who have never been married.
Like the women in the report, they are career-driven, beautiful Black women living in Atlanta who have everything – but a mate. They resolve to defy the statistic by marrying in a year and have it all by tackling their goal as a project with a vision board, monthly meetings, and more. Project Destination Wedding is born. A "happily married" best friend Whitney is a project consultant.
But as the deadline ticks closer, the women wonder if they can withstand another year of looking for love in the media-proclaimed no-man's land of Atlanta.
Senalda wrests a marriage proposal from the male version of herself, but the proposal comes simultaneously with a devastating secret. Jarena unleashes hell when her call to ministry coincides with dating her married college sweetheart. Mimi faces losing her career and jail time chasing her boyfriend and marries another man in the process. Whitney's power couple profile plummets when her husband, a pornography addict, announces he would rather pursue photography than be an MD.
Inspired by an actual Nightline report, Destination Wedding charts four women's journeys as they discover that love is not an experiment easily confined to a timetable.
---
Brenda Jackson
In order to keep his twin daughters with him while he travels and works, widowed dad Parnell Cabot needs a wife of convenience and Rose Woods wants the job. She also wants Parnell. Rose makes him an offer he can't refuse. Parnell wants nothing more than a strictly business affair, but the intense sexual chemistry between them dictates otherwise, and Rose tests Parnell's level of endurance at every prefect moment.
---
Brenda Jackson and Reese Ryan
These irresistible ranchers are guaranteed to heat up the summer!
Breaking Bailey's Rules by Brenda Jackson
Rule number one for Bailey Westmoreland: Never fall for a man who would take her away from her tight-knit family's Colorado home. So why is she following rancher Walker Rafferty all the way to Alaska? Bailey tells herself she owes the sexy loner an apology, and once she gets there, it's only right to stay and help him when he's injured…isn't it?
His Until Midnight by Reese Ryan
When Tessa Noble takes the stage at a charity auction after a sexy makeover, her best friend, Ryan Bateman, must place the winning bid. It's definitely not because he's jealous. Their weekend getaway is a ploy for positive press…or so the rancher tells himself. But soon things take an unexpected turn from platonic to passionate, catapulting the couple far beyond the friend zone…
---
Jadesola James
Delysia Daniels didn't intend any of this. Accidentally tagging the wrong person in a slightly racy photo could have happened to anyone. But when the slipup gains her thousands of followers and a much-needed opportunity, she takes full advantage. Fake dating an uptight history professor complete with the proverbial stiff upper lip will raise both their profiles, if she can just get him to agree.
Dr. Alexander Abbott-Hill isn't delusional enough to believe his sudden popularity is due to his fascinating lectures. Agreeing to a high-profile, all-expenses-paid trip across the country isn't exactly a hardship, although getting along with an online influencer might be. But he doesn't plan on Delysia. She's smart, beautiful, and far more…everything…than he'd imagined.
Fake relationship aside, neither of them is very good at pretending. Add their instant attraction and undeniable chemistry, and it isn't long before they realize this fictional relationship is going to change their lives—just not the way they thought.
---
Meka James
A fire claims her bakery, but the young special investigator sent to determine the cause just might scorch through the barriers around her heart…
Regina Parker has four loves: her family, friends, business, and her community. A serious relationship hasn't been on her radar since she became a widow. Life is exactly how she wants until it all goes up in smoke. Literally. The attractive outsider called in to help is a distraction she doesn't need.
Firefighter Alec Hodge is eager to spread his wings and the assignment in Madison Island, GA gives him the chance. A suspicious blaze may have brought him to the small town, but enigmatic Regina keeps him coming back.
Sparks fly. Passions ignite. But when revelations hit like a backdraft, the newly kindled relationship could be snuffed out before it really has a chance to burn.
---
Christina C. Jones
Pedestals are lonely places.
Teagan Tolliver is learning the hard way that for every new trophy, every tournament win, comes more scrutiny, more pressure – far beyond what she can do on a court. As an elite, Black female athlete in a sport dominated by people she has little in common with beyond a match, she's got the eyes of the world on her – for better or worse.
Ambrose McNeil is familiar with the concept as well.
Coming out of BSU, he was a star cornerback, fulfilling a long term dream – and challenge – of having his name on the Connecticut Kings roster.
Living the dream.
Until what could've been a career-ending injury leaves him on the sidelines – forgotten about.
But no more.
With a hard-won full recovery on his side, and a new head coach at the helm of the Kings, Ambrose is poised to rebuild his reputation, and retake his place in the lights.
Only… now that the dream is back within his grasp.. . he's realizing the wisdom of old cliches, and wondering if the turf under his feet is going to actually be any greener.
Maybe not, according to Teagan.
She's witnessed firsthand what the pressures of competition – and the addiction to public adoration can do.
But she can't let it go.
Not while she still has a legacy to continue, a birthright to honor, and most importantly – points to prove.
All motivations she and Ambrose have in common.
From accidental enemies, to something softer, to friends, to something deeper than either imagined or was even looking for, they're both navigating more than they can handle alone.
So maybe together…
---
Claire Kann
Everyone thinks they know Jewel Van Hanen. Heiress turned actress turned social media darling who created the massively popular video-sharing app, Golden Rule.
After mysteriously disappearing for a year, Jewel makes her dramatic return with an announcement: she has chosen a few lucky Golden Rule users to spend an unforgettable weekend at her private estate. But once they arrive, Jewel ingeniously flips the script: the guests are now players in an elaborate estate-wide game. And she's tailored every challenge and obstacle to test whether they have what it takes to win–at any cost.
Told from the perspective of three dazzling players–Nicole: the new queen of Golden Rule; Luna: Jewel's biggest fan; and Stella: a brilliant outsider–this novel will charm its way into your heart and keep you guessing how it all ends because money isn't the only thing at stake.
---
Sheryl Lister
The moment divorcée Maxine Richardson crosses paths with Christian Davis, sparks fly in more ways than one. She's stunned by the intense attraction between her and the aggravating man, and is determined to fight it, even if he is fine as wine. However, beneath his gruff exterior is a man whose kiss awakens Max's deepest desires and entices her with a passion she can't resist.
For years, Christian has guarded himself against love and the heartbreak that always seems to follow. But Max, with her voluptuous curves and sexy smile, ignites a fire inside him he never sees coming. She's knocking down his walls with each sensual encounter and tempting him with the promise of forever…if he would only surrender.
---
B. Love
Assad Black, alpha protector and leader of the Black Mayhem Mafia, does whatever it takes to keep his family safe. When he meets Scarlett Graham, he extends her the same grace. Winning her in a poker game to secure her freedom, Assad doesn't expect having her in his possession to open a rabbit hole of problems for him, his family, or his business.
Used to being used and abused by the men in her life, Scarlett finds it hard to accept Assad's help as genuine. As she waits for the day he reveals what she considers to be his true colors, Scarlett unwillingly falls for the beast of a man who sees beyond her beauty. Just when she thinks it's safe to open up to a man for the first time in what feels like forever, her past comes back to haunt her, putting their lives and everyone attached to them in jeopardy.
---
B. Love
When Ali returns to Memphis after a year, the last thing he expects is to experience romantic feelings for his best friend, Westley. Since the age of twelve, she's been more like a sister to him than anything. But when he begins to get to know the new her… Ali starts to see her in more tempting ways.
For Westley, her self-imposed yearlong quarantine started out rocky but eventually became enlightening. Not only has she gained weight, but she's gained more confidence and esteem too. Her aura and appeal are more alluring than ever before—even to her best friend.
Ali is down for whatever, but Westley isn't as open to taking things to the next level. Will she tamper with temptation and see where it leads, or keep things within the safe confines of their platonic friendship?
---
J.D. Mason
Terri Dawson has been chasing a dream; a dream of becoming an A-list actress to the likes of Viola Davis or Regina King. Though she's had her share of supporting roles in television and even on the big screen, she's struggled to achieve that pinnacle of success she's always wanted. As respectable and Oscar-worthy roles become harder to come by, the industry and in one last ditch effort to salvage what was left of her career, she begrudgingly accepted an offer to become a regular on a hit reality television show based in Atlanta only to be fired after the first season. Wallowing in self-pity and junk food, Terri sells her condo, packs up her car and makes a beeline out of Atlanta to figure out what's next?
Devastation, Louisiana is all a buzz about the new resident in town. A famous actress has bought a house and decided to call the small town home. Dr. Nicholas "Nick" Hunt, born and raised in Devastation, practices medicine in New Orleans. When he comes home for a quick visit for a few days, he meets the beautiful, Terri Dawson. Several years older than he is, Nick doesn't let something as silly as age get in the way of pursuing this gorgeous woman, convinced that she might just be the one.
Luther has never forgiven himself for not being there for his wife when she needed him most. Years later, her death still haunts him, compelling him to walk away from his passion—music. By the time he realizes the error of his ways, he's left with a strained relationship with his only son, and the guilt of not being there for the boy during the darkest moments of his life. Terri Dawson is light, a second chance at life, but does he deserve a fresh start? Does he deserve her?
---
Rhonda McKnight
He has something she needs.
She has something he wants.
Neither expected the complication called love.
Journalist Addison Ingram has yearned for more serious bylines and being assigned to interview Stone Bennett of the upcoming Bachelors of Atlanta series isn't a part of her plan. She loathes rich, entitled men like Stone but interviewing him is a means to even meatier stories. However, Stone is not the man she thought he was and that discovery could lead to more than she bargained for.
Stone Bennett wrangles horses and women but he never gets attached. No woman has held his attention for more than a night and he doesn't expect things to be any different with Addison Ingram. Then he hires her as a ghostwriter for his passion project and the chemistry between them makes him yearn for more than a night. But though Addison might not be the woman he thinks he wants; she might just have all that he needs.
Stone is determined to never need a woman. Will he discover Addison might be just the woman he wants?
---
Angelia Vernon Menchan
Sugar Women and Willing Men is a story about what occurs when a thirty-year-old woman feels she has run out of options. Her life of leisure ends abruptly and she feels desperate.
Celeste Anderson reaches out to her Aunt who suggests she 'date' men for money, to pay her bills. The dating she's told can involve sex but it doesn't have to. In fact Celeste discovers there are men who date women as a cover, or to convince the world he's intimately involved with women. Feeling desperate, Celeste agrees and enters a world she didn't know existed or who ran that world. On her journey she meets a cast of women who she names Sugar Women and willing and wealthy men. She quickly learns there is always more to a thing than at first glance. Come travel with her… see what she saw. It's more and less than you might think.
---
Vanessa Miller
Growing up, Tamara Davison felt like a princess in the empire of her father's megachurch ministry. She never wanted for anything, and in her eyes, life was pretty near perfect. It wasn't until her NFL bound boyfriend broke her heart and a sobering truth about her father's past was revealed that Tamara began to wonder about the perfect life she thought she had.
Jonathan Hartman loved Tamara Davison the moment he met her. Jonathan was brought up by a single mom who struggled to make ends meet. He had to work two jobs in college, but it all paid off. Now he is successful and rich beyond anything he ever imagined possible for a kid that came up the hard way like he did. It had been ten years since Tamara ran after a pro-baller rather than give Jonathan's love a chance. Tamara is back in his life now and Jonathan must find a way to convince her that true love feels so much better than any fairytale she could ever dream up.
Once Upon A Dream is a reprint of Heaven On Earth with 25% new content, book discussion questions and a book club kit.
---
Tay Mo'Nae
Have you ever felt like you weren't good enough? Have you ever felt like everything you do is wrong? When two people battling the same thing collide, they learn they might be the perfect solution for each other. After finding out her fiancé is married, Ayame needs a fresh start. When presented with the opportunity to move to Butter Ridge Falls and take over her late aunt's chocolatier she doesn't hesitate. The last thing Ayame was expecting to do was meet Austin. Soon she finds herself in quicksand, falling fast for the troubled soul.
Austin is tired of being the black sheep of his family and ready to prove he's worth more than being the troublemaker. When he meets the chocolate beauty next door to his newly opened cigar bar, he's instantly attracted to her. Trying to fight the urges he feels for her, Austin attempts to push Ayame away knowing he will only hurt her in the end. There's only one problem, the heart wants what the heart wants! Ayame and Austin both struggle with insecurities brought on by their childhood and relationships growing up.
They find comfort in each other and learn to be each other's safe haven, but what happens when one of them is keeping a secret big enough to break the other? Will they be broken up before they truly get a chance to be happy? On top of everything else, one of them learns family can betray you worse than anyone. Take a ride with these two and be prepared for a bumpy ride.
---
Reed Family Box Set: Complete Series
Tyora Moody
BROKEN HEART, Book 1
How can Homicide Detective Jo Reed-Powell keep her mind on finding a killer when her life is falling apart? Jo is struggling with her shattered marriage knowing her husband has had an affair. As Jo questions the twists and turns of her current murder investigation, can she let God mend her broken heart?
TROUBLED HEART, Book 2
Forensic artist Toni Reed loves when her work helps the police catch criminals. Tasked with helping a traumatized woman identify her attacker, Toni is troubled when she sketches a face that resembles a man from her past. Is it the same man who brutally attacked her two years ago?
RELENTLESS HEART, Book 3
When a former boyfriend and prominent defense attorney is gunned down in his office, Asia is jolted into action, determined to find out who's responsible. Only hours before his death, Adam Locklear insists they meet about information she needs to know. Did Locklear's death have anything to do with what he wanted share?
WITH ALL MY HEART: A HOLIDAY SHORT, Book 3.5
As Vanessa prepares to bring her family together for the holidays, she contemplates one of her greatest tests of faith and the consequences.
FAITHFUL HEART, Book 4
Crime Scene Investigator Cori Reed is a certified geek who's finally found the one. He's been dating his co-worker Geneva Sanchez for almost a year but is sensing some distance in the relationship. After Cori is called to investigate a homicide crime scene, he soon realizes that Geneva could become a suspect. He's determined to find evidence to prove her innocence, but Geneva is keeping secret.
WOUNDED HEART, Book 5
Jackson "Jax" Reed has exchanged his years as a reporter to become a New York Times bestselling author. Despite the growing success of his true crime books, a secret that his mother took to the grave has turned his life upside-down. Jax runs into an old flame, Ebony Hampton, the woman who broke off their engagement fifteen years ago. When an old "friend" makes a daring escape from prison and secrets from Justice's lineage collide, the former couple will find themselves risking their lives together.
---
Bethany C. Morrow
Meet Naema Bradshaw: a beautiful Eloko, once Portland-famous, now infamous, as she navigates a personal and public reckoning where confronting the limits of her privilege will show Naema what her magic really is, and who it makes her.
Teen influencer Naema Bradshaw has it all: she's famous, stylish, gorgeous–and she's an Eloko, a charismatic person gifted with a melody that people adore. Everyone loves her–until she's cast as the villain who exposed a Siren to the whole world.
Dragged by the media, and canceled by her fans, no one understands her side: not her boyfriend, not her friends, not even her fellow Eloko. Villified by those closest to her, Naema heads to the Southwest where she is determined to stage a comeback… to her family, her real self, and the truth about her magic. What she finds is a new community in a flourishing group of online fans who support her.
At first, it feels like it used to–the fandom, the adoration, the community that takes her side–but when her online advocates start targeting other Black girls, Naema will realize that–for Black girls like her–even the privilege of fame has its limits. And only Naema can discover the true purpose of her power, and how to use it.
---
Marie Benedict and Victoria Christopher Murray
The remarkable story of J. P. Morgan's personal librarian, Belle da Costa Greene, the Black American woman who was forced to hide her true identity and pass as white to leave a lasting legacy that enriched our nation, from New York Times bestselling author Marie Benedict, and acclaimed author Victoria Christopher Murray.
In her twenties, Belle da Costa Greene is hired by J. P. Morgan to curate a collection of rare manuscripts, books, and artwork for his newly built Pierpont Morgan Library. Belle becomes a fixture in New York City society and one of the most powerful people in the art and book world, known for her impeccable taste and shrewd negotiating for critical works as she helps create a world-class collection.
But Belle has a secret, one she must protect at all costs. She was born not Belle da Costa Greene but Belle Marion Greener. She is the daughter of Richard Greener, the first Black graduate of Harvard and a well-known advocate for equality. Belle's complexion isn't dark because of her alleged Portuguese heritage that lets her pass as white—her complexion is dark because she is African American.
---
Electa Rome Parks and Monica Garner
Remember the old adage, what happens in Vegas, stays in Vegas? This time around it is, what happens on the road trip stays on the road trip. Meet Arlington Harper and Delilah Jackson, two middle-aged, beautiful, recently divorced good friends, attempting to pick up the pieces of their shattered lives, together.
End of the Road Arlington is a bestselling novelist. After spiraling into a depression after her recent divorce, dealing with an ex-husband who is still trying to control her life and writer's block all at the same time, Arlington finds herself on an impromptu road trip in a rural town, where she finds herself caught up in proposition that she only writes about in her novels.
Saint City Divorced Delilah is a smart, streetwise police officer, soon-to-be detective, who has simply given up on love and men. If love comes her way, she is running in the opposite direction. From as far as she can throw them, Delilah no longer trusts men. After agreeing to a New Orleans road trip with her sister and friends, Dee meets a sexy, mysterious man. But by the time she discovers his dark past, she is already tiptoeing on the verge of something that resembles love.
Arlington and Delilah learn that sometimes an unexpected, erotic and adventurous road trip is just what the doctor ordered! Hold on tight for a wild ride.
---
Nana Prah
Gia Baxter never asked for a personal trainer, yet a former UFC champion is exactly what she got. Determined to make the best of it and shed the pounds she gained from stress eating, she dives into training. As they get to know each other, sparks between them become difficult to ignore and Gia's need to discover whatever Lamar is hiding grows stronger.
For Lamar "Phantom" Pearce, Gia is the key to clearing his negative reputation, keeping his business from collapsing, and reaching his lifetime goal of opening a center for inner-city youth. All he needs to do is ensure that Gia completes the full six weeks of training. However, as their relationship deepens, he begins to wonder if his secrets will drive away the best thing to ever happen to him.
---
Aubree Pynn
Kiona has always been the spark to Rodrick's flame. One misstep on their beaten path of attraction is threatening to send Rodrick spiraling out of control. Can the power Kiona possesses prevent what could be a natural disaster?
---
Debbie Rigaud
Simone Thibodeaux is about to switch things up.
Check her life: It's sealed in a boy-proof container. Her Haitian immigrant parents send Simone to an all-girls high school and enforce strict no-dating rules. As for prom? Simone is allowed to go on one condition: Her parents will select her date (a boy from a nice, Haitian immigrant family, obviously).
Simone is desperate to avoid the setup — especially since she has a serious crush on another boy. It's time to take action. Simone and her fellow late-bloomer friends make a senior year bucket list of all the wild things they haven't done yet. Like: going out dancing, skipping class (what), and oh yeah — deciding their own prom destinies.
But as the list takes on a life of its own, things get much messier than Simone expected. Can she figure out which rules are worth breaking and which might save her from heartbreak?
---
Te Russ
Lust at First Sight: A collection of sexy short stories…
*A man meets an incredibly intriguing woman in a lingerie store.
*Book lovers connect at a lock and key party.
*Two strangers get trapped together on an elevator.
*A usually rational woman lets fortune cookies guide her actions with a sexy stranger.
---
Kennedy Ryan
For months I stood by, an understudy waiting in the wings, preparing for my time to shine.
I never imagined he would watch in the audience that night.
Canon Holt.
Famous film director. Fascinating. Talented. Fine
Before I could catch my breath, everything changed. I went from backstage Broadway to center stage Hollywood.
From being unknown, to my name, Neevah Saint, on everyone's lips.
Canon casts me in a star-studded Harlem Renaissance biopic, catapulting me into another stratosphere.
But stars shine brightest in the dead of night.
Forbidden attraction, scandal and circumstances beyond my control jeopardize my dream.
Could this one shot—the role of a lifetime, the love of a lifetime—cost me everything?
---
Emma Salah
Aidan Thomas is staying at his brother's apartment while his own home is being remodeled, but the apartment isn't as vacant as he was led to believe. Pushed out of her own place by a rent increase, Letty Garcia, his sister's gorgeous best friend, is staying there too. The involuntary cohabitation is a temporary solution, one they can both endure unscathed.
---
Liselle Sambury
After years of waiting for her Calling—a trial every witch must pass in order to come into their powers—the one thing Voya Thomas didn't expect was to fail. When Voya's ancestor gives her an unprecedented second chance to complete her Calling, she agrees—and then is horrified when her task is to kill her first love. And this time, failure means every Thomas witch will be stripped of their magic.
Voya is determined to save her family's magic no matter the cost. The problem is, Voya has never been in love, so for her to succeed, she'll first have to find the perfect guy—and fast. Fortunately, a genetic matchmaking program has just hit the market. Her plan is to join the program, fall in love, and complete her task before the deadline. What she doesn't count on is being paired with the infuriating Luc—how can she fall in love with a guy who seemingly wants nothing to do with her?
With mounting pressure from her family, Voya is caught between her morality and her duty to her bloodline. If she wants to save their heritage and Luc, she'll have to find something her ancestor wants more than blood. And in witchcraft, blood is everything.
---
August Chambers is right on the cusp of superstardom, a true leading man in Hollywood. There's just one problem: his love life. He needs a girlfriend who can appeal to his fan base.
Enter Xandra Nicole, a socialite who's famous for being famous. She's done this before, and she's good at it. She knows what to post, what to wear, when to smile. She's a professional at this fake girlfriend thing.
But as the attraction grows, and the sparks fly, the fake lovers begin to wonder what's real. Because in a place like Hollywood, where everyone's pretending, how do you know?
***This is a slow-burn romance with a HEA.
---
Danyelle Scroggins
He needs money to expand his business. She's willing to give him all he needs if his faith goes deeper. Can this billionaire banker show this small-time-dreamer that some things are just a glimpse of what's really purposed for you?
Kivers Landry a/k/ Mr. Creative, the founder of Creative Concepts is going to meet a billionaire financial backer, Lauralee Bergans and nothing will be as he assumed. When he gets there, Bergans tells him that everything looks well but she needs more. Kivers could either go back to his boys and tell them he blew the deal, or go back to Bergans & Bright Financials and make her understand that he's not leaving until the deal is done. What he doesn't know is, more than one deal will be made.
Kivers Landry is not your ordinary guy, but with all of his creative flair, he's reached a point where he needs to reach out in order to make Creative Concepts a company that secures him and his boys.
When he takes a meeting with, Lauralee Bergans, he has no idea what he's in for and nothing he expected will ever amount to what he's getting ready to receive. He almost allows his opportunity to be blown with a wink and the deuces. But faith, wouldn't allow him to leave.
He figures, he has one chance to convince this woman that he's worth her money. She's convinced that any man who will get turned away, but swallow his pride by coming face-to-face with his rejector, has to have the type of heart that she's been waiting on. Lauralee, finds herself wanting to give Kivers so much more than he came for.
Will Kivers and Lauralee discover that the business transaction is really about to become a transaction for love?
---
Chandra Sparks Splond
Sixteen-year-old Jasmine Richardson has a love for music. When she gets on the turntables, her gift for spinning and rhyming earn her admiration and respect. She's also talented academically, but her parents disapprove of their daughter's hobby, hoping it's a phase she's going through. Still, Jasmine finds it hard to deny the joy and freedom she feels when she's playing music that makes people smile and dance.
After a local contest, Jasmine attracts the interest of some music-industry honchos. Then the attitudes of the people around her seem to change and she's forced to face some tough situations. Suddenly it becomes harder for her to tell who's really happy for her and who's totally a fake. But when the music is in your heart and your talent shines bright, sometimes all you can do is…spin it like that.
---
Tanisha Stewart
Who is the father of Shaneece's baby, and what's going to happen when the results are revealed?
Hype is consumed with shock and guilt over his recently murdered cousin. He desperately needs to escape. If the results confirm he's the father, it might push him over the edge.
Twon's future is riding on these results too. He feels like he's ready to move forward with Shaneece, but if he's not the father, do they have what it takes to make it?
Shaneece wants to be a good mother, but underlying issues are threatening her focus. Can Shaneece push past her pain, or will her problems overtake her?
Tierra and Quaid are great, until they head to colleges that are hundreds of miles apart. Tierra feels she can handle it… then she develops an attraction to Zeke, a cute boy who lives in her dorm.
Follow this explosive, yet heartfelt ending to the When Things Go series. A coming-of-age story you won't quickly forget.
---
Marian L. Thomas
Since her mother's death, Mýa Day has been no stranger to loss. But with a budding new singing career on the horizon and help from Jack and Mary Tanner, a couple that understands from experience how a troubled past can prevent someone from having a better life, Mýa finally gets a fresh start. A new romance with Michael Davis, a handsome real estate agent, also has Mýa doing eighty miles per hour down Love Lane. That is, until a painful memory throws up a roadblock and causes the couple's joyride to come to a screeching halt. Enter Matt Tanner—Jack's nephew with magnetic blue eyes and a welcoming smile. He slowly works his way into Mýa's heart, showing her the kind of love that fits like a perfect pair of blue jeans. But when a tragedy strikes and Michael reappears, Mýa must choose between the men in her life, come to terms with her grief, and seek out an answer to the question that's been burning in her heart. Can you love someone like me?
---
College Life 501: Post-Grad Management
J.B. Vample
When Alexandra Chisolm, Chasity Parker, Malajia Simmons, Sidra Howard, and Emily Harris graduated Paradise Valley University five years ago, they thought that life would be smooth sailing. That couldn't be further from the truth.
Sidra has settled into her life in California; she graduated law school, has a job, and even goes on an occasional date. However, while she convinces herself that she is content, she is still plagued with thoughts of the man she walked away from five years ago. That, paired with working for a company that is no longer challenging her, Sidra realizes that true contentment, is something she has yet to feel.
Wife to her college sweetheart and mother to their daughter, Chasity finally has the makings of a happy life. But between the stresses of a job that she hates, and being faced with her insecurities as a mother, Chasity begins to wonder if she'll ever be completely happy. Being a stay-at-home wife isn't something that Malajia thought she'd ever be. However, after giving birth to her twin sons, it has become her reality. But for this former party girl, chasing after two active three-year old's all day, every day, is starting to wear thin. She's not sure how long she can keep this up before she loses it.
Emily is in the throes of wedding planning, excited to spend the rest of her life with her fiancé. But when the behavior of certain family members threatens to put a damper on her big day, Emily must find a way to salvage her nuptial plans and her sanity. Alex is loving her life. So much so, that it hardly bothers her that she's single. However, when she runs into an old flame, she quickly realizes that being single is no longer what she wants. But upon learning a certain detail about her interest's life, Alex questions if her ideal relationship will ever become a reality.
Life after college has had its ups and downs for these women, and now it seems that during this chapter in their lives, the downs are hitting them like a ton of bricks. Between life-threating accidents, hurtful arguments, and life-changing decisions, these friends realize that even though they're no longer in school, this semester of life is definitely in session.
---
Monica Walters
Shane Taylor is struggling to find the love that can catapult him into euphoria. Seeing his sisters find that with their life partners, leaving him the odd man out, is driving him insane. However, he has inner demons that are deeply rooted, and he has allowed them to control his love life ever since he was old enough to make his own decisions. A relationship that was once so fulfilling, isn't so fulfilling anymore. Longing for love unparalleled and unconditional has felt like a witch hunt, but finding his one will be worth every moment of it.
Is it love or convenience?
Two women… one man. The options are clear cut and precise. Carrington Breaux, the woman of the present doesn't even know of Shane's inward comparison between her and the woman of the past, Roshianna Green. Matters of the heart can be difficult and confusing when the mind gets involved. Sometimes what's logical may not be what's necessary. Roshianna Green has made a promise to herself to go after what's hers. Carrington Breaux has made a promise to herself as well… to hang on to what belongs to her.
Sharing a man is out of the question, so it's up to Shane to choose wisely, because all decisions are final. Who will it be?
---
Denise N. Wheatley
True crime is her beat.
But this cold case is personal…
Samantha Vincent has turned her fascination with true crime into a popular blog. When an old friend asks her to investigate a murder the police couldn't solve, she begins to suspect that the cops want this case to go cold. Sam is confident she'll catch the killer when Detective Gregory Harris agrees to help her, but everything changes when she becomes a target…
---
Gamal Williams
When a tragic accident takes someone he loves, Franklin discovers he has the power to change it. Franklin, and his sister, Brooklyn, embark on an epic journey that takes them through time and space Franklin's newfound powers and abilities doesn't go unnoticed, however. A sinister organization, known only as The Company, wants Franklin and his powers, and will stop at nothing to get him! JUMP, the new book by Gamal Williams, author of "Fin: A Story of Love and Hope …and making his writing debut, his son,
---
Preslaysa Willams
A heartwarming Avon debut of love, forgiveness, and new beginnings set in the beautiful South Carolina Lowcountry.
Maya Jackson has worked for a renowned New York City bridal gown brand for years and dreams of becoming Head Designer. She has the talent, she just needs a chance to showcase her unique style. Due to an illness, she's always prioritized her career over her personal life until Maya's father fractures his hip and she returns to Charleston, SC. While home for only a few months, she's thrilled to find an opportunity at the local bridal gown boutique, never expecting sparks to fly with its owner….
A military veteran and widowed father, Derek Sullivan hopes to save Always a Bride from bankruptcy in order to preserve the legacy of his family. He also wants to reconnect with his estranged, 12-year-old daughter, who is still recovering from the loss of her mother. The last thing he needs is a relationship with a beautiful, smart, complicated woman who will be leaving soon.
When Derek begins to fall for the lovely Maya, he knows there's no future. But destiny has its own plans, and these two lonely people with big hearts discover that coming home to love is the best gift life can give.
---
Tia Williams
Seven days to fall in love, fifteen years to forget, and seven days to get it all back again…
Eva Mercy is a single mom and bestselling erotica writer who is feeling pressed from all sides. Shane Hall is a reclusive, enigmatic, award‑winning novelist, who, to everyone's surprise, shows up in New York.
When Shane and Eva meet unexpectedly at a literary event, sparks fly, raising not only their buried traumas, but the eyebrows of the Black literati. What no one knows is that fifteen years earlier, teenage Eva and Shane spent one crazy, torrid week madly in love. While they may be pretending not to know each other, they can't deny their chemistry—or the fact that they've been secretly writing to each other in their books through the years.
Over the next seven days, amidst a steamy Brooklyn summer, Eva and Shane reconnect—but Eva's wary of the man who broke her heart, and wants him out of the city so her life can return to normal. Before Shane disappears though, she needs a few questions answered…
With its keen observations of creative life in America today, as well as the joys and complications of being a mother and a daughter, Seven Days in June is a hilarious, romantic, and sexy‑as‑hell story of two writers discovering their second chance at love.
---
Bree Wright
Kimberlee Frost had made a name for herself being a financial analyst. Her blossoming success landed her back in her old college town. But even with Kimberlee's success, she does not feel as if her life is complete until she finds a man to love her and give her a family. Kimmy had a past, and she hated being reminded of it. She was ready to put it all behind her and accomplish the rest of her goals, even if it meant going on blind dates.
Chevy Little is a man that means what he says and says what he means. When he notices that Kimberlee Frost is back in town, he feels like now is his chance, but that changes when he learns she's looking for love. Against his will, love for her brews inside and becomes hard to hold in.
When Kimmy's dates constantly keep failing, Chevy is there to the rescue. But what happens when each of these dates keeps pushing Kimmy more and more into Chevy's arms? Can Kimmy stop allowing her past to dictate her future or will she be stuck on a quest of looking for someone to call her lover?
---
Nicola Yoon
Evie Thomas doesn't believe in love anymore. Especially after the strangest thing occurs one otherwise ordinary afternoon: She witnesses a couple kiss and is overcome with a vision of how their romance began . . . and how it will end. After all, even the greatest love stories end with a broken heart, eventually.
As Evie tries to understand why this is happening, she finds herself at La Brea Dance Studio, learning to waltz, fox-trot, and tango with a boy named X. X is everything that Evie is not: adventurous, passionate, daring. His philosophy is to say yes to everything–including entering a ballroom dance competition with a girl he's only just met.
Falling for X is definitely not what Evie had in mind. If her visions of heartbreak have taught her anything, it's that no one escapes love unscathed. But as she and X dance around and toward each other, Evie is forced to question all she thought she knew about life and love. In the end, is love worth the risk?
---
Merry Hearts series
Some use God's word to justify domestic violence, imprisonment, slavery, and systematic racism rather than preach peace, joy, salvation, and love. Throughout the Merry Hearts Inspirational series, readers will experience scripture as never before. Authors take one-dimensional Biblical characters and breathe new life into them to become relevant for the reader.
Over time, many things have been misinterpreted, but the one important thing is that God's grace isn't just for men. Christ valued women so much. He had His most profound conversations with women. Christ performed astounding miracles through them, and following His resurrection, He appeared to the women first.
Throughout scripture, God's love for women and everyone—no matter ethnic background or gender—may be found, from Genesis to Revelation. May you come to know His love in an authentic, tangible way.
Book 1—Journey—Lisa Dodson [Ruth and Boaz]
Book 2—Visions—J. L. Campbell [The Outside Child]
Book 3—Purpose—Florenza Denise Lee [The Unnamed Woman]
Book 4—Growth—Janice Allen [Esther, The Three Hebrew Boys}
Book 5—Transition—Naleighna Kai  [The Levite's Concubine]
Book 6—Choices—Pat G'Orge-Walker [The Faithful Wife]
Book 7—Patience—Terri Ann Johnson [The Pharoah's Daughter]
Book 8—Persistence—U. M. Hiram [Hannah, The Centurion]
Book 9—Transformation—Naleighna Kai [Tamar and Amnon]