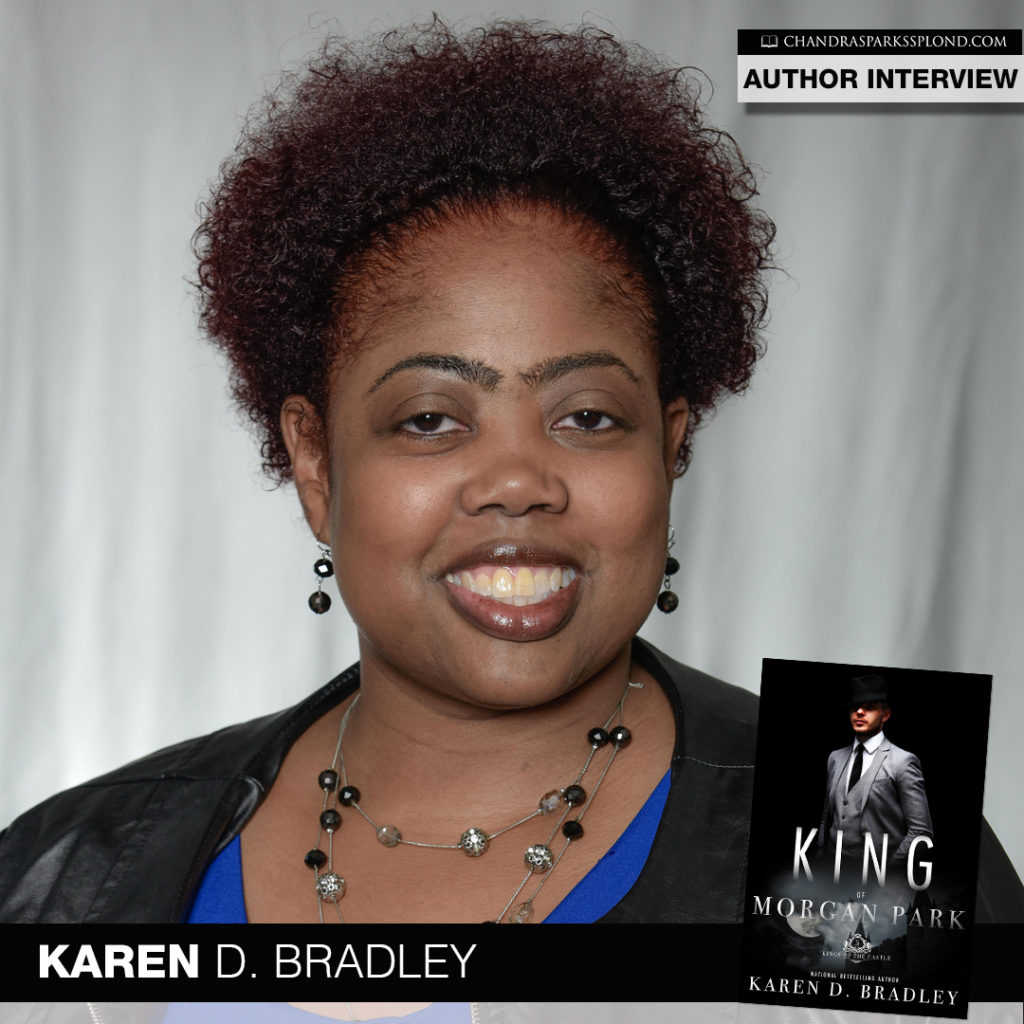 I'm excited to have Karen D. Bradley visiting today to share her contribution to the Kings of the Castle Series, King of Morgan Park.
Tell me about your latest book, King of Morgan Park.
In King of Morgan Park, two things threaten to destroy several areas of Daron Kincaid's life—the tracking device he developed to locate victims of sex trafficking and an inherited membership in a mysterious outfit called the Castle. The new developments set the stage to dismantle the relationship with a woman who's been trained to make men weak or put them on the other side of the grave. The secrets Daron keeps from Cameron and his inner circle only complicates an already tumultuous situation caused by an Interpol and FBI sting that brought down his former enemies. Daron has to take on his enemies, manage his secrets and loyalty to the Castle without permanently losing the woman he loves.
Why did you decide to write it?
I was in the process of editing my upcoming full novel when Naleighna Kai approached me about participating in The Kings of the Castle Series. She thought that my character Daron, from Transition of Power, would be a good fit for the project. Even though this wasn't the next story playing in my head, I thought it was a great opportunity to delve deeper into Daron's character than I had the opportunity to in the Transition of Power.
What do you want readers to learn from the story?
I would like them to learn while we have to be dedicated and non-negotiable about certain aspects of our purpose, we also have to be willing to make small adjustments so that we don't have to do our journey without a support system or a community. The people we surrounded ourselves with will be key in assisting us in navigating through some of the more difficult times on the path to success.
If you could pick another profession, what would it be and why?
I would be director at a dance academy, preferable on the south side of Chicago. Dance is one of the few activities that I would even consider associating with the word passion. I would love for it be a part of my everyday life.
What's the best part of being an author?
The best part is seeing the story I've written through my readers' eyes. The readers' interpretations tend to fuel the flames of excitement within me, especially when they provide unique perspectives or pick up on a message that developed organically during the creation of the book.
What's the worst part of being an author?
It's a tie between the editing process and promoting. The editing process feels like a battle to retain the integrity of the story I want to tell while trying to improve the overall novel. All the red lines and notes can be discouraging at times. On the promoting side, while I enjoy meeting and talking with readers, I don't like public speaking and the process of pitching the books. I can write an 80,000-word, story but my brain freezes when I have to give a two-sentence pitch to sell the novel.
What's next for you?
I have several stories floating around in my mind that I need to get on paper. So, I'm already working on my next novel. I'm also planning to use what I learned from my previous experience producing my short film, Stay Woke, to take on another film project.
Do you have anything you would like to add?
I truly appreciate readers' honest feedback over the years.  While I'm not a huge talker, I love pulling real-life topics out of my novels and discussing them. Some of my most cherished memories as an author have occurred during panel and book discussions when individuals shared their personal experiences and knowledge to the conversation. It has helped me to grow not only as a writer but also as a person. So, I'm looking forward to discussing Kings of the Castles Series with the readers.
Use my affiliate link to purchase your copy of King of Morgan Park.
Visit Karen D. Bradley on the web at karendbradley.com or find her on Twitter and Instagram @ms_kbradley.