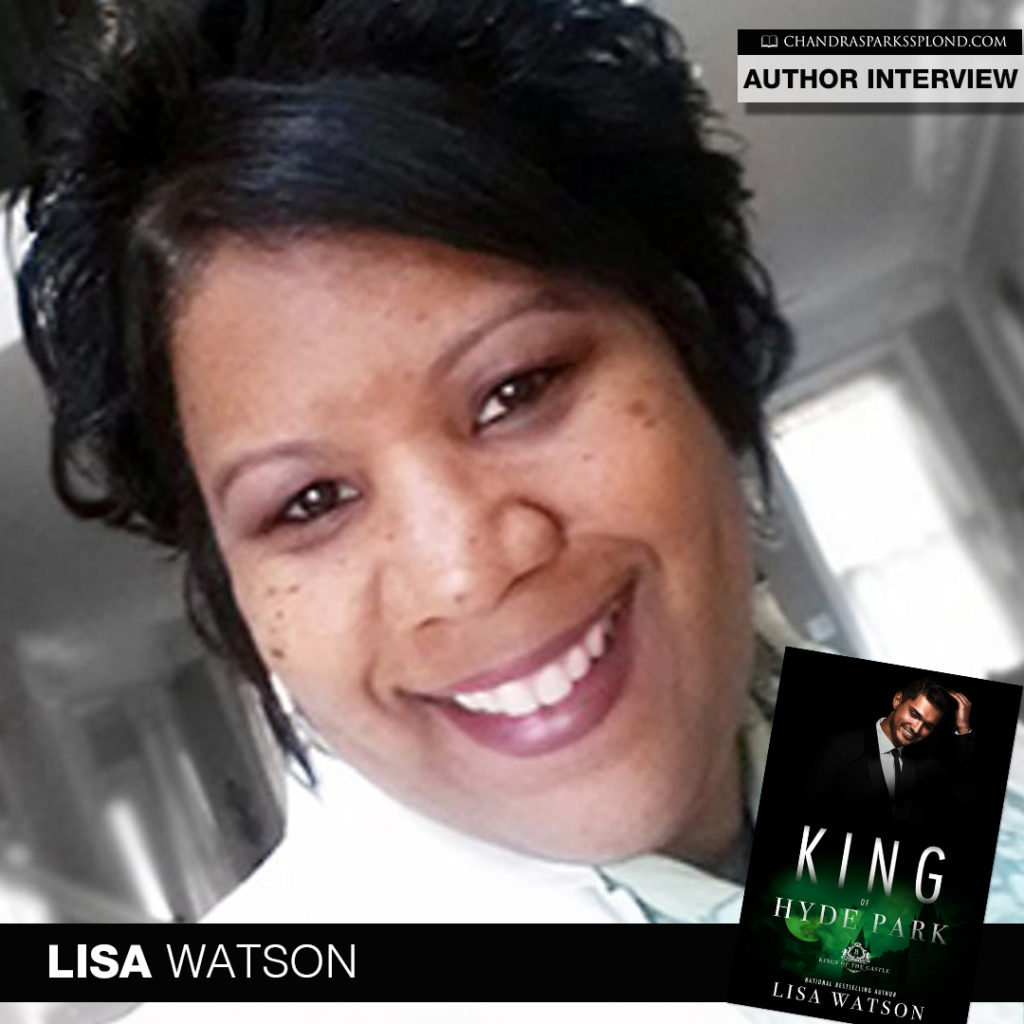 Lisa Watson is excited to have a chance to embrace her love of romantic suspense with the release of her latest book, King of Hyde Park. 
Tell me about your latest book.
The Kings of the Castle is a collaborative effort featuring  S.L. Jennings, Naleighna Kai, Martha Kennerson, J.L. Campbell, MarZé Scott, Karen D. Bradley, Janice M. Allen, London St. Charles, and myself.  It centers on nine powerful, successful men brought together by their pasts and current circumstances by an assassination attempt on their mentor. They set their personal lives aside to protect him, and the Castle at any cost.
Why did you decide to write it?
It was the brainchild of one of my longtime friends and colleagues, USA Today bestselling author Naleighna Kai. She told me about the premise, and I was immediately on board. The story gives me a chance to embrace what I love to write—romantic suspense. Several of my books were published by Harlequin, and there is a formula to that kind of writing. King of Hyde Park allows me to dip my toe back into those waters and also have a little room to write outside of the lines.
What do you want readers to learn from the story?
That it is never too late to right a wrong, it's important to always stand up for what you believe in, and that you don't have to be blood to be brothers.
If you could pick another profession, what would it be and why?
I have other professions. I'm a technical writer, and I also do content editing. I really excel at spending other people's money, so I think that's something I'd eventually love to explore. LOL!!
What's the best part of being an author?
Having a connection to my readers is huge for me. Having them invested in characters that I've created out of whole cloth is very humbling. I'm using the talents God gave me and using them to advance His plans for me. #blessed
What's the worst part of being an author?
For me, it would be not being personally affected by negative reviews. That and when readers that are excited about your book share your book with others. I think a lot of people don't think about sharing it. When they do so, authors only get a percentage of that initial sell. And trust me, it's not that much. So I try to educate readers and encourage them to spread the word, not the book.
What's next for you?
I'm working on a new romantic suspense series, The Lady Doyen. They are strong, powerful, and do whatever it takes to protect the ones they love, and the ones they work for.
Do you have anything you would like to add?
My advice to everyone reading this is to do whatever it is that makes you happy. If it's not your day job, then still be out there pursuing that joy. If it's something you find yourself returning to again and again, then it's what you're supposed to be doing.
Use my affiliate link to purchase your copy of King of Hyde Park.
Connect with national bestselling author Lisa Watson:
Website: www.lisawatson.com
Newsletter Sign-Up: http://eepurl.com/RX2qn
Book Bub: https://www.bookbub.com/authors/lisa-watson
Amazon Author Page: https://www.amazon.com/-/e/B002KLJ6JI
Twitter, Instagram and Pinterest (LisaYWatson), Facebook (NCLisaWatson)