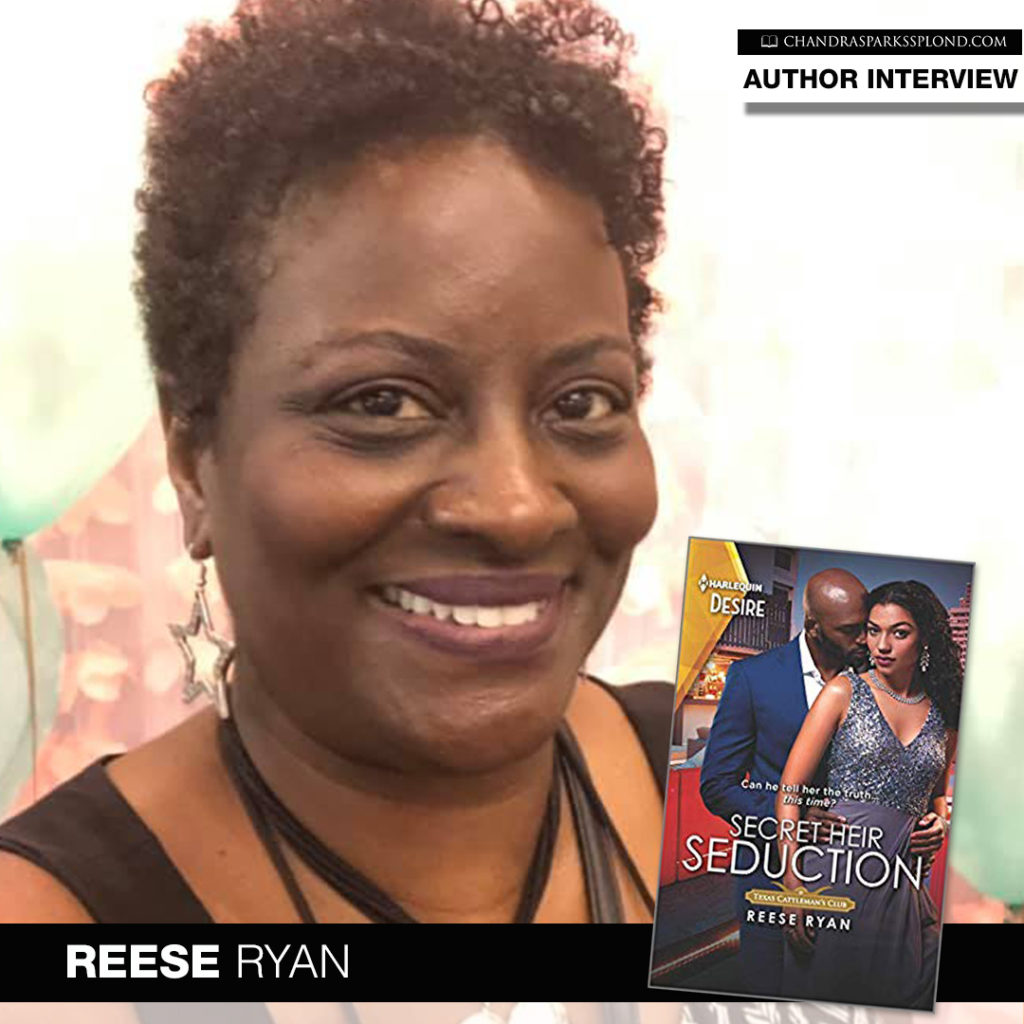 It's always a joy when Reese Ryan stops by for a visit. Today, she's here to discuss her latest release, Secret Heir Seduction.
 Tell me about your latest book, Secret Heir Seduction.
Secret Heir Seduction is part of the Texas Cattleman's Club: Inheritance miniseries. While planning his first major runway show, a rising star athletic clothing designer discovers the identity of his biological father, meets his half-siblings, and reconnects with his grad school girlfriend who he walked away from five years ago. If it sounds like a lot is going on, it is. LOL The book is a standalone, but it's the fourth book in a six-book miniseries that covers scandals and secrets revolving around an obscenely-wealthy, recently-deceased banker who created a deathbed scheme to right his wrongs with regards to his relationship with his children.
Who is your favorite character in the book and why?
The heroine—diamond heiress and independent entrepreneur Audra Lee Covington—is my favorite character. She comes from a wealthy background, but she wants to build her own legacy. Audra loves and respects her parents, still she's a rebel who is determined to make her own path. She's willing to do the hard work necessary to create her own empire. She's kind, but also kind of a smartass. But she's no-nonsense in love and in business. I love that Audra isn't afraid to stand up for herself and that she goes after what she wants.
What was the hardest part about writing the story?
It's always a little more challenging to write a story where someone else developed the initial concept—as is the case with continuity series like Texas Cattleman's Club or Millionaire Moguls. (Think of it as someone else providing the seed that you are then charged with planting, watering, and fertilizing.) Also, in a series like this, all of the authors need to work well together to ensure that there is continuity from one book to the next. We have a lot of leeway to make the story very much our own as long as it doesn't conflict with the overall storyline that runs through the series or another book in the series. Fortunately, this group of authors was terrific to work with. As was every other group of continuity authors I've had the privilege of working with thus far.
If you were to write a book about your life, what would be the title and why?
It would be called Be Ever Wonderful (the title of one of my favorite Earth, Wind & Fire songs). I love that the song encourages us not to be afraid to step into our power and live our best lives while also reminding us to stay true to that same wonderful person you were before anyone ever knew your name.
What is something readers would be surprised to know about you?
That I'm a cornhole-playing nonni to two incredible grandboys and that I'm a competitive smack-talker on family game night.
Tell me about a book that changed your life and why.
Jane Austen's Pride & Prejudice made me want to become a storyteller rather than just a consumer of stories. I wanted to write stories that made readers laugh and cry and want to shake the heroine, too. That book still impact the types of characters and stories I write.
What's next for you?
The next book up for me is my Carnivale Chronicles story, Candidly Yours which will be available in April. Max Abbott's story—Reunion of Rivals, the next book in my Bourbon Brothers series—is available in July. Then in the fall, look for the first book in my new small town series Holly Grove Island.
Do you have anything you would like to add?
Thank you for having me and for all that you do to give fellow authors exposure to new readers! I've loved giving and reading these interviews.
Use my affiliate link to purchase your copy of Secret Heir Seduction.
Learn more about Reese Ryan:
Website: https://www.ReeseRyan.com/
VIP Readers Group: http://bit.ly/VIPReaderLounge
BookBub: https://www.bookbub.com/authors/reese-ryan
Amazon: https://www.amazon.com/Reese-Ryan/e/B00CD31WJ0/
Facebook: https://www.facebook.com/ReeseRyanWrites/
Twitter: https://twitter.com/ReeseRyanWrites
Instagram: https://www.instagram.com/reeseryanwrites/
Goodreads: https://www.goodreads.com/author/show/7048347.Reese_Ryan