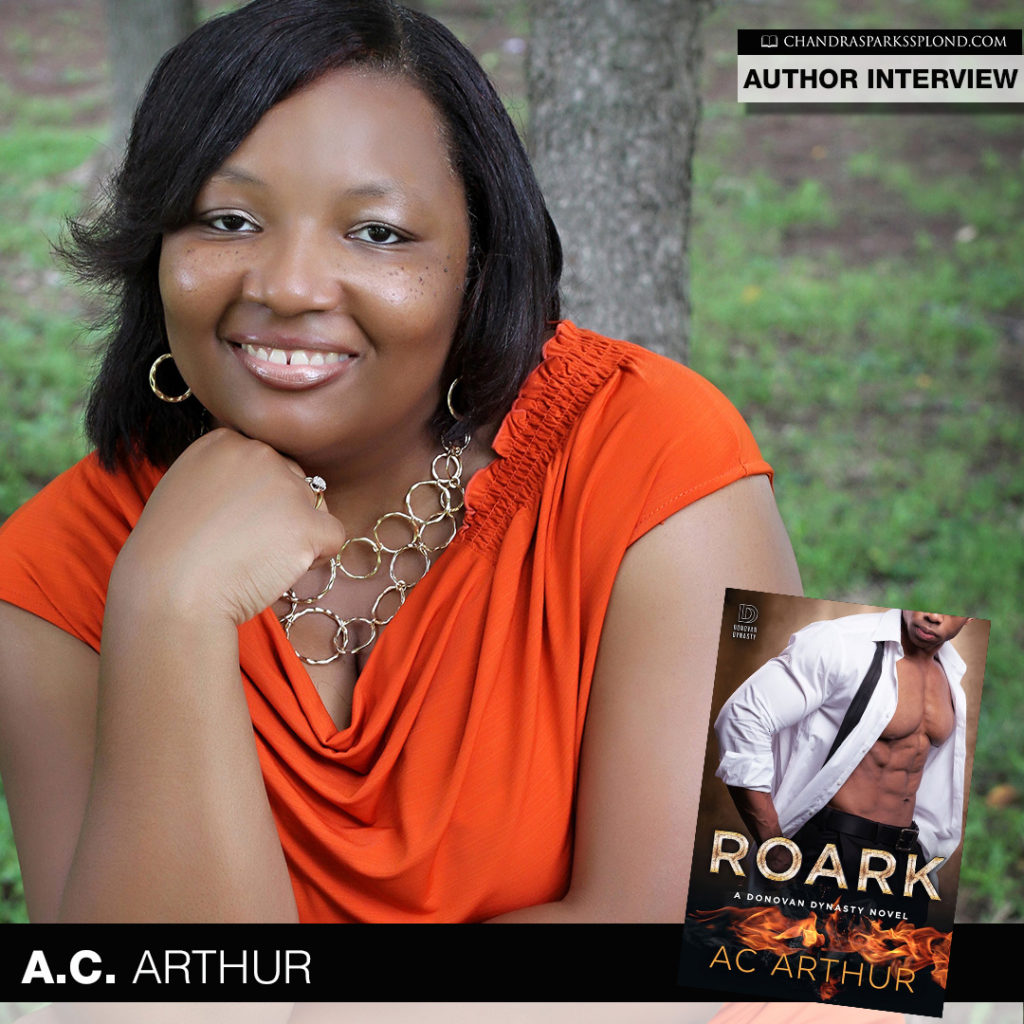 Prolific author A.C. Arthur is putting a new spin on her beloved Donovan Dynasty series by introducing UK Donovans. I recently spoke with her about her latest release Roark.
Tell me about your latest book. 
Roark is the second book in the Donovan Dynasty series, but it's the first book that features one of the UK Donovans. Roark has been running the family oil business in London since his father's death when he was a child, and now, after his mother's death, he's not sure how to go on. But a very tenacious fire investigator named Tamika enters the scene and drops them both in the middle of an arsonist's evil plot. It's a very emotional story that brings together an unlikely couple and their families.
Why did you decide to write it?
The Donovan family is part of my longest running series (and spinoff series), so I'm always thinking of ways in which they can grow and experience new things. From the moment I introduced Roark, I knew that his story would be heavy with lots of changes coming for his life. Still, I was anxious to have him find the perfect woman and to give him some peace.
Who is your favorite character in the book and why? 
It's funny because when I began writing this book, I was so in love with Roark and the journey I had in mind for him, but by the time I came to the end I was feeling more drawn to Ridge Donovan. Even though Ridge hasn't had a chance to really spread his wings within the series, I just feel like he's gonna bring a lot to the table.
What was the hardest part about writing the story?
It was a little hard to deal with the heaviness of the topics of death, grief and change, especially once I entered the editing process and the real world starting to get really crazy. But I just kept telling myself that there's someone who will relate to the emotions these characters are going through and hopefully will be able to take something positive away from this story.
If you were to write a book about your life, what would be the title and why? 
Turbulence. Because even though there always seems to be something going on in my life whether, personal, day job, or writing life, there are the moments of calm or smooth sailing that I've come to depend on.
What is something readers would be surprised to know about you?
That I'm really an introvert. It has taken me years to get used to going out to events, speaking on panels and talking to people about my books. I really am cool staying in my house for weeks, because I feel like I have everything I need—books, tv and food. LOL 
Tell me about a book that changed your life and why.
I won't say there was just one book that changed my life, but that my love of reading as a whole has shaped the person that I've become. Because I love reading, I was introduced to writing, and that gives me my greatest escape. 
What's next for you?
I'm working on a few things right now, but some I can't talk about just yet. Here are the ones I can discuss: the next installment in my new paranormal series, the Legion and finishing the Temptation series and the Sweetland series that I write as Lacey Baker.
Do you have anything you would like to add?
Just that I really hope that reading is providing some type of comfort during these very trying times. It's important that we remain optimistic and hopeful that life will get back to normal soon, but in the meantime, a good book can give some pleasure to an otherwise bleak situation.
Use my affiliate link to purchase your copy of Roark.
About the Author
A.C. Arthur also writes as Lacey Baker and can be followed on the web at www.acarthur.net, Facebook @ACArthurBookLounge, Twitter @AcArthur, Instagram & Pinterest @acarthurbooks, Book+Main @ACArthur and BookBub @ACArthur.