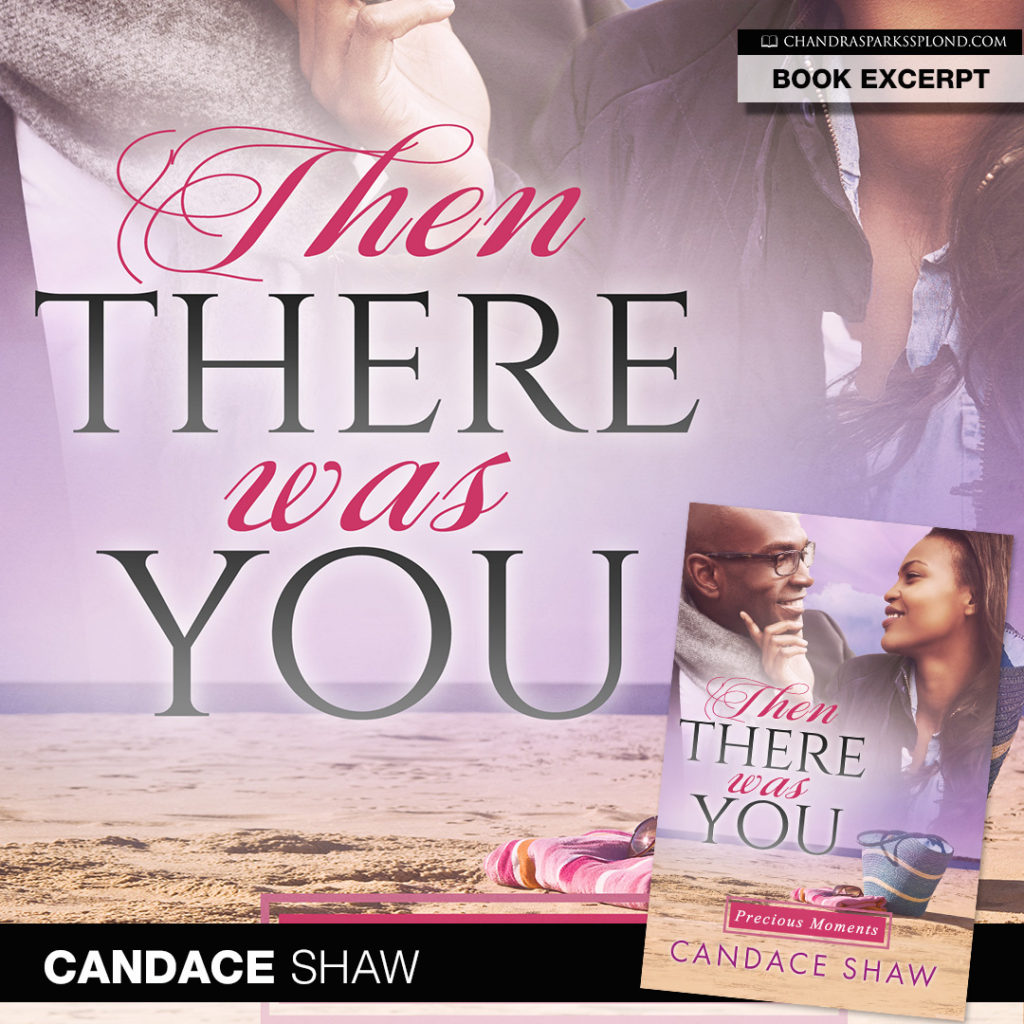 Author Candace Shaw is stopping by today to share an excerpt from her book, Then There Was You.
Then There Was You (Precious Moments, Book #3) Information
Blurb
She promised herself not to give into temptation but some promises were meant to be broken.
Brooklyn Vincent is burned out from dealing with annoying bridezillas, bridal parties, and other celebratory occasions. As the head photographer of Precious Moments Events, she's ready to branch out after helping her friends achieve their dreams but has yet to fulfill her own. When the irresistible Chase Arrington reappears in her life, she decides starting a new relationship at the moment wouldn't be wise considering she's at a crossroads. However, one night together turns into more.
After a year sabbatical, Chase is ready to take over his family's Memphis law firm, but a detour to St. Simons Island has him falling for the beautiful woman he's always adored from afar. While he understands Brooklyn's fears of starting a new relationship, at the same time he knows they are meant to be ever since their eyes met. Can he convince her home is truly where the heart is?
Excerpt
(Background: The hero, Chase Arrington is visiting his baby sister whose tiny house is parked in the heroine's backyard.)
"Gotta go to work, big bro. There's breakfast food in the fridge, and I made a pot of coffee. Spare keys and alarm code are on the kitchen island."
Chase heard his sister's fast-paced shout through his dreams, and the door shut which shot his eyes fully open to rest on the skylight with the sun streaming through. Groaning, he turned his head toward the clock on the nightstand which read 8:36. He remembered Addison had a brunch event to attend. Yawning, he sat up as the strong aroma of coffee perked his senses. He remade the bed as best as possible considering he couldn't stand all the way, and grabbed his cell phone and watch from the nightstand.
Twenty minutes later, he'd showered and was dressed in a pair of jeans while he waited for the iron to heat so he could press his shirt. He sipped his strong coffee while perusing the refrigerator. He wasn't an early morning eater, but his sister did remember he loved coffee upon awakening.
A movement outside of the kitchen window caught his attention, and he spotted Brooklyn clipping herbs from the potted garden on the patio. She was dressed in blue plaid pajama pants that enhanced her cute little derriere, a pink half apron, and a white tank top with her hair swept over her left shoulder. Her feet were bare, and he could make out purple nail polish. If she was going to be his breathtaking view every morning for the next week, bumping his head in the tiny house would be worth it.
Taking the few steps to the door, he opened it and stuck his head out. "Good morning," Chase greeted, standing on the little wooden front porch of the tiny house.
"Oh!" A startled gasp from Brooklyn sounded out as she raised her head. Her eyes blinked several times when they settled on his chest and then darted to his face. Running her empty hand through her hair, she cleared her throat. "Hey. You're up early."
"I'm a morning person," he stated matter-of-factly while noting her gaze wandering back to his chest.
She stood on her tippy toes and rose her head up a tad. "I see you don't have any bruises or dents," she commented with a teasing smile. "You must've managed not to bump your head on the ceiling in the guest loft."
"Barely," he said, rubbing the top of his head. "Doing some gardening?"
"No, needed some herbs to add to an omelet."
"Ahh … are you working today, as well?" he asked, not wanting to hold her up even though he didn't want to let her go either.
"Luckily, no. Did Addi already leave for her event?"
Sipping his coffee, he nodded his head. "Yeah, about thirty minutes ago."
"See you have your coffee. Addison mentioned that's a must have for you."
"Yep, first thing in the morning," he said, taking another sip.
"Have you eaten yet?"
His eyebrow rose and his voice lowered into a deep curiosity. "Why no."
"You can join me for breakfast if you'd like."
He noted the gulp on Brooklyn's throat as if she was shocked those words uttered from her mouth.
"I'd love to," he said quickly before she changed her mind. "You need some help?"
"No … it's almost done." A smile brightened her face. "Just bring yourself … and a shirt," she added, glancing down at his bare abdomen.
Chuckling, Chase took another sip of his coffee. "All right. I'll finish dressing. See you in about fifteen minutes, and I'll bring the coffee."
"Perfect. I'll leave the patio door unlocked."
"Cool. So it's a date?" he purposely asked to see how she would react and respond considering the newfound information from Addison.
Her forehead wrinkled, pronouncing a cute indentation on her left cheek. She eyed him carefully while he assumed she searched her brain for an answer. Shifting her balance from one leg to the other, Brooklyn placed a hand over her brow to block the sun that had begun to peek out from behind Addison's home. Chase admired the way the natural light brushed across her skin and radiated her beautiful warm brown hue even more. Thoughts of running his hands over the silkiness of her filled his head, and he was relieved she began to speak before he reached out to act upon his daydream.
"Noooooooo …" She brushed her hand through her hair again and a released a cute giggle. "Just breakfast."
"I was teasing. Trust me. Our first date won't be at your house."
"Oh, is that right?" Leaning against the door, she folded her arms over her chest. "Our first date?"
"Yes, most definitely.  I think it's safe to say we both know it's bound to happen. See you soon." Winking, he turned on his heel and went inside the house before Brooklyn could say anything else.
His admiration for Brooklyn had been there since the moment he met her, and now he believed staying at his sister's home wasn't by chance but was fate.
Buy Links
Amazon: https://amzn.to/37jtEXu
Amazon UK:  https://amzn.to/2HrMVff
Amazon Ca: https://amzn.to/2w4KuMY
Barnes&Noble: https://bit.ly/31N9Nza
iBooks: https://apple.co/37lgTfb
Kobo: https://bit.ly/2HjS9td
Smashwords: https://bit.ly/2Hhq1H4
About Candace Shaw
Candace Shaw writes romance novels because she believes that happily-ever-after isn't found only in fairy tales.  When she's not writing or researching information for a book, you can find Candace in her gardens, shopping, reading or learning how to cook a new dish.
Candace lives in Atlanta, Georgia with her loving husband and is currently working on her next fun, flirty, and sexy romance.
You can contact Candace on her website at www.CandaceShaw.net as well as subscribe to her email list for updates, excerpts, and giveaways.
Social Media and Information pages
Twitter: https://twitter.com/Candace_Shaw
Facebook: https://www.facebook.com/candaceshaw08 and https://www.facebook.com/AuthorCandaceShaw
Instagram: https://www.instagram.com/candace_shaw/
Amazon: https://www.amazon.com/Candace-Shaw/e/B008FEK8MI
Bookbub: https://www.bookbub.com/authors/candace-shaw
Goodreads: https://www.goodreads.com/author/show/5829266.Candace_Shaw