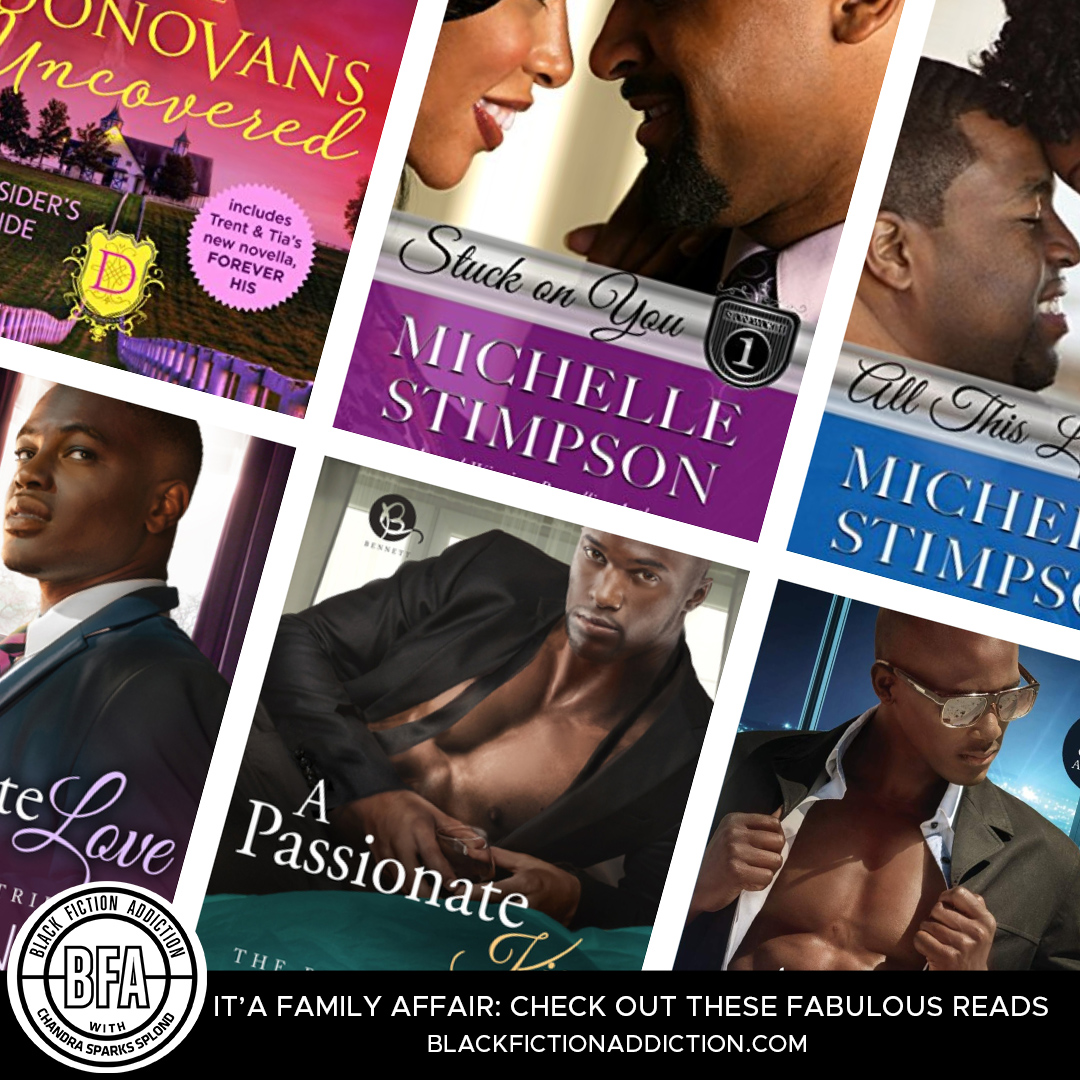 Families. Can't live with them, can't live without them. Before the summer officially ends, and in case you missed your family reunion, here's a chance to check out these releases in family series.
The Bennett Triplets
Candace Shaw, Delaney Diamond and Sharon C. Cooper
In A Passionate Kiss by Sharon C. Cooper, retired Marine, Mason Bennett, has two goals: adjust to civilian life and keep drama out of it. His focus is on his role as part-owner, along with his siblings, of Atlanta's hottest nightclub. However, his attention shifts when the woman he has loved like a sister reenters his life and thoughts of a passionate kiss they shared hijacks his mind. Their connection is explosive. Feelings he's tried to deny come to the forefront, and he's tempted to do something he thought he would never do—cross that line from friends to lovers. TV news anchor, London Alexander, is back home in Atlanta and ready to start a new chapter in her life. This time she hopes her future includes Mason, the man she has loved forever. She's ready to step over the forbidden line that he's drawn in their relationship. Will taking a chance on love lead to a happily-ever-after? Or will risking their friendship leave them both with broken hearts?
Delaney Diamond's A Passionate Love is the story of Simone Brooks and Cameron Bennett who should not be together. She's a wealthy socialite looking for a suitable husband. A man with the right pedigree and an economic status that matches her own. He's part owner of the hottest nightclub in Atlanta with his siblings. Someone who loves cooking, the outdoors, and women, not necessarily in that order. After one night together, their sizzling chemistry makes it difficult to stay away. Then comes the hard part—navigating their differences to salvage a relationship that, while it may be imperfect, overflows with love and passion.
Mixing business with pleasure leads to a passionate night in Candace Shaw's A Passionate Night. Harper Bennett's motto is work hard, play hard. Lately, she's forgotten the latter and has focused her time as part-owner, along with her brothers, of the hottest nightclub in Atlanta. When an intriguing client enters, Harper forgoes her promise to never date a man that doesn't live in the same city and she finds herself playing hard to get with Hunter Arrington. The passion that has ignited between them can't be extinguished, and she dreads the day he has to leave. Hunter travels the world because of his career and has no intentions of settling down until his eyes land on Harper Bennett. There's something about the petite, sassy woman that he adores and makes him feel at home for the first time in years. Now he's faced with a life-changing decision and the thought of being without Harper isn't an option.
The Stoneworths
Michelle Stimpson
In All This Love, Book 2 of the Stoneworths series, Knox Stoneworth got dumped at the altar—literally—and has spent the last few years burying himself in work to move past the pain. After a night of celebrating his parents' anniversary, Knox meets a stranger who just might change his mind about his future. Jada is proud to be from "the hood" and can't relate to Knox's picture-perfect, God-fearing family. Her life has been anything but easy, and trying to stick to her morals has cost her a good job. Now that she's had to move in with her sister and shady brother-in-law, Jada thinks that calling it quits in moving back to Memphis is the best option…unless Knox can give her a reason to stay in Texas.
Stuck On You is the first book in the Stoneworth series. The family history is briefly established, and then readers are off to experience the Stoneworth family's rich legacy of faith and integrity within the context of contemporary romance. Come grow with the family as couples fall in love with each other and discover their God-given purpose for being together throughout the series.
The Donovans
A.C. Arthur
In The Donovans Uncovered: An Insider's Guide, A.C. Arthur delivers a behind-the-scenes look at her renowned Donovan series, with two all new novellas—one featuring the senior Donovans and the other, a highly anticipated follow-up to Defying Desire's Trent and Tia.
This insider's guide will entice readers as much as this dashing and desirable family has. In addition to thoughts and musings from the author about each story in this series, also included is a novella that will take readers back to the beginning of the Donovan empire. Additionally, readers will also love the special peek into the lives of an old favorite couple, Trent and Tia.
This comprehensive guide features first publication dates, reading order, fun facts, interviews and inspiration thoughts on each book published to date in this series. Readers will savor song selections for each book and its characters, as well as a comprehensive list of family members. They'll read what it was like for A.C. Arthur to create this series and the characters they've come to adore. This book will undoubtedly bring readers closer to the characters they have come to know and love as if they were personal relatives, before the final two books in the series are released.
What are your favorite family series?
---
Please note: This post contains affiliate links