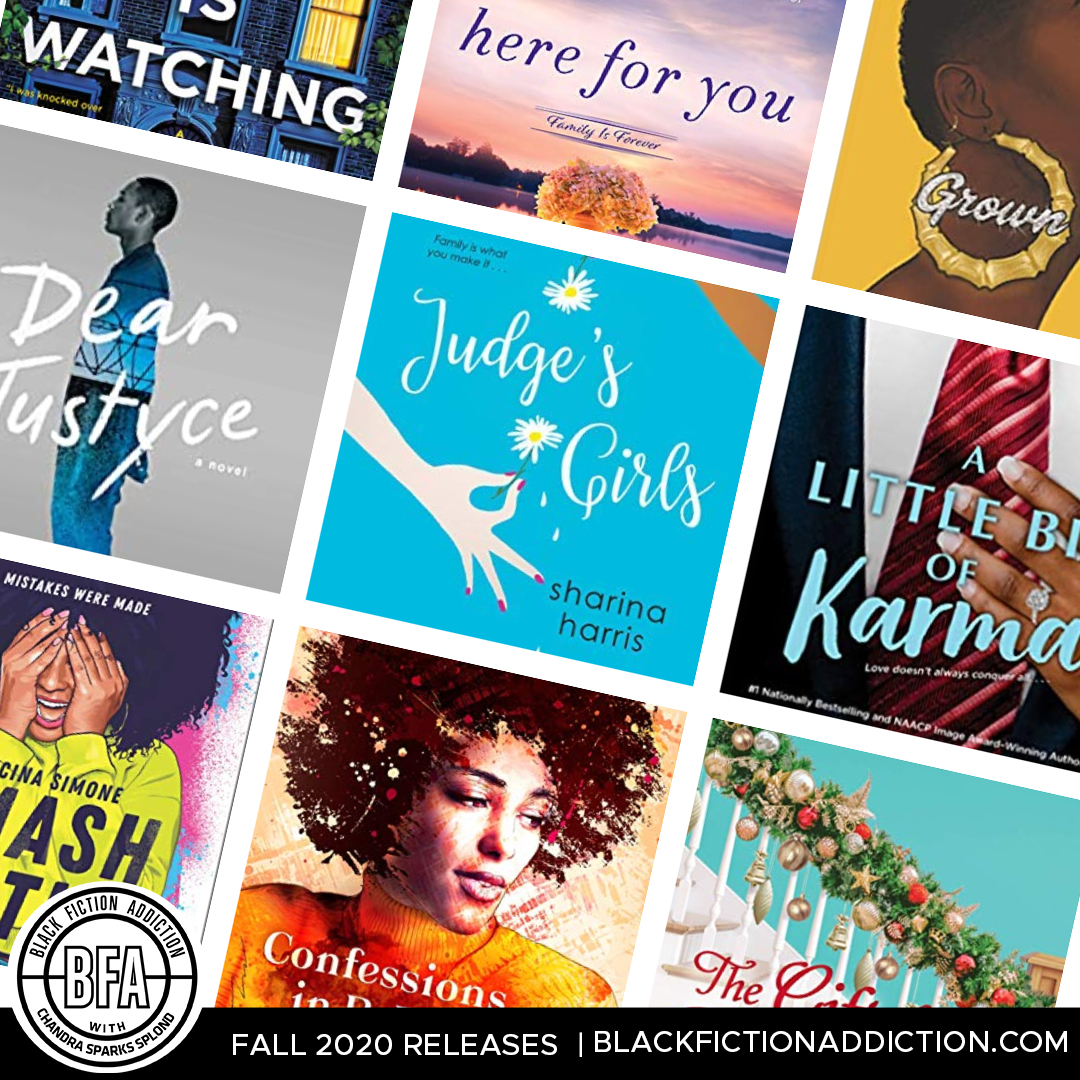 It's officially fall, which means there are plenty of new books headed to the shelves. Here are a few releases* that have recently been published or that will be out in the next few months I can't wait to read:
A Little Bit of Karma
ReShonda Tate Billingsley
Meet Shannon and Jay Lovejoy—the rich and successful power couple who, to the fans of their call-in radio show, seem like they've got it all. But after three years, their once passionate and loving romance has fizzled and the couple's divorce becomes embroiled in not only a mess of infidelity and deceit, but the untimely and shocking death of Jay's mistress, as well.
---
Grown
Tiffany D. Jackson
When legendary R&B artist Korey Fields spots Enchanted Jones at an audition, her dreams of being a famous singer take flight. Until Enchanted wakes up with blood on her hands and zero memory of the previous night. Who killed Korey Fields?
Before there was a dead body, Enchanted's dreams had turned into a nightmare. Because behind Korey's charm and star power was a controlling dark side. Now he's dead, the police are at the door, and all signs point to Enchanted.
---
When No One Is Watching
Alyssa Cole
Rear Window meets Get Out in this gripping thriller from a critically acclaimed and New York Times Notable author, in which the gentrification of a Brooklyn neighborhood takes on a sinister new meaning…
Sydney Green is Brooklyn born and raised, but her beloved neighborhood seems to change every time she blinks. Condos are sprouting like weeds, FOR SALE signs are popping up overnight, and the neighbors she's known all her life are disappearing. To hold onto her community's past and present, Sydney channels her frustration into a walking tour and finds an unlikely and unwanted assistant in one of the new arrivals to the block—her neighbor Theo.
But Sydney and Theo's deep dive into history quickly becomes a dizzying descent into paranoia and fear. Their neighbors may not have moved to the suburbs after all, and the push to revitalize the community may be more deadly than advertised.
When does coincidence become conspiracy? Where do people go when gentrification pushes them out? Can Sydney and Theo trust each other—or themselves—long enough to find out before they too disappear?
---
Judge's Girls
Sharina Harris
Beloved Georgia judge Joseph Donaldson was known for his unshakable fairness, his hard-won fortune—and a scandalous second marriage to his much-younger white secretary. Now he's left a will with a stunning provision. In order to collect their inheritance, his lawyer daughter Maya, her stepmother Jeanie, and Jeanie's teen daughter, Ryder, must live together at the family lake house. Maya and Jeanie don't exactly get along, but they reluctantly agree to try an uneasy peace for as long as it takes . . .
But fragile ex-beauty queen Jeanie doesn't know who she is beyond being a judge's wife—and drinking away her insecurities has her in a dangerous downward spiral. Fed up with her mother's humiliating behavior, Ryder tries to become popular at school in all the wrong ways. And when Maya attempts to help, she puts her successful career and her shaky love life at risk. Now with trouble they didn't see coming—and secrets they can no longer hide—these women must somehow find the courage to admit their mistakes, see each other for who they really are—and slowly, perhaps even joyfully, discover everything they could be.
---
Confessions in B Flat
Donna Hill
The year is 1963. In Harlem, the epicenter of Black culture, the fight for equality has never been stronger. The time is now. Enough is enough. Yet even within its ranks, a different kind of battle rages. Love thy neighbor? Or rise up against your oppressors?
Jason Tanner has just arrived in New York to help spread the message of his mentor, Dr. Martin Luther King, Jr., of passive resistance, while beat poet Anita Hopkins believes the teachings of Malcolm X with all her heart: that the way to true freedom is "by any means necessary." When Jason sees Anita perform her poetry at the iconic B-Flat lounge, he's transfixed. And Anita has never met anyone who can match her wit for wit like this…
One movement, two warring ideologies—can love be enough to unite them?
Confessions in B-Flat is a celebration of the hard-won victories of those who came before us, and a stark reminder of just how far we still have to go.
---
The Gift of Family
Mary Monroe
Successful, secure, and still very much in love, middle-aged couple Eugene and Rosemary Johnson have never given up on one special wish—to be parents. And while Christmas always brings happiness and a whirlwind of holiday fun, their hopes for children of their own seem further away than ever. Especially this year, when Rosemary must have emergency surgery and home help to recuperate. Wanting to lift his wife's spirits, Eugene suddenly has an inspiration from back in the
day . . .
Faithful and sensible, Ethel Perkins raised Eugene and his brother. Unforeseen tragedy has left the sixty-something widow struggling with little money and two jobs to keep her great-grandchildren off the streets. She's glad to help Rosemary back on her feet. But she can only stay until Rosemary is well enough to resume her normal routine. For Ethel, survival means keeping to her grueling schedule, being there for everyone but herself, and, as always, handling her troubles all on her own . . .
As Ethel's problems go from bad to much worse, Rosemary and Eugene find themselves helping her more and more—and growing close to her lively youngsters. Soon, there's only one way both families can salvage the season: by celebrating it together. But will their temporary family work into the future . . . and possibly make a lifetime of happiness?
---
Here for You
Pat Simmons
Rachel Knicely's life has been on hold for six months while she takes care of her great aunt, who has Alzheimer's. Putting her aunt first was an easy decision—accepting that Aunt Tweet is nearing the end of her battle is far more difficult.
Nicholas Adams's ministry is bringing comfort to those who are sick and homebound. He responds to a request for help for an ailing woman but when he meets the Knicelys, he realizes Rachel is the one who needs support the most. Nicholas is charmed by and attracted to Rachel, but then devastating news brings both a crisis of faith and roadblocks to their budding relationship that neither could have anticipated.
---
Smash It
Francina Simone
Olivia "Liv" James is done with letting her insecurities get the best of her. So she does what any self-respecting hot mess of a girl who wants to SMASH junior year does…
After Liv shows up to a Halloween party in khaki shorts—why, God, why?—she decides to set aside her wack AF ways. She makes a list—a F*ck-It list.
1. Be bold—do the thing that scares me.
2. Learn to take a compliment.
3. Stand out instead of back.
She kicks it off by trying out for the school musical, saying yes to a date and making new friends. Life is great when you stop punking yourself! However, with change comes a lot of missteps, and being bold means following her heart. So what happens when Liv's heart is interested in three different guys—and two of them are her best friends? What is she supposed to do when she gets dumped by a guy she's not even dating? How does one Smash It! after the humiliation of being friend-zoned?
In Liv's own words, "F*ck it. What's the worst that can happen?"
A lot, apparently.
---
Dear Justyce
Nic Stone
In the highly anticipated sequel to her New York Times bestseller, Nic Stone delivers an unflinching look into the flawed practices and silenced voices in the American juvenile justice system.
Vernell LaQuan Banks and Justyce McAllister grew up a block apart in the Southwest Atlanta neighborhood of Wynwood Heights. Years later, though, Justyce walks the illustrious halls of Yale University . . . and Quan sits behind bars at the Fulton Regional Youth Detention Center.
Through a series of flashbacks, vignettes, and letters to Justyce–the protagonist of Dear Martin–Quan's story takes form. Troubles at home and misunderstandings at school give rise to police encounters and tough decisions. But then there's a dead cop and a weapon with Quan's prints on it. What leads a bright kid down a road to a murder charge? Not even Quan is sure.
---
*This post contains affiliate links.