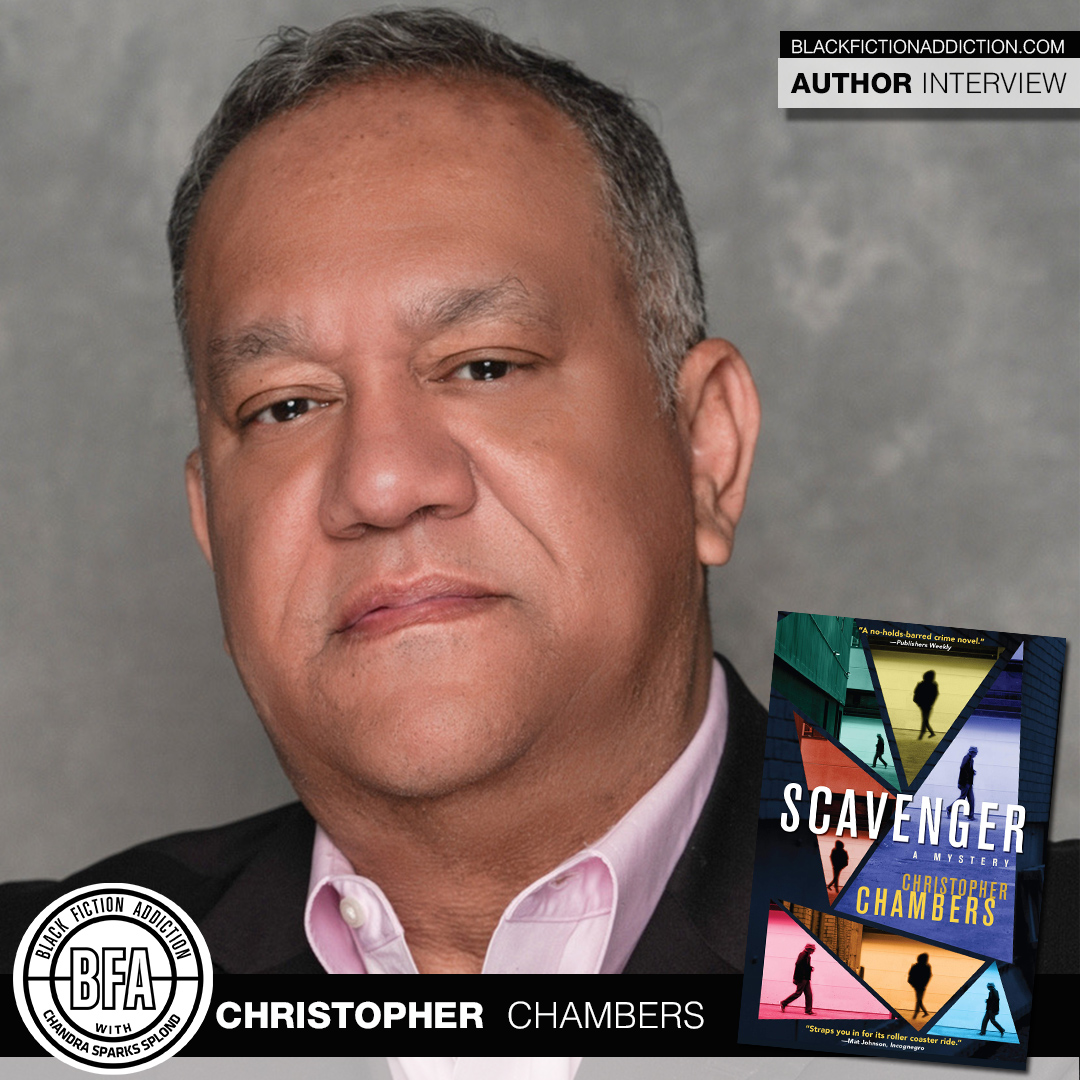 Author Christopher Chambers drew on personal experiences for his latest book, Scavenger.
Tell me about your latest book.
My latest book is Scavenger from Three Rooms Press in New York, out 10/13/20. It's a crime fiction/mystery, what…Publisher's Weekly recently called "hardboiled neo-noir" or "hard reality fiction." It's about a homeless middle-aged black man named Dickie Cornish in Washington D.C. in wintertime, also addicted to K2 liquor. He's scooped up by a wealthy ex-Cabinet official and his attorney from jail (where he was shut for defending a mute homeless woman from the police) and told they were going to clean him up, hire him to search the streets for a woman who stole something "irreplaceable" from the wealthy white man. Double-crosses, revelations and mayhem ensues. Justice never really prevails in the end, just equilibrium at best.
Why did you decide to write it?
In my neighborhood, I usually pass two homeless men, addicted to worse than K2, in the mornings and one of those mornings they were noodling through, almost Holmes and Watson style, or with Law and Order: SVU precision, the rip-off and assault of one of their friends. I stopped and talked to them, offered some advice that didn't involve the cops. Learned more about them as men—they were both well educated, like my character. I'd also met a homeless man who lived near the Smithsonian and worked on the "jump crews" we have here in D.C.: homeless men who toss out your belongings if your landlord kicks you out. Both experiences caused me to write the book.
What do you want readers to learn from the story?
Well it's a crime novel, not nonfiction, not a morality lesson. But like the crime authors, I can trace back through Walter Mosely, Barbara Neely, etc., to Chester Himes, I want people to taste the reality, both bitter and sweet, caring and violent. I want them to enjoy the characters and trace the plot, but I also want them to see the invisible people out there, often poor, often powerless, and what forces are arrayed against them. And those forces don't necessarily include the police. The police are a symptom, a tool.
If you could pick another profession, what would it be and why?
I'm a teacher and advise a tech start-up in New York State now; before that, an attorney. I guess I always wanted to be a writer, so I'm living at least part of my wish. However, I really wanted to be a bigtime magazine reporter—magazine because of the freedom and long-form writing—and translate that to TV. No money in it when I was young. Joke's on me—no money in being a professor or being on the board of a small company either!
What's the best part of being an author?
The best part of being an author is the notion that you are creating, and people no matter what they say, are fascinated by that process. Moreso, that you are able to finish the process to the end. Your creation will endure as a tiny piece of culture.
What's the worst part of being an author?
The worst part is the process is grueling, often demoralizing. Those same people who silently admire you sometimes joke that you have a hobby, not a calling. A lark that possibly distracts you from "important things."
What's next for you
Sequel to Scavenger is next, and a graphic novel with some of my crime fiction friends. I also have a story in the upcoming Marvel (prose) collection The Black Panther: Tales of Wakanda called I. Shuri.
Do you have anything you would like to add?
I think it's easy and human to stay bitter, to give up. I have done so and picked myself up; and I like at this character, a hopeless man, now amateur sleuth who must see things through to the end. Prep yourself for the journey, not the supposed prizes or warned-about hell at its end.
---
Use Black Fiction Addiction's affiliate link to purchase your copy of Scavenger.
---
Christopher Chambers is a professor of Communications at Georgetown University and the author of mystery novels through Random House and MacMillan. His latest novel is Scavenger (Three Rooms Press 2020) available at bookstores, or online (in Kindle and soon audio) You can follow him on Twitter @profchris Instagram @profchrisc or visit his Facebook page for updates, signing events: https://www.facebook.com/AuthorChristopherChambers.