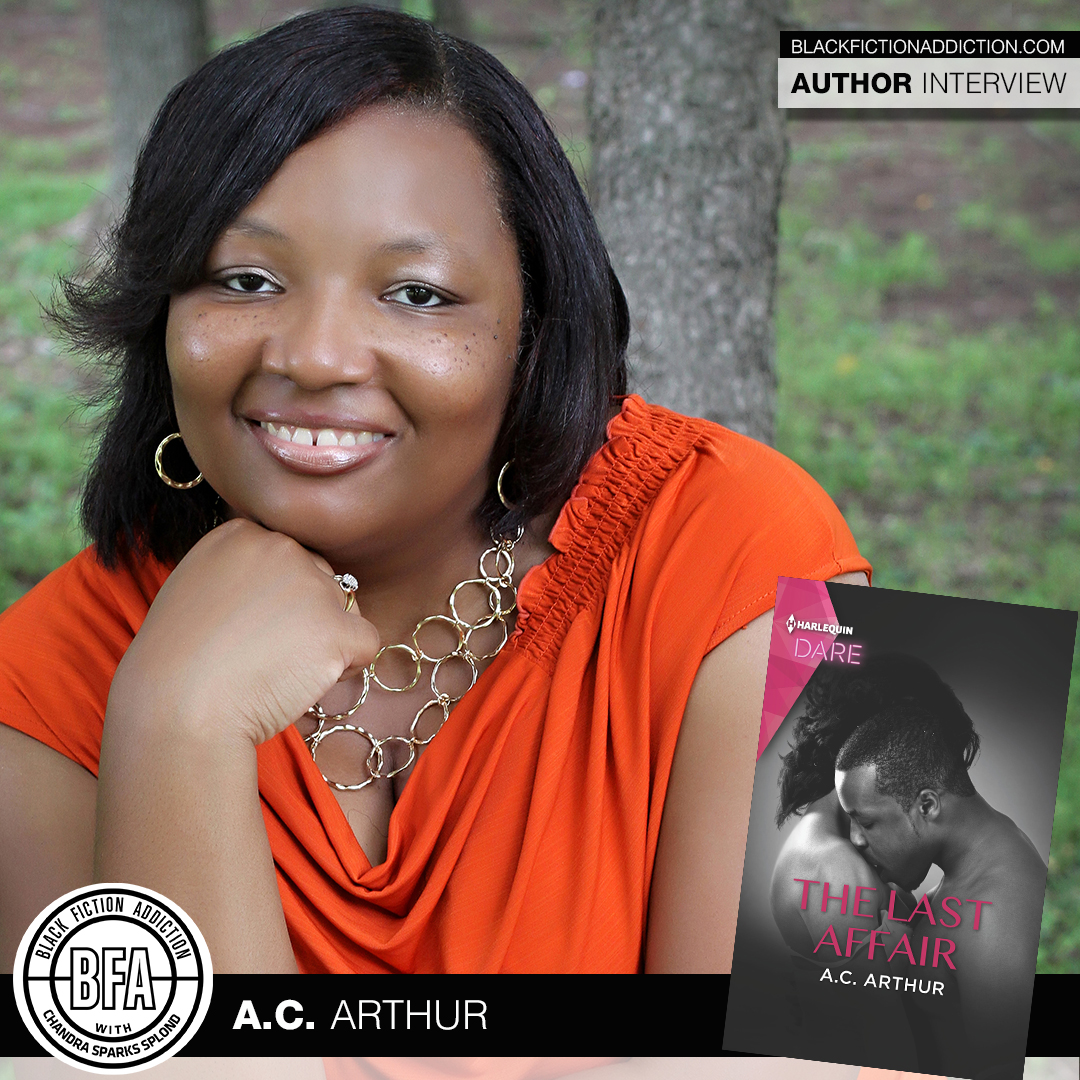 Prolific author A.C. Arthur has a busy year ahead. She's stopping by Black Fiction Addiction today to talk about The Last Affair.
Tell me about your latest book.
The Last Affair is the third book in my Fabulous Golds series. The Golds own one of the top fashion houses in the world and are feuding with King Designs, the second top Black-owned fashion house. In this installment to the series Desta Henner, head of marketing at RGF, travels to a ski resort for an online social site's meet 'n greet. She has no idea that the guy she's been sharing erotic emails with for the last three months is Maurice Gold, her co-worker and friend. They decide to spend the weekend together, but drama and emotional turmoil ensue when they return to the city and their real lives.
What inspired you to write it?
The movie You've Got Mail. I love the dynamic of two strangers getting to know each other online and then finding out that they really know each other in person already. Friends to lovers is my favorite trope.
When did you fall in love with the written word?
When I was around 13 or 14 and my mother gave me one of her Danielle Steele books.
What's the best part of being an author?
Being able to create new worlds and different scenarios for people to find love.
What's the hardest part of being an author?
Juggling the writing and administrative duties that go with the career.
What books have you read lately and loved?
I've been on so many deadlines lately that it's been really hard to read for fun, but I've started Cicely Tyson's Just as I Am and I'm enjoying that so far.
What book(s) are you most excited to read next?
I have Alyssa Cole's thriller When No One Is Watching up next in my TBR pile, and I'm anxiously waiting for Piper Huguley's Sweet Tea and So Many Beginnings by Bethany C. Morrow.
What's next for you?
The fourth and final Fabulous Golds book—Give Me More—will release in May and then my women's fiction debut, The After Party, will release in November. My alter ego, Lacey Baker, also has another Hallmark Channel movie novelization—Christmas in Evergreen Bells Are Ringing—releasing in November.
Do you have anything you would like to add?
As always, thanks for having me and for everything you do to uplift Black authors. You are appreciated.
---
Use the Black Fiction Addiction affiliate link to purchase your copy of The Last Affair.
---
To learn more about A.C. Arthur (or her alter ego Lacey Baker), visit her website or connect with her on social media.
Website: www.acarthur.com
Instagram: Instagram.com/acarthurbooks
Twitter: Twitter.com/AcArthur
Facebook: facebook.com/ACBookLounge
---
Lacey Baker
Instagram: Instagram.com/laceybakerbooks
Twitter: Twitter.com/LaceyBakerBook
Facebook: facebook.com/LBReaderRoom