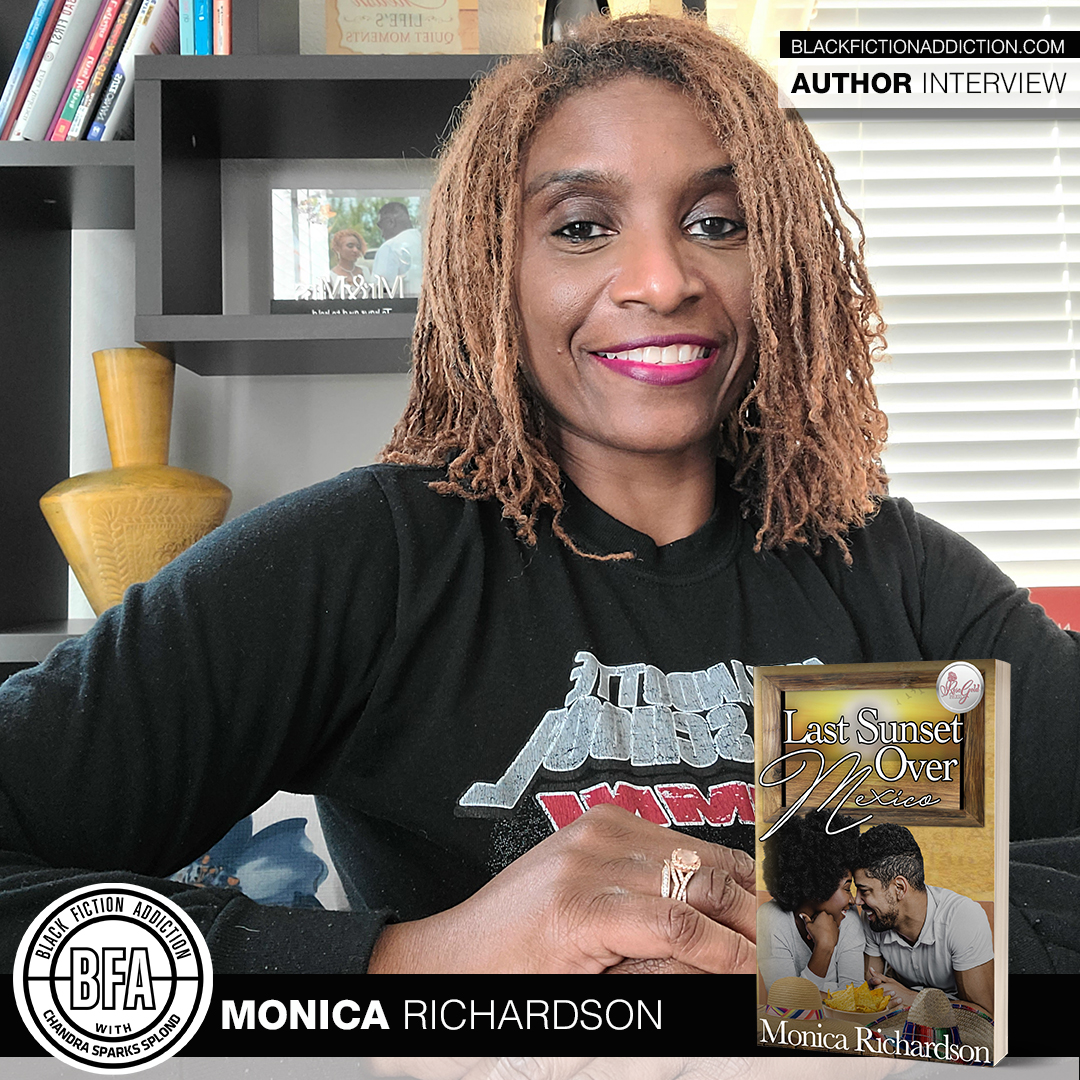 Author Monica Richardson is back with a new love story. I recently spoke with her about Last Sunset Over Mexico.
Tell me about your latest book. 
My latest book, Last Sunset Over Mexico is a sweet love story that I started writing years ago and finally had the opportunity to finish it.  When I first pitched it, it was about a man going cross country to marry his fiancé but falls in love with another woman along the way. My editor at the time passed on it because, well, who wants to read a romance novel about a man who has cheated on his wife-to-be and has fallen in love with another woman all before making it to the altar?  Needless to say, I had to make some revisions to the storyline.
Here's the blurb: When Frankie Alexander's brother insists she have a traveling buddy for her move from Atlanta to San Diego, she's not holding her breath after hearing his suggestion. Spence Jackson has let her down before, so she doubts he'll show. Imagine her surprise when he pops up at her door wearing a smile, holding two cups of delicious coffee, and ready to drive the U-Haul across the country.
Going on a road trip is far from a joy ride for this successful attorney. Spence never imagined he'd be going through such lengths to reconcile with his ex-fiancé who moved to San Diego. Even more surprising is being accompanied by Frankie, a woman he's all too intrigued by. Between good music, great company, and an unforgettable stop in Mexico, Spence soon realizes that he never experienced true love until the day his best friend's sister hopped into the cab of the U-Haul.
What inspired you to write it?
I love traveling and love writing about the interesting places that I've visited. This book is about two people traveling cross-country. They stop off at a soul food joint in Mississippi, visit Spence's mama in New Orleans, and take in a professional basketball game in Dallas. They also wind up in Mexico, of all places.  It was exciting to write about all of those places.
When did you fall in love with the written word?
I was about twelve when I first realized I had a knack for writing. Back then I wrote poetry and short stories. That's when I first fell in love with the written word.  After I read Maya Angelou's I Know Why the Caged Bird Sings, I realized that there were books out there written by and for black people. I wrote my first full-length novel in 2004 (As Real As It Gets, my debut novel)
What's the best part of being an author?
By far, writing stories for and connecting with readers.  When I wrote my first YA series, there were several young people who told me that my book was the first full book that they'd ever read, and that some of the lessons that I had woven in my books were lessons that they actually used in their everyday decision making.  Nothing could compare to hearing that.
What's the hardest part of being an author?
The hardest part of being an author is probably staying on task to finish the novel, and managing the career. Writing the story is just a small part (the fun part) of being an author. The largest part is promoting your work and managing your career.
What books have you read lately and loved?
The last book I read was The Boyfriend Project by Farrah Rochon.  Loved it!
What book(s) are you most excited to read next?
Looking forward to reading the Family First series by my good friend, Candace Shaw and a group of other dynamic authors.
Who would you cast in a movie to play your main characters?
I think Sanaa Lathan would make a great Frankie, particularly after her role in Nappily Ever After.  Frankie wears her hair natural and is in touch with her roots. However, I think that Taraji P. Henson would really capture her spunk. I would cast maybe Common or Boris Kodjoe as Spence Jackson—someone who's laidback, professional, and very handsome.
What's next for you?
I've co-written a novel with one of my long-time author friends. I can't reveal any details just yet, but I must say that I've stepped outside of my box a bit with this one. Also, I'm currently writing a young adult novel.  [Writing] for young people is my passion, so I'm happy to get back to that. A couple of years ago, I took some time off from writing, but I'm back in the game. I'm very excited about my upcoming projects.
---
Use the Black Fiction Addiction link to purchase your copy of Last Sunset Over Mexico.
---
To learn more about Essence bestselling author Monica Richardson, connect with her on social media.
Facebook: Monica's Book Cafe (@monicasbookcafe)
Amazon Page: Monica Richardson