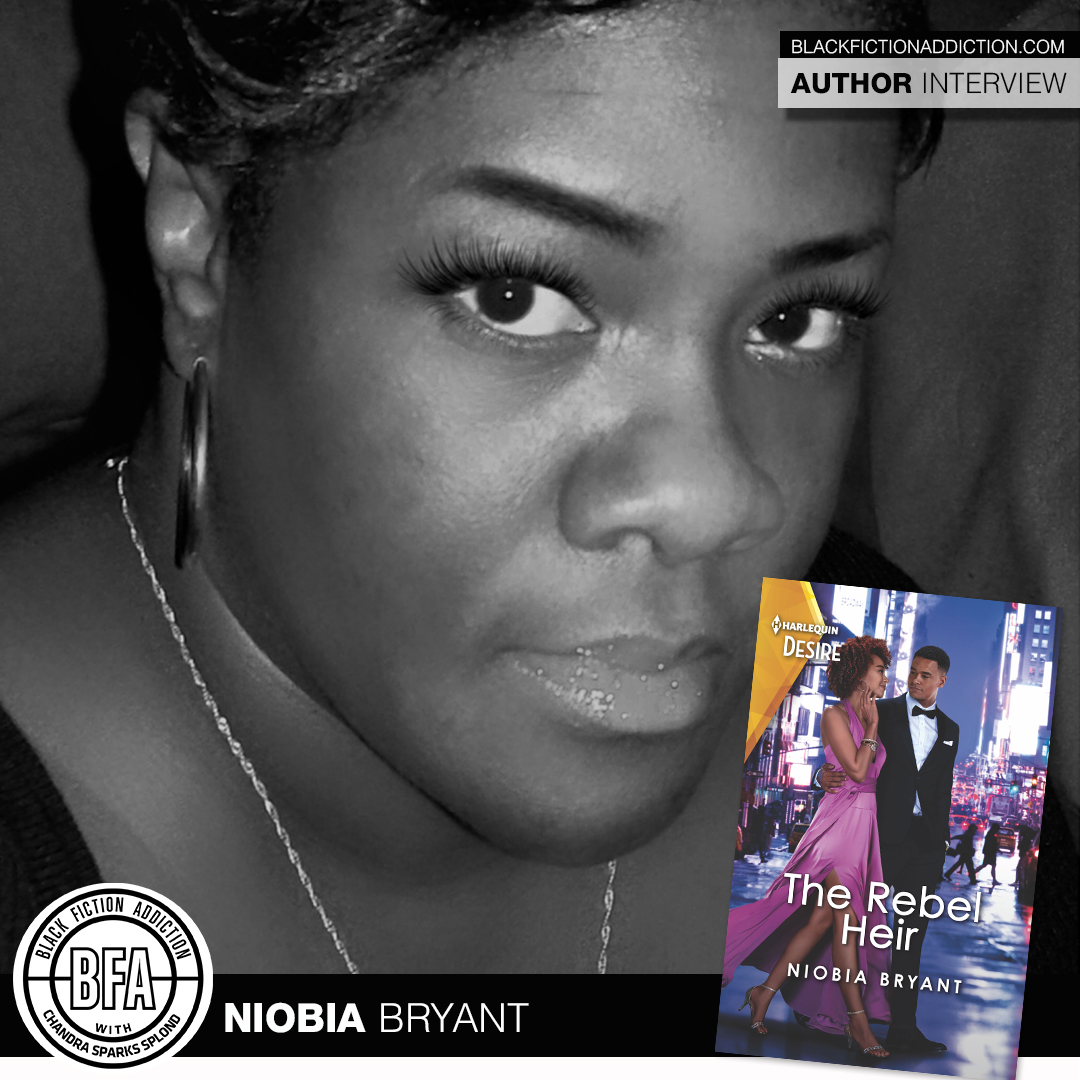 If you're a Niobia Bryant fan or looking to check out her work for the first time, get your money ready because she has lots of books in store for you this year. I recently spoke with Bryant who also writes as Meesha Mink about two of her upcoming releases, The Rebel Heir and Her Pleasure.
Tell me about your latest book.
My next release is a romance for Harlequin Desire, The Rebel Heir. It follows the first book, One Night with Cinderella, that was released in February. Both are a part of my new Cress Brothers Series about sexy chefs who are vying to run the family culinary empire upon their father's retirement. There's plenty of family drama, chemistry, romance, conflict and love.
In The Rebel Heir, the rebel of the wealthy Cress dynasty, chef Cole Cress, has only one rule: never fall in love. But the heat that keeps sizzling between Cole and his delectable fellow chef, Jillian Rossi, is irresistible—dangerously so. Because Jillian comes from a different world, and the Cress family will do whatever it takes to extinguish this blaze…even if Cole gets burned.
What inspired you to write it?
My love of being a storyteller is at the heart of any of the more than 40 books I've written. I have a file of more than 60 new story ideas. When it's time for a new deal, I go through that file and write the next story that makes me feel the most excited to flesh it out. And while I'm writing, if I lose interest or feel a drag in the story, I absolutely will scrap the section or take it in a new direction to ensure I am happy. Happy writer, happy readers. Hopefully.
When did you fall in love with the written word?
My mother raised my brother and I to be book readers. Even as a divorced woman taking on the financial burden alone, she invested her hard-earned money in purchasing books for us. For me, it was the Little House on the Prairie series and for my brother comic books and Lord of the Rings books. Seeing her make that investment led us to understand the value of words and books.
What's one thing readers would be surprised to learn about you?That I have a weird and wicked sense of humor. Also, I LOVE to laugh and say things to make others laugh.
To what do you attribute your success?
The readers. I am never shamed to express my gratitude for readers who support me. I love them. I appreciate them. And at times—when I take a break because I feel exhausted and need to refuel—they nudge me to come back and write some more.
What books have you read lately and loved?
I have a nice stack of TBR but because of deadlines I haven't I read them yet. Even now, I am finishing up a novella and will jump right into a new romance and then a new drama. Maybe this winter I can finally take a break and go back to my roots as a reader.
What book(s) are you most excited to read next?
Eric Jerome Dickey's last novel. The Son of Mr. Suleman. I purchased the hardcover, and it is sitting on my nightstand awaiting me. I want to take my time. Savor every word, knowing it is his last contribution to the creative space. EJD is—and will always be—one of my favorite writers. I wish I had the opportunity to meet him.
Who would you cast in a movie to play your main characters?
I am a writer who describes each lead character in detail, but I also reference a well-known celebrity to give the reader a clear vision of how a character looks to me. For The Rebel Heir: Cole favors Michael Ealy and Jillian favors Nafessa Williams.
What's next for you?
This summer, June 29, the final book in the Mistress series, Her Pleasure, will be released. Jaime Pine has reclaimed the independence she has never had, and she's in love with millionaire music producer, Lucas Sinclair, who grants her every wish—in and out the bedroom. Her ex, Graham "Pleasure" Walker is in her past…until a trip to the Caribbean brings him back into her life and leads to steamy sex with her ex that makes the last six years without him seem like nothing. Filled with regret for cheating on Luc, she's determined to leave Graham alone and move on with her future. But she soon she discovers she's pregnant. Torn and confused, Jaime spins a desperate web of half-truths and lies of omission to protect both men—and herself—as she struggles to choose her path. But when her secrets explode in public, the choice is made for her. Can she deal with her mistakes honestly and do what's best for everyone involved?
This one is the perfect beach read. Lots of drama, scandal, and secrets, but also love. Also the readers will get to know who shot Jessa Bell in Mistress for Hire, catch up with Renee and Aria, and get an update on the men of the Mistress series.
Do you have anything you would like to add?
I'm also hoping to release some long-awaited indies this year as well. There will be a lot of  books/novellas from me this year.
---
Use the Black Fiction Addiction affiliate link to purchase your copy of The Rebel Heir and Her Pleasure.
---
To learn more about Niobia Bryant (also writing as Meesha Mink), visit her websites, or connect with her on social media.
https://www.niobiabryant.net and/or http://www.meeshamink.com
Facebook: @NiobiaBryantMeeshaMink
Twitter and Instagram: @infiniteink