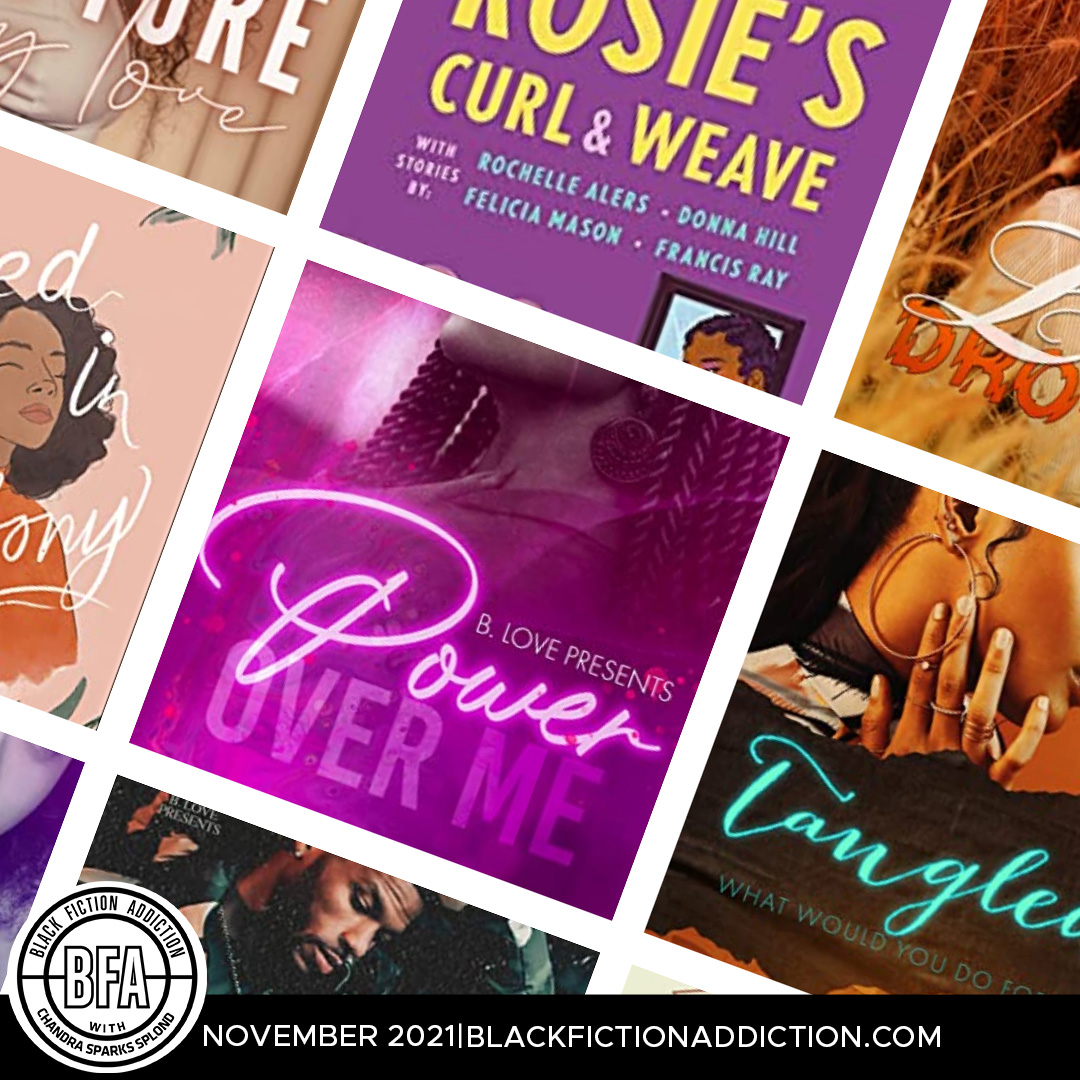 November has come and gone, and we are thankful it gave us so many amazing new reads by some of your favorite and maybe some new-to-you Black authors.
Aja
The SOULMATES series features four enigmatic, intuitive, emotional & sexually independent women. The men that love them are strong, loving, ambitious, and have the wisdom to know the women they are diggin' are very special. The connection shared between these couples is supernatural.
The soul of a woman. The love of a man. Soulmates.
This boxset includes all four books in the Soulmates Series:
She's Got Soul
Deep In My Soul
Soul Love
Soul Ties
---
Rochelle Alers, Donna Hill, Felecia Mason, Francis Ray
STEP INSIDE FOR A DAY OF BEAUTY, LAUGHTER…AND LOVE.
Whether you want a cut, weave or braid; a facial, manicure, or massage; there's always a helping hand-and a sympathetic ear-at Rosie's Curl and Weave on 125th Street in Harlem. And sometimes, when you least expect it, love walks in the door. So sit back, relax, put your feet up, and enjoy, as four talented writers render four magical stories about the love of beauty and the beauty of love.
Rochelle Alers gets the sparks flying, as a high-maintenance banker finds herself falling, against her better judgement, for a handsome delivery man who walks into Rosie's…
Donna Hill puts the assistant manager of Rosie's in the path of a fine-looking contractor, whose hypnotic honey-brown eyes could be her undoing…
Felicia Mason helps the owner of Rosie's discover that you don't have to be young-just young at heart-to fall in love…
Francis Ray turns a timid, dowdy duckling into a confident, sexy swan-and sends her into the arms of a handsome artist-with the help of Rosie's Curl and Weave…
---
Cherish Amore
Corinna and Knox have been in love since they first laid eyes on each other. At such a young age, they planned a future that lined up with the other's. That's until a secret is revealed that separates them for years. What's supposed to be goodbye turns out to be see you later when Corinna and Knox are forced to reconnect a decade later.
Times, ages, and the year has changed, but what hasn't is the feelings they have for each other. Their reconnection brings about a bevy of unresolved issues and conflicts for them. What will happen when the try to merge lives that have been separate for so long?
---
Yasmin Angoe
Stolen from her Ghanaian village as a child, Nena Knight has plenty of motives to kill. Now an elite assassin for a powerful business syndicate called the Tribe, she gets plenty of chances.
But while on assignment in Miami, Nena ends up saving a life, not taking one. She emerges from the experience a changed woman, finally hopeful for a life beyond rage and revenge. Tasked with killing a man she's come to respect, Nena struggles to reconcile her loyalty to the Tribe with her new purpose.
Meanwhile, she learns a new Tribe council member is the same man who razed her village, murdered her family, and sold her into captivity. Nena can't resist the temptation of vengeance—and she doesn't want to. Before she can reclaim her life, she must leverage everything she was and everything she is to take him down and end the cycle of bloodshed for good.
---
A.C. Arthur
Three women form an unbreakable bond in a sexy, suspenseful, and adventurous novel about empowerment and sisterhood through thick and thin.
Venus McGee, Draya Carter, and Jackie Benson are coworkers with a lot in common. They're smart, independent, driven, and deserving of recognition—certainly more than they've been handed by a demoralizing boss. He's the topic of conversation at their impromptu get-together after the company holiday party, where the threesome fantasizes about a life without him. There has to be an alternative to taking a deep breath and sucking it up. There is. It's just not the one they expected.
When morning comes, Venus, Draya, and Jackie are blindsided by murder—a twist of fate that brings a startling new challenge to the table and forces them to navigate a hair-raising detour they never saw coming. For better and (unless they can help it) for worse, it's going to turn their world upside down. What starts as a necessary bond of mutual trust soon morphs into an empowering and galvanizing friendship that Venus, Draya, and Jackie need now more than ever.
---
Cassandra B
The return to your past is often followed by the skeletons trapped in the closet, unfinished business, and broken hearts. For Prynce Rivers and Braxton Williams, all three are true. When Prynce returns to Glendale, he's met by a reality that'll change his self-absorbed world forever. While Braxton's plans are changed by his reappearance, can they meet halfway and make it work one last time? Or will it all fall down, never to be repaired again?
Find out in When It All Falls.
---
Kema B.
Something was missing.
Songwriter India Joelié Bennett has spent the last twenty years being loyal to the wrong man. After letting her rapper ex and son's father go for good, she decides a change of scenery is in order. When her sister's boyfriend hits her with an offer she can't refuse, she heads down to Cristal Beach for some extended fun in the sun and an exciting new career on the horizon. Single and child free, she jumps headfirst into her newfound freedom. Leading to a passionate one-night stand with a tall, dark and handsome stranger that owes her nothing. Her only regret is that she'll never see him again.
Retired tattoo artist and entrepreneur Raymond Sosa Pierre isn't in the mood to babysit a grown woman. That's exactly what his old friend asks of him regarding their girlfriend's sister that's staying next door. He agrees, expecting to simply check in from time to time. What he doesn't expect is for her to be the beautiful, sexy and incredibly tempting woman he shared a heated night of passion with. Aware of her past, Raymond has no plans on being the rebound but there's something about India that makes him want to give her everything she deserves.
India thinks it's impractical to fall out of love with one man and into love with another so soon. Unable to deny Raymond is everything her heart desires, she's willing to give love another try. Will a bitter ex, a connection between the two men that's too close for comfort and reservations on both sides tear them apart? Or will they choose the love they deserve instead now that they've found what they've been missing?
---
Christmas in Evergreen: Bells Are Ringing
Lacey Baker
Life is going great for Hannah, really. She's fallen in love with her best friend, her brother is getting married, and she's looking forward to another festive Christmas in Evergreen.  Still, between her job, taking charge of the choir, and being the town's jill-of-all-trades, she's feeling uninspired…especially when Elliot starts to question his own role in the town.
Hannah finds fresh inspiration in the brand-new Evergreen Christmas Museum, and she volunteers for their storytelling project. When she interviews her fellow Evergreenians, however, she learns that not everyone wants the museum around; specifically Mr. Cooper who owns a third of the building. As Hannah finds herself with more and more responsibilities, and as her relationships with Elliot and her family grow strained, she starts to wonder about what she really wants. Can her love and newly-found purpose survive the changes that loom after the holidays are over?
---
Kelly J. Baptist
Xavier Moon is not one to steal the show. He's perfectly content to play video games and sit at his bedroom window watching the neighborhood talk outside.
But for Xavier's twelfth birthday, he receives a pair of funky socks and a challenge from his great-uncle, Frankie Bell, saying it's time to swag out and speak up. First on the list: get into the legendary Scepter League. Xavier's grandfather, great-uncle, and father were all invited to join the elite boys' after-school club that admits only the most suave and confident young men. Xavier has never had the courage to apply before, but his wild socks are getting him some big attention, so maybe it's time to come out of the shadows and follow in his family's footsteps. Or maybe Xavier will march down a new path altogether.
---
Empi Baryeh
Financier, Kalahari Asanti, specialises in corporate takeovers, but his next conquest is personal. The Kingdom of Bagumi owes him a great debt, one he intends to collect from King Ibrahim Saene, the father he's never met and the man he holds responsible for his mother's death.
Princess Edina Dampare is to be engaged and trying to accept the undeniable truth—no man will ever reach her on the same level as the stranger who imprinted on her soul when she wantonly yielded her innocence to him the one forbidden night she allowed herself to put desire before duty.
Kal's quest for revenge brings him face-to-face with the woman who's been haunting his dreams for the past eight months. Now the man who grew up with nothing is determined to reclaim everything the Royal House of Saene took from him…including her.
---
And They Lived Happily Ever After
Therese Beharrie
One unexpected kiss . . .
Successful romance author Gaia Anders has a secret: anything she dreams at night is magically written into her bestselling novels. After a lonely childhood in foster care, her dream life is the only one she trusts. Gaia's waking life just can't compare—until she gets caught in one utterly surprising, crazy-passionate, real-life kiss . . .
One near-perfect guy . . .
Workaholic businessman Jacob Scott has had a crush on his brother's best friend, Gaia, since forever—but he never expected to literally share her dreams. Living out their magical nighttime fantasies is explosive, but it's their waking desire turning his single-minded ways upside down. It's making him want a future he didn't think was possible . . .
One dream that could come true . . .
But Gaia has secrets from her past she won't reveal. And Jacob's attempts to keep the peace in his own fractured family puts him up against her deepest fears. Soon, they're facing hard truths about who they are and what they're running from. And the only way to break this curse is realizing true love's real-life power . . .
---
Lauren Blackwood
Andromeda is a debtera—an exorcist hired to cleanse households of the Evil Eye. She would be hired, that is, if her mentor hadn't thrown her out before she could earn her license. Now her only hope of steady work is to find a Patron—a rich, well-connected individual who will vouch for her abilities.
When a handsome young heir named Magnus Rorschach reaches out to hire her, she takes the job without question. Never mind that he's rude and demanding and eccentric, that the contract comes with a number of outlandish rules… and that almost a dozen debtera had quit before her. If Andromeda wants to earn a living, she has no choice.
But she quickly realizes this is a job like no other, with horrifying manifestations at every turn, and that Magnus is hiding far more than she has been trained for. Death is the most likely outcome if she stays, the reason every debtera before her quit. But leaving Magnus to live out his curse alone isn't an option because—heaven help her—she's fallen for him.
---
The Society of Intellectual Beings
Iris Bolling
In the mortal world, it is believed that there are six degrees of separation.
That number diminishes within The Society of Intellectual Beings.
The bloodlines are intertwined, blurring the degrees of separation.
Network Executive, Wade Tyson gets a story that is a little too close to home. His biological parents, who were convicted of multiple murders thirty years ago, die suspiciously within 24 hours of each other. Wade investigates their deaths which leads to questions surrounding the original crime. During the investigation, Wade opens the door to a multiple generational experiment to create a community of exceptionally intelligent humans. To complicate matters, these beings have been immersed in mainstream society.
What if a society of children were conceived to rule the world based on intellectual logic?
Wade discovers he is connected to the Society of Intellectual Beings in more ways than one. Through a series of journals from his now deceased mother, Wade has the experience of not only reading her words but absorbing her thoughts. Each time he reads one of her journals, certain powers are bestowed upon him. The powers come without instructions or warnings, but he needs them to complete the task of stopping evil forces from populating the world with S.I.B.s. He, with the help of his adopted brothers, is the only ones who can save the humans from themselves.
What if the society's disposable children rise up to confront the new world order?
Wade finds himself conflicted when he discovers each of his adopted brothers were created in the Society of Intellectual Beings but were disposed of as children. Doors to a different world open as Wade tries to find answers to questions that will impact not only his life, but the world.
At one point, Wade is forced to ask himself…
What if the S.I.B.s, who are directed by their evil creator, infiltrated the highest level of government?
What if??????
---
Cool Santa: It's Cool to Be Kind
Antonio Boswell 
Our kids need to know how important it is to be kind to others. Despite our differences and disagreements, there's always a way to communicate without being hurtful. When we are kind to people, it makes them happy. When people around us are happier, the world becomes a brighter, lighter place to live. "It's Cool to be Kind" is a message from Cool Santa, to kids of all ages.
---
Natasha Bowen
A way to survive.
A way to serve.
A way to save.
Simi prayed to the gods, once. Now she serves them as Mami Wata—a mermaid—collecting the souls of those who die at sea and blessing their journeys back home.
But when a living boy is thrown overboard, Simi goes against an ancient decree and does the unthinkable—she saves his life. And punishment awaits those who dare to defy the gods.
To protect the other Mami Wata, Simi must journey to the Supreme Creator to make amends. But all is not as it seems. There's the boy she rescued, who knows more than he should. And something is shadowing Simi, something that would rather see her fail. . . .
Danger lurks at every turn, and as Simi draws closer, she must brave vengeful gods, treacherous lands, and legendary creatures. Because if she fails, she risks not only the fate of all Mami Wata, but also the world as she knows it.
---
Venita Alderman Brandon
The Secrets are Out, and we don't know who will survive the pitfall that's going to explode.
Officer Corey has it in for Renee and her family, we will find out how he fits in. The revelation will be jaw dropping.
Renee, Wayne and Nia are trying to build a better relationship.
Malik's family continue to search for answers, they ask too many questions and now their life maybe in danger.
Wanda and Phoebe throw jabs at each other every time they are together, why won't they leave the past behind, we will soon find out.
Uncle Tommy continues to keep everyone on edge with just his very presence.
---
Kimberly Brown
Nuri VanZandt has struggled for most of her life. The product of a scheme gone wrong, she was left with a mother who felt she ruined her life. At the tender age of fourteen, she was propelled into the world of adulthood and taking care of herself by any means. As a result of past traumas and hardships, at twenty-eight, she is a struggling recovering alcoholic who is one step closer to falling headfirst into her old lifestyle. With the weight of the world on her shoulders, Nuri is ready to throw in the towel and end it all.
One night after a near slip, she meets Silas Baxter, a charming kindhearted man who helps her in a moment of need. For Silas, meeting Nuri was like meeting his soul in human form. His instant attraction to this mysterious, delicate woman propels him to pursue her in the most tender fashion. While Nuri rejects his advances, the more she engages with him, the more she comes to realize that her soul needs him more than she could ever imagine.
With life becoming overbearing and secrets from her past spilling from left and right, Silas is right there to pick up the pieces as Nuri finds herself breaking. Will she be able to lean on him for support or will the pressure become too much altogether?
---
Nikki Brown
Ariah Fuller has spent her entire life trying to gain her mother's love and respect by way of being who she thought Mariah Fuller wanted her to be. Mariah Fuller had her hands in every aspect of Ariah's life until Ariah realized it no longer worked for her. Her newfound revelation prompted Ariah to reevaluate the people in her life starting with her hand-picked fiancé James. While figuring out her next move, Ariah runs into the confident and persistent Tower Eno who shows her everything she's been missing.
Tower Eno is the epitome of an alpha male. He says what he means and means what he says. After experiencing a tragedy of his own and being deceived by the one woman who is supposed to love him the most, his trust levels are at an all-time low. The only thing he's willing to offer the opposite sex is physical pleasure and a warning to not get too close. He was completely okay with not entertaining women outside of the bedroom until he meets the beautiful Ariah Fuller. The attraction and need to protect was almost instant, quickly solidifying thoughts to make her his. There is only one thing in his way, Ariah's pending nuptials.
---
Tracy Brown
Tracy Brown's Single Black Female is a taut, edgy, deftly spun novel about four friends grappling with the dramatic twists and turns of life, love and what it means to "make it" in America.
Ivy Donovan is a successful stylist, entrepreneur, and single mom who has been loyal to her sons' father, Michael, who's serving a lengthy prison sentence. But life has gotten lonely over the years, and Ivy wants more for herself. Michael, however, isn't about to lose his family.
Coco Norris is well-off, single, childless, and struggling with her allegiance to emotionally unavailable men. When she finds a man who seems like he can give her everything she has ever wanted, Coco soon discovers that she has taken on more than she can possibly handle.
Deja Maddox is a real estate agent who is married to Bobby, a police sergeant with the NYPD. They have assimilated, looking down on anything that doesn't fit their buttoned-up, polished life. But Deja isn't as satisfied as she would like everyone to believe. When Deja's past returns with a vengeance, she's forced to face herself as her "perfect" life begins to crumble.
Nikki Diamond is a savvy, self-made businesswoman and social media darling who lives large and with no regrets. She's also Deja's little sister and thinks her sister can have so much more than her ho-hum marriage. And Nikki is all too happy to lend a "helping" hand to make that happen.
Things come to a head when Ivy's youngest son, Kingston, is caught up in a polarizing encounter with the NYPD. Everyone must figure out where they stand, including Bobby, who suddenly has to decide if his "blue life" matters more to him than his Black life and the Black lives of those he loves.
Single Black Female highlights the nuances of Black love, the often tested bonds of Black families, what it means to face the world as a Black man and the joy and pain of being a Black woman.
---
Talia Clay
Afrofuturism meets dystopia in this social satire about a 16-year-old girl chasing her dreams in a world that rejects her.
Two hundred fifty years has passed since the AEXT-V4 pandemic killed off ninety-nine percent of the White American population.
Sixteen-year-old Tansy is a descendant of the one percent, the American elite who survived the pandemic. She lives with her younger sister and grandfather in the rapidly decaying isolation domes her wealthy ancestors built to ensure their survival.
Compared to the many other citizens of her township, Tansy lives an envied and privileged life. She's a local celebrity, destined for a future as an actress in the American Bureau of Entertainment. She's driven, calculating, and willing to take risks to get what she wants. She loves her life.
When the opportunity comes to start anew and leave the domes for good, will Tansy choose to stay behind, or will she venture out into a world of unknowns, where rumors of an incurable disease and hostile people run rampant? What will that choice mean for her future—her career ambitions, family, and identity?
---
Abby Collette
In this page-turning new mystery series, fraternal twins Keaton and Koby will pull double duty when they take down a killer while preparing to open their new bookstore and soul-food café, Books & Biscuits.
When Koby Hill and Keaton Rutledge were orphaned at age two, they were separated, but their unbreakable connection lingered. Years later, they reunite and decide to make up for lost time and capitalize on their shared interests by opening up a well-stocked bookstore and cozy soul-food café in the quaint Pacific Northwest town of Timber Lake. But this new chapter of their lives could end on a cliffhanger after Koby's foster brother is found murdered.
The murder, which occurred in public between light-rail stops, seems impossible for the police to solve. But as Keaton and Koby know, two heads are always better than one, especially when it comes to mysteries. With just a week to go before the grand opening of their new café, the twins will use their revitalized connection with each other to make sure this is the killer's final page.
---
Beaumont Holiday
Angie Daniels
This book is a holiday bundle of the Beaumont Series books 10 and 11.
Stilettos & Mistletoes
Sage Beaumont has been in love with Cser Grant since she was a teenager. The decorated army officer is home on leave for a holiday, and she has her eyes set on him. The problem is long term isn't in this gorgeous hunk's vocabulary. However, denying the attraction could be the toughest challenge Cser's ever faced when a snowstorm brings her to his doorstep. She's a delicious present just waiting for him to unwrap, and the opportunity is too tempting to ignore.
All I Want
Jace and Sheyna Beaumont have everything they could ever want—an adorable son, wonderful careers, and explosive chemistry that hasn't diminished over the years. When Sheyna is attacked in a parking lot, they assume it's an isolated incident, but now she's not so sure. In fact, she's certain someone is watching her. As her fears escalate, Jace will stop at nothing to find out who's stalking his wife. However, as the New Year draws closer, so does danger until he's racing against time to save the woman he loves.
---
Zuri Day
Undeniable chemistry sets an event planner and her client on a collision course in Zuri Day's steamy new novel introducing The Eddington Heirs.
Their passion is against the rules…
But rules are meant to be broken.
Tech developer Cayden Baker has been blindsided by Avery Gray twice. It seems the stunning event planner who totaled his luxury car is also responsible for planning his elite charity event. And since he's a member of the club where she works, fraternizing is strictly off-limits…though he's never been one to follow others' rules. Then Cayden discovers Avery's involvement in a scandal that upended his life years ago. Will it change everything for them now, too?
---
Sharon M. Draper
Melody faces her fears to follow her passion in this stunning sequel to the acclaimed, New York Times bestselling middle grade novel Out of My Mind.
Melody, the huge-hearted heroine of Out of My Mind, is a year older, and a year braver. And now with her Medi-talker, she feels nothing's out of her reach, not even summer camp. There have to be camps for differently-abled kids like her, and she's going to sleuth one out. A place where she can trek through a forest, fly on a zip line, and even ride on a horse! A place where maybe she really can finally make a real friend, make her own decisions, and even do things on her own—the dream!
By the light of flickering campfires and the power of thunderstorms, through the terror of unexpected creatures in cabins and the first sparkle of a crush, Melody's about to discover how brave and strong she really is.
---
Gritty Southern Christmas Anthology
Vanessa Davis Griggs, Ashley Jones, et. al
Gritty Southern Christmas Anthology, is not your typical Southern Christmas stories some might find written in the Southern Living style. Yet it's your gritty salt of the earth writing about the hardworking people of the south. Stories about the people that might grieve the most deeply over this period of time each year. Many see it as the happy weeks from Thanksgiving to Christmas, when others have the greatest voids and our hearts ache in silent grief. The time that Momma worked all year trying to keep her children fed, only to find she has no extra money to put a gift under the tree. When the months that follow cause great stress trying to pay off the credit card debt taken on to try to do what could be done. In our childhood we might have been paying for a few items through layaway. This is our writing, maybe your people. One thing for sure no one tells it better than those who have lived it. Come along, meet our families and see our lives full of hard times, tears, laughter and love.
---
Jasmine Holmes
Elizabeth Freeman, Nannie Helen Burroughs, Maria Fearing, Charlotte Forten Grimké, Sarah Mapps Douglass, Sara Griffith Stanley, Amanda Berry Smith, Lucy Craft Laney, Maria Stewart, and Frances Ellen Watkins Harper

These names may not be familiar, but each one of these women was a shining beacon of devotion in a world that did not value their lives. They worked to change laws, built schools, spoke to thousands, shared the Gospel around the world. And while history books may have forgotten them, their stories can teach us so much about what it means to be modern women of faith.
Through the research and reflections of author Jasmine Holmes, you will be inspired by what each of these exceptional women can teach us about the intersections of faith and education, birth, privilege, opportunity, and so much more. Carved in Ebony will take you past the predominantly white, male contributions that seemingly dominate history books and church history to discover how Black women have been some of the main figures in defining the landscape of American history and faith.
Join Jasmine on this journey of illuminating these women–God's image-bearers, carved in ebony.
---
Alexandria House
Technically, they just met.
Technically, they shouldn't be in love.
But who cares about technicalities?
Drayveon Walker is touted as one of the most talented players in the history of the game, instrumental in the St. Louis Cyclones' two championship victories. Benevolent, focused, and driven, he has it all, lacking nothing he could ever want or need.
When Stevie October crashes into his life, Drayveon sees in her something he never realized he desired.
They've only just met, but the connection is strong and the feelings are real.
Could their serendipitous love be kismet?
---
Intimate Seduction/Hidden Pleasures
Brenda Jackson
Intimate Seduction
A Steele man is hard to resist in this steamy, fan-favorite story from New York Times bestselling author Brenda Jackson!
When a case of mistaken identity finds the beautiful and intriguing Natalie Ford in Donovan Steele's home, the sparks are instantaneous. But his new housekeeper is determined not to become the legendary playboy's latest conquest.
Trading the Ivy League for a simpler life down South, Natalie is helping out with her ailing aunt's housecleaning service. But she finds that this powerful, handsome man of Steele ignites a different kind of chemistry—one that defies every law of attraction the science professor ever learned.
Natalie knows she has to come clean to Donovan about who she really is…especially when he starts believing she's out to sabotage his family business. Will she lose her chance to love the real man behind the seductive legend?
Hidden Pleasures
All she has to do is be his lover for a week…
And when the man is gorgeous Galen Steele, what woman could possibly say no?
Brittany Thrasher has her own hidden motives for accepting Galen's proposal. Only the savvy businesswoman draws the line at actually falling for the sexy playboy. Even if he is the incredible lover of her most taboo fantasies….
The moment their paths crossed again at an auction, Galen knew Brittany was special. If she wants the house he just won so badly, how far is she willing to go to get it? That's when the Phoenix entrepreneur makes her an offer he fully expects her to refuse.
But once their passion heats up, the bidding really begins. And Galen will uncover Brittany's secret. Because this determined man of Steele isn't about to let the woman of his dreams get away….
---
How to Marry Keanu Reeves in 90 Days
K.M. Jackson
Bethany Lu Carlisle is devastated when the tabloids report actor Keanu Reeves is about to tie the knot. What?! How could the world's perfect boyfriend and forever bachelor, Keanu not realize that making a move like this could potentially be devastating to the equilibrium of…well…everything! Not to mention, he's never come face to face with the person who could potentially be his true soulmate—her.
Desperate to convince Keanu to call off the wedding, Lu and her ride-or-die BFF Truman Erikson take a wild road trip to search for the elusive Keanu so that Lu can fulfill her dream of meeting her forever crush and confess her undying love. From New York to Los Angeles, Lu and True get into all sorts of sticky situations. Will Lu be able to find Keanu and convince him she's the one for him? Or maybe she'll discover true love has been by her side all along…
---
Beverly Jenkins
A librarian's quiet life becomes a page-turner of adventure, romance, and murder in a thrilling novella by USA Today bestselling author Beverly Jenkins.
For Jasmine Ware, curating books for an exclusive clientele is her passion. Until an old friend, a dealer of rare books, goes missing and his partner is murdered. Linked to an artifact smuggled out of the ancient library at Timbuktu, the mystery draws Jasmine deeper into a plot that could cost her her life.
Air force veteran and private security ace Torr Noble is accustomed to adrenaline-pumping stakes. He never expected a private librarian would be so intriguing, but Jasmine is full of surprises. As the connection between them burns hot, a powerful old enemy raises his head. Torr and Jasmine must work together to find the missing dealer.
Will the search be the start of a happily ever after or a disastrous THE END?
---
Kaylyn
** This is a standalone Novel**
tangled
adjective
1. complicated and confused; chaotic.
. . . defines Kace and Ryelle's friendship most of which is rooted in their unresolved feelings for one another.
Since junior high school they've always been able to rely on each other until one mistake changes the trajectory of their lives, sending the two friends down different paths.
Years later, they reunite and feelings that were once buried resurface. While Kace no longer looks at Ryelle and questions what he could lose by giving her his heart, she is hesitant to give love a try. Especially since the men in her life have only been consistent at letting her down. The last thing she needed was Kace to be added to that list.
When it comes to matters of the heart, love is one thing that can't be ignored. Will Kace be able to undo the hurt Ryelle endured or will their growing relationship end up tangled in the trauma from the past.
---
LaQuette
When show business leads to secret pleasures, how can they resist in this Devereaux Inc. novel by LaQuette.
Their daytime partnership sets the night on fire…
Who said they can't have it all?
Lyric Smith didn't become the nation's most successful lifestyle guru by losing focus. Yet Josiah Manning, daytime television's hottest—and sexiest—young Black producer makes her do just that. Publicly, Josiah wants Lyric to star in a new talk show. Privately, he's headlining her sexiest fantasies. But when their explosive chemistry leads to complications instead of contracts, will Lyric find the ultimate partner to help her crush her rivals…or exit stage left alone?
From Harlequin Desire: A luxurious world of bold encounters and sizzling chemistry.
Love triumphs in these uplifting romances, part of the Devereaux Inc. series:
Book 1: A Very Intimate Takeover
Book 2: Backstage Benefits
---
Chelsea Maria
Love made you weak.
Obsession made you fatal.
Possessiveness made you delirious.
We were all of those things – A mirage of love splattered on a gritty canvas. Painting distorted figures chasing empty hearts.
A dark romance of survival.
Quaking hearts burning slow.
A ruse branded by greed's honeycomb sweetness and betrayal's tang.
His love was real and I pretended…
She exposed her wounds and I attempted to heal them forgetting my own.
Love tested time.
Lies replaced vows.
Secrets created chaos.
And with every sin, there is a consequence…
---
Jessie Marie
She's everyone's little sister. He's everyone's protector. Will their love overcome their labels?
Jean Lee
I knew the rules.
Be level-headed.
Don't concoct impulsive schemes.
And definitely don't fall for Danny George.
But he was everything my ex wasn't.
Too bad he only saw me as his best friend's little sister.
I knew I shouldn't scheme to get closer to him…
…But what if "fate" brought us together instead?
Danny
Jeannie was off limits, permanently.
She was my best friend's little sister, the one I was sworn to protect.
I was supposed to keep guys away from her.
When we were seen together looking too sweet, we agreed on a fake relationship.
Just until her salty ex got off her back.
But then, she learned of my secret.
Things got heated.
We got closer.
And I had to ask:
Could I keep my promise to her brother…
Or would I lose him… and my heart?
For Better or Worse is a best friend's sister, fake relationship romance about a relationship tested by social media and family. It is the third full-length novel in the Hometown series and can be read as a standalone. Readers can expect a healthy dose of mischief, a scheme turned upside-down, and a sweet, sweet slow burn.
CONTENT WARNING: This book contains heavy topics such as PTSD, suicide, and ADHD and resulting concerns. This is also a story with strong, explicit language and open-door sex scenes. These topics may bring up strong negative feelings in readers, so please make sure to take care of your mental health when reading.
---
Me (Moth) (audio)
Amber McBride
A debut YA novel-in-verse by Amber McBride, Me (Moth) is about a teen girl who is grieving the deaths of her family, and a teen boy who crosses her path.
Moth has lost her family in an accident. Though she lives with her aunt, she feels alone and uprooted.
Until she meets Sani, a boy who is also searching for his roots. If he knows more about where he comes from, maybe he'll be able to understand his ongoing depression. And if Moth can help him feel grounded, then perhaps she too will discover the history she carries in her bones.
Moth and Sani take a road trip that has them chasing ghosts and searching for ancestors. The way each moves forward is surprising, powerful, and unforgettable.
Here is an exquisite and uplifting novel about identity, first love, and the ways that our memories and our roots steer us through the universe.
---
K.C. Mills
Sultan Drake.
Nyx Scott.
She has a passion for fashion..
He has a passion for her…
"With Nyx things were different. The type of different where I wanted to be so, connected that she would never again question why I was here or if she was enough."
One week was the arrangement and how it all began, but the true question was how would it end…
---
Tay Mo'Nae
Past relationships have left Nova scarred. Finishing up school and opening her boutique were her main focus until she ran into Grayson.
Grayson was worried about being a great father & his photography career when Nova ran into him, in the most literal sense.
While Nova tries to run from Grayson afraid he'll turn out like the rest of the men who broke her heart, Grayson is determined to show her different. Not the one to let go without a fight he's determined to show her the beauty he sees behind the lens.
---
Tay Mo'Nae
What started as a night out, letting her hair down, turned into a night Gianna would never forget.
The moment she saved his life, she felt a connection with him.
But when bad news hits her family, she might push away her future before it begins.
Take a ride with the baby of the Parker sisters and see how one night changed her whole life.
---
Wanda Morris
Ellice Littlejohn seemingly has it all: an Ivy League law degree, a well-paying job as a corporate attorney in midtown Atlanta, great friends, and a "for fun" relationship with a rich, charming executive, who just happens to be her white boss. But everything changes one cold January morning when Ellice arrives in the executive suite and finds him dead with a gunshot to his head.
And then she walks away like nothing has happened. Why? Ellice has been keeping a cache of dark secrets, including a small-town past and a kid brother who's spent time on the other side of the law. She can't be thrust into the spotlight—again.
But instead of grieving this tragedy, people are gossiping, the police are getting suspicious, and Ellice, the company's lone black attorney, is promoted to replace her boss. While the opportunity is a dream-come-true, Ellice just can't shake the feeling that something is off.
When she uncovers shady dealings inside the company, Ellice is trapped in an impossible ethical and moral dilemma. Suddenly, Ellice's past and present lives collide as she launches into a pulse-pounding race to protect the brother she tried to save years ago and stop a conspiracy far more sinister than she could have ever imagined…
---
Mya
"Always a bridesmaid, never a bride."
For Solana Smith, her luck with love was a battle she always lost. Time and time again the wrong man found his way into her life. One night, the final straw broke the camel's back, causing Solana to swear off of love forever.
Savion "Savage" Bentley—a notorious kingpin in Texas, was a dangerous man. He was the type of man every woman swooned over, at least the ones who found gang banging murderers attractive. He didn't have time to settle down and build a family when there was money to make in the streets.
What happens when the bridesmaid meets the savage? Attraction, betrayal, heartbreak, and… bullet wounds? Will love conquer in this unlikely romance?
---
She Nell
Tiffany treated her friends like sisters but deception turns them into enemies. She hides her pain until she learns it was built on lies. Everything Tiffany thought knew about her friends is false and the truth will change everyone's life. Tiffany thought only one friend had secrets, she finds out that someone else is living a blessed lie "TOO".
---
Stephanie Nicole Norris
Note: This is a follow-up story to With Your Permission. I encourage you to read that book first before reading Table For Three.
Needing to reconnect with her husband in the bedroom, a pregnant Bri St. Valentine goes out of her way—unnecessarily to grab Raphael's attention in this quick, witty, and sexy Thanksgiving short story, Table For Three.
---
Yours for the Taking (audiobook)
Stephanie Nicole Norris
Outspoken, daring, assertive—Nothing stands in Carla Jones's way when she has her mind made up. Carla's witty personality is a breath of fresh air to those around her. And someone who admires Carla from afar happens to be the only person that's invaded her dreams and awakened her passion for love. The problem is whenever their paths cross, it's for a stimulating fleeting moment. When those moments end, his silence makes Carla wonder if their chemistry is a figment of her imagination. Clueless about his disposition, Carla decides to leave her options open for love even when her soul yearns for the man of her distant dreams.
It was his heart he couldn't ignore.
World-renowned Architect Jacob Alexander Rose wants to stick to his daily routines and career-driven focus. Relationships are a thing of his past; and they never worked in his favor. But with every event he attends, so does the one who rules his cognitive mind—Carla Jones. Sensuous thoughts of her bombard him at every turn, making Jacob wonder if colliding with Carla is a part of his future he's determined to fight off.
Consumed with an ever-present dripping heat when their proximities converge, Jacob is torn between exploring their attraction or allowing the pain of a disappointing history to take precedence over what could've been.
---
N'Tyse and Anna J
Many have claimed they would die for what they want—but would they kill? Hollywood, California, and far away from anything and everyone who knows her name is the strikingly beautiful Monica Tyler, living life incognito and on her terms. That's until Justin enters her world and shakes it to the core. He's the perfect find, but there's one condition—he wants an heir to the Shields' throne. Just when Monica thought her scandalous days were behind her, she whips out her old bag of tricks. How far will she go to prove her love, again?
---
Unoma Nwankwor
'Twas the season of glad tidings, but when he showed up, 'twas mixed
The Danjumas are back!
The Danjuma brothers prepare for the perfect Christmas getaway to the Drakensberg Mountains. Their marriages may very well depend on it. With days left to departure, Amari Danjuma shows up at their door.
Canceling to sort out this family situation, isn't an option. With the women in their lives appealing to their sense of family, the brothers decides to take Amari along. Despite their promises, the brothers really don't give the young Danjuma a chance. Especially considering who he is. An unexpected incident with the kids only solidifies their resolve.
With tensions flying high, Grandma Danjuma intervenes and reminds her sons what Christmas is all about.
Note: This is the standalone Christmas story featuring all the Danjuma siblings from the Sons of Ishmael Series. To get the FULL experience, I do suggest you read the other books. They are all standalone companion books and have the interconnectivity of the family dynamic.
In order;
A Scoop of Love
Anchored By Love
Mended With Love
Redeemed Through Love
---
Homecoming SZN
Aubree Pynn
Homecoming is the time of the year for alumni to bask in the glory of their college years. For Tony and Emya, this homecoming is so much different. Muted emotions and attraction for one another are finding their voice and once the words are released, they can't be taken back. Can the mystic aura of homecoming last long after the stadium lights are turned out?
---
Yahrah St. John
Power games play out under the mistletoe in the latest Locketts of Tuxedo Park novel by Yahrah St. John!
A meeting of business minds
under the mistletoe?
All marketing executive Giana Lockett wants for Christmas is to land an endorsement deal with Wynn Starks's sports drink company. It's tough being the baby girl in a family of alpha men, and this will finally prove her worth to the Locketts' football dynasty. Also tough? Securing a meeting with Atlanta's most elusive billionaire. Giana's not giving up, and once she makes contact, the prize gets closer…and so does Wynn's bed. The chemistry between her and Wynn is hot. But business is business, until pleasure changes all the rules…
From Harlequin Desire: A luxurious world of bold encounters and sizzling chemistry.
Love triumphs in these uplifting romances, part of the Locketts of Tuxedo Park series:
Book 1: Consequences of Passion
Book 2: Blind Date with the Spare Heir
Book 3: Holiday Playbook
---
Danyelle Scroggins
The rebound is never as good as your first love.
Shelly Shanay Smith is sassy and a little tom-boyish but she always thought she had the perfect man to love her, until he left home and never returns. So she did what any woman would… Shelly moved on.
Chace loved Shelly and he still does. The thought of her being with another man was too much for his heart to bear. So when he finds out from a little birdie that she's back on the market, he sees the second chance he's prayed for and vows to win Shelly back.
But Shelly's no fool and refuses to release her heart to the man who abandoned her once. It will take more than his killer smile, a chiseled body, and the memory of a perfect kiss to get her back.
Will this country cowgirl have faith in her perfect boots, bringing the perfect man? Or will she allow her bruised heart to block her from her happily ever after?
---
Pat Simmons
Opposites attract…or clash.
The Jamieson saga continues with the Queen of the family in this inspirational romance. She's the mistress of flirtation but Philip is unaffected by her charm. The two enjoy a harmless banter about God's will versus Queen's, who prefers her own free-will lifestyle. Philip doesn't judge her choices — most of the time — and Queen respects his opinions — most of the time. It's perfect harmony sometimes.
Queen, the youngest sister of the Jamieson clan, wears her name as if it's a crown. She's single, sassy, and most of the time, loving her status, but she's about to strut down an unexpected spiritual path. Love takes no prisoners. When the descendants of a royal African tribe on her father's maternal side show up and show off at a family game night, Queen's vanity is kicked up a notch. The Robnetts take royalty to a new level with their own Queen.
Evangelist Philip Dupree is on the hot seat as the trial pastor at Total Surrender Church. The deadline for the congregation to officially elect him as pastor is months away. The stalemate: They want a family man to lead their flock. The board's ultimatum is enough to make him quit the ministry.
But can a man of God walk away from his calling? Can two people with different lifestyles and priorities cross paths and continue the journey as one? Who is going to be the first to surrender?
---
Pat Simmons
When it comes to being a caregiver, Kym Knicely has been there and done that. Then she meets Charles "Chaz" Banks and soon learns that every caregiving situation is different. Chaz takes care of his seven-year-old autistic granddaughter, Chauncy. Although Kym's attraction to Chaz is strong, she has to decide whether a romantic relationship can survive and thrive between two people at different stages in life. It's a journey with a different set of rules that Kym has to play by if she and Chaz are to have their happily ever after and the faith and family they envision.
---
Tanisha Stewart
They say you should keep your friends close and enemies closer, but sometimes reality might be the other way around…
Mia thinks her life is completely normal. She has a loving boyfriend, great and supportive friends, and a close relationship with her mother. Things take an interesting turn, however, when she is almost run down by a car one day.
Then come the messages from an untraceable number.
Not to mention the heartbreaking secret that is revealed shortly thereafter.
Suddenly, everything that Mia thought was right in her life goes wrong. She has no idea why, but she needs to find out before her secret stalker decides her time is up.
---
Kiki Swinson
National bestselling author Kiki Swinson never lets up with relentless characters, unpredictable twists, and a merciless depiction of Southern striving, scheming—and dying. Now she takes you to the explosive beginnings of wild-card lawyer Yoshi Lomax, who discovers the easy way to success is an inescapable nightmare . . .
The perfect edge . . .
Brilliant, calculating, and reckless, Yoshi hungers to be a great lawyer, to make a difference—and to make her hard-working mother proud. But her prestigious law school is a rigged system of overwhelming work and hostile professors. On the outs with her best friend, and on the verge of flunking out, she soon finds a shortcut that could make all her dreams come true.
 
The perfect elite . . .
The school's wealthiest students live in a world where they make their own rules, are born into priceless connections, and enjoy endless entitlement. And Yoshi wastes no time infiltrating their privileged circle, learning their ways, adopting their bad habits—and getting much too close.
 
The perfect trap . . .
Until Yoshi goes one step too far—and discovers that every little lie, dirty secret, and easy betrayal has locked her into a lethal conspiracy. Now with her family, friends, and all she loves at stake, she must make a wrenching choice that could cost her more than her life . . .
---
Edited by Abby L. Vandiver
Edited by Wall Street Journal bestselling author Abby L. Vandiver, this thrilling anthology will keep you on the edge of your seat.
Welcome to Midnight Hour…
Jennifer Chow: "Midnight Escapade"
After years of silence, two women decide to meet up in a unique escape room but get trapped in a deadly game from which there may be no escape.
Tracy Clark: "Lucky Thirteen"
A gun. A last meal. And only one survivor. Sometimes the stars align–but only for the lucky one–as predator and prey come face-to-face one fateful New Year's Eve.
H. C. Chan: "Murderer's Feast"
Techpreneur John Manley left a trail of duped investors and damaged women in his wake. What happens when two hundred of his closest enemies gather for a five-day gourmet retreat?
Christopher Chambers: "In the Matter of Mabel and Bobby Jefferson"
It's almost midnight, it's snowing, and a bored call center worker catches a customer inquiry that smells of murder. Is he a knight rescuing the intended victim or someone else's pawn?
Plus, stories by Richie Narvaez, Frankie Bailey, E. A. Aymar, Faye Snowden, Tina Kashian, and many more.
---
A.J. and the Annoying Copy-Catter
Kimberly Waldren
Aleah Jean, better known as A.J., has a copy-cat problem, and her name is Brooklyn. Ever since the start of the third grade, Brooklyn has been copying everything A.J. says, does, and wears. It is so annoying!
A.J. and her best friend Ashley decide to form the Double Detectives Spy Agency and get to the bottom of the copy-catter's true motive. By becoming a detective, what bizarre things will A.J. discover about Brooklyn? Better yet, what surprising truths will A.J. discover about herself?
---
Monica Walters
Marcus Wingate has struggled with his identity his entire life. Being kept a secret from his father's side of the family and not being accepted by his father himself causes him to take less desirable roads to get his attention. After finally being accepted throughout the struggles and disagreements, Marcus still has some things he's dealing with that he needs to get answers for. However, in the midst of all that, he sees a woman that he knows should be the next notch on his belt. What he didn't bargain for was that he would be just that for her too.
Being afforded the opportunity to meet and get to know her birth mother is only part of the healing process for Synthia Coles. She is traveling through life broken, seeking validation in places that should be sacred. Her innocence was shattered a long time ago and she still doesn't know how to handle that. Within her attempt at normalcy, she meets a man that she knows can have her sliding down the slippery slope she was desperately trying to climb, but everything about him is telling her to sexually destroy his hopes and dreams.
Marcus and Synthia seem to be damage and destruction traveling on a combustible road to total devastation. Through all the toxicity, they are drawn to one another in more ways than one. Can they get over themselves and all the issues that plague them to form a lasting relationship? Or is that way too much to expect or even ask for?
---
Denise N. Wheatley
She'll help him find a kidnapped victim
He'll keep her alive in the process
Mona Avery is determined to investigate Dillon Reed's high-profile missing person case in the Louisiana bayou. Even if stubborn Detective Reed insists the hotshot investigative journalist is a hindrance. For Mona, the case is personal, especially at Christmas. Working closely with the detective makes it hard to deny their attraction. But a killer wants Mona's story silenced…and only Dillon can keep her safe…
---
T. Wendy Williams
Seventeen-year-old Madeline May "Maddie" Richardson, is a dynamic classically trained concert pianist with plans to attend The Juilliard School in the fall. For the first time in years she's taking a "break" to spend the summer with her extended family in California. What's supposed to be a quiet respite turns into days volunteering at her aunt's youth center in a rough Los Angeles neighborhood as well as opportunities and-love-she could have never imagined. By summer's end, she's forced to make a tough decision: choose what's right or what's absolutely necessary.
---
Men in Whiskey Row audiobook box set
D.A. Young
From Book 1: From the moment PR whiz Jack Sullivan laid eyes on Noelle Kramer, he is consumed by the tenacious beauty, but his dark past and fear of not being worthy prevent him from pursuing her. When the opportunity presents itself for Jack to finally obtain what he desires above all else, he seizes it; consequences be damned.
Noelle Kramer has been in love with Jack Sullivan since their first meeting four years ago, but there's only one problem: he doesn't seem to know she's alive. When a troubled ex resurfaces, threatening to destroy her life and her family's reputation, she turns to Jack to "fix" it. His solution is wildly outrageous…absolutely ludicrous…ridiculously implausible…and everything she's ever yearned for. With no other options and time running out, Noelle takes Jack up on his offer; after all, she has nothing to lose…except her heart and soul.
From the concrete jungle of New York City to the lush, Smoky Mountains of Tennessee, join this unlikely couple as they, along with friends and family, take you on an unforgettable journey of life, love, laughter, and forgiveness.
IF YOU ARE NOT A FAN OF MULTILAYERED STORY ARCS FEATURING MULTIPLE CHARACTERS, THEN THIS MAY NOT BE THE STORY/ SERIES FOR YOU.
MUST BE 18+ TO READ.
This book is the first in the Men of Whiskey Row Series and the women who have captured their hearts.
NEW COVER. THIS BOOK HAS BEEN RE-EDITED.
WARNING: Contains steamy/explicit love scenes and coarse language. It is not recommended for those who are easily offended.
---
Days of Pleasure Series
Some relationships are made in the storm. Real love survives them. Basketball star Dallas Avery has the world in the palm of his hand and a lifetime of happiness or despair within his grasp. For accomplished businesswoman, Alicia Mitchell, love is a double-edged sword wrought with happiness and pain. Business calls the soulmates to Scotland but a new, more treacherous storm is brewing back home. Can their love weather this latest test, or will a crueler fate prevail?
ABOUT THE DAYS OF PLEASURE SERIES
Each Pleasures book is a standalone, NO cliffhangers
USA TODAY, and National Bestselling Authors take you on amazing journey with NBA Basketball Star, Dallas Avery, and Alicia Mitchell, a woman who is as mysterious as she is beautiful.
Follow this unlikely couple as they travel to exotic places such as Paris, Durabia, Caribbean, Scotland and many others. Each story embroils them in a new set of challenges and adventure as they navigate their way to love.
Book 1–10 Days of Pleasure by Stephanie M. Freeman
Book 2–20 Days of Pleasure by J. L. Campbell
Book 3–30 Days of Pleasure by Sierra Kay
Book 4–40 Days of Pleasure by Martha Kennerson and Stephanie M. Freeman
Book 5–50 Days of Pleasure by Anita L. Roseboro and Michelle D. Rayford
Book 6–60 Days of Pleasure by Vanessa
Book 7–70 Days of Pleasure by Christine Pauls
Book 8–80 Days of Pleasure by Aiken Ponder
Book 9–90 Days of Pleasure by Marie L. McKenzie and Naleighna Kai
Book 10—Open Door Marriage by Naleighna Kai