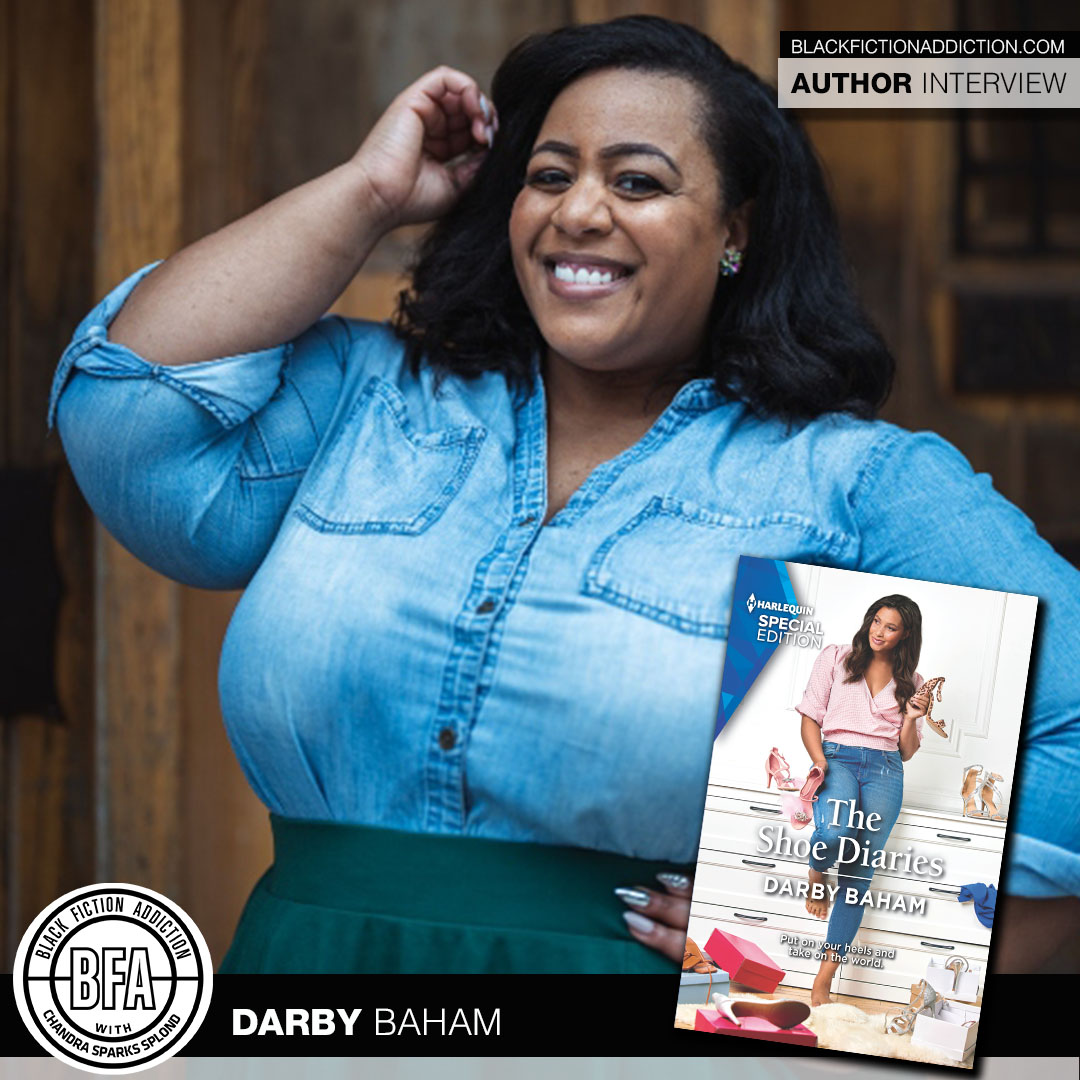 Kick off your shoes, and sit back for a talk with author Darby Baham as she discusses her book The Shoe Diaries.
This is your debut book. Tell me about it.
It is! And I'm so excited for it to come out. The Shoe Diaries follows a young Black woman, Reagan, who has built her life doing all the things she was supposed to do and trying to live what she deems a perfect life. She went to college, is working in a job based on her degree, she's got great friends, an active dating life, and a phenomenal shoe closet. And all of that is great except that she's not actually happy. In fact, one of her closest friends tells her that she lives too cautious of a life… one where there's no room for risks and mistakes, and therefore, no room for real joy and fulfillment either. When that same friend begins to suffer from a chronic illness, Reagan decides that she doesn't want to live an unfulfilled, picture-perfect life anymore. In true perfectionist fashion, however, she creates a risk list and determines that as she accomplishes each risk, she will reward herself with a new pair of shoes. Right around this same time, Reagan's ex-boyfriend starts popping up, and some of her friends try to convince her that she should consider giving him another shot as part of this new outlook of hers. But Reagan isn't swayed. As far as she is concerned, he never really loved her and so she needs to move on to someone who will; never mind the fact that she secretly still loves him. Readers of the book will see all the ups and downs that come with taking on such a journey and the ways that minds and hearts can change when you're not waiting on things to be perfect to be happy.
What inspired you to write it?
Well, I've been working on some version of The Shoe Diaries for more than a decade now. I started off wanting to tell a story about a woman who tries to overcome the idea of always reaching for the things she should be doing versus what she actually wants to be doing. At the time, I was dealing with those same feelings, and writing has always been a way for me to sort of process what I'm going through. Then, I talked to more women around me and found out I wasn't alone, and I just figured that if someone else could read about another person going through that same journey, they wouldn't feel so alone either. But I had a lot of mishaps writing this book in the beginning. I didn't know how to develop plots and character arcs; I had big gaps missing in the storyline… it was a mess for a while. I kept writing, though, and eventually, I had a chance to write a piece for The Washington Post about this dress I bought and immediately deemed as a perfect date dress and then didn't wear for years because I didn't want to waste the perfect date dress on something that wasn't the perfect date, right? That piece helped me to realize that I wanted to incorporate this idea of how waiting for perfection can leave you paralyzed and unhappy into the book. But instead of a dress, I wanted the main character to have a pair of shoes she is scared to wear for fear that they'd get ruined if she wears them outside of her closet—the ultimate fear of the other shoe dropping if she doesn't plan out her life meticulously.
When did you fall in love with the written word?
Honestly, I can't remember a time when I wasn't in love with it. As a little kid, I'd sit next to my dad at the keyboard while he would write songs and I'd write poems. I even have an old binder full of poems I wrote starting from when I was about six years old. We also grew up five minutes away from my mom's parents, so I'd often be at my grandparents' house, reading the newspaper with them at the dining room table while they drank their coffee on Saturday mornings. And then I was a kid in the Scholastic and Book It era…you're telling me I can get free pizza just by reading some books? Bet. I probably read every Goosebumps, Babysitters Club, and Nancy Drew book ever published. I can say that the first writers I remember absolutely falling in love with were Maya Angelou, Nikki Giovanni, and Tupac, and all of those were in middle school. From that point forward, I knew that the written word could touch the very depths of your soul, and I didn't even need pizza as a reward after reading something from one of them.
Tell me about getting "the call" letting you know you were going to be a published author. 
It's kind of surreal thinking about it now. My agent, Latoya C. Smith, had been pitching my book for a few months when she called me very excited one day and gave me the great news that Harlequin Special Edition was interested in my book and wanted to offer me a three-book deal. So exciting, right?! Well, the tricky part was that I got "the call" just days after George Floyd was murdered. So, I was, in one sense, absolutely ecstatic that the thing I'd been praying for since I was at least in college was finally coming true and better than I even imagined. But I was also very much struggling like so many of us were at the time. So, I remember getting on the phone with Latoya and Gail, my editor, and listening in disbelief as Gail spoke about how much she loved the book and related to the characters and wanting to just jump out of my skin with joy. And then I remember crying right after because I didn't think I had the right to be that happy at that time. Truthfully, for a while, I didn't know how to process such happiness and pain at the same time. I'm thankful that my mom and some of my closest friends were there to remind me that my joy is an act of protest, and I found a way to balance those thoughts—as we all do.
What's the best part of being an author?
Oh wow, I mean so far, for me, it's been fulfilling a lifelong dream and having the chance to impact people with my words the way I was and still am impacted by others.
What's the hardest part of being an author?
I like to say that I'm a recovering perfectionist lol. That said, being an author has definitely forced me to lean into therapy more to make sure I'm not falling into familiar traps and focusing on making things perfect instead of meaningful.
What books have you read lately and loved?
OK, I'm really late on this, but I recently read Octavia Butler's Wild Seed and loved it! I'm not normally into sci-fi stuff, but once I got a few chapters in, I couldn't put it down. I also loved Helen Hoang's The Kiss Quotient, and Tia Williams' Seven Days in June.
What book(s) are you most excited to read next?
My TBR list is looooong, but probably the ones I'm most excited about reading next are Mariah Carey's memoir, Brené Brown's Atlas of the Heart, and Denise N. Wheatley's Love at the Icicle Café. I've had Mariah Carey's book since it came out but haven't had a chance to read it yet, though I've heard it's very good, and I just love to read a bio or memoir about a diva. Brené's books usually take me down, so I already know she's going to hit me with some revelations about vulnerability that change my thinking once again. And I'm in full on Christmas movie mode—yes, still lol—so what better time to dig into one of Denise's holiday books than now?
Who would you cast in a movie to play your main characters?
I haven't been able to think of an actor for Reagan yet, but I definitely have a dream cast for many of the other main characters. I think she could be played by someone like a Jordyn Woods, but shorter, and to be honest, part of me would love for it to be a new, fresh face with some curves. Here would be my dream cast for the other characters:
Jake: Rome Flynn
Jennifer: either Ryan Destiny, Coco Jones, or Ashley Blaine
Robin: Brittany Inge
Christine: Dania Ramirez or Dascha Polanco
Luke: Woody McClain or Luke James
What's next for you?
So, actually, my second book in the Friendship Chronicles series will be out this summer. It's called Bloom Where You're Planted and mainly follows Reagan's friend, Jennifer—the compassionate, hopeless romantic from California who wears her heart and everyone else's on her sleeves. Most of the main characters from The Shoe Diaries are in this one too, so readers will have a chance to continue following them along in their various journeys. And I'm working on book 3 in the series right now.
Do you have anything you would like to add?
One thing I really hope readers will appreciate is that while this is a romance novel, and it has all the things romance readers love, it's also a book about the importance of great friends, the need to break down the myth of perfection, and most importantly, the main character learning to trust herself again. Without all those pieces in place, Reagan doesn't even get to the point where she can consider giving her ex a second chance. And of course, it's also about the shoes! I am of the belief that most people have a special connection with specific items in their homes, whether that's their favorite jeans, books, purses, home goods, etc. For me, and Reagan, it's always been with shoes. I can tell my favorite stories with them, and I light up when I buy a pair that I've had my eyes on. I think shoe lovers will appreciate how they are interwoven throughout the book.
---
Use the Black Fiction Addiction affiliate link to purchase your copy of The Shoe Diaries.
To learn more about author Darby Baham, visit her website or connect with her on social media.
Website: www.darbybaham.com
Instagram: Instagram.com/darbybaham
Twitter: twitter.com/darbybaham