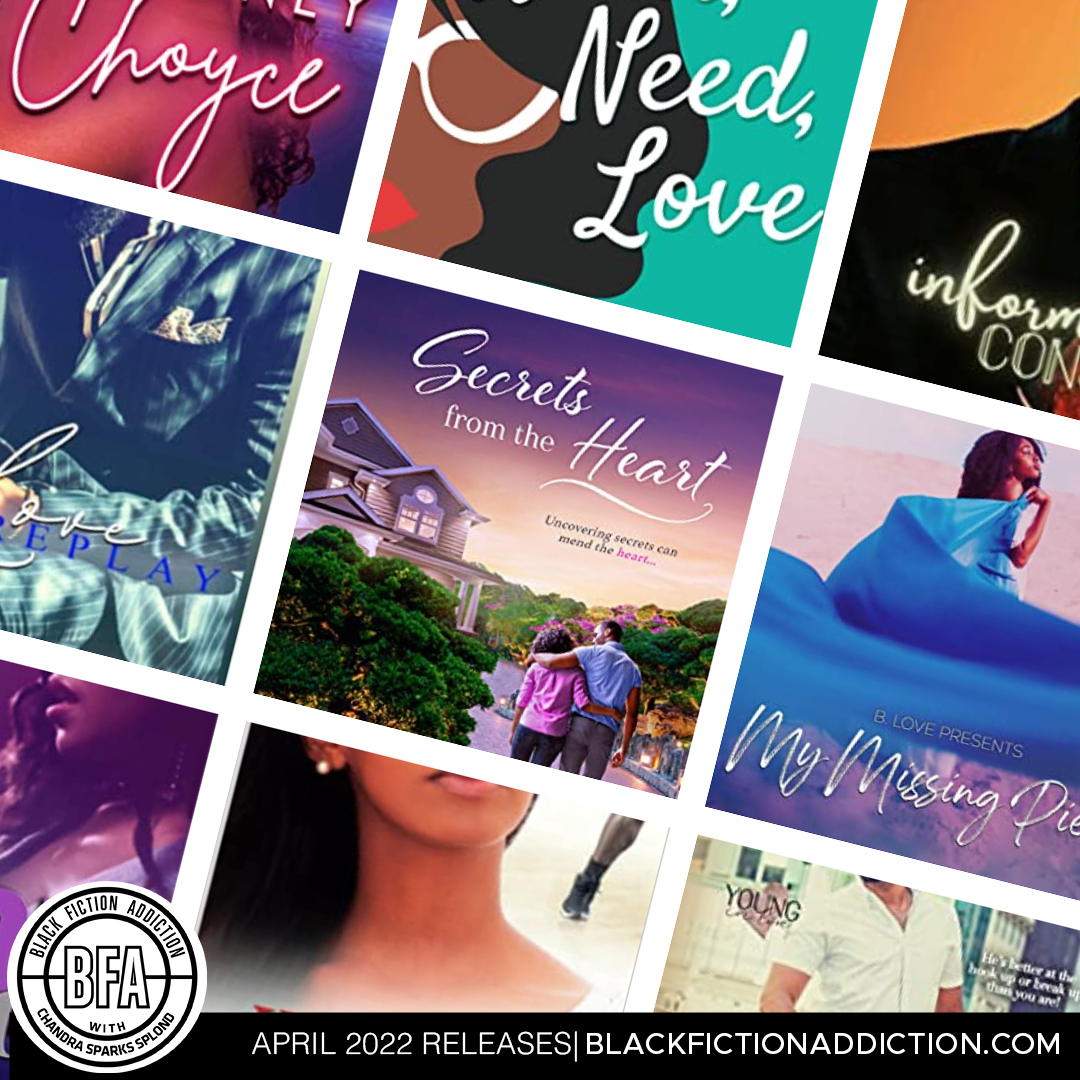 So many great books were released in April, and as usual there were not enough hours in the day to get to them all. Here's a roundup of new black fiction.
Rochelle Alers
How to fetch a family
Bookshop owner—and recently heartbroken—Lucy Tucker never imagined how dramatically life would change once she started fostering Buttercup, a pregnant golden retriever. The biggest change? Growing a lot closer to the businessman next door, Calum Ramsey, especially after the two of them help Buttercup welcome her five puppies into the world. One romantic night later, and they're expecting a baby of their own! Stunned at first, steadfastly single Calum is now dutifully offering marriage. But Lucy doesn't need rescuing. She wants the true-blue happy ending they both deserve.
---
Danielle Allen
What happened that weekend… well, let's just say it was a good Friday and on the third day, he rose.
---
Kema B.
After a vindictive ex causes her to lose her dream role, Taheerie Pierre's girls dare her to accompany them on a sinful night out at the exclusive Club Eros. Taheerie agrees, hoping that checking a few things off her bucket list helps her to forget her troubles. However it opens up a Pandora's Box of hidden pleasure between friends instead. Leaving her unsure if it can ever be closed again or if she even wants it to.
Cashton Holliday is determined to make her choice an easy one while checking items off her list. Taking her to heights she's never known before to prove once and for all he is the only man who can take care of all her needs. Will Taheerie end things before they're in too deep? Or will she finally let him give her the love she deserves?
---
Dr. Velma Bagby
The "CATCH" No One Wants—is the story of Veronica Dawson a PK (pastor's kid), who frantically searches for potential husbands in all the wrong places—a 32-year-old successful millennial, who is obsessed with getting married because she has already missed her original goal… to be a wife by thirty. Her father Greyson watches her wrong choices and sees the men mistreat his daughter; frustrated, he seeks God's direction. Greyson's answered prayers prompt him to use what he knows as an expert fisher.
He invites Veronica on a two-day fishing trip for a one-on-one intervention. She does not know that her dad is on a mission to rescue her through their Christian faith teaching about dating with an intent to marry.
As a seasoned fisher, Greyson sees the behavioral similarities between men and fish. For the intervention, he creates five metaphorical stories he shares with his daughter on their trip. Four stories represent the men she has dated: the Catfish, who loves garbage, the Salmon who avoids getting caught, the Sturgeon who likes to nibble, & the Pufferfish who is beautiful until agitated—all highlighting the dating mistakes Veronica continues making even now. The fifth story—the Goldfish—represents the man God has chosen just for her. He is the CATCH No One Wants, and the husband she deserves was standing right in front of her the entire time.
---
Lekecia Barclay
Move over Charlie's Angels, the Justice Sisters are here to take over! Three beautiful, bold, black women will stop at nothing to prove a man's innocence.
Evoni Singleton, one of Nashville's hottest family law attorneys, life has become more complicated than she would like. Dealing with a cheating fiancé, a cold mother, and annoying co-workers, Evoni is fed-up. If it weren't for her best friend, Bria Montgomery, Evoni would be at her wit's end.
To complicate her life further, Evoni is shocked to learn of the allegations leveraged against her client, Marc French.
Engaged in a heated custody battle with his ex-wife Jessica, Marc becomes the police's prime suspect when Jessica is found murdered. Evoni knows the police have their sights on the wrong man and will stop at nothing to prove it.
Bria Montgomery, Evoni's best friend, is recently engaged and excited to plan her wedding to her extremely wealthy fiancé. But before she can do so, Bri, a true crime buff, insists on helping Evoni prove her client's innocence.
Can Evoni along with the help of her fabulous best friend, Bri and her trusted legal secretary, Mari Davies, prove Marc's innocence before it's too late? This witty, riveting mystery will keep you glued to the page.
---
Jendella Benson
Glory Akindele returns to London from her seemingly glamorous life in LA to mourn the sudden death of her father, only to find her previously close family has fallen apart in her absence. Her brother, Victor, is in jail and won't speak to her because she didn't come home for his trial. Her older sister, Faith, once a busy career woman, appears to have lost her independence and ambition, and is instead channeling her energies into holding together a perfect suburban family. Worst of all, their mother, Celeste, is headed toward a breakdown after the death of her husband and the shame of her son's incarceration.
Rather than returning to America, Glory decides to stay and try to bring them all together again. It's a tall order given that Glory's life isn't exactly working out according to plan either, and she's acutely aware that she's not so sure who she is and what she wants.
A chance reunion with a man she'd known in her teens—the perceptive but elusive Julian—gives her the courage to start questioning why her respectable but obsessively private Nigerian immigrant family is the way it is. But then Glory's questioning unearths a massive secret that shatters the family's fragile peace—and she risks losing everyone she deeply cares about in her pursuit of the truth and a reunited family.
---
Kimberly Brown
Efrain Smith is a man who knows what he wants and isn't afraid to go after it. When he meets a shy bookstore owner, he instantly knows he has to have her. Whether it's his business or his women, Efrain dominates everything his hand touches.
Thyri Nelson has always played it pretty safe, never taking many risks or stepping out of her comfort zone. When she meets property manager Efrain Smith, she has no idea the waters she's about to test. With thick sexual chemistry between them, Thyri finds herself drawn to a man who held the power to ruin her in more ways than one.
Efrain's promise to introduce her to pleasure she's never known before, is tempting. Will she indulge in this handsome new stranger, or will she resist the temptation?
---
Niobia Bryant
Finding Mr. Right isn't easy, but in this sexy new novel from bestselling author Niobia Bryant, one woman knows exactly how to do it with just a touch of magic–for everyone but herself…
As a matchmaker, Mona Ballinger has a talent for bringing the right people together–and keeping the wrong people apart. At times, she uses a gift of premonition inherited from generations of Ballinger women to see the soul mate of anyone she touches. When Anson Tyler's fiancée ends their engagement thanks to Mona's advice, he angrily confronts her. Unfortunately, Mona has not only caused him a broken heart–she ends up giving him a broken leg as well…
Guilt-ridden over Anson's injury, Mona decides to help him recover–whether he likes it or not. Their angst shifts to comfort and turns to chemistry. Both fight their attraction—until Anson's handsome brother, Hunter, shows up and pursues the beautiful matchmaker. Anson has made many sacrifices for the younger brother he raised, but losing Mona to him is not one of them. As Mona and Anson give in to their passion, they must overcome his disbelief in her gift and his reluctance to accept the idea of "the one" in order to claim their destiny.
---
Denny S. Bryce
In this haunting novel set at the height of the Civil Rights Movement in the 1960s, the author of Wild Women and the Blues takes readers on an audacious road trip with a pregnant young woman and her brash, profane aunt from Chicago to Los Angeles to confront a decades-old mystery from 1920's Black Hollywood.
1928, Los Angeles: The newly-built Hotel Somerville is the hotspot for the city's glittering African-American elite. It embodies prosperity and dreams of equality for all—especially Daisy Washington. An up-and-coming journalist, Daisy anonymously chronicles fierce activism and behind-the-scenes Hollywood scandals in order to save her family from poverty. But power in the City of Angels is also fueled by racism, greed, and betrayal. And even the most determined young woman can play too many secrets too far . . .
1968, Chicago: For Frankie Saunders, fleeing across America is her only escape from an abusive husband. But her rescuer is her reckless, profane Aunt Daisy, still reeling from her own shattered past. Frankie doesn't want to know what her aunt is up to so long as Daisy can get her to LA—and safety. But Frankie finds there's no hiding from long-held secrets—or her own surprising strength.
Daisy will do whatever it takes to settle old scores and resolve the past—no matter the damage. And Frankie will come up against hard choices in the face of unexpected passion. Both must come to grips with what they need, what they've left behind—and all that lies ahead . . .
---
Sharon C. Cooper
A woman learns the hard way about mixing business with pleasure in this hilarious new romantic comedy by USA Today bestselling author Sharon C. Cooper.
I am beautiful. I am confident. I am lovable. I am a lottery winner.
This is the mantra that will get Dreamy Daniels through each day until she makes it big. So what if she lives in a seedy part of Los Angeles in a house that's one earthquake away from crumbling, or works an unfulfilling secretarial job while struggling to finish her bachelor's degree? All Dreamy needs to do is win the lottery, which she's been entering in as a weekly tradition with her grandfather. When she catches the attention of her boss's potential investor, Dreamy has to remind herself to focus on her career goals so she can be her own boss. Who cares if he has the social grace of the Duke of Sussex and the suaveness of Idris Elba? No distractions allowed.
Growing up with a father who is an A-list actor and a socialite mother, venture capitalist Karter Redford lives in the world of the rich and famous. Instead of attending movie premieres, however, he prefers spending his time helping the less fortunate, backing start-up companies and investing in cutting edge ideas. Karter is used to his life revolving around work, but when he decides he wants someone to share it with, he falls for someone his mother would never approve of: hilarious, quirky Dreamy, who has goals of her own…but also isn't a wealthy, upper-crust socialite. Though it's clear they're from different worlds, their relationship might just be his greatest investment yet.
---
Angie Daniels
After a near-death experience, Marketing Director Bianca Beaumont Brown tries to return to quiet family life with her husband, restauranter, London Brown. Planning a charity bachelor auction with her charismatic friends is one distraction she's starting to enjoy. However, when an unwelcome blast from Bianca's past shows up, she knows it's only a matter of time before a seven-year-old secret is no longer confidential. She is convinced that it's better to bend the rules than risk the truth, but London disagrees. Will her choices jeopardize their marriage, or together can they discover that family is what you choose it to be?
---
N.E. Davenport
It's all about blood.
The blood spilled between the Republic of Mareen and the armies of the Blood Emperor long ago. The blood gifts of Mareen's deadliest enemies. The blood that runs through the elite War Houses of Mareen, the rulers of the Tribunal dedicated to keeping the republic alive.
The blood of the former Legatus, Verne Amari, murdered.
For his granddaughter, Ikenna, the only thing steady in her life was the man who had saved Mareen. The man who had trained her in secret, not just in martial skills, but in harnessing the blood gift that coursed through her.
Who trained her to keep that a secret.
But now there are too many secrets, and with her grandfather assassinated, Ikenna knows two things: that only someone on the Tribunal could have ordered his death, and that only a Praetorian Guard could have carried out that order.
Bent on revenge as much as discovering the truth, Ikenna pledges herself to the Praetorian Trials—a brutal initiation that only a quarter of the aspirants survive. She subjects herself to the racism directed against her half-Khanaian heritage and the misogyny of a society that cherishes progeny over prodigy, all while hiding a power that—if found out—would subject her to execution…or worse. Ikenna is willing to risk it all because she needs to find out who murdered her grandfather…and then she needs to kill them.
Mareen has been at peace for a long time…
Ikenna joining the Praetorians is about to change all that.
Magic and technology converge in the first part of this stunning debut duology, where loyalty to oneself—and one's blood—is more important than anything.
---
Kathy Douglass
There's something brewing between them…
Contractor Josh Fortune is happy to be Kirby Harris's Mr. Fixit. Repairing the roof of Kirby's Perks is a cinch, but healing her heart is a trickier process. For three years the beautiful widow has been doing everything on her own, and she's afraid to let down her guard. She thinks Josh is too young, too carefree—and way too tempting for a mom who has to put her kids first…
---
Celeste Granger
Voices of concern echo around Chloe Russel-Knowles because of her intimate connection to Colton St. Clair. Demons from her past attempt to placate her, persuade her, daring to impede her current focus. Yet, Chloe is determined to love whom she loves despite the condemnation of others. She loves Colton with an abiding love that extends from this life into the next. Colton loves Chloe with savage intensity. His desire to honor, love and protect her against anything or anyone is without question. That love will be put to the ultimate test as forces greater than either of them could imagine dares to silence their love story forever.
---
Tatum Jones
Jaslen Moss found out her husband was still up to his old tricks in the worst way possible. After being arrested with his mistress, she found the strength to finally give him his walking papers. With a f*ck love attitude, she's focused on bossing up and building an empire of her own. You know what they say about making plans, though. When she least expects it, love comes looking for her.
Former stripper, Kael Hoover, never expected to be living as a full-time single father but he was proud of the way he changed his life for his five-year-old daughter Brooke. A chance encounter brings the two together. When they start to fall, they both find themselves struggling with trusting the other to catch them.
When Jaslen's ex-husband comes along and drops a bombshell that could rip the two apart, the pair is tasked with finding out if love is worth the risk.
---
LaQuette
For these Brooklyn power players,
one night holds surprises to last a lifetime.
When her grandfather meddles in the billion-dollar development deal she's closing for the family company, Amara Devereaux-Rodriguez feels betrayed…and rebellious. A chance encounter with Lennox Carlisle is just the kind of trouble she's looking for. But their night together soon becomes a threat to Amara's aspirations because the mayoral contender has the power to quash the Devereaux deal. And now Amara's pregnant with his child. Can she quench the fire for Lennox that could send their lifelong ambitions up in flames?
---
B. Love
His mother named him Choyce because when it came to his father, she didn't have one. As midnight strikes, she tries to warn Choyce of joining the family business. Dismissive of his mother's warning, Choyce joins his family for his eighteenth birthday party, where his grandfather gives him the terms of his rite of passage. When Choyce rejects the terms, the act is seen as a rejection of his family and their rules, and the events that follow make two things very clear to Choyce: his mother was right… and things will never be the same again.
Ten years later, things have changed drastically for Choyce, his family, and the business. While there are a few things he regrets, saving Lavender the night of his eighteenth birthday isn't on that list. Though a decade has passed, the day they spent together has been permanently seared into his memory. He's changed now… hardened in some places and softened in others. But one thing that will never change is his loyalty and fierce need to protect and possess Lavender every time she's in his presence.
To commemorate the day that changed them both, Lavender returns to Memphis, TN. Will she finally return Choyce's heart to him, or will she leave with even more of his love than when she came?
---
B. Love
Photographer Zuri Simpson has given up on love for herself, but she still believes it can be found for everyone else. The hopeless romantic uses her photo booth to set strangers up for blind dates, but she's never considered using it for herself—until one of her clients gets stood up.
Mayan Smith has always wanted love and a family of his own. Unfortunately, his playboy reputation from his younger years has made it almost impossible for him to find a suitable wife in the small town of Hibiscus Hills. When his future sister-in-law mentions a photo booth blind date, the adventurous ex-basketball player is all in.
For Zuri, adding matchmaker to her resume was supposed to be a fun way to get new clients and increase her income… Falling in love was nowhere on her to-do list. Will Zuri's health and past experiences cause her broken heart to reject all that Mayan has to give, or will she allow him to gift her with a picture-perfect love?
---
K.C. Mills
Indira "Indi" Turner has learned some harsh lessons in life but the most devastating of all was being loyal to the wrong person can leave you lost and empty. With a selfish ex who refuses to be the man she needed and more importantly the man she deserved, Indi decided to distance herself from the past with a fresh start and positive mind.
Torrance "TJ" Addison's very controlled world was jolted into a chaotic storm of indifference. He spent the last six years reevaluating who he was versus who everyone expected him to be. With a new found lease on life TJ discovers that a pint sized beauty with a crown full of hair and warm brown eyes just might be the missing piece to complete his life's puzzle.
After an embarrassing first encounter both Indi and TJ realize that life has a way of handing you what you never knew you wanted while providing exactly what you need.
---
Asia Monique
Lucia Moretti
I always knew marriage for me would never be to a man of my choosing. As a young girl, I was all too aware of the power I wielded in a world where men were supposed to be the superior gender.
To the underworld, I was just a mafia princess. To my family, I was an equal. To my soon-to-be husband? Well, that was yet to be determined. But I pray Enzo Bianchi was ready for me because I was damn sure prepared for him.
Enzo Bianchi
The life I'd seen for myself was no longer an option. My entire world had been turned upside down by the very people who were supposed to be family—my Famiglia.
Us Bianchi men were starting anew—forging alliances with criminal organizations who understood our plight. The plan had been simple. Cut and dry.
That was until Lucia Moretti showed up with a plan of her own—one I couldn't say no to. Now everything was at stake, including my heart.
TRIGGER WARNING: This story includes depictions of violence; may be sensitive for some readers.
---
Tyora Moody
Tangie Nelson is officially engaged to former NBA star Nathan Chambers. When Nathan is featured on a national talk show for his successful work with underprivileged youth, someone from his past shows up on his doorstep. Nathan's former fiancée claims he's the father of her son.
Sensing something else is brewing beneath the surface, Tangie pulls the brakes on the wedding planning. Until the dust settles, she's hoping she can hold on to love.
---
She Nell
Never settle for side chick status
Tiffany thought the drama between her friends was over but she was wrong. Jennifer was honest about her depression and mental health. Ebony confessed to having a child with Freddie, Jennifer's husband. Tasha was in love with a very successful gentleman. Despite the appearances of happiness, Tiffany learns that her friend is struggling to have her basic needs met. She feels powerless because her friend will do anything for love.
---
Stephanie Nicole Norris
To love him was forbidden, and it would come at a cost…
Princess Cadena Winthrope was well aware of the splintering heat that sizzled her flesh whenever Gemini was nearby. As her loyal guard, Gemini remained standing in the shadows, watching her every move—his gaze catching the dark corners of the room as well as her body's outline. Past ready to face their attraction head-on, Cadena is prepared to put her heart on the line, but a romance between the two could put his life at risk. How far would they be willing to go for love?
She was off-limits…
Gemini is pledged by royal law to protect Cadena at all costs, even from himself, even from his heart. But being at her side, sunrise and sunset had given Gemini something he wasn't expecting—a lifetime of memories transformed into picturesque scenes of their future together. Now, Gemini's loyalty is put to the test as he struggles with obeying his royal oath or giving in to his deepest desires.
---
It's the End of the World and I'm in My Bathing Suit
Justin A. Reynolds
A hilarious new middle-grade from Justin A. Reynolds that asks: What happens when five unsupervised kids face the apocalypse under outrageously silly circumstances?
Twelve-year-old Eddie Gordon Holloway has concocted his most genius plan ever to avoid chores… especially the dreaded L-A-U-N-D-R-Y. If he can wear all the clothes he owns, he'll only have to do the laundry once during his school break.
On the day of the highly anticipated Beach Bash, Eddie's monstrous pile of dirty laundry is found by his mom. And Eddie's day has just taken a turn for the worst. Now he's stuck at home by himself, missing the bash, and doing his whole pile of laundry. But mid-cycle, the power goes out!
With his first load of laundry wet and the rest of his stuff still filthy, he sets out to explore the seemingly empty neighborhood in his glow-in-the-dark swim trunks, flip-flops, and a beach towel. He soon meets up with other neighborhood kids: newcomer Xavier (who was mid-haircut and has half his head shaved), Eddie's former friend Sonia (who has spent her entire break trying to beat a video game and was mid-battle with the final boss), and siblings Trey and Sage (who are dealing with major sibling drama).
As they group up to cover more ground and find out what happened, they realize that their families aren't coming back anytime soon. And as night falls, the crew realizes that they aren't just the only people left in the neighborhood, they might be the only people left… anywhere.
---
Suzette Riddick
Garrison Lawrence has done his job raising his three girls following the death of his wife. Now that his daughters are grown and successful, the only thing he has left is his contracting business buying and flipping properties to occupy his time.
Although he swore after his wife's untimely passing that he would never commit himself to another woman, Garrison begins to rethink his decision. Witnessing his daughter fall in love leaves him yearning for companionship beyond the occasional trysts to satisfy his carnal needs.
Divorcée Madeline "Maddie" Redmond is eager for a fresh start in a new city. Leaving behind heartache, she's ready to move on with her life without a man in it. The only way she knows how to do this is to immerse herself in her work as a behavioral health specialist.
A romantic entanglement isn't what she's looking for when she meets Garrison Lawrence, her landlord. When she learns he's a widower, Madeline allows her heart to open up to the possibility of something special.
What starts off as a blossoming relationship is shattered by ghosts from the past. Will Garrison and Madeline be able to find love a second time around?
---
Shae Sanders
It's 1997, and R&B star Castra is gearing up for the release of her third album in a crowded landscape of other young, beautiful, and talented singers. In a panic, her label reaches out to Romell "Danger" Brooks, super producer, to work his magic like he did on her first album seven years before. Castra's singing career, and contract, depend on it.
He has 72 hours.
It seems like an impossible feat, because the two share a complicated history. The musical chemistry they created all those years ago was the catalyst for an explosive relationship full of young love, intense passion, and eventually, heartache.
The moment the first song begins to play, the scabs on their old wounds begin to tear away, and over the course of those three days, they're forced to confront those old feelings. With their careers, and hearts, at stake, can they recapture the magic?
---
Tara M. Stringfellow
Summer 1995: Ten-year-old Joan, her mother, and her younger sister flee her father's explosive temper and seek refuge at her mother's ancestral home in Memphis. This is not the first time violence has altered the course of the family's trajectory. Half a century earlier, Joan's grandfather built this majestic house in the historic Black neighborhood of Douglass—only to be lynched days after becoming the first Black detective in the city. Joan tries to settle into her new life, but family secrets cast a longer shadow than any of them expected.
As she grows up, Joan finds relief in her artwork, painting portraits of the community in Memphis. One of her subjects is their enigmatic neighbor Miss Dawn, who claims to know something about curses, and whose stories about the past help Joan see how her passion, imagination, and relentless hope are, in fact, the continuation of a long matrilineal tradition. Joan begins to understand that her mother, her mother's mother, and the mothers before them persevered, made impossible choices, and put their dreams on hold so that her life would not have to be defined by loss and anger—that the sole instrument she needs for healing is her paintbrush.
Unfolding over seventy years through a chorus of unforgettable voices that move back and forth in time, Memphis paints an indelible portrait of inheritance, celebrating the full complexity of what we pass down, in a family and as a country: brutality and justice, faith and forgiveness, sacrifice and love.
---
Dolen Perkins Valdez
Montgomery, Alabama, 1973. Fresh out of nursing school, Civil Townsend intends to make a difference, especially in her African American community. At the Montgomery Family Planning Clinic, she hopes to help women shape their destinies, to make their own choices for their lives and bodies.
But when her first week on the job takes her along a dusty country road to a worn-down one-room cabin, Civil is shocked to learn that her new patients, Erica and India, are children—just eleven and thirteen years old. Neither of the Williams sisters has even kissed a boy, but they are poor and Black, and for those handling the family's welfare benefits, that's reason enough to have the girls on birth control. As Civil grapples with her role, she takes India, Erica, and their family into her heart. Until one day she arrives at their door to learn the unthinkable has happened, and nothing will ever be the same for any of them.
Decades later, with her daughter grown and a long career in her wake, Dr. Civil Townsend is ready to retire, to find her peace, and to leave the past behind. But there are people and stories that refuse to be forgotten. That must not be forgotten.
Because history repeats what we don't remember.
Inspired by true events and brimming with hope, Take My Hand is a stirring exploration of accountability and redemption.
---
Denise M. Walker
In this continuation of The Redemption Series, Hannah Jefferson must maintain her faith as she continues to endure the complications of endometriosis and focus on God's call for her to help other women, like herself, to overcome their personal struggles. In addition, despite their past issues, Hannah must also step in and assist her mom during one of the most difficult times of her life.
With God's all sufficient grace, this time around, will Hannah be willing to press through and mend she and her mom's broken relationship? Will she place her confidence in God as she journey's through her condition and believe that motherhood will be her portion? Will she allow God to use her in helping other women embrace His love and healing for themselves?
In the end, will Hannah ultimately trust God through the process of it all to get to the promise, or will she crumble?
---
Monica Walters
Sometimes life can be tough to navigate, especially when you enter it at a slight disadvantage. Alexzandria Berotte has a loving family, and she's made it through life all right. However, after discovering that she is pregnant and was nearly duped into marriage by a fraud, she misses something she's never had. A mother's love. Her mother died while giving her life, and she longs for that connection to help her navigate through one of her toughest times. She has difficult decisions to make, but after connecting with her father's new love, those decisions seem to become slightly easier to get through. Trying to move on with her life, she does her best to convince herself that her past is behind her, and she's ready to experience the one thing she craves… love.
Axton Vaughn is known as an arrogant prick, but he enjoys the title. As a newly certified gastroenterologist, he is living for the day that he can start his own practice. After reconnecting with his mentor from medical school, he accepts the task of temporarily running his office in Beaumont, Texas to get a feel for what it would be like running his own private office. However, instead of simply gaining experience, he's introduced to the most beautiful nurse he's ever seen. The problem is that he's met his match, and he soon realizes that he can't bear the same sarcasm he freely dishes out. Despite her fiery disposition and their constant bickering, he can't seem to get her out of his thoughts.
Alexz and Axton can't seem to be around one another for longer than a few minutes without being ready to wage war against the other. However, when life happens in both their worlds, they are both vulnerable and their rough exteriors seem to deteriorate. Can they be there for one another, or will their strife drive a deeper wedge between them?
---
Monica Walters
A love lost is hard, especially when that loss appears in your face weekly, reminding you of what once was. Anissa Dent is experiencing heartbreak like none she's ever felt. Her husband of nearly twenty years has fallen victim to crack cocaine after a devastating loss. All her efforts to help him have failed, and to protect herself and her sons, she divorces him and has him removed from their home. That doesn't stop him from popping in and out of their lives with promises of getting clean. Anissa desperately wants to move on in her life, but her love for what once was is holding her back. However, attending a family barbeque with her son proves to be the restart she desperately needs. The host penetrates her exterior and has her questioning why she's been single for the last fifteen years with someone like him available.
Grief can be a hard thing to overcome. Sheldon Berotte has been grieving the loss of his wife for nearly twenty-five years, not giving another relationship a second thought. When she dies during childbirth, he is left to raise their five children, all under the age of ten, alone. His in-laws all live out of town, so help was minimal. However, he stepped up to the plate and devoted his life to his children. Now that they are grown, they are worried about him. He has lost his ability to even entertain other people, nearly becoming a recluse. The only thing that gives him purpose is volunteering as security at one of the local high schools. Allowing his children to convince him into having a family barbeque and them inviting some of their friends and their families, is the moment his life changes forever.
Anissa and Sheldon have immediate chemistry that he tries to fight. The feeling of guilt consumes him and threatens to destroy their future before they can even have a present. Can Sheldon let go of the torment guilt is putting him through and embrace the budding relationship between him and Anissa or will he allow her to slip from his fingertips?
---
Synithia Williams
A fraud?
Or the find of her lifetime?
Vanessa Steele retreats to her grandmother's beach house to heal after she loses her job and her fiancé. When she finds that Grandma's enlisted hunky Dion Livingston and his brothers to investigate suspicious paranormal activity, the intrepid reporter's skeptical of their motives. But her own investigation discovers that Dion's the real deal. And any supernatural energy? Pales compared to the electricity that erupts when the two of them are together…
---
A.S. Wilson
Jalissa McMann is off men. In the wake of the blows dealt to her by her father and her first love, she's been content to focus on her modeling career and steer clear of the womanizers of the world. However, she's grown restless and unsettled over the past year, and she can't help but wonder if something's been missing in her life.
Shameek "Meek" Lyons is an engineer-turned-herbalist with his own thriving business. He jets off to Ecuador for spiritual enlightenment, mixed with a little bit of business, but he never expected to have the pleasure of running into Jalissa. He's wanted her since he first laid eyes on her, at their friends' house, but she's eluded him.
Will two restless souls find peace and restoration in each other, or will the pain that haunts them both tear them apart?
---
It's Not the Hookup, It's the Chase
Elle Wright
A long time ago, I helped her. Little tips about what to wear, how to leave a man wanting more, ways to be sexy without being too obvious. The guy she'd wanted was wrong for her, though. Still, she'd wanted him anyway and ended up with a broken heart. But she wasn't the only one, because even after I'd made my own intentions known, she walked away.
Now, she's back in town. Still beautiful, still intelligent, still funny, and ready to start over after a bad breakup from someone who never deserved her in the first place.
Want to know when I fell for one of my best friends? I can't even tell you. Somewhere between eating Superman ice cream in her mom's backyard and punching the first boy to ever make her cry.
Want to know how I got friend-zoned? She'd have to tell you. My services—Wingman for Hire—help women drive the men they want crazy. Yet, I couldn't seem to get her to notice me that way.
Want to know what I decided to do about it? The absolute right thing at the wrong time.
Now, everything is different. The past is supposed to be forgotten; the rejection should be in the rear-view mirror. And I'm not asking for much… just forever.
IT'S NOT THE HOOKUP, IT'S THE CHASE is book three in the Young In Love Series, featuring the very large, very fun Young Family. If you love romance with layered characters and laugh out loud moments, snag your copy. This novel contains sex, profanity, and sensitive subjects that some may find triggering.
---
Sean D. Young
Taking over her family's charming and historic Red Rose Inn is a dream for Kira Davis—even if it means the extra stress of knowing the entire Davis clan is watching her every move. But ignoring her family's wishes and hiring too-handsome Franklin Bennett as her temporary new manager might be a huge mistake…given their families' decades-long feud.
Yet attraction still sparks between them, proving to ex–army engineer Franklin there's something real beneath the surface. Something hopeful. Something unmistakable. But pursuing Kira could prove dangerous for a man with an uncertain future.
Now Kira and Franklin are caught between an ancient family feud and their feelings for each other. The only way they can love each other is by unraveling the terrible truth about what happened back then…and hope that love is strong enough to mend the break from so long ago.
---
Zarkia
Imagine showing up on what's supposed to be the happiest day of your life to a scene of utter chaos; what would you do? Cierra Jones is ready to take the law into her own hands when she realizes two of the people she loves the most are the ones who will cut her the deepest. Will Cierra be able to forgive and move on from the worst heartache she has ever experienced, or will the pain be too much for her to bear? Author Zarkia brings you the heart-racing, highly anticipated finale, After The Pain 2.