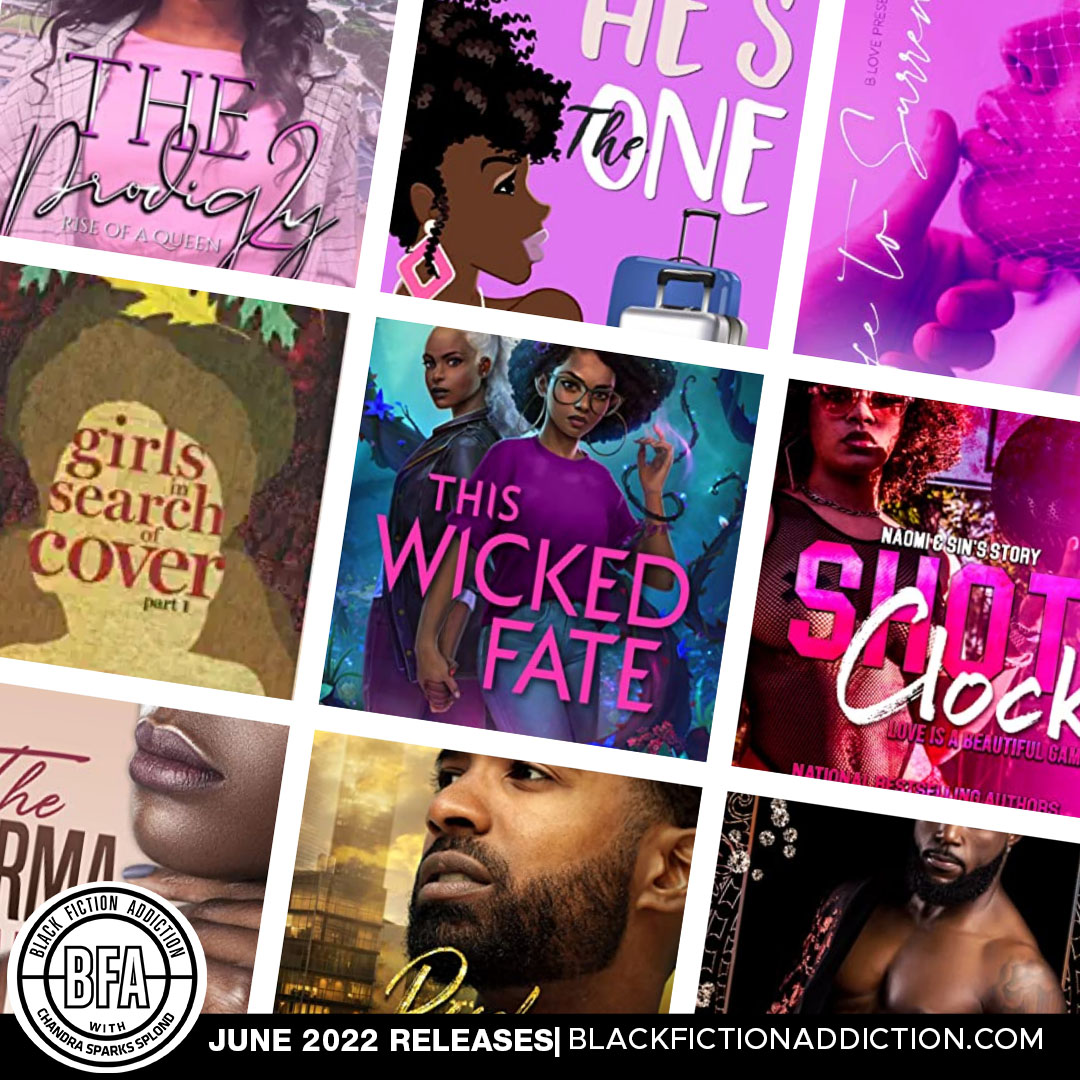 June not only brought hot temperatures but also tons of hot new releases. From debuts to New York Times bestsellers, there's something for you.
Ooohhh Girl, You're Something Special
Angela Scott Abdur-Rasheed
Sisters Jaymie and Jacie Jones are navigating Myrna Ria Middle School the best they can. With their Sister Circle Squad Click by their side it seems this group of teen girls is unstoppable. That is until a mysterious and mean list turns the school and their world upside down.
How will the sisters and their friends get through it? There's only one answer. Together.
Oooohhh, Girl! You're Something Special is a sweet short story and is perfect for teens, tweens, adults and everyone in between. It's funny, modern, moving, relatable and ideal for the individual in need of a quick reminder that they are special.
---
Kianna Alexander
In the high-stakes world of hip-hop, these opposites work hard and play harder as Kianna Alexander's 404 Sound series continues.
From the recording studio to the bedroom,
he's hitting all the right notes…
Renowned sound engineer Teagan Woodson prides herself on maintaining her professionalism. But guitarist Maxton McCoy challenges all her self-imposed boundaries. He's too talented, too sexy…and too off-limits! Which is only confirmed when their innocent flirtation becomes an all-consuming affair and emotional demons from their past are resurrected. Soon Maxton's fear of losing Teagan the way he tragically lost his sister threatens everything—including their album. Are they destined to become hip-hop's latest power couple…or just a one-hit wonder?
---
Joy Avery
A talented baker and a small-town sheriff forced into a fake relationship decide whether to take a chance on love in this delectable romance from Joy Avery.
Baker extraordinaire Rylee Harris has a recipe for everything—except love. It's been five years since she lost her husband, but romance is still a struggle for Rylee. In her small hamlet of Honey Hill, North Carolina, Rylee knows she'll be the talk of the town when she finds someone new.
To ease her mother's worries about her love life, Rylee impulsively invents a fake relationship with the only man who's caught her eye: the town sheriff, Canten Barnes. It's supposed to be a secret, but secrets don't last long in Honey Hill. One bit of gossip leads to another, and soon the whole town thinks Rylee and Canten are an item.
As Rylee and Canten embark on a make-believe relationship to save face, they slowly realize that their feelings for each other aren't fake at all. Can Rylee and Canten keep the charade going—or will the town's prized baker and respected lawman take a real chance on love?
---
Kalynn Bayron
Would you tempt even the most dangerous fate to save the ones you love?
Briseis has one chance to save her mother, but she'll need to do the impossible: find the last fragment of the deadly Absyrtus Heart. To locate the missing piece, she must turn to the blood relatives she's never known, learn about their secret powers, and take her place in their ancient lineage.
But Briseis is not the only one who wants the Heart, and her enemies will stop at nothing to fulfill their own ruthless plans. The fates tell of a truly dangerous journey, one that could end in more heartache, more death. Strengthened by the sisterhood of ancient magic, can Briseis harness her power to save the people she loves most?
---
Love Belvin
She's from a lakeside suburb, padded by two parents, an overindulgent godmother, and all the amenities of affluence they can provide her. But that's not enough. Kennedi wants to experience the full benefits of her femininity at the tender age of twenty-one, a task she takes on at college, and one she's more than determined to fulfill.
He's an aspiring entertainer from the dark side of the inner city. Survival for Isaak is very much an option he plans to conquer. He has to make it out of his impossible circumstances, and sacrifice is definitely the name of the game, even if it means running the risk of sacrificing one of the most delicate and positively influential bonds he's ever made.
A social experiment has never been so revealing and frightening for either one of these unassuming individuals. How could two people from the starkest contrast of rearing build an impenetrable bond in just three months? How long will it take for them to dig through their differences to understand those forces that connect them? At what cost will they find harmony to coexist?
Note: This is the first installment of a three book series. It contains expletive language, sexual content, and ends on a cliffhanger. If you do not wish to have these elements in your reads, this is not the venture for you.
---
Ain't No Stopping Predestined Love
Eva J. Brock
As the leader of the Angelic Watcher community, it is BROCK'S responsibility to connect his men with their 'spirit' mates. AND a few human couples along the way. He's been traveling for months hooking up those love connections across the globe. He has finally returned home, but not for relaxation or pleasure's sake. It appears that while he was traveling, he'd left many couples in his own yard hanging in the balance. TWO of the couples are already married, but they have experienced a major setback. TWO of the couples are just dragging their feet. THREE of the couples are being hindered by an outside force. Then there are THREE couples that no one saw coming. To top it off, many of the children on his estate have grown into beautiful young adults and are dating. He has decided to deal with them at another time. For now, with the help of Seraphiel, his sole purpose for returning home is to get everybody to understand that there…
AIN'T NO STOPPING PREDESTINED LOVE
---
Niobia Bryant
A chef turned secret heir cooks up a fake—and deliciously tempting—relationship in bestselling author Niobia Bryant's delectable Cress Brothers novel.
Will a fake relationship
help a reluctant heir claim his birthright?
As the recently discovered secret heir to the Cress Dynasty, chef Lincoln Cress isn't exactly fitting in with his new family. A girlfriend for hire would help, and private investigator Bobbie Barnett, who discovered his Cress connection, fits the bill. It's a simple deal that has nothing to do with her wavy hair, full lips or how she incites his wickedest appetites. Now Lincoln's risking everything—including the Cress family's reputation—on a proposal that has nothing to do with business…and everything to do with pleasure.
---
Ashley M. Coleman
Carlisa "Carli" Henton is a musician and songwriter hoping to follow in her father's musical footsteps. But, biding her time until she makes it big in the music industry, she works as a junior account manager at a big-name media company to cover her New York City rent. Carli meticulously balances her work with her musical endeavors as a songwriter—until a chance meeting with rising star Tau Anderson sends her calculated world into a frenzy. Their worlds collide and quickly blur the strict lines Carli has drawn between her business and her personal life, throwing Carli's reputation—and her burgeoning songwriting career—into question.
A smart, timely, energizing romance, Good Morning, Love shows us what the glamorous New York's music scene is really like and takes us into the lives of a rising but somewhat troubled R&B star and a promising protégé who knows her job better than she knows herself.
With fresh and honest prose, Good Morning, Love examines the uncertainty of being a new professional looking to chase a dream while also trying to survive in a world that's not always kind to ambitious women.
---
A.J. Davidson and M. Monique
After leaving the man she thought she would be with forever, Naomi London doubled down on her passion for basketball, leaving no room for love. That was until she locked eyes with the infamous Jamison 'Sin' Smith. No matter what she said to him, he wasn't taking "I'on like you!" for an answer.
Sin had everything at his fingertips but the one woman he wanted to spend the rest of his life with. Bumping into Naomi was unexpected but will surely change his future for the better. Sin took one look at Naomi and fell in love with her cockiness, gold grill and was even more intrigued by the disrespect that dripped from the tip of her sexy ass lips!
Will Naomi allow basketball to be the only thing that takes over her heart, or will Sin be able to dribble his way into her life before the shot clock expires?
---
Kristina Forest
While on a school trip to the Poconos Mountains (in the middle of a storm) high school seniors, Zyla Matthews and Kai Johnson, run away together leaving their friends and family confused. As far as everyone knows, Zyla and Kai have been broken up for months. And honestly? Their break up hadn't surprised anyone. Zyla and Kai met while working together at an amusement park the previous summer, and they couldn't have been more different.
Zyla was a cynic about love. She'd witnessed the dissolution of her parents' marriage early in life, and it left an indelible impression. Her only aim was graduating and going to fashion school abroad. Until she met Kai.
Kai was a serial dater and a hopeless romantic. He'd put a temporary pause on his dating life before senior year to focus on school and getting into his dream HBCU. Until he met Zyla.
Alternating between the past and present, we see the love story unfold from Zyla's and Kai's perspectives: how they first became the unlikeliest of friends over the summer, how they fell in love during the school year, and why they ultimately broke up… Or did they?
---
Nia Forrester
He might destroy her. She could help put him back together.
If it wasn't for his music, Devin Parks doesn't know where he'd be. Now he has a shot at a larger audience than he ever dreamed of. All he has to do, is get out of his own way. But when Devin isn't fighting salacious rumors on entertainment blogs and rival musicians, he's battling serious demons from his past that threaten to hold him back just as he's poised to soar.
Harper Bailey has mixed feelings about being assigned to manage the notoriously difficult Devin Parks' mainstream debut. It's a career-changing opportunity made much more challenging because she's fighting demons of her own. Not to mention the persistent pull the former lovers have toward each other. Harper has handled her attraction to the artists before, but Devin is different. The draw isn't just physical, it's emotional as well. And getting emotionally involved with someone like him is a non-starter for her career and her heart.
Because if her instincts are correct, he isn't just 'difficult', he's broken.
---
Latoya Garrett
Melanie Jacobs is the ultimate southern belle. She's smart, beautiful, sweet and a bit spoiled (aka daddy's little princess). Life is amazing. Her beauty consulting business is booming and partnering with her best friend, Sherrie Lynn, is a match made in heaven. The only thing missing is a husband of her own. And she may have found him in Pastor Talik Morgan. He's everything she's ever wanted in a man.
But…a routine checkup jeopardizes everything. Talik friend zones her, and Mel is left wondering if she'll live to experience the love for which she's been longing. Pastor Talik Morgan is a man after his Heavenly Father's and his earthly father's hearts. Sometimes his need for his earthly father's approval supersedes the things he wants and needs for his life. Melanie Jacobs becomes one of the most important things he sacrifices just to make daddy proud.
But…a family secret is exposed, making Talik question everything and yearn for another chance with Mel.
---
Celeste Granger
When Reign Angelle first met him, being in Rome's orbit caused a cacophony of conflicting emotions that only an ensuing encounter with him could resolve. When their paths cross again, it leads to an enthralling seduction of love that surpassed either of their wildest dreams. Yet, as wonderful as Reign's relationship is with Rome, the patriarchal challenges she faces with her family nearly severs all familial connection. Finding the strength to stand up to her father and the oligarchy that plagues women around the world becomes Reign's personal fight; a battle she doesn't fight alone.
**This is a spinoff series of The Men of Mafia St. Clair. It is highly recommended that you read that series first, but it is not required. This book can stand alone.
---
Tracy Gray
For some people, moving on is just a matter of putting one foot in front of the other. For Kyndall Rivers, the inability to move on keeps her standing still, and getting nowhere…fast.
Kyndall Rivers has given her ex 5 years to step up to the plate and be a dad to their son, Bryson. When that time comes and goes, she knows that it's time to move on. What she doesn't know…is how to move on. Her "best friend", Dorien Hill has been waiting patiently for a second chance to love her in a more than friendly way. But after the way he fumbled the bag with her – the way he fumbled her heart makes it hard for her to know how to move with him, as well.
Dorien Hill knows that he messed up with the only woman to ever hold his heart in her hands. He doesn't take that lightly. In fact, he's spent the last 5 years doing everything in his power to redeem himself, and prove to Kyndall that he can be the man she needs. That he…understands the assignment. When he finally sees an opportunity for him to be next up, will he be able to take his place as the man in Kyndall's life, or will her inability to move cause her to lose a chance at love?
---
Piper Huguley
The incredible untold story of how Ann Lowe, a Black woman and granddaughter of slaves, rose above personal struggles and racial prejudice to design and create one of America's most famous wedding dresses of all time for Jackie Kennedy.
1953, New York City
Less than a week before the society wedding of the year where Jacqueline Bouvier will marry John F. Kennedy, a pipe bursts at Ann Lowe's dress shop and ruins eleven dresses, including the expensive wedding dress, a dress that will be judged by thousands. A Black designer who has fought every step of the way, Ann knows this is only one struggle after a lifetime of them. She and her seamstresses will find the way to re-create the dresses. It may take all day and all night for the next week to accomplish the task, but they will do it.
1918, Tampa
Raised in Jim Crow Alabama, Ann learned the art of sewing from her mother and her grandmother, a former slave, who are the most talented seamstresses in the state. After Ann elopes at twelve with an older man who soon proves himself to be an abusive alcoholic, her dreams of becoming a celebrated designer seem to be put on hold. But then a wealthy Tampa socialite sees Ann's talent and offers her an amazing opportunity—the chance to sew and design clothing for Florida's society elite. Taking her young son in the middle of the night, Ann escapes her husband and embarks on the adventure of a lifetime.
Based on the true story of one of the most famous designers of the twenties through the sixties who has since been unjustly forgotten, By Her Own Design is an unforgettable novel of determination despite countless obstacles and a triumph celebrated by the world.
---
Tucora Monique
The first time Elliot ever stepped outside of her strict parents' good graces was when she married Victor Spokes. Nevertheless, two years into her union and the newlywed doesn't feel as secure in her relationship as she once did. When Elli's lonely nights and her partner's verbal abuse start to overshadow their love, she's left in the cold and in the scope of a man who has no business watching her.
Duke Carbine is a man who craves control. It's been three years, but just as he assumed, starting his own business proved to be a lucrative move. Although in his thirties, Duke isn't looking to invest in any relationship that doesn't guarantee a profit. However, after becoming enthralled with a plus-size beauty who's off limits, the businessman finds himself losing a battle between his head and his thirst.
Elliot and Duke are like night and day. Nevertheless, their differences don't mean more than their attraction. Will their fear of failure override their desire to surrender?
---
Kema B.
After her central air malfunctions, romance novelist Stacia Baker finds herself in the middle of a deadline and a series of problems she needs fixed ASAP.
As the owner of his own maintenance company, Drew Fields has all the tools to fix everything that's wrong in Stacia's life in more ways than one.
But after an embarrassing encounter between them and her less than desirable attitude, will he leave her stranded in the middle of a scorching heat wave that sets South Florida ablaze instead? Or will she get her act together so they can create one of their own?
---
Kleopatra
All Chocolate Davis ever craved was success and to be loved; however, her past cripples her at every turn, killing any semblance of normalcy and peace from her life. The love-hate relationship she has with her mother and the unimaginable traumatic events she had to endure ignite her desire to be loved as well a vast of other emotions that will soon erupt.
Wanting to escape from the pit of hell, she walks into the arms of the love she always desired, but revenge snatches it away as quickly as it was given. In need of comfort and support, she falls into a friendship that teaches her that everything that glitters is not gold, and the hell of a ride she is taken on sends her colliding right into deceit and violence, forcing her to run for her life. Chocolate realizes that she is in this world alone and must learn how to survive, but her life is interrupted once again with the reappearance of love—but it's a love she'll fight against and succumb to only to have it leave her amidst despair and carnage.
A vicious cycle of addiction—sex, love, fear, hope, and the past—has the ability to keep Chocolate on the path of self-destruction.
Will she drown in the black depths of her past…
… or break through the surface of her addictions and survive?
---
Michelle Lindo-Rice
Her biggest rival
Is also her greatest temptation…
Shanna Jacobs has ambitions to be the next superintendent. But when a cheating scandal rocks her school, she's put under the supervision of her sexy ex, Lynx Harrington. Also a school principal, Lynx has his eye on the same job. Working to clear an accused cheater's name—albeit a beautiful one—only complicates the plan. But their attraction is undeniable. And Shanna's kisses are a perfect ten. Maybe their fledgling partnership will make the grade after all?
---
Tracey Livesay
In this dangerously sexy rom-com that evokes the real-life romance between Prince Harry and Duchess Meghan Markle, a prince who wants to live out of the spotlight falls for a daring American rapper who turns his life, and the palace, upside down.
Sexy, driven rapper Danielle "Duchess" Nelson is on the verge of signing a deal that'll make her one of the richest women in hip hop. More importantly, it'll grant her control over her life, something she's craved for years. But an incident with a rising pop star has gone viral, unfairly putting her deal in jeopardy. Concerned about her image, she's instructed to work on generating some positive publicity… or else.
A brilliant professor and reclusive royal, Prince Jameson prefers life out of the spotlight, only leaving his ivory tower to attend weddings or funerals. But with the Queen's children involved in one scandal after another, and Parliament questioning the viability of the monarchy, the Queen is desperate. In a quest for good press, she puts Jameson in charge of a tribute concert in her late husband's honor. Out of his depth, and resentful of being called to service, he takes the advice of a student. After all, what's more appropriate for a royal concert than a performer named "Duchess"?
Too late, Jameson discovers the American rapper is popular, sexy, raunchy and not what the Queen wanted, although he's having an entirely different reaction. Dani knows this is the good exposure she needs to cement her deal and it doesn't hurt that the royal running things is fine as hell. Thrown together, they give in to the explosive attraction flaring between them. But as the glare of the limelight intensifies and outside forces try to interfere, will the Prince and Duchess be a fairy tale romance for the ages or a disaster of palatial proportions?
---
Ashley Marie
The oldest trick in the book turns out to be the best thing that's ever happened . . .
Jada Berklee's acting career is finally heating back up after an on-set romance with her ex ruined her last job on a popular TV show. When she gets a second chance with a desirable supporting role in a hot new romantic comedy, Jada's determined not to let on-set politics or her off-set ex get in the way again. She's prepared, polished, professional–and she's going to knock their socks off.
Still, despite Jada's best efforts to keep her head down she accidentally walks in on leading man–and notorious lothario–Tristan Maxwell cheating on his latest fling. An intense and embarrassing showdown on set ensues. Of course, there are no secrets in Hollywood, and when their confrontation makes its way to the biggest gossip site in the world, it has consequences for both their careers.
With their reputations on the line, they need public relations rehab, and stat. Tristan's agent suggests the perfect solution–a fake relationship to get the press off their back and repair both their images. Jada reluctantly agrees. But when their faux-romance begins to have real consequences for them both, Tristan and Jada need to decide if they're in it for real, and not just when the cameras are rolling.
---
Joslyn Marks
Life is about choices.
Jamal Andrews has been the strength his family needs to survive the blows life has thrown their way. Love and dating are not on his agenda. Getting his family back on track is his priority until he meets Deja Pearson.
Deja shows Jamal that he's so busy pouring into others that he has nothing left for himself. Will Deja be the one who pours love, strength, and peace into his life?
Together, will they find the Strength of Love?
---
Tina Martin
I need a job, but…
I should've listened to everyone who warned me about Essex DePaul, the millionaire CEO of his own tax firm. He's one of the most handsome men I've ever seen. He has eyes that make you forget to swallow, a dazzling smile guaranteed to make your heart race, and a face you'd surely never forget. Everything about him is perfect—everything except his attitude.
He's one of the rudest, most callous men I've ever met. He takes rude to an unprecedented level. At work, they call him 'The Dictator'. Look at him the wrong way and you're fired. Say something out-of-line and you're out on your tail.
So, why do I work here? The money. I'm broke with no hope, living with my best friend in a cramped two-bedroom apartment. I need my own place and for some unfathomable reason, Mr. DePaul has agreed to pay me double the salary for an accounting position. With that much money, I should be able to put up with his attitude, shouldn't I?
Rude Boss is book 1 of a 2 book series!
---
Rhonda McKnight
Can a recluse like Jackson Bennett step outside of the world he's built for himself to find love with a woman who's about to live her life more publicly than either of them can bear?
---
Tyora Moody
A mother pleads for help to find her missing daughter.
At first, law enforcement thinks the girl ran away with her boyfriend. When the boyfriend's body is found, it becomes imperative to find the missing young woman.
Evidence is pointing towards the woman not really being in danger but on the run after committing murder. Not sure what to believe, PI Serena Manchester is starting to wonder if she should have taken this case on at all.
The clock is ticking as Serena and her crew go down a rabbit hole, trying to find a woman, who may or may not want to be found.
---
Leila Mottley
Kiara and her brother, Marcus, are scraping by in an East Oakland apartment complex optimistically called the Regal-Hi. Both have dropped out of high school, their family fractured by death and prison
But while Marcus clings to his dream of rap stardom, Kiara hunts for work to pay their rent—which has more than doubled—and to keep the nine-year-old boy next door, abandoned by his mother, safe and fed. One night, what begins as a drunken misunderstanding with a stranger turns into the job Kiara never imagined wanting but now desperately needs: nightcrawling. Her world breaks open even further when her name surfaces in an investigation that exposes her as a key witness in a massive scandal within the Oakland Police Department.
---
Pamela Mariva Mshana
girls in search of cover is a novel set against the backdrop of three generations of women scarred by rape. It dramatizes a girl's journey through the belly of the beast and her triumph above the brutal legacy of her matriarchs.
Carmia is a troubled young African-American girl whose drug-addicted mother relocates Carmia and her brother to Bovina, Mississippi—a deeply religious backwater where they all move in with Carmia's grandmother, Ma Evans.
Carmia grows up an outsider in Bovina. Mother Johns, a conniving church leader with a dark hatred for Ma Evans, convinces the community that Ma Evans' entire bloodline, including Carmia, is cursed.
After a series of tragic deaths, Carmia begins to think so too. As a teenager faced with a life of violence, church hurt and sexual trauma, will her hope of a better life be enough for her to overcome? Will the voices of her ancestors (spiritual cloud of witnesses), give her strength enough to escape the abuse her matriarchs suffered?
---
The Personal Librarian (paperback)
Victoria Christopher Murray and Marie Benedict
In her twenties, Belle da Costa Greene is hired by J. P. Morgan to curate a collection of rare manuscripts, books, and artwork for his newly built Pierpont Morgan Library. Belle becomes a fixture in New York City society and one of the most powerful people in the art and book world, known for her impeccable taste and shrewd negotiating for critical works as she helps create a world-class collection.
But Belle has a secret, one she must protect at all costs. She was born not Belle da Costa Greene but Belle Marion Greener. She is the daughter of Richard Greener, the first Black graduate of Harvard and a well-known advocate for equality. Belle's complexion isn't dark because of her alleged Portuguese heritage that lets her pass as white—her complexion is dark because she is African American.
---
J. Nichole
A drunk mind speaks a sober heart…
At least that's what Dakota believed when her drunk ex-boyfriend showed up at her house in the middle of the night. After years of being apart, Dakota wanted to believe everything he said about missing her. In a way, she missed him too.
After drinking with his co-workers to celebrate his promotion, Lincoln ended up at Dakota's house. He intended to share his success with her, but instead, he poured out his heart.
When he woke, he had to explain to Dakota that coming to her house was a mistake. Then he had to explain to his girlfriend why he was missing the night before.
---
Stephanie Nicole Norris
Prince Omari Winthrope can have anything he requests with the snap of a finger. Life as a royal provides him access to the best of everything. However, Omari desires an all-encompassing love – an endless love, pure and simple. Unfortunately, inauthentic relationships are often drawn to him because of his status. It isn't until a friend proposes that Omari headline an event that someone catches his eye and his heart. Fiery passion to have her becomes Omari's new life mission.
As a small business event coordinator, the last thing Ayanna Jenkins anticipates receiving is a request to assist Prince Omari in planning the soirée of the century. The gig of a lifetime will instantly catapult her career into the stratosphere. However, when she's pulled into his orbit, Ayanna is conflicted by the heart-throbbing attraction that spins her thoughts, swells her heart, and showers her flesh. In an attempt to remain professional, Ayanna buries her passion for the prince, but it manages to spill over, igniting a fire neither is willing to extinguish.
---
Unoma Nwankwor
He's an award-winning actor so pulling off this charade should be easy, right? Except he didn't count on his pretend "girl" being… her.
Arinze Kalu
The continuation of the Kalu name lay on my shoulders.
At least that's what my grandmother claims. And she's on a mission to ensure it won't die there.
I wasn't planning on visiting Nigeria anytime soon, so I'd been doing a pretty good job of tap dancing around her threats to find me a wife.
After a scandal that almost engulfed me at the beginning of my career, I'm determined to take my time choosing a partner.
Between establishing my company, filming, press, and traveling for my new movie, I simply don't have that time.
Now, my sister is getting married, and I'll be face to face with my grandmother. If things had worked out with the caramel goddess I met on New Year's Eve, I probably would've been good. Since it didn't, my cousins suggest I rent a bae.
Jasmine Bowman
My life is a bad horror film and I'm ready to change the channel.
Between my job where I'm overworked, underpaid, and skipped over for promotion and my tired, played-out situation with my boyfriend, something had to give.
Let's not forget Mr. Butterscotch who I met on New Year's Eve. I could've bet money there was a vibe, but I guess not. I tell myself, I don't need him anyway. I need my mind to get the memo because my more immediate priority is to stop being a disappointment to the Bowman name. I'm getting back into the director's seat of my life. The cost, however, isn't cheap. I need money and my best friend has the craziest idea.
---
Shirlene Obuobi
Ghanaian-American Angela Appiah has checked off all the boxes for the "Perfect Immigrant Daughter."
Enroll in an elite medical school
Snag a suitable lawyer/doctor/engineer boyfriend
Surround self with a gaggle of successful and/or loyal friends
But then it quickly all falls apart: her boyfriend dumps her, she bombs the most important exam of her medical career, and her best friend pulls away. And her parents, whose approval seems to hinge on how closely she follows the path they chose, are a lot less proud of their daughter. It's a quarter life crisis of epic proportions.
Angie, who has always faced her problems by working "twice as hard to get half as far," is at a loss. Suddenly, she begins to question everything: her career choice, her friendships, even why she's attracted to men who don't love her as much as she loves them.
And just when things couldn't get more complicated, enter Ricky Gutierrez— brilliant, thoughtful, sexy, and most importantly, seems to see Angie for who she is instead of what she can represent.
Unfortunately, he's also got "wasteman" practically tattooed across his forehead, and Angie's done chasing mirages of men. Or so she thinks. For someone who's always been in control, Angie realizes that there's one thing she can't plan on: matters of her heart.
---
N.G. Peltier
Devon King has a plan. An actual with bullet points and everything plan for his life. When he's called out at work for never participating in any of the office activities he feels compelled to take part in the upcoming office bake off competition to prove he's a team player, as making partner at his architectural design firm is top on his list of career goals. Only problem, he doesn't know anything about baking. Failure is not an option so when his first choice for help is unavailable, desperate times lead him to ask Reba Johnson, assistant pastry chef to his brother's girlfriend.
Reba's been having fun texting the super serious Devon ridiculous cat pictures, for an entire month, but she's surprised when he asks for her help with a potential baking crisis, since their conversations have been one sided until now. When her friends make a bet that even she can't get the stoic Devon to fall for her charms, Reba sets out to prove them wrong and get Devon to have some fun.
As the competition draws closer, their sessions get hotter with a one night stand turning into two nights then three…Reba doesn't fit into Devon's carefully crafted life and as he tries to focus on winning the company contest, he discovers that sweet treats aren't the only thing baking in the kitchen, and all his perfect plans are crumbling.
---
Tracy Reed
I eloped with a man I thought I knew, but didn't.
Now I'm faced with a decision I never expected to make. Stay married or walk away from the man I love.
---
Vanessa Riley
Born into slavery on the tiny Caribbean island of Montserrat, Doll bought her freedom—and that of her sister and her mother—from her Irish planter father and built a legacy of wealth and power as an entrepreneur, merchant, hotelier, and planter that extended from the marketplaces and sugar plantations of Dominica and Barbados to a glittering luxury hotel in Demerara on the South American continent.
Vanessa Riley's novel brings Doll to vivid life as she rises above the harsh realities of slavery and colonialism by working the system and leveraging the competing attentions of the men in her life: a restless shipping merchant, Joseph Thomas; a wealthy planter hiding a secret, John Coseveldt Cells; and a roguish naval captain who will later become King William IV of England.
From the bustling port cities of the West Indies to the forbidding drawing rooms of London's elite, Island Queen is a sweeping epic of an adventurer and a survivor who answered to no one but herself as she rose to power and autonomy against all odds, defying rigid eighteenth-century morality and the oppression of women as well as people of color. It is an unforgettable portrait of a true larger-than-life woman who made her mark on history.
---
Sherylynne L. Rochester
Claudia has gone through a difficult time during her journey to finding love, romance, and purpose.
Getting over a 15-year breakup to now finding another man, Mathew, during the breakup bootcamp, Claudia decided it was best she heals and pursues her purpose before entering any relationship. With months of traveling, healing, building her writing career, and influence, Claudia now feels she's in a good place. She's happy, living life, and up for a new position that will help her go further in her career.
But, something is missing…
Love!
Claudia can't help but think maybe it's time for love again and her best friend, Tru, thinks finding love again with the billionaire is the perfect way to go. With Tru by her side, she was now pushing Claudia towards love with the one and only Mathew—the same Mathew that Claudia had turned down months ago.
With a missed opportunity and wondering if she had made a mistake, Claudia is now faced with regret, what ifs, and will she find love after heartbreak, especially after she see's Mathew again and with someone else.
Will Claudia give up on love or will she end up in the arms of a counterfeit, or will Claudia get a second chance at love and finally say He's The One?
In He's The One, follow Claudia's journey from healing from a broken heart to finding purpose and finding love with the billionaire… hopefully.
This is a short novella length Christian billionaire romance story. Previously published as He's The One Episodes 1-10 on Kindle Vella.
---
D. Rose
For Regina Miles and Noah Dixon, a chance encounter while on vacation with friends is the perfect remedy to help them cope with recent heartbreaks.
Once the trip ends and the allure of having a fling in paradise wears off, will their inexplicable chemistry be enough to withstand a long distance relationship?
Find out in Remedy.
---
Kennedy Ryan
Two novellas from Kennedy Ryan's critically-acclaimed HOOPS Series!
Full-Court Press (formerly appeared in HOOPS Holiday)
Avery + Deck's Story
Single dad MacKenzie Decker was a question Avery never got to ask, much less answer.
They met when she was a young reporter fueled by ambition, and the ink on Deck's first NBA contract was barely dry. Years later, they've climbed so high and lost so much, but one thing hasn't changed. The attraction that simmered between them in a locker room before is still there. With success like theirs, everything has been possible . . . except them.
But that was then.
The only question is…what about now?
Fast Break
Quinn + Ean's Story
Quinn
I was a world-class runner once.
My dreams had wings spun from wind and speed.
Every time out of the blocks was a glorious flight.
But then I crashed and burned.
When I lost my leg, I thought it was the finish line
Little did I know, life was just beginning
Now they call me "America's Titanium Sweetheart."
(What can I say? It tested well. LOL)
The life I thought was over is moving so fast.
I have my own gym, a fitness app, a clothing line, and an endless trail of endorsements.
One thing there's never time for? Love.
One thing I don't have time for? Games.
Come real, or don't come at all. In a field full of players, I'm looking for a real one.
Otherwise, I won't stop.
Ean
I had hoops dreams. I wanted to be like Mike, jump like Magic and soar like Dr. J.
But a college injury grounded me. What I thought was game over, actually opened up a whole new world.
Fast forward to now. I'm coaching some of the NBA's best.
They call me The Machine because I'm obsessed with stats and data, and my near-photographic memory means I remember every play.
I see the court clearly. But I never saw her coming. Quinn Barrow stops me in my tracks.
Pursuing my first championship, there's been no time for love.
I'm more than willing to chase her, but will she slow down long enough to be caught?
---
Shae
Jakari Windermere hasn't been home to Midling in eight years. He's been laying low in Atlanta, and nobody knows why. But it doesn't matter now, because a tragedy draws him back to the town he grew up in…the town his family basically owns. But this won't be a pleasant homecoming, and he finds that out the moment he sets foot back in Midling.
Responsible Malika Andrews has never left Midling, boring as it is, so when rich, fine Jakari walks into her job, she has to hide her excitement. Finally, something interesting is happening in her life.
She has no idea.
A shocking act of violence and betrayal binds Jakari and Malika together, and they both find themselves married to a complete stranger. Jakari's goal? Keeping the family business intact so he can go back to his life in Atlanta. Malika's goal? To stay alive. As the newest member of the Windermere family, she's in a den of vipers, and it's eat or be eaten.
***The Prodigy is book one in the Family Ties series. Be advised, this story ends on a cliffhanger.
---
Shae
Secrets don't keep long in Georgia heat…
The Windermeres are in shambles, and Jakari is doing everything he can to keep it all from unraveling. His biggest concern? Malika. He's carrying a secret that could destroy the life he's building with her.
Malika's thriving, or so she believes, but there's someone out there who has it out for her. As she slips further and further into her role in the Windermere family, she doesn't realize how much power she has…or how much danger she's in.
Can their relationship survive when the secrets come to light?
***This is book 2 of the Family Ties series. You should read book 1 first. This book does not end on a cliffhanger, but the story will continue…
---
Toni Shiloh
To save her animal shelter,
She'll have to work with her biggest foe…
With her emotional support dog at her side, Jalissa Tucker will do whatever it takes to ensure the survival of the local animal rescue—even ally herself with her nemesis, firefighter Jeremy Rider. As working together dredges up old hurts, putting the past aside could be the key to their future joy. But can Jalissa resist falling for the man she's always considered the enemy?
---
Tanisha Stewart
A psychological thriller with jaw-dropping twists and turns, and characters whose antics will leave you speechless… A story about love gone right, then wrong.
Zakari has known Nicole was the one since high school. He prays about whether their relationship is meant to be and receives confirmation one night during a church service. Zakari and Nicole are getting married!
Until she breaks up with him the next day.
Zakari plunges into a pit of despair, then Nicole reaches out and tells him they can be friends, maybe rekindle their relationship after college? Elated, Zakari agrees and bides his time until he and Nicole can be together again.
But Nicole gets engaged to another man, and Zakari doesn't understand.
He and Nicole are meant to be – she just needs to see it.
And her fiancé needs to be eliminated.
Every Voice Ain't From God is a twisted and page-turning tale about a man who will stop at nothing to have his woman's heart. Including murder.
---
Kiki Swinson
No one suspects . . .
Never one to play by any rules, Yoshi Lomax is determined to make good at an internship with one of Manhattan's most prestigious law firms. She's being mentored by twin brilliant legal lights—Aron and Noah Jupe—who are her parents' friends. And with her unexpected knack for helping the city's wealthy, powerful clients finagle their way out of major trouble, even she is surprised at how bright her future shines . . .
No one will tell  . . .
Until Yoshi discovers the firm uses any means necessary to get their clients off—including kidnapping, life-destroying scandal, and murder. And the dark heart of the company is a super-secret society fueled by dangerous desires that have no limit—and no way out. Even for the ever-resourceful, ethically-dubious Yoshi, this is bad news she wants no part of . . .
No one can survive . . .
Now armed with secrets too lethal too keep, Yoshi will leverage all her skill and unpredictable maneuvers to take the Arons down. But with those she cares about most on the firing line, will her one unthinkable play too far be the move that takes her down for good?
---
Jessica Terry
Desiree Mashburn did her dirt without thinking karma would eventually come calling. But screwing over her best friend to win a man's affections was apparently the final straw.
Her life begins going from sweet to sour fast, and worst of all, she's lost the best friend she knows she'll ever have in Lovey Tate. Desiree aches to reconcile, but winning Lovey's trust back might be too tall of an order.
Lovey finally has everything she's wanted in life, including Roland, the man she and Desiree battled over. But she has her own issues, and can't help but question Desiree's motives. She misses her friend, but doesn't want to be a fool again.
But when a painful part of Desiree's past resurfaces, she knows she needs Lovey more than ever. Can she win her trust back, or is it too little too late?
---
A.E. Valdez
Harlow and Acyn have their happily ever after…
Or so they thought.
When their wedding is in jeopardy from outside forces and well-meaning family members, they decide to take matters into their own hands and escape to the Oregon coast.
Follow their journey from there to the Beginning of Forever.
---
Alexandra Warren
There's a lot that can happen in two minutes or less…
Kendall "Snoop" Dogwood has something to prove.
After a devastating ending to his first year with the Houston Skyhawks, getting redemption is the only thing on the veteran quarterback's mind coming into the new season. But when a picture of him and a woman he barely knows, but wants to get to know, goes viral on social media, it doesn't take long before Kendall finds himself on a different kind of mission going into year two.
A mission to pursue her.
As a social media influencer and the daughter of a well-known sports bettor, Shakira "Kiki" Knight is used to seeing her face tied to all sorts of internet gossip. What she's not used to is having an actual crush on whoever she's rumored to be involved with. But when it comes to Kendall Dogwood, Shakira just can't seem to contain her attraction, especially once she learns the Skyhawks quarterback is equally interested in her.
Considering the messy way in which her last relationship with an NFL player ended, Kendall is probably the last man Shakira should be checking for. And after Shakira's sports gambling ties are unveiled, the conflict of interest makes her the woman Kendall should probably be avoiding at all costs. But the instant chemistry between the two of them makes both of those things worth looking past for the sake of being together… until the stakes get higher and there's more than just a game on the line.
---
Jamie Wesley
A reality star and a cupcake-baking football player pretend to be a couple in order to save his bakery in this sweet and sexy romance from Jamie Wesley, Fake It Till You Bake It.
Jada Townsend-Matthews is the most reviled woman in America after turning down a proposal on a reality dating show. When she comes home to lick her wounds, Jada finds herself working at San Diego's newest cupcake bakery, Sugar Blitz, alongside the uptight owner and professional football player Donovan Dell.
When a reporter mistakenly believes Jada and Donovan are an item, they realize they can use the misunderstanding to their advantage to help the struggling bakery and rehabilitate Jada's image. Faking a relationship should be simple, but sometimes love is the most unexpected ingredient.
Fake it Till You Bake It is a sweet confection of a novel, the perfect story to curl up with and enjoy with a cupcake on the side.
---
Shanora Williams
Samira Wilder has never had it easy, and when her latest lousy job goes south, things only promise to get harder. Until she unexpectedly meets a man who will change her life forever. Renowned pro golfer Roland Graham is wealthy, handsome, and caring, and Samira is dazzled. Best of all, he seems to understand her better than anyone ever has. And though their relationship moves a bit fast, when Roland proposes, Samira accepts. She even agrees to relocate to his secluded Colorado mansion. After all, there's nothing to keep her in Miami, and the mansion clearly makes him happy. Soon, they are married amid a media firestorm, and Samira can't wait to make a fresh start—as the second Mrs. Graham . . .
Samira settles into the mansion, blissfully happy—until she discovers long-hidden journals belonging to Roland's late wife, Melanie, who died in a tragic accident. With each dusty page, Samira comes to realize that perhaps it was no accident at all—that perhaps her perfect husband is not as perfect as she thought. Even as her trust in Roland begins to dwindle and a shadow falls over her marriage and she begins to fear for her own life, Samira is determined to uncover the truth of Melanie's troubled last days. But even good wives should know that the truth is not always what it seems . . .