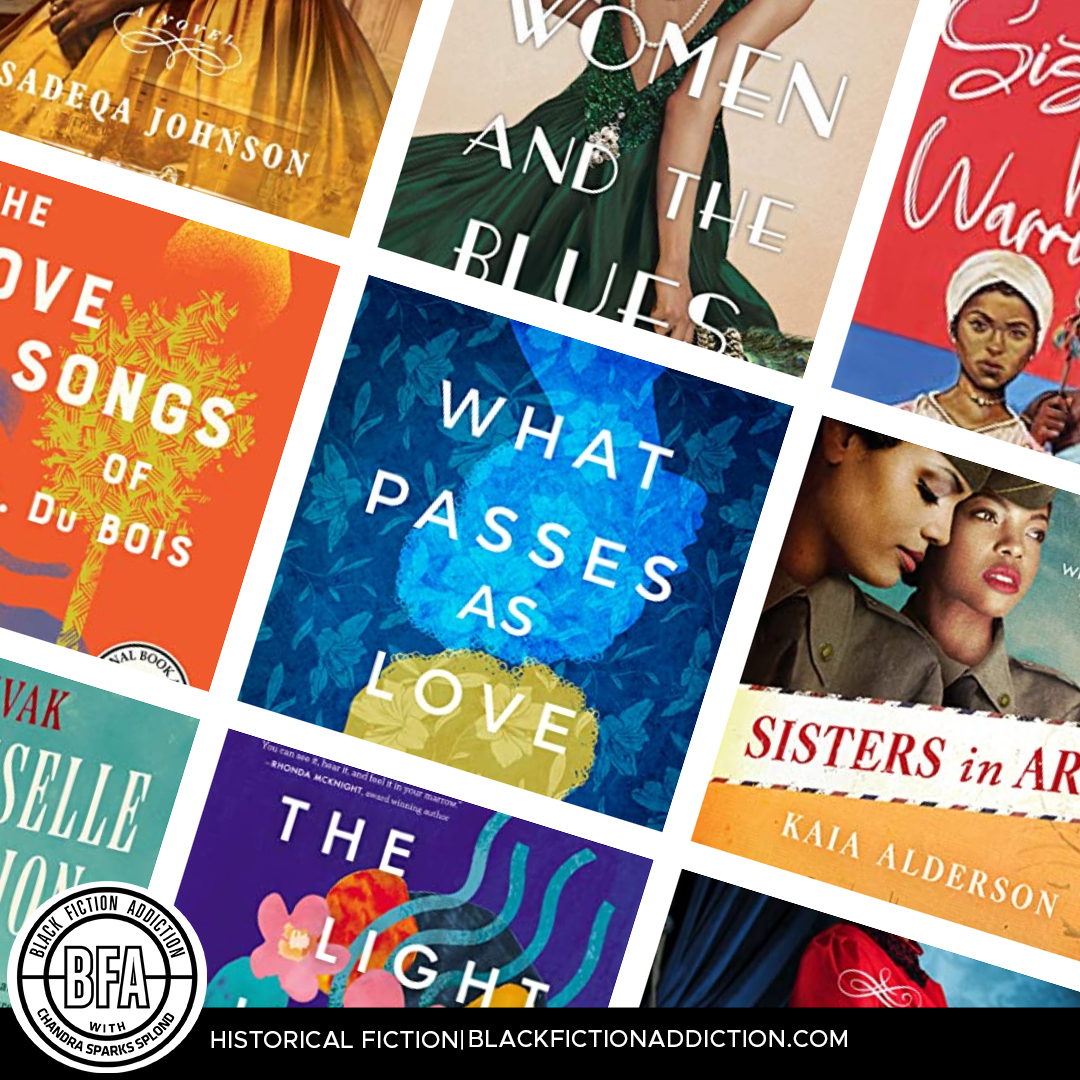 If you're enjoy black historical fiction, then there are lots of releases from which to choose. Check out these titles:
Kaia Alderson
Grace Steele and Eliza Jones may be from completely different backgrounds, but when it comes to the army, specifically the Women's Army Auxiliary Corps (WAAC), they are both starting from the same level. Not only will they be among the first class of female officers the army has even seen, they are also the first Black women allowed to serve.
As these courageous women help to form the 6888th Central Postal Directory Battalion, they are dealing with more than just army bureaucracy—everyone is determined to see this experiment fail. For two northern women, learning to navigate their way through the segregated army may be tougher than boot camp. Grace and Eliza know that there is no room for error; they must be more perfect than everyone else.
When they finally make it overseas, to England and then France, Grace and Eliza will at last be able to do their parts for the country they love, whatever the risk to themselves.
Based on the true story of the 6888th Postal Battalion (the Six Triple Eight), Sisters in Arms explores the untold story of what life was like for the only all-Black, female U.S. battalion to be deployed overseas during World War II.
---
Kianna Alexander
Josephine N. Leary is determined to build a life of her own and a future for her family. When she moves to Edenton, North Carolina, from the plantation where she was born, she is free, newly married, and ready to follow her dreams.
As the demands of life pull Josephine's attention away, it becomes increasingly difficult for her to pursue her real estate aspirations. She finds herself immersed in deepening her marriage, mothering her daughters, and being a dutiful daughter and granddaughter. Still, she manages to teach herself to be a businesswoman, to manage her finances, and to make smart investments in the local real estate market. But with each passing year, it grows more and more difficult to focus on building her legacy from the ground up.
---
Marie Benedict and Victoria Christopher Murray
In her twenties, Belle da Costa Greene is hired by J. P. Morgan to curate a collection of rare manuscripts, books, and artwork for his newly built Pierpont Morgan Library. Belle becomes a fixture in New York City society and one of the most powerful people in the art and book world, known for her impeccable taste and shrewd negotiating for critical works as she helps create a world-class collection.
But Belle has a secret, one she must protect at all costs. She was born not Belle da Costa Greene but Belle Marion Greener. She is the daughter of Richard Greener, the first Black graduate of Harvard and a well-known advocate for equality. Belle's complexion isn't dark because of her alleged Portuguese heritage that lets her pass as white—her complexion is dark because she is African American.
The Personal Librarian tells the story of an extraordinary woman, famous for her intellect, style, and wit, and shares the lengths she must go to—for the protection of her family and her legacy—to preserve her carefully crafted white identity in the racist world in which she lives.
---
Denny S. Bryce
In a stirring and impeccably researched novel of Jazz-age Chicago in all its vibrant life, two stories intertwine nearly a hundred years apart, as a chorus girl and a film student deal with loss, forgiveness, and love…in all its joy, sadness, and imperfections.
"Why would I talk to you about my life? I don't know you, and even if I did, I don't tell my story to just any boy with long hair, who probably smokes weed.You wanna hear about me. You gotta tell me something about you. To make this worth my while."
1925: Chicago is the jazz capital of the world, and the Dreamland Café is the ritziest black-and-tan club in town. Honoree Dalcour is a sharecropper's daughter, willing to work hard and dance every night on her way to the top. Dreamland offers a path to the good life, socializing with celebrities like Louis Armstrong and filmmaker Oscar Micheaux. But Chicago is also awash in bootleg whiskey, gambling, and gangsters. And a young woman driven by ambition might risk more than she can stand to lose.
2015: Film student Sawyer Hayes arrives at the bedside of 110-year-old Honoree Dalcour, still reeling from a devastating loss that has taken him right to the brink. Sawyer has rested all his hope on this frail but formidable woman, the only living link to the legendary Oscar Micheaux. If he's right—if she can fill in the blanks in his research, perhaps he can complete his thesis and begin a new chapter in his life. But the links Honoree makes are not ones he's expecting . . .
Piece by piece, Honoree reveals her past and her secrets, while Sawyer fights tooth and nail to keep his. It's a story of courage and ambition, hot jazz and illicit passions. And as past meets present, for Honoree, it's a final chance to be truly heard and seen before it's too late. No matter the cost . . .
---
Suzette D. Harrison
New Hampshire, 1796. "My name is Ona Judge, and I escaped from the household of the President of the United States. I was the favored maid of George and Martha Washington, but they deemed me a slave and thought me property, and I hear ten dollars is offered as reward for my capture. Now I must write the truth that I have lived, and tell my story…"
Chincoteague, Virginia, present day. Rain soaks Tessa Scott as she runs from her car to the old, vine-covered property she has been called to survey. She's too busy to accept a new job, but doing this favor for the grandmother of her childhood sweetheart delays a painful decision she must make about a future with her controlling boyfriend.
But when Tessa finds a tattered journal carefully hidden inside the house's ancient fireplace, the tragic story of how Ona was ripped from her mother's arms to live and work in the palatial Mount Vernon, and the heart-shattering betrayal that led her to risk her life and run, has Tessa spellbound. Could discovering this forgotten scandal at the heart of her nation's history force her to confront her own story? As she races to reach the final page, will anything prepare her for the desperate moment when Ona's captors find her again? Will it inspire Tessa to take ownership of her own life and set herself free?
---
Piper Huguley
The incredible untold story of how Ann Lowe, a Black woman and granddaughter of slaves, rose above personal struggles and racial prejudice to design and create one of America's most famous wedding dresses of all time for Jackie Kennedy.
1953, New York City
Less than a week before the society wedding of the year where Jacqueline Bouvier will marry John F. Kennedy, a pipe bursts at Ann Lowe's dress shop and ruins eleven dresses, including the expensive wedding dress, a dress that will be judged by thousands. A Black designer who has fought every step of the way, Ann knows this is only one struggle after a lifetime of them. She and her seamstresses will find the way to re-create the dresses. It may take all day and all night for the next week to accomplish the task, but they will do it.
1918, Tampa
Raised in Jim Crow Alabama, Ann learned the art of sewing from her mother and her grandmother, a former slave, who are the most talented seamstresses in the state. After Ann elopes at twelve with an older man who soon proves himself to be an abusive alcoholic, her dreams of becoming a celebrated designer seem to be put on hold. But then a wealthy Tampa socialite sees Ann's talent and offers her an amazing opportunity—the chance to sew and design clothing for Florida's society elite. Taking her young son in the middle of the night, Ann escapes her husband and embarks on the adventure of a lifetime.
Based on the true story of one of the most famous designers of the twenties through the sixties who has since been unjustly forgotten, By Her Own Design is an unforgettable novel of determination despite countless obstacles and a triumph celebrated by the world.
---
Angela Jackson-Brown
As 1947 opens, Eva Cardon is the twenty-four-year-old owner of Washington, D.C.'s, most famous Black-owned restaurant. When her path crosses with Courtland, a handsome white senator from Georgia, both find themselves drawn to one another—but the danger of a relationship between a Black woman and a white man from the South could destroy them and everything they've worked for.
Few women own upscale restaurants in civil rights era Washington, D.C. Fewer still are twenty-four, Black, and wildly successful. But Eva Cardon is unwilling to serve only the wealthiest movers and shakers, and she plans to open a diner that offers Southern comfort to the working class.
A war hero and one of Georgia's native sons, Courtland Hardiman Kingsley IV is a junior senator with great ambitions for his time in D.C. But while his father is determined to see Courtland on a path to the White House, the young senator wants to use his office to make a difference in people's lives, regardless of political consequences.
When equal-rights activism throws Eva and Courtland into each other's paths, they can't fight the attraction they feel, no matter how much it complicates their dreams. For Eva, falling in love with a white Southerner is all but unforgivable—and undesirable. Her mother and grandmother fell in love with white men, and their families paid the price. Courtland is already under pressure for his liberal ideals, and his family has a line of smiling debutantes waiting for him on every visit. If his father found out about Eva, he's not sure he'd be welcome home again.
Surrounded by the disapproval of their families and the scorn of the public, Eva and Courtland must decide if the values they hold most dear—including love—are worth the loss of their dreams . . . and everything else.
---
Honoree Fanonne Jeffers
The great scholar, W. E. B. Du Bois, once wrote about the Problem of race in America, and what he called "Double Consciousness," a sensitivity that every African American possesses in order to survive. Since childhood, Ailey Pearl Garfield has understood Du Bois's words all too well. Bearing the names of two formidable Black Americans—the revered choreographer Alvin Ailey and her great grandmother Pearl, the descendant of enslaved Georgians and tenant farmers—Ailey carries Du Bois's Problem on her shoulders.
Ailey is reared in the north in the City but spends summers in the small Georgia town of Chicasetta, where her mother's family has lived since their ancestors arrived from Africa in bondage. From an early age, Ailey fights a battle for belonging that's made all the more difficult by a hovering trauma, as well as the whispers of women—her mother, Belle, her sister, Lydia, and a maternal line reaching back two centuries—that urge Ailey to succeed in their stead.
To come to terms with her own identity, Ailey embarks on a journey through her family's past, uncovering the shocking tales of generations of ancestors—Indigenous, Black, and white—in the deep South. In doing so Ailey must learn to embrace her full heritage, a legacy of oppression and resistance, bondage and independence, cruelty and resilience that is the story—and the song—of America itself.
---
Sadeqa Johnson
Born on a plantation in Charles City, Virginia, Pheby Delores Brown has lived a relatively sheltered life. Shielded by her mother's position as the estate's medicine woman and cherished by the Master's sister, she is set apart from the others on the plantation, belonging to neither world.
She'd been promised freedom on her eighteenth birthday, but instead of the idyllic life she imagined with her true love, Essex Henry, Pheby is forced to leave the only home she has ever known. She unexpectedly finds herself thrust into the bowels of slavery at the infamous Devil's Half Acre, a jail in Richmond, Virginia, where the enslaved are broken, tortured, and sold every day. There, Pheby is exposed not just to her Jailer's cruelty but also to his contradictions. To survive, Pheby will have to outwit him, and she soon faces the ultimate sacrifice.
---
Vanessa Riley
Gran Toya: Born in West Africa, Abdaraya Toya was one of the legendary minos—women called "Dahomeyan Amazons" by the Europeans—who were specially chosen female warriors consecrated to the King of Dahomey. Betrayed by an enemy, kidnapped, and sold into slavery, Toya wound up in the French colony of Saint Domingue, where she became a force to be reckoned with on its sugar plantations: a healer and an authority figure among the enslaved. Among the motherless children she helped raise was a man who would become the revolutionary Jean-Jacques Dessalines. When the enslaved people rose up, Toya, ever the warrior, was at the forefront of the rebellion that changed the course of history.
Marie-Claire: A free woman of color, Marie-Claire Bonheur was raised in an air of privilege and security because of her wealthy white grandfather. With a passion for charitable work, she grew up looking for ways to help those oppressed by a society steeped in racial and economic injustices. Falling in love with Jean-Jacques Dessalines, an enslaved man, was never the plan, yet their paths continued to cross and intertwine, and despite a marriage of convenience to a Frenchman, she and
Dessalines had several children.
When war breaks out on Saint Domingue, pitting the French, Spanish, and enslaved people against one another in turn, Marie-Claire and Toya finally meet, and despite their deep differences, they both play pivotal roles in the revolution that will eventually lead to full independence for Haiti and its people.
Both an emotionally palpable love story and a detail-rich historical novel, Sister Mother Warrior tells the often-overlooked history of the most successful Black uprising in history. Riley celebrates the tremendous courage and resilience of the revolutionaries, and the formidable strength and intelligence of Toya, Marie-Claire, and the countless other women who fought for freedom.
---
Zoe Sivak
Sylvie de Rosiers, as the daughter of a rich planter and an enslaved woman, enjoys the comforts of a lady in 1791 Saint-Domingue society. But while she was born to privilege, she was never fully accepted by island elites. After a violent rebellion begins the Haitian Revolution, Sylvie and her brother leave their family and old lives behind to flee unwittingly into another uprising—in austere and radical Paris. Sylvie quickly becomes enamored with the aims of the Revolution, as well as with the revolutionaries themselves—most notably Maximilien Robespierre and his mistress, Cornélie Duplay.
As a rising leader and abolitionist, Robespierre sees an opportunity to exploit Sylvie's race and abandonment of her aristocratic roots as an example of his ideals, while the strong-willed Cornélie offers Sylvie safe harbor and guidance in free thought. Sylvie battles with her past complicity in a slave society and her future within this new world order as she finds herself increasingly torn between Robespierre's ideology and Cornélie's love.
When the Reign of Terror descends, Sylvie must decide whether to become an accomplice while a new empire rises on the bones of innocents…or risk losing her head.
---
Trisha R. Thomas
A young woman pays a devastating price for freedom in this heartrending and breathtaking novel of the nineteenth-century South.
I was six years old the day Lewis Holt came to take me away.
Born into slavery, Dahlia never knew her mother—or what happened to her. When Dahlia's father, the owner of Vesterville plantation, takes her to work in his home as a servant, she's desperately lonely. Forced to leave behind her best friend, Bo, she lives in a world between black and white, belonging to neither.
Ten years later, Dahlia meets Timothy Ross, an Englishman in need of a wife. Reinventing herself as Lily Dove, Dahlia allows Timothy to believe she's white, with no family to speak of, and agrees to marry him. She knows the danger of being found out. She also knows she'll never have this chance at freedom again.
Ensconced in the Ross mansion, Dahlia soon finds herself held captive in a different way—as the dutiful wife of a young man who has set his sights on a political future. But when Bo arrives on the estate in shackles, Dahlia decides to risk everything to save his life. With suspicions of her true identity growing and a bounty hunter not far behind, Dahlia must act fast or pay a devastating price.