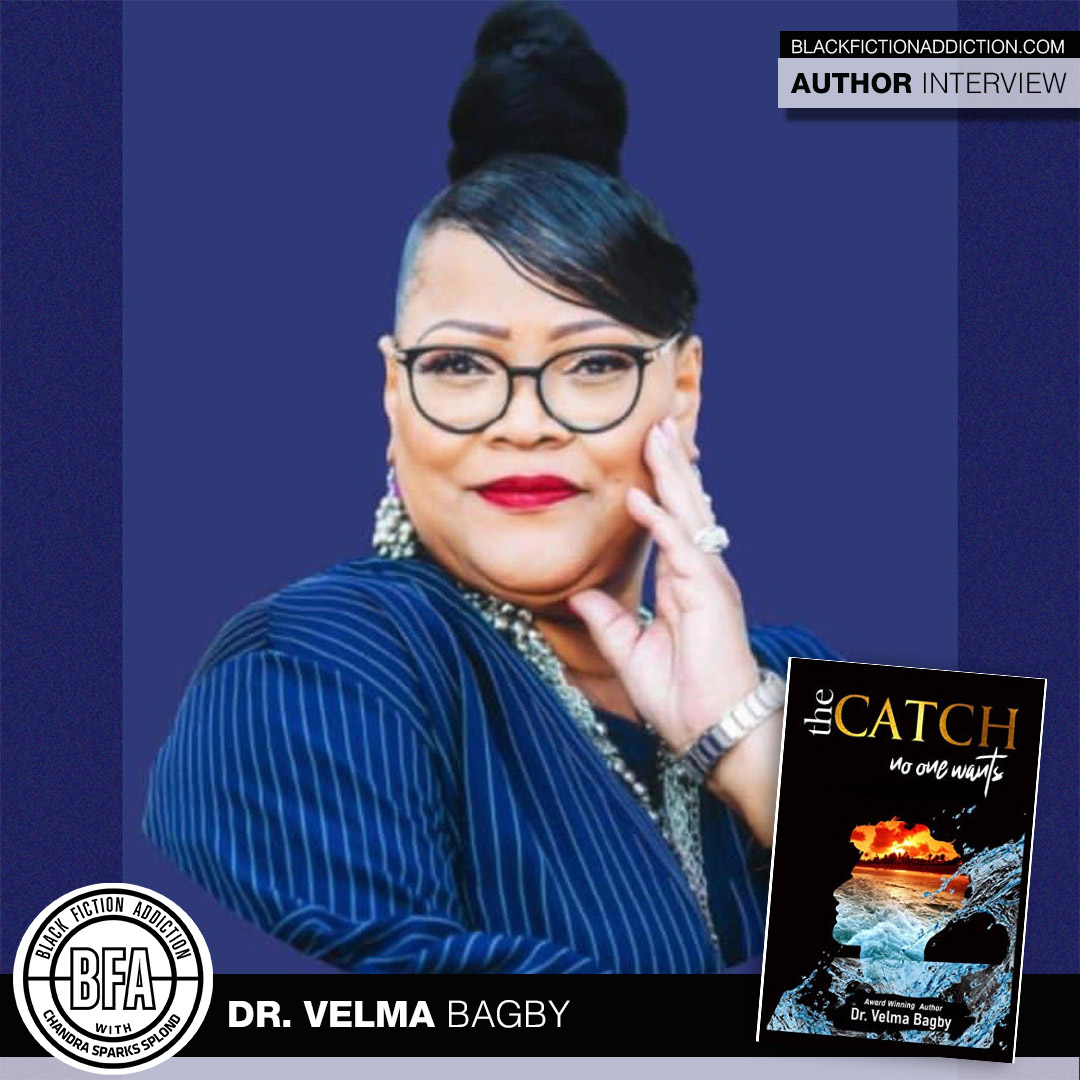 It's almost time for the Christian Book Lover's Retreat, and Dr. Velma Bagby is stopping by to talk about what she has planned for the event and about her latest release, The CATCH No One Wants.
Tell me about your latest book. 
Book one and two released in April 2022. My book began as a novel and is now a three-book series called The CATCH Series.
Book one, The CATCH No One Wants, is a Christian contemporary fiction/Black Christian fiction novel.
It tells the story of Veronica Dawson's obsession with getting married by her deadline, while her father, Greyson, watches in frustration as she makes the wrong choices in men who mistreat her. He prays for direction, and God's answer directs him to use what he knows—he is an expert at fishing. Greyson invites his daughter on a two-day fishing trip where he presents five fish analogies, showing the behavioral similarities between fish and men. Four stories represent the men she's dated: the catfish who loves garbage, the salmon who hates getting caught, the sturgeon who likes to nibble, and the pufferfish who is handsome until agitated—all highlight the dating mistakes his daughter continues making even now. While the fifth story, the goldfish, represents the husband she deserves. The man God has chosen was standing right in front of her.
Book two, The CATCH Homework Basket, a Christian nonfiction dating help.
This book captures all the tools Veronica's father provided her during and after his intervention. He asked her to complete every task so she could apply the intentional dating principles he taught. This is perfect for self-study, book club discussions, or ministry groups.
Book three, The WRONG CATCH, a Christian contemporary fiction/Black Christian fiction novel, releases in 2023. The eBook is available for preorder on Amazon.
Responding to readers who asked for more fish analogies, Veronica and Greyson introduce four new fish analogies. This time, the stories focus on an elite group of trophy fish popular for fishing tournaments—a multi-million-dollar business. The four stories introduce the black bass who are huge and strong fighters, and the pike fish, also strong and popular with anglers. To win these, anglers must prepare for a long fight, as these fish will fight relentlessly to avoid getting caught, including flying above water to knock the hook out of its mouth. Most times the fish wins, tiring out the angler. But if the angler wins, he earns bragging rights, having won the fight and winning thousands of dollars. On land, the trophy fish fights commitment with their difficult behaviors.
The question they challenge the women to answer is if the guy is a trophy, what does that make the woman who is called his prize (crown)? Find out more in The WRONG CATCH.
Why did you decide to write it?
There are a few facts that inspired me to write and layers on my journey to discover my message and genre. I apologize if this is not a short answer.
Initially, it was my adult daughters who encouraged me to write about dating, and in response, I wrote my first book, a Christian nonfiction.
I continued writing, after realizing I had more to say after 30-plus years of singles, pre-marriage, and marriage counseling and watching the errors and mistakes couples brought to our attention (my pastor husband and me); the decline of successful marriages and the high rate of divorce in the church, and that fact that everyone (including the Christian community) uses a dating process that's a little over a hundred years old rather than using the process provided us that's thousands of years old related to marriage preparation and dating with intent to marry. All of this had gotten lost.
I found my love of fiction after years of writing nonfiction as a Bible teacher, Sunday school teacher, and preacher. An interviewer once asked me why I wrote contemporary Christian fiction. The question I asked myself was how do I talk about scripture without being preachy, or how do I present this topic to those who may not be familiar with the scripture. I discovered this is the state we are in now within the Christian community, as it relates to teaching dating for marriage principles and preparation for marriage.
The idea was to write using the storytelling method Jesus used. He was a master storyteller, telling over 50 parables or fictional stories. Jesus presented stories to the listener using something familiar and told stories that allowed the person to see themselves in it. He consistently provided a path to redemption in his stories or a way out, and at the end of the story, it was the hearer's choice to make a change.
Following Jesus' pattern, I knew I needed fish because of the father's fishing trip. It clicked for me after talking with a fishing expert—my brother. I asked him about his favorite fish to catch and as he began listing them and describing each fish in detail, I pictured the guy that matched each one. He described: what bait to use, their personality, what they liked or disliked, where to catch them, the conditions in the water and more.
What do you want readers to learn from the story?
I hope they will see the truth in the stories, discover something about themselves or someone they know, and see the redemption plan or the path to change. One reader told of a friend in a toxic relationship. Nothing she or their friends did could convince her the relationship was not healthy. She gave her one of my books. Later, the friend called her and said she wished she had the book three years ago. But could finally see what everyone else was trying to tell her.
What do you want readers to learn from your life?
I'm a committed believer. I'm married to a pastor, and together we planted a church ministry 10 years ago. We have been married for 48 blessed years (we met in 10th grade). We have two adult daughters, both are registered nurses, a son-in-love who is my multi-media specialist, and three beautiful grandchildren. I love working and speaking with women about the message of discovering the mate God has for them and building healthy marriages. I hope they see my honest desire to share my love for God, my effort to be transparent when I share my life experiences and see good storytelling in my writing.
What can readers expect from you if they attend CBLR? 
I'm facilitating a workshop based on the characters in my book, called "Let's Go Fishing for the Right Catch/Guy." I hope the readers come and enjoy some fun while trying to beat the other teams in correctly matching the characteristics of the men in front. I hope they have fun and enjoy winning some swag.
The meet the author event or author speed dating sounds fun. I hope to prepare some great treats for them and they enjoy getting to know me.
What's something readers would be surprised to know about you?
I am singing on the praise team in person for the first time this year. I joined them for the virtual conference, but it isn't the same as in-person. So, I'm looking forward to it. I grew up in a singing family and love blending harmonies.
What books have you read lately and loved?
With Every Moment by Natasha Frazier
Sufficient Grace by Denise Walker
Girls in Search of Cover by Pamela Mshana
 The Day She Left anthology by Pamela Johnson
Shades of the Heart by Ann Marie Bryan
What books are you excited to read?
I recently entered a 30-day fast, so I'm excited to get my copy of Denise Walker's new book, A 30-Minute Bible Study Strategy – The H.O.P.E. Method.
What's next for you?
I have just finished two anthologies, Do It Right the First Time, released in August, and releasing in November All Preachers' Wives.
My next book after the CATCH Series and releasing in 2023 is The Wives Who Tear Down the House, a contemporary Christian fiction/Black Christian fiction book based on Proverbs 14:1.
Do you have anything you would like to add?
I'm looking forward to hearing from those who read my books and looking forward to adding workshops on the topic of dating for marriage. So, please stay connected.
---
Use the Black Fiction Addiction affiliate link to purchase your copy of The CATCH No One Wants.
---
To learn more about Dr. Velma Bagby, six-time award-winning author, certified dating-relationship coach, minister (Th.D.) and CEO of Adoni Publishing, LLC, email her, visit her website or connect with her on social media.
Email: [email protected]
Website: https://drvelma.com
Facebook Page: https://www.facebook.com/DrVelmaB
Instagram/Author: https://www.instagram.com/drvelmabagby_author
Twitter: https://www.twitter.com/BagbyVelma
LinkedIn:  https://www.linkedin.com/in/dr-velma-bagby-85b476125
Goodreads: https://www.goodreads.com/author/show/18185844.Velma_Bagby
Amazon Author Page: https://www.amazon.com/author/drvelmabagby
Book Trailer:  https://youtu.be/1f26eRiJRoE