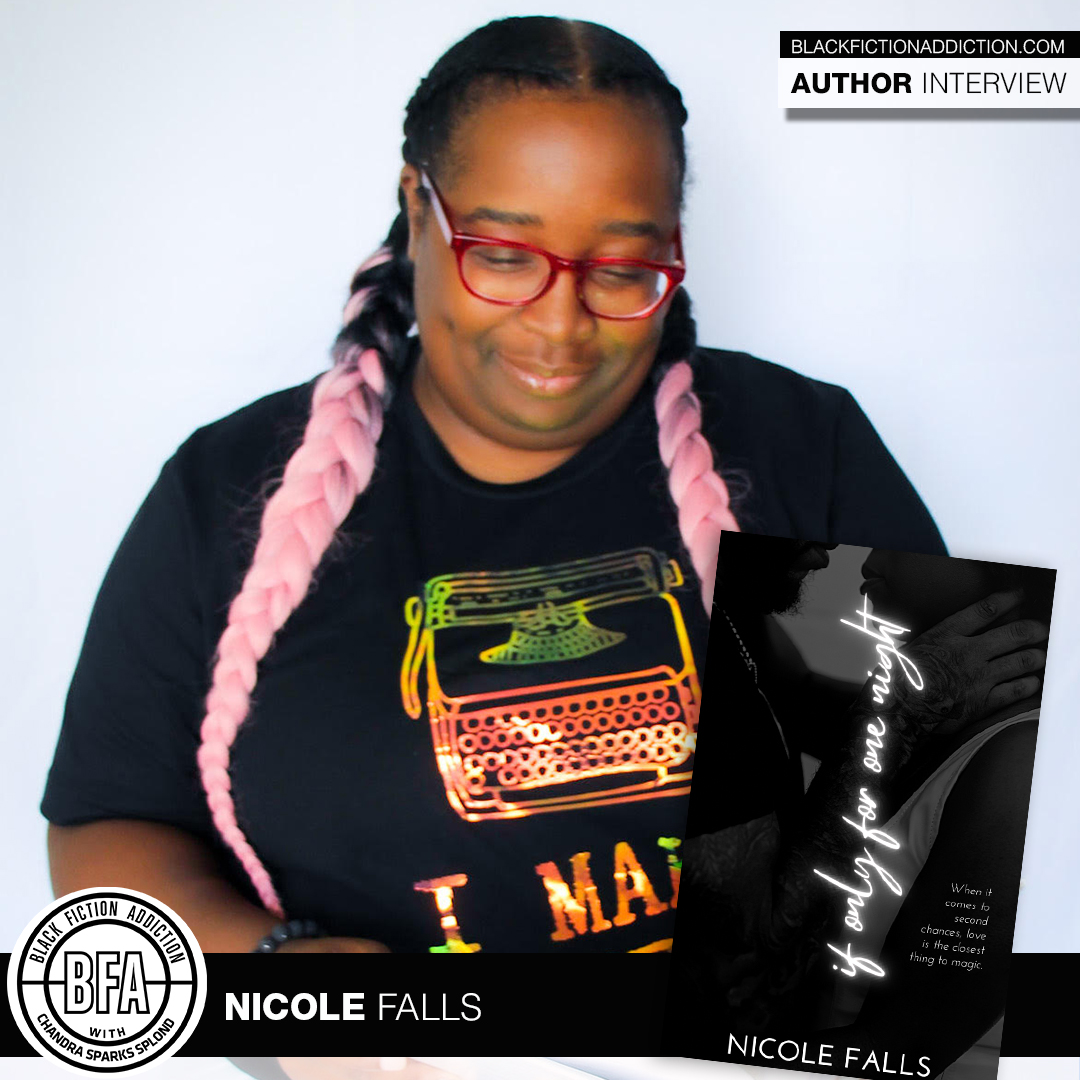 Prolific contemporary black romance author Nicole Falls is stopping by, and you're sure to walk away inspired.
When did you fall in love with the written word?  
At a very young age. According to my parents, I started reading at age three. My earliest memory of consistent reading of like chapter books was in about first grade. I lived around the corner from my local library so I stayed in that joint checking out books weekly. I grew up in the 80&90s, so like a lot of young women in my age group, Ann M. Martin and Francine Pascal had a chokehold on me. Couldn't nobody say nothing to me about them babysitters or them twins, you feel me? Then, in my early teens I was exposed to Black romance by way of Brenda Jackson, and I was HOOKED. Working at B. Dalton Bookstore (ooh I'm aging myself lol) and Borders as soon as I could legally work opened me up to a broader world of literature written by folks who looked like me that I didn't always find in the local library, and it was curtains after that.

Tell me about your latest book. 
My latest release is called If Only for One Night. It's a slight departure from my norm in that it contains some…idk if you wanna say supernatural or paranormal elements. It's told from the point of view of a woman who is recently widowed and in desperate need of some sort of closure since her husband was taken from her unexpectedly.

Why did you decide to write it? 
Every year I say "I wanna write a spooky book" because despite having written more than my fair share of holiday books, I've never had one set around this time of the year. This year I finally decided to hold myself accountable for doing it, though it isn't necessarily "spooky". But ghostly vibes are still in the building, lol. I also had put forth a challenge to myself to write something that feels like I'm stepping beyond my contemporary romance writer bounds, I hope it comes across that way to those who indulge in the project.

What do you want readers to learn from the story? 
To trust and believe in the everlasting and overcoming power of love. That even when those who we love with everything in us transition to the beyond, that their love for us still remains on this side of the mortal coil, despite not having them around to remind us of it again. Also, and this is kinda spoilery, but not to let the troubles that you encounter in your life imprint upon you so badly that you think that you are not deserving of good things as well. This is a major lesson that Kaili, my heroine, has to learn.

If you could pick another profession, what would it be and why? 
Being an author was my other profession that I chose, haha. Previously I worked in higher education, and while I loved my job, I wasn't fulfilled. I didn't move through life daily feeling like I had purpose. Now, however, as a full-time author I can honestly say that I feel more connected with my true self than at any other juncture of my life.

What's the best part of being an author? 
Creating. Wielding words is legit my most favorite thing.

What's the worst part of being an author? 
Imposter syndrome and unnecessary internal stress that I tend to heap on myself.

What's next for you? 
I'm one of twelve authors in an anthology called Current, the proceeds of which will go toward two community-based organizations in the Jackson, Mississippi area. Details about the anthology can be found here: https://www.currentantho.com/

Do you have anything you would like to add? 
Nothing more than thanks to you for the opportunity to chat about me and my work. BFA is doing great things in the online literary community!
---
Purchase your copy of If Only for One Night by Nicole Falls.
---
To learn more about Nicole Falls, contemporary Black romance author, visit her website or connect with her on social media.
Twitter: _nicolefalls
Instagram: _nicolefalls
Facebook: AuthorNicoleFalls
Tiktok: @niccytok
Main website: www.nicolefalls.com
Apparel Shop: theshopbynicolefalls.myshopify.com