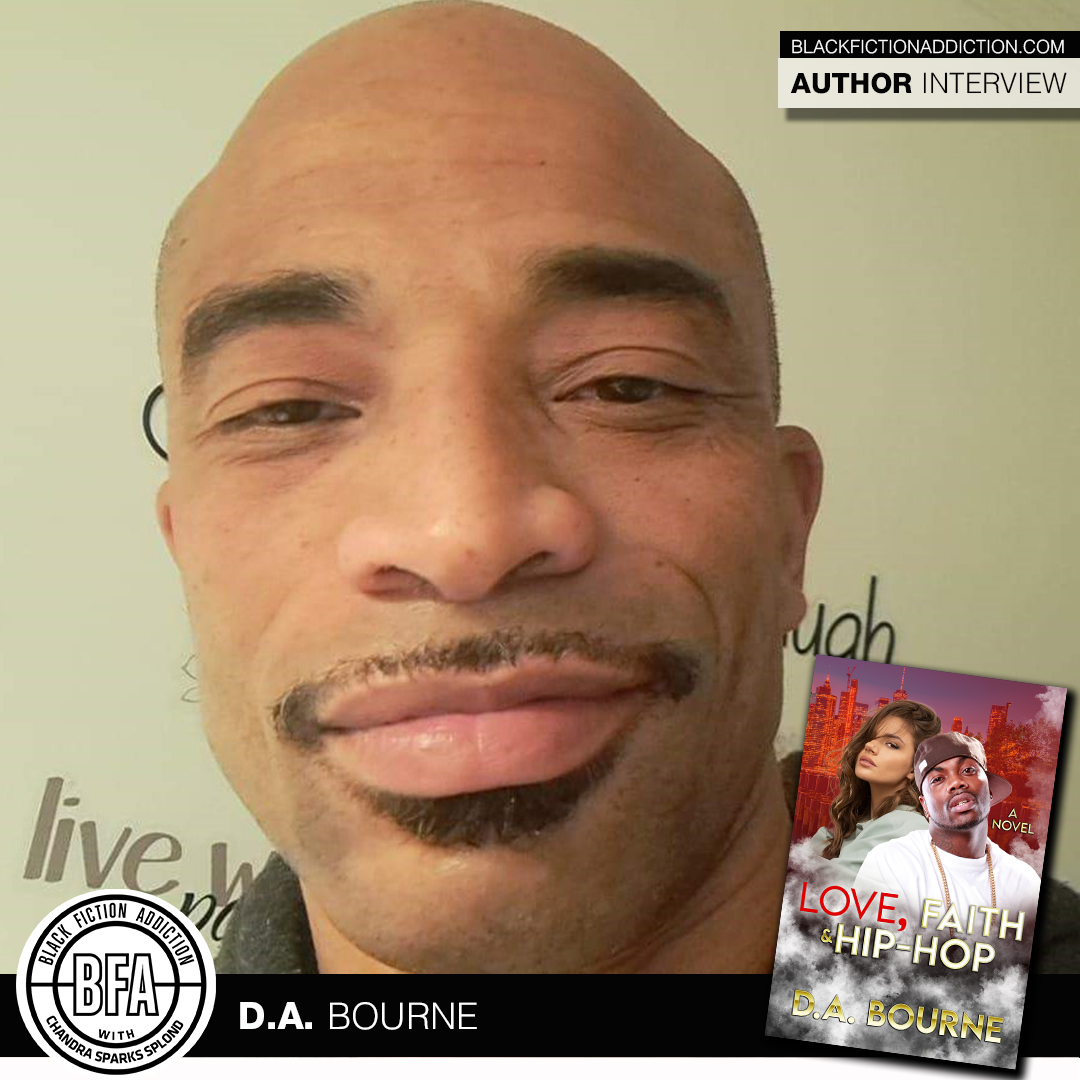 Author D.A. Bourne is taking us back with his latest Christian fiction contribution. I recently spoke with him about Love, Faith & Hip-Hop.
Tell me about your latest book.
LOVE, FAITH & HIP-HOP is a story about a preacher's son with a desire to blend Christianity and hip-hop. Because it takes place in the late 80s/early 90s, hip-hop music was looked upon in churches as the devil's music, and L.A (the main character) grew up in a church that is heavy on tradition and religious practices. However, he goes against his father's will and starts a hip-hop group with his two best friends. This leads towards a huge battle between L.A versus his father and Eugene, the church's music minister who wants to be the perfect adopted son for Bishop. This story contains lots of drama and 90s nostalgia.
Why did you decide to write it?
Before I became an author, I used to be a Christian rapper for over 20 years (no albums though, just a lot of shows). When I first started rapping in the church, I attended a special service one night and our church had a guest speaker and singer. He was well-known (the father of a huge gospel music family), and of course our small church was packed to see him. Somewhere in the midst of his message, he brings up the subject of rap music and said that hip-hop was of the devil and it doesn't belong in the church. At that point, all the members who knew that I was rapping in the church turned their heads to look at me. I was so embarrassed and ready to cry, but I held it together. Thankfully, my pastor defended me later on, but for years it got me thinking of what drama that other Christian rappers had to go through in the early stages of Christian hip-hop to be accepted. Hence, I wrote this fictional story (and I had to add romance as well).
Who is your favorite character in the book and why?
Without question, it's the main character L.A. Davis the 3rd. It's the only novel that I've written with a solo point-of-view. As I was putting L.A's story together, I could feel his pain and frustration of wanting to be accepted for his true character and not trying to be like his father. L.A is also rebellious, even though he doesn't want to be. At times I want to rebel against the traditional ways of life, but I have to control my emotions (laughs). By no means is this a biography, but L.A and I relate on many different ways in regards to church tradition.
What was the hardest part about writing the story?
Trying to keep the story under 300 pages, which I failed to do! When I get into my characters, I don't like to skip any details. One of my biggest struggles is writing a standalone that's under 250 pages, but that's a goal that I'm striving to accomplish in 2023.
If you were to write a book about your life, what would be the title and why?
Wow, great question. I don't have an exciting background story, but one day I hope to write about my future success, and I would call it BREAKING MEDIOCRITY. I haven't won much awards, wasn't great at sports, or had a bestselling book. Don't get me wrong, I feel tremendously blessed—I have a beautiful wife, four wonderful children and a good job. However, I'm waiting and anticipating for some great success, and when it happens, I will write about it!
What would you tell your 16-year-old self?
Maintain good credit. It's self-explanatory. Avoid the unnecessary plastic, and if you can, pay for your own tuition!
What is something readers would be surprised to know about you?
This may not be completely factual, but I think that I'm the only Canadian author that writes Black Christian Fiction. If I'm wrong, I stand happily corrected because I would love to connect with him or her.
Tell me about a book that changed your life and why.
The Bible continues to change my life every day, and without it I would not be here today. As for other books, The Autobiography of Malcolm X impacted me as a Black teenager to be proud of my skin color and stand for what I believe. Thieves' Paradise by Eric Jerome Dickey—it was the first novel that made me excited to explore writing my first book. His characters and POV storytelling was outstanding.
What's next for you?
After the LFHH series, I will be working on a standalone starring two of the characters from my NO MORE HATE series. Hopefully it will be released in the fall.
Do you have anything you would like to add?
To the readers, I encourage you to read some new authors in 2023 that may not get hundreds of ratings or plenty of sales. There are some great books that don't get the attention [they deserve]. A goal of mine in the near future is to place a spotlight on underrated books. There are so many literary gems to read!
---
Use the Black Fiction Addiction affiliate link to purchase your copy of Love, Faith and Hip-Hop.
---
To learn more about Christian fiction author D.A. Bourne, connect with him on social media.
Facebook: D.A. Bourne, Author
Instagram: @thewriteboss
Tik Tok: @d.a.bourne
Linktree:  linktr.ee/thewriteboss