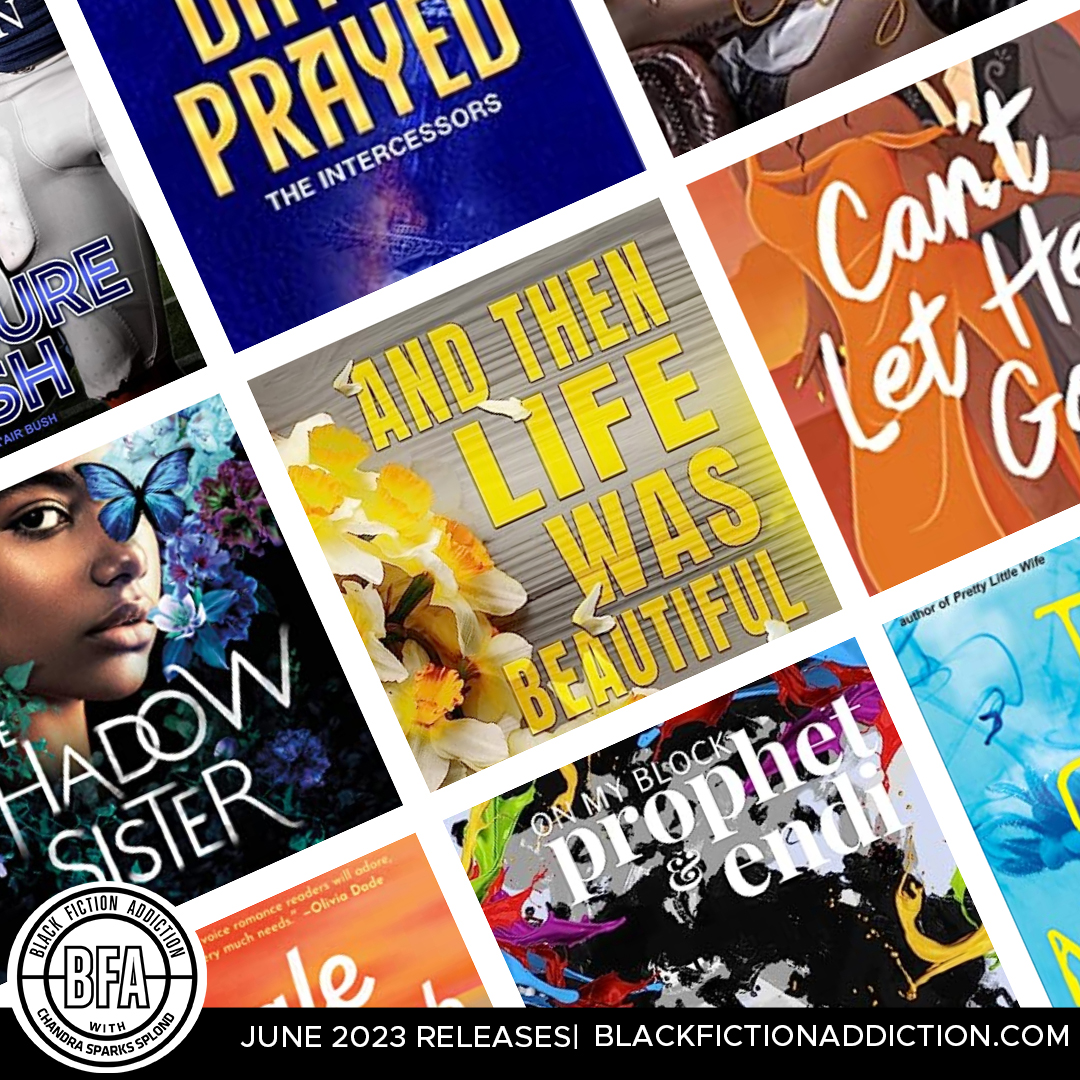 I don't know about where you're living, but here in Alabama, the month of June has been hot. It's the perfect weather for staying inside and reading. Black authors did not disappoint. Here are some of the new releases.
Aja
Raymond "Mr. Big Stuff" McCullough didn't just get his name from being one of Pittsburgh's biggest most powerful names. He also had a certain quality about him that either scared a woman away or dared her to try him at least one time. That's usually all they could handle—leaving Raymond lonely most of the time.
Tracey Copeland had been looking for something or someone to break up the monotony of her life and when that didn't happen, she begins to feel like she was losing at the game of life. In one of her most impulsive moves to date, she changes her life for what seems like the worse. But fate intervenes and brings her into the path of a man so big, he shakes her life up, and all she can do is hope to land on her feet. Fearful of the consequences, she has to decide what to do next: run once again or stick to her guns and see what hand life deals her. Tracey did say she was looking for a challenge, and Mr. Big Stuff was exactly that.
---
Aja
Sarai is known to be the loose cannon: explosive & unpredictable.
The truth is that only she can save herself, but love can help.
---
Kianna Alexander
Peaches Monroe and Jamie Hunt are core members of their Texas friend squad and have so much in common. They're successful at their careers in personal care. They take Austin's "Keep It Weird" vibe to heart, each leaning into their own unique talents and sense of style. And they're both ready to go on to even bigger things. Is pushing past the boundaries of friendship into something deeper one of them? The red-hot fantasy is there…but so is real life.
Jamie's college dreams will take her far from her hometown. She's already road-tripping to possibilities from San Antonio to Houston. And Peaches has obligations of her own. Not only is she planning to expand her business, but she's taking care of her family after her mother's passing, leaving her overwhelmed and under pressure.
No matter how perfect Jamie and Peaches are for each other, is this the right time for romance? Finding their true selves comes first. Only then can they hope to pursue a future of lasting love—together.
---
Kianna Alexander
Two woman-centered historical romances, set in the very time of Texas' Juneteenth origins!
Drifting to You:
During the sultry Carolina summer of 1875, baker Rosaline Rhodes boards a Juneteenth cruise down the Cape Fear River. The wealthy free-born Goodman family is sponsoring the cruise, as the maiden voyage of their newly built ship. Rosaline is there to serve her famous cinnamon spice cake to the well-heeled passengers. Her mind is on work, until she runs into the man who captured her attention months ago. Shipbuilder Will Pruett is also boarding the ship, for pleasure. Having built the vessel, he's been invited on board by the Goodman family to enjoy the cruise. Little does he know that the close quarters of the ship will provide the catalyst for a life-changing decision. They've denied their mutual attraction for a long time, but now the river won't be the only thing ebbing and flowing.
A Radiant Soul:
A woman's work is never done…especially when she is fighting for those who will come after her. In 1881, Sarah Webster returns home to Fayetteville, NC, for her mother's milestone birthday. Her suffrage work is unknown to her family. Carpenter Owen Markham is intrigued by Sarah, and her father is playing matchmaker. When Owen discovers Sarah's suffrage work, he's not sure a love match can be made.
Raised in the Carolina pines, beloved romance author Kianna Alexander has always been something of a dreamer. She is a mother of two, a dabbler in crafts, an occasional survival horror-gamer, and an all-around explorer. She lives in her home state of North Carolina with her children, her partner, the world's most high-maintenance cat, and a precocious pup.
---
Maya Ameyaw
Ballet is Aisha's life. So when she's denied yet another lead at her elite academy because she doesn't "look" the part, she knows something has to change–the constant discrimination is harming her mental health. Switching to her best friend Neil's art school seems like the perfect plan at first. But she soon discovers racism and bullying are entrenched in the ballet program here, too, and there's a new, troubling distance between her and Neil. And as past traumas surface, pressure from friends and family, a new romance, and questions about her dance career threaten to overwhelm her. There's no choreography to follow–for high school or for healing. Aisha will have to find the strength within herself–and place her trust in others–to make her next move.
---
A.C. Arthur
Hotelier, Jared Desdune, is focused on planning Miami's premier Juneteenth event when during vendor interviews, a blast from his past walks into his office. Desirae Kane is the distraction he doesn't need in his career right now, but exactly what his heart might be craving.
Desi's event design firm has been steadily growing in the past years but landing a high-profile celebration with a 5-Star hotel chain will open even more doors. If only she can resist the passion that's still burning dangerously between her and the man who broke her heart.
---
You're Not Supposed to Die Tonight
Kalynn Bayron
Charity has the summer job of her dreams, playing the "final girl" at Camp Mirror Lake. Guests pay to be scared in this full-contact terror game, as Charity and her summer crew recreate scenes from a classic slasher film, The Curse of Camp Mirror Lake. The more realistic the fear, the better for business.
But the last weekend of the season, Charity's co-workers begin disappearing. And when one ends up dead, Charity's role as the final girl suddenly becomes all too real. If Charity and her girlfriend Bezi hope to survive the night, they'll need figure out what this killer is after. As they unravel the bloody history of the real Mirror Lake, Charity discovers that there may be more to the story than she ever suspected . . .
---
Therese Beharrie
Rowan Quinn knows fatherhood is a role he doesn't want to take on—until he unexpectedly finds himself a single dad. He uproots his perfectly constructed life to move to a tight-knit coastal community in South Africa where, with the help of his grandmother, Rowan has a shot at giving his son the family he never had.
Once footloose and fancy-free, former heiress Delilah Huntington is now a waitress in Sugarbush Bay determined to build a better life and a better self. So when she meets introverted Rowan, she makes it her personal mission to induct him into the town's circle of single dads to give him the support he needs.
The more Delilah lends her help to an out-of-his-depth Rowan, the more Rowan begins to realize that family is what you make it…and, just maybe, Delilah could be part of his.
---
Iris Bolling
He needs her…She wants him…What could go wrong?
Cameo Rawlings, the sexy new CEO of Palmer Innovations is determined to represent the city and The Mr. Black Organization with class. With his not-so-pristine past, it was imperative that he succeed in raising awareness of the rich Black culture of the city. He was going to need a polished look and a professional event planner to make the Juneteenth celebration a success. He knows who he needs, but…the last encounter with the woman was less than pleasant.
Syndia James wants the Manager of City Cultural Events position. As one of the city event planners, she needs something big to put her over the top. The Juneteenth celebration could be her ticket to the position of her dreams. Only, she had to work with Cameo Rawlings, with his Take Me As I Am or don't take me at all attitude. Hell, she was going to have to forget that disastrous blind date and play nice to get what she wants.
Working together creates a sensuous atmosphere that neither knew existed. Cameo learns Syndia's sassy, sophisticated way is the inspiration he needs. Syndia soon realizes Cameo's arrogant, take-charge way is the love that she wants.
---
Kimberly Brown
Eliana Barlow has spent years longing to be a mother. With six miscarriages, she is finally blessed with a beautiful baby girl through the loss of her best friend Porchea. The loss of her husband in the line of duty only two years later proves to Eliana that life can be cruel. Dealing with heartbreak in the midst of raising her daughter is no easy task, but Eliana manages to do it all with grace.
Malachi Devereaux has spent the bulk of his adult life longing for the one thing he's never had, a child. Set to be married to the beautiful Ziva Shaw, he has hopes of finally fulfilling that dream. When a young girl shows up in his classroom claiming to be his daughter, Malachi's entire world is changed in the blink of an eye.
The secrets of his former lover come to light the same time as revelations about his current fiancée. The realization that she will never accept his child forces Malachi to choose between two different kinds of love. The problem with Ziva is she isn't willing to give him up so easily. The budding relationship with not only Malachi and his daughter but her mother pushes Ziva over an already fragile edge.
Find out what happens when getting everything you want collides with ugly truths and vengeful secrets.
---
Sharon C. Cooper
Entrepreneur Noah Chambers, aka Mr. Black Atlanta, always gets what he wants. So when he falls in love with Genesis Savell and asks her to marry him, he's certain she'll say yes. She doesn't. Instead, she insists they take a break from each other. That's when Noah knows there's something else going on, and he has every intention of finding out what.
Dating Noah, the owner of the company she works at, wasn't one of her best decisions. But falling in love with him is even worse. Genesis is in the midst of planning his company's annual Juneteenth Gala and Silent Auction charity event, but her past comes back to haunt her. Instead of focusing on the gala, her attention is hopelessly divided between two men. One who she loves more than life. The other—the man who saved her life years ago. Yet, when her world spins out of control, there's no question who she'll call for help—Mr. One and Only—Noah. But is it too late?
---
S.A. Cosby
Titus Crown is the first Black sheriff in the history of Charon County, Virginia. In recent decades, quiet Charon has had only two murders. But after years of working as an FBI agent, Titus knows better than anyone that while his hometown might seem like a land of moonshine, cornbread, and honeysuckle, secrets always fester under the surface.
Then a year to the day after Titus's election, a school teacher is killed by a former student and the student is fatally shot by Titus's deputies. As Titus investigates the shootings, he unearths terrible crimes and a serial killer who has been hiding in plain sight, haunting the dirt lanes and woodland clearings of Charon.
With the killer's possible connections to a local church and the town's harrowing history weighing on him, Titus projects confidence about closing the case while concealing a painful secret from his own past. At the same time, he also has to contend with a far-right group that wants to hold a parade in celebration of the town's Confederate history.
Charon is Titus's home and his heart. But where faith and violence meet, there will be a reckoning.
---
Kimmie Ferrell
Nathaniel:
As the director of a youth leadership development program and the Washington, D.C. Mr. Black Organization representative, I'm known for getting things done and making the impossible happen; like planning a four-day city-wide Juneteenth celebration. Losing a vendor is the last thing I need. Thankfully, my on-again, off-again, definitely on-again lover, Stephanie Arrington, is there to help. Now, if only I can convince her to see me as more than an occasional fling. I have my work cut out for me, but soon she'll learn that in life and love, I play for keeps.
Stephanie:
Being the owner of a holistic skincare company keeps me booked and busy. Until a devastating blow turns my world upside down. Uncertain about my future and in need of a distraction, I accept an invitation to participate in Juneteenth festivities in D.C. But not everything is as it seems. While I am working to rebuild my life, my one-night-stand turned FWB and knight in an expensive business suit, Nathaniel Reed, is working to turn our no-strings-attached arrangement into something permanent. In life, some things aren't meant to be kept, like me.
---
Kelsey Green
Fall in line or get replaced. That's how my businesses operate. Being named the Dallas representative for the Mr. Black Organization was an honor, not a job. However, it's not easy to change the way someone maneuvers. I was determined to make this year's Juneteenth celebration unlike anything this city had seen before, starting with a road trip focused on Black culture. I had a plan, my purpose was clear, and my team was set. Until a wild-card photographer got thrown in the mix determined to push against my dictations. I wasn't the type of man to bend and Solange Raven was quickly proving that she wasn't the type of woman to give in. Nice guys finish last. Lucky for me, as a venture capitalist, that's never been a title I carried.
---
Sherelle Green
After opening a cultural community center in the heart of Chicago, Porter Crowne is determined to make The Blackout Fest the best Juneteenth celebration yet. Especially when chosen as Mr. Black Chicago. Partnering with influential members of the community will ensure its success. However, if you aren't following the plan, you're in his way just like the curvy, feisty vlogger who argues with every suggestion he has.
Popular influencer, Alanna Raven, has had much success as a body positive educator. When she gets the call to join The Blackout Fest planning committee, she's all in. With a new strategic partnership on the line, she has one chance to shoot her shot. However, she has a deep secret. One that could threaten everything she's worked so hard for. And unfortunately, the one person who can help seal the deal is a man whose mind and body infuriates her more than it should.
---
Because You Don't Know My Name
K.L. Hall
Six months ago, Indigo Reid committed an unspeakable crime. A crime that, if caught, she could spend the rest of her life behind bars. Attempting to avoid an orange jumpsuit, she runs, leaving behind everything, including her real name. She plans to start over in the small city of Potomac Falls before the police or anyone else uncovers her secret. When she arrives in the buzzing town saturated with its share of scandals, she quickly falls for the picturesque cascading waterfall and the promise of a peaceful, solitary existence while rebuilding her life. Although damaged by her past and gun-shy about men, Indigo finds her warmest welcome in Potomac Falls native and business owner Donovan Saintsbury. She's hesitant to pick up the pieces of her broken heart, let alone open it again, even to someone as captivating as Don.
With seductive brown eyes, a winning smile, and over six feet of cut, honey-brown muscle, Donovan "Don" Saintsbury is a masterpiece in his own right. The business-minded bachelor works hard as the only family member left in the city to oversee the operations of his family's historic diner. As the youngest of four siblings, keeping the family legacy intact has been his sole focus until he meets Indigo.
Despite the eruptive chemistry luring them closer, Indigo knows that becoming attached to a handsome stranger is risky, especially since her identity is hidden and her past is deadly. When Indigo reveals the truth about her former life, what happens when she finds out the man of her dreams is more linked to it than she imagined?
---
Pamela N. Harris
A lot is up in the air in Naomi Henry's life: her spot as a varsity cheer flier, her classmates' reaction to the debut of her natural hair, and her crush on the guy who's always been like a brother to her. With so much uncertainty, she feels lucky to have a best friend like Kylie to keep her grounded. After all, they're practically sisters—Naomi's mom took care of Kylie and her twin brother for years.
But then a video of Kylie calling the cops on two Black teens in a shopping store parking lot goes viral. Naomi is shaken, and her town is reeling from the publicity. While Naomi tries to reckon with Kylie, the other Black students in their high school are questioning their friendship, and her former friends are wondering where this new "woke" Naomi came from. Although Naomi wants to stand by her best friend, she now can't help but see everything in a different light.
As tensions in her town escalate, Naomi finds herself engaging in protests that are on the cusp of being illegal. And then a bomb explodes, and someone is found dead. Will Naomi be caught in the center of the blast?
---
Brenda Jackson
Part-time rancher and world-renowned musician Dylan Emanuel never forgot his college romance with Charm Outlaw. Nor the pain of their sudden break-up and her father's demands to stay away. So when they cross paths on vacation, Dylan can't resist inviting her to his ranch—and Charm can't resist a little seductive payback. But sun-soaked days melt into fiery nights, leaving Charm caught by her own desire. Will revenge lead to a second chance…or the truth about what really happened the first time around?
---
Amberlei Jai
Star Francois has come a long way since that "Last Christmas in NOLA." As much as she wants to move on with her life and forget the past, the damage is already done. What will happen when she's forced to answer to Tahj about what was supposed to be a life long secret? (I recommend reading Last Christmas in NOLA before you read this standalone)
---
Cara Joy
Fifteen years ago, he left without saying a word. Now he's back. And as much as she hates it, the sparks haven't died…
Jennifer Banning is happy with her life as a travel nurse. It takes her mind off the fact that she is over thirty and still hasn't found one man she shares that special spark with. The kind of spark she felt in college with Gavin Daniels. But that is now water under the bridge, and Jennifer has decided she will enjoy singlehood and play happy Aunty to her sister's children.
Gavin Daniels is on vacation with his sister's family when he spots Jen Banning looking more beautiful than he remembers and they are staying at the same hotel! He never meant to hurt her when he left suddenly fifteen years ago. At the time, he didn't think he had a choice. And he's never been the same.
When Jen finds out Gavin is at the same vacation spot she is, she does everything to avoid him! But so far, all her plans to avoid him are failing…and she's finding she never fully got over Gavin. With sparks flying between Gavin and Jen, will they both forget the past and give themselves a second shot at love?
---
Sheryl Lister
When it comes to business, Mr. Black Los Angeles, Dante Powell believes in planning down to the smallest detail, and that includes the Juneteenth festival he's spearheading. His personal life is another matter, however. He lives by one simple rule – no strings, only flings. But he didn't count on the one night of explosive passion he shared with Jayana Cole or seeing her again.
A one-night stand. That's all it was supposed to be. Now, Jayana isn't sure it's all she wants. Yet mixing business with pleasure could put her job in jeopardy. But Dante is a temptation she can't resist, and she intends to show the die-hard bachelor that some rules are meant to be broken and she's his right now…and forever.
---
Dr. Dionne Mahaffey
'Sincerely, Laila' is a heartwarming children's book that takes young readers on a journey of gratitude and appreciation. Join Laila, an imaginative and kind-hearted girl, as she celebrates her birthday surrounded by friends and family. From the joyful moments at the party to the heartfelt gifts she receives, Laila's heart overflows with gratitude.
Inspired by the love and thoughtfulness shown to her, Laila embarks on a heartfelt mission to express her appreciation. With colorful thank-you cards in hand, she sets out to touch the lives of those who made her day so special. Along the way, she learns the power of saying 'thank you' and the joy it brings to both the giver and the receiver.
Through enchanting illustrations and simple yet meaningful text, 'Sincerely, Laila' teaches children aged 4 to 8 about the beauty of gratitude and the importance of expressing appreciation. From the bustling birthday party to the tender moments of card writing and delivery, young readers will be inspired to embrace kindness, spread happiness, and nurture a grateful heart.
This delightful children's book encourages empathy, connection, and the values of gratitude and kindness. With relatable characters and engaging storytelling, 'Sincerely, Laila' invites children and their families to explore the transformative power of expressing gratitude and the joy of making a positive difference in the lives of others.
Join Laila on her gratitude journey and let 'Sincerely, Laila' become a cherished addition to your child's library. This captivating story will inspire young hearts and remind them of the beauty that lies within acts of appreciation and kindness. Share in the magic of 'Sincerely, Laila' and embark on a heartwarming adventure of gratitude today.
---
Mr. Tall, Dark and Unavailable
Tina Martin
When my husband invited me to an evening gala, I was elated. We hadn't spent time together in ages. Finally, I thought he heard my complaints. But when he – the great Caspian Yearwood – was chosen to lead the Charlotte chapter of the Mr. Black Organization at this event, my heart sank. Don't get me wrong…I was excited he'd get to showcase Black History and further the movement of 'our' stories. But two years into this marriage, I'm struggling. I didn't marry to be lonely, but Caspian is always unavailable where I am concerned. What's a woman to do to get her man's attention?
---
Lily Meade
Sutton going missing is the worst thing to happen to Casey, to their family. She's trying to help find her sister, but Casey is furious. She knows Sutton is manipulative, meanwhile everyone paints a picture of her perfection. People don't look for missing Black girls–or half-Black girls–without believing there is an angel to be saved.
When Sutton reappears, Casey knows she should be relieved. Except Sutton isn't the same. She remembers nothing about while she was gone—or anything from her old life, including how she made Casey miserable. There's something unsettling about the way she wants to spend time with Casey and watch her goldfish swim for hours.
What happened to Sutton? The more Casey starts uncovering her sister's secrets, the more questions she has. Did she really know her sister? Why is no one talking about the other girls who have gone missing in their area? And what will it take to uncover the truth?
---
K.C. Mills
Endi
She loved and lost.
Losing him shattered her to pieces.
She can be whole again.
HE's the reason.
He's also the reason why her life fell apart.
Now, she needs HIM more than she needs air to breathe.
Prophet
He loved and was betrayed.
Betrayal made him disconnect.
He can trust again.
SHE's the reason.
She's also the reason he has to face the demons of his past.
Now he can't see a world that exists without HER in it.
---
Tay Monae
She's a hothead, outspoken, and feisty. Ariah finally decided to leave her dead-end relationship with her child's father and focus on her money and son. After dealing with countless females, fighting, and drama for two years she's ready to start fresh and enjoy the single life.
Being a Lacross can be challenging. Being a part of the St. Angels Motorcycle Club isn't always a walk in the park. Lucian is fresh out of prison. Realizing the rebellion in him meant him no good, he gets out and decides to clean his act up, but still, there are times he feels he's still living in his family's shadows.
Neither of them were looking for a relationship when the two collided. Ariah fights the connection, not ready to jump into anything so soon. While Lucian has a pull toward her, he doesn't want to let go. When his past comes back to haunt him however he might be forced to let her be.
They say opposites attract, well that's not the case here. Take a trip with these two firecrackers and you're sure to endure some sparks along the way.
---
Asia Monique
Couri Mitchell
August Hanson was the silent type, the kind who spoke through his actions and not his words.
He possessed enough power to make me feel safe and secure.
I was ready to open up and share the parts of myself I'd never shared with another, and then I got hit with a truth that changed everything.
There was a slight chance he'd still want me, only he had to accept our baby, too.
August Hanson
Couri Mitchell was my type, the kind you married the first chance you got.
She possessed enough power to silence the chaos around me.
I was ready to grab ahold of her and never let go, and then I got hit with a truth that changed everything.
There was a slight chance she'd still want me, only she had to accept my daughter, too.
---
Victoria Christopher Murray and Marie Benedict
The daughter of formerly enslaved parents, Mary McLeod Bethune refuses to back down as white supremacists attempt to thwart her work. She marches on as an activist and an educator, and as her reputation grows she becomes a celebrity, revered by titans of business and recognized by U.S. Presidents. Eleanor Roosevelt herself is awestruck and eager to make her acquaintance. Initially drawn together because of their shared belief in women's rights and the power of education, Mary and Eleanor become fast friends confiding their secrets, hopes and dreams—and holding each other's hands through tragedy and triumph.
When Franklin Delano Roosevelt is elected president, the two women begin to collaborate more closely, particularly as Eleanor moves toward her own agenda separate from FDR, a consequence of the devastating discovery of her husband's secret love affair. Eleanor becomes a controversial First Lady for her outspokenness, particularly on civil rights. And when she receives threats because of her strong ties to Mary, it only fuels the women's desire to fight together for justice and equality.
---
J. Nichole
Ten years later she's headed back to campus for homecoming. Ready to connect with her homegirls.
Monica has missed a few of the annual girl's trips and has something she needs to share with them.
If she can make it there. A cancelled flight has her stranded in the airport.
But Thaddeus is eager to get to campus for some rekindling of his own, a delayed flight is standing in his way.
So, when he sees Monica's LU sweater, he proposes they rent a car and drive the four hours to campus together.
The two start the four-hour drive as complete strangers but end the weekend as a little more than friends.
After, they expect to return to life as it was before homecoming, but that's not as simple. At least not for him.
---
Stephanie Nicole Norris
Homeland Security Officer Langston Jamal Clark has a reputation for being resilient. However, after a devastating breakup shatters his heart, Langston finds himself struggling to pick up the pieces. When he thinks he's lost his chance at love, he meets Lisa Sharpton, a fiery singer with a voice of honey and a heart full of passion.
Desire for one another is instant, and as their relationship heats up, Langston's guard loosens. But their passion is soon overshadowed by danger when cybercriminals target Langston. In this high-stakes romantic suspense thriller, Langston must draw on his strength and courage to navigate the uncertain waters of love, trust, and peril and prevent a collapse that could risk them all.
---
Unoma Nwankwor
He has what she desires. She is who he requires.
Jidenna Kalu has sworn off love after the death of his wife, determined not to go through that pain again. He's focused on being a good father to his daughter, Uju, while still making waves in the art world. When she starts acting out, his mother and grandmother decide it's time to intervene. With their own plan to find Jidenna a suitable wife of their choosing.
Zola Westbrook is finally living the life she's always wanted as a dance director after a difficult divorce. But when family issues arise, she finds herself drawn back into the world of the Kalus–and face to face with Jidenna, the man who gave her the best night of her life before disappearing without a word.
Unusual circumstances between the pair lead to a marriage of convenience. She can help him keep up appearances with his family, and in return, he'll help her with her own family issues. Despite their best efforts to keep things casual, Jidenna and Zola can't deny their chemistry. But as their feelings deepen, they both realize that the past isn't as far behind them as they thought. Is a suitable partner enough, or do they want something more?
PS: This is the final book in the Away to Africa series that features the Kalu family. All books can be enjoyed as standalones. However, since the series is about a family there is some interconnectivity between books.
Rent A Bae-book1.
His Makeshift Fiancée- book 2
---
Aubree Pynn
He didn't need a date – he needed her. She wasn't planning to stay long – but she got caught in his web… again. Universes clash again and what was lost is quickly found.
---
Charish Reid
Total opposites. Totally irresistible.
Mickey Chambers is an expert at analyzing modern literature. But when it comes to figuring out her own story, she's feeling a little lost. At thirty-three, she's an adjunct instructor with a meager summer class schedule and too many medical bills, courtesy of her chronic illness. Picking up a bartending gig seems perfect. Sure, Mickey's never done this before, but the gorgeous, grumpy bar owner, Diego Acosta, might be the perfect man to teach the teacher…if he wasn't so stressed.
Diego is worried he's running his late wife's bar into the ground. Add the pressures of returning to college part-time at forty-two, and it's no wonder he's making rash decisions. Like hiring the sunny, sexy woman who looks more at home in a library than slinging beers to rowdy barflies, and who turns out to be teaching his online writing course, a complication neither was expecting…
It's not long before Mickey starts reenergizing The Saloon with cocktails, karaoke and an optimism even Diego can't ignore. They need to fight their feelings if they want to keep things professional, but all it takes is one sip, one kiss, to shake both their worlds forever…
---
Farrah Rochon
Former New York Saber Thelonious Stokes still isn't used to being on the sideline. But that's exactly where the ex-linebacker finds himself while covering the Pro Bowl in his new gig as an analyst for Sports Talk TV. Theo always anticipates a few surprises during the annual gathering of the NFL's finest, but there's nothing more shocking—or alluring—than Deirdre Smallwood's blatant attempt at seduction.
After a lifetime of taking care of others, Deirdre is finally ready to start living life for herself. In Hawaii for her birthday, the normally shy single mother decides to shed her inhibitions and write a bucket list of the top five most outrageous things she can accomplish before she turns forty. She's giving herself one week to become a bolder, more confident woman. Number one on her list: Seduce her longtime crush, Theo Stokes.
---
Te Russ
Patrick has no desire to find love.
All the widower wants is to focus on his two teenaged kids and his thriving plant shop.
Much like Patrick, Naomi isn't looking for love either.
She's more concerned about rebuilding her life after her divorce as she restarts her career as a surgeon in a brand-new state.
Though neither of them believes love is in the cards for them again, when their worlds collide, they quickly realize fate just might have other plans for two of them.
---
Angela Seals
When it comes to going after what I want, I've stood on the sidelines my entire life. With the biggest Juneteenth celebration that Scottsdale has ever seen approaching, the guys I've been friends with for over a decade thrust me onto the planning committee and made me Mr. Black Scottsdale.
The only problem is, I've watched these friends of mine take to bed the women of my fantasies, clown me for always standing in the background, and convince me to play wingman to their maverick. That was all fine and dandy until I saw … her. A woman representing all my desires wrapped in one beautiful package. Ignoring our attraction isn't an option. Now, all bets are off.
---
Kay Shanee
For the past several years, Jahzara Franklin has had the weight of the world on her shoulders. Her mother suddenly passed away from a brain aneurysm, making her the sole caregiver for her teenage sister because their father wasn't in the picture. When she's unable to find a job that pays enough for her and her sister to live comfortably, she swallows her pride and does something she never thought she'd do. When she meets a man who appears to have good intentions, she gives him a chance only to find out six months later that he's a fraud.
Dakari Bentley has been angry for as long as he can remember. He regularly witnessed the man who carried half of his DNA beat the woman who carried the other half, so it was hard for him not to be mad. One day, Dakari snapped, and the trajectory of his life changed in ways he would've never imagined. He's given a second chance to live his dreams and takes full advantage of the opportunity.
When Jahzara and Dakari meet, it's not under the most ideal circumstances, however, the attraction they have for each other cannot be denied. Eventually, they give in to the feelings brewing between them, falling hard and fast for each other. While Jahzara is still trying to find herself, Dakari's future is bright. No one thinks she's good enough for him, not even her.
---
Pat Simmons
New Christian convert Tally Gilbert knows the power of prayer and the pain of walking away. She's witnessed family and friends' healing, salvation, and deliverance. There's one holdout, and he's at the top of her prayer list. The love of her life, Randall Addams, won't surrender to the Lord, so Tally ends the relationship. What will it take for Randall to turn to God? Will Tally's prayers be answered, or will Randall—and their love—be lost forever?
Don't underestimate a woman who knows how to pray, has backup, and believes "The Word of God is quick, and powerful, and sharper than any two-edged sword, piercing even to the dividing the soul from the spirit, and of the joints and marrow, and is a discerner of the thoughts and intents of the heart." Hebrews 4:12.
If the devil wants a battle, he picks the wrong woman to fight.
---
Liara Tamani
When Ebony and her parents move from Houston, Texas, to her grandmother's house in a small lake town, Ebony is sure her life is doomed. And to make matters worse, the ghost of Ebony's beloved grandmother—a strong swimmer who tragically drowned in the lake—is everywhere. Alula Lake does offer one perk: reconnecting Ebony with her childhood friend, Jalen.
But as Ebony settles into life, she finds herself drifting away from Jalen and gravitating to his older sister, Lena. Lena is chaotic, disorderly, and rebellious, yet she offers a reprieve for the anger and sadness Ebony feels about losing so much.
---
Blindsided by Love (audiobook)
Monica Walters
If confidence was a women's size 20, then its name would have to be Aspen St. Andrews. The 31-year-old freelance journalist is living life on her own terms, except in one area. Love. She feels somewhat stuck in an engagement to a man that she once loved and that she decided to cohabitate with. They argue about her career as if it's a hobby and Aspen is sick of it. As their engagement is on the verge of being dissolved, she decides to take a trip to the little town of Nome, Texas to interview ranchers about their livestock that are mysteriously dying. What she doesn't expect, is to meet a man that threatens to change everything she found attractive in a man. Aspen couldn't have these sorts of desires for a stranger who was tactless and rude. No matter how pitiful her relationship was, she was still engaged to be married.
Seven Storm Henderson is a man that knows what he wants. Until he finds it, or he stumbles upon it, he chooses to live life to the fullest. Being the youngest of seven children, he's used to getting his way. He owns a full-service center and mechanic shop, and his family pretty much owns the entire town. However, he loves taking care of the animals in their pastures, especially the cattle. Women are willing to throw themselves at his feet, but he only wants one thing from them. Even with him being rude and nasty to most of them, they still continue to chase the Storm. One day, what he feels is his destiny, drops in his lap, but he soon realizes that she isn't like most women he's dealt with.
Storm and Aspen have a rocky start, because Storm can't seem to speak intelligently enough to woo Aspen. He realizes that she may be too good for him, but that doesn't stop his pursuit. Will Storm make the necessary changes to have Aspen all to himself or will Aspen make the necessary adjustments in her life to actually give Storm a chance?
---
Ruth P. Watson
Maggie Lena Walker was ambitious and unafraid. Her childhood in 19th-century Virginia helping her mother with her laundry service opened her eyes to the overwhelming discrepancy between the Black residents and her mother's affluent white clients. She vowed to not only secure the same kind of home and finery for herself, but she would also help others in her community achieve the same.
With her single-minded determination, Maggie buckled down and went from schoolteacher to secretary-treasurer of the Independent Order of St. Luke, founder of a newspaper, a bank, and a department store where Black customers were treated with respect. With the help of influential friends like W.E.B. DuBois and Mary McLeod, she revolutionized Richmond in ways that are still felt today. Now, "with rich period detail and emotional impact" (Tracey Enerson Wood, author of The Engineer's Wife), her riveting full story is finally revealed in this stirring and intimate novel.
---
LaChelle Weaver
So begins the string of text messages newly divorced Adore Farrow receives from Brian Carson, the attractive, beguiling man she meets on a dating app at the suggestion of her work friend, Kitty. Although the dissolution of her marriage was far from amicable, Adore isn't bitter toward men. In fact, she welcomes some companionship. Adore is initially apprehensive about dating online; however, Brian seems like a nice guy, and Kitty met her husband on the same app. It couldn't be that bad, could it? Adore doesn't think so, until Brian suddenly ghosts her, disappearing without a trace.
Dejected, Adore perks up when handsome stranger Cameron slides next to her at the bar where she was supposed to meet Brian, striking up a conversation that keeps her captivated. But when news gets back to Adore that Cameron is always the common denominator when women are ghosted at the same bar, she realizes something far more sinister is at hand than a broken commitment. Will she be able to unravel the game the men are playing, or will Adore find herself in more trouble than she expected?
---
Shanora Williams
Adira Smith-Cortez knows how to turn around a troubled past. Now she's a self-made multi-millionaire who takes exquisite care of herself and her only true love: her husband, Gabriel. Adira has it all—except the answer to one tormenting question: why is attentive, affectionate Gabriel cheating on her—with not just one, but two women. There's sexy Jocelyn, a club owner. And then there's Julianna, a celebrity makeup artist he's even crazier about. In a tricky twist, vengeful Jocelyn offers Adira the perfect plan to get her straying spouse back . . .
It sounds simple: Adira will befriend Julianna through a fake identity, play on her and Gabriel's vulnerabilities and cause them to split up permanently. Determined to reclaim her happiness, Adira won't—can't—stop to think what could possibly go wrong . . .
Until too many of Gabriel's lies start adding up to a disquieting truth. Until Julianna discovers who Adira really is—and Jocelyn pushes Adira to ever-more-unthinkable extremes. With her world collapsing and shattering memories tearing her apart, how far will Adira's obsession take her—and how much of herself is she willing to lose in the process . . .
---
Elle Wright
Have you ever received the wrong text from the right person?
One thing about me? I don't play games. Another thing about me? I don't waste time.
I've built my reputation by treating my patients, my students, and my colleagues with respect.
In my role as Mr. Black Detroit, my focus is supporting my community and planning the city's annual Juneteenth celebration.
Again, my time is valuable. I should've ignored the text. But… There's something about Daphne that makes me want to engage. Maybe it's the way she commands a room and isn't afraid to get her hands dirty. Or maybe it's the glimpse of vulnerability in her eyes. It's probably just her. Whatever it is in the beginning quickly morphs into something else entirely, though.
Soon, I can't get enough of her. But can I convince her to take a chance on me?