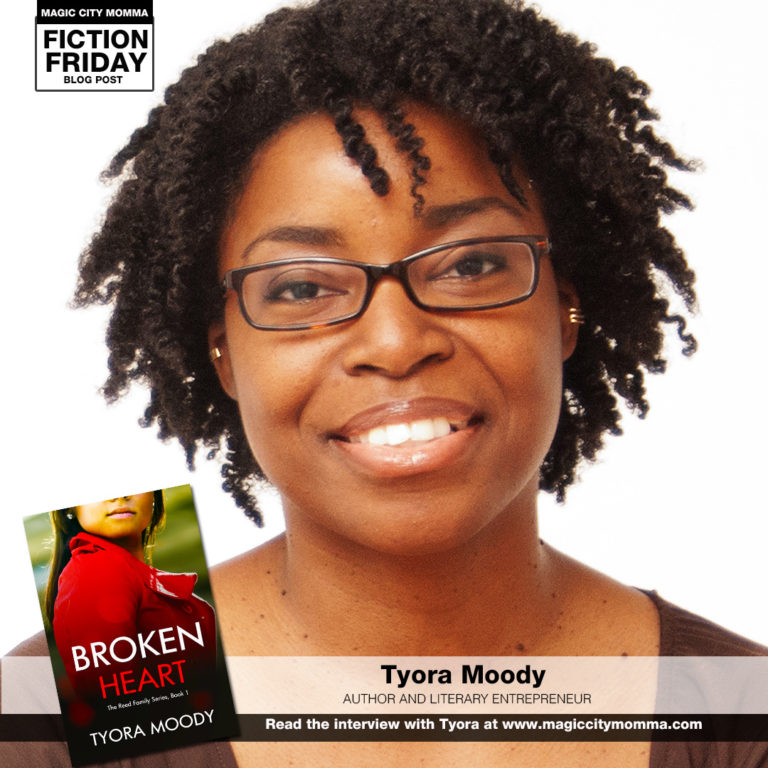 I recently spoke with author and literary entrepreneur Tyora Moody about Broken Heart, her first novella after releasing several books.

 Tell me about your book, Broken Heart.
Broken Heart is the first novella in the Reed family series. The novella takes us behind the scenes with the second oldest sibling, Jo Reed- Powell. The synopsis is below.
In the past year Detective Josephine "Jo" Reed-Powell brought down one of the most notorious serial killers in a decade in Charlotte-Mecklenburg County. When Jo arrives at a new crime scene, something seems very familiar to her. She immediately thinks she may be dealing with a copycat killer. Or is she?
How can she keep her mind on finding a killer when her life is falling apart?  Jo is struggling with her shattered marriage knowing her husband, Bryan Powell, has had an affair.  As Jo questions the twists and turns of her murder investigations, can she let God mend her broken heart?
Why did you decide to write it?
For two reasons. 1) I have three other book series and for the past seven years those characters have been with me for some time. It was time to branch out into a different set of characters. The idea of writing about siblings, all involved in law enforcement in some way intrigued me. 2) I have always wanted to write a novella especially since readers seem to be drawn to reading a small-size story.
Why did you decide to write Christian fiction?
I never thought I would write fiction. I was more drawn to writing nonfiction. For several years I wrote bible studies, devotions and even designed curriculum for vacation bible school. I think writing Christian fiction grew out of a love a writing and understanding that ministry takes place in a different form with a story versus a bible study lesson.
I specifically write mystery and suspense so I place my characters under some extreme issues, like murder, and I use these experiences to draw out how a person leans on their faith during difficulties.  I have dealt with a wide variety of relatable issues like grief, terminal illness, mental illness, and more.
What do you want readers to learn from Broken Heart?
While this is a murder mystery, Jo's broken marriage is very much front and center on her mind as she moves through her investigation. The first thought when betrayal enters a marriage is if the couple can survive it. I hope readers see that I truly have Jo in prayer about what to do and that it's not a decisions she makes lightly with what she ultimately decides to do.
Who is your favorite established author and why?
Wow, that's a hard one. There are a few. I would say my favorites would be Stacy Hawkins Adams, Tia McCollors, Rhonda McKnight, Michelle Simpson and Pat Simmons.
I tend to read more suspense driven books, so I'm a huge fan of Terri Blackstock, Brandilyn Collins, and Steven James.
Who is your favorite new author and why?
I don't currently have any favorites because there are a lot of new authors I need to catch up on reading.
If you could have any profession other than being an author, what would it be?
Interesting enough I am working in that profession now. I'm not a full-time author. I have been a web developer for about 18 years. Right now I don't develop as much because I have moved into a project management role, but I work on larger web projects with web design companies and programmers.
When I'm not writing, I also have my own business, Tywebbin Creations. My company started out in 1999 exclusively providing web design to authors and I have gradually moved into more of graphic design now. I love working with an author to create their book cover and it some ways helping them plan their book marketing.
What's next for Tyora Moody?
I'm working on the second novella in the Reed Family Series. I have had a few setbacks, but I look forward to introducing Toni Reed, the youngest daughter of the Reed family to readers Troubled Heart (September 2016).
Do you have anything you would like to add?
Thank you for introducing me to your blog readers. I appreciate the opportunity. If you have any aspiring writers in the audience, I welcome their emails.
Use my affiliate link to purchase your copy of Broken Heart. Learn more about Tyora Moody by visiting her website, or connect with her on Twitter, Facebook or Instagram.