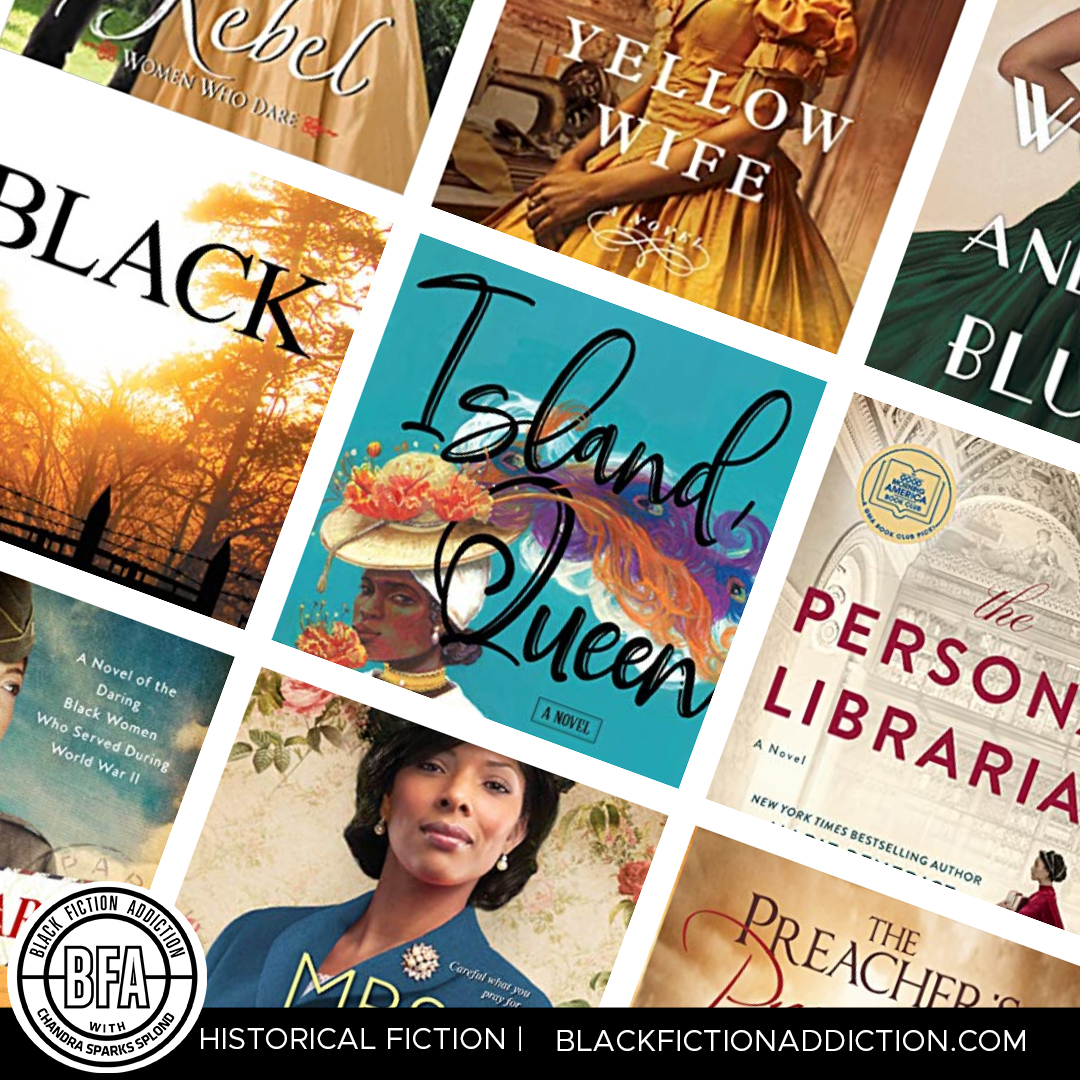 If you love black historical fiction or have been thinking about giving it a try, check out these releases.
Kaia Alderson
Grace Steele and Eliza Jones may be from completely different backgrounds, but when it comes to the army, specifically the Women's Army Auxiliary Corps (WAAC), they are both starting from the same level. Not only will they be among the first class of female officers the army has even seen, they are also the first Black women allowed to serve.
As these courageous women help to form the 6888th Central Postal Directory Battalion, they are dealing with more than just army bureaucracy—everyone is determined to see this experiment fail. For two northern women, learning to navigate their way through the segregated army may be tougher than boot camp. Grace and Eliza know that there is no room for error; they must be more perfect than everyone else.
When they finally make it overseas, to England and then France, Grace and Eliza will at last be able to do their parts for the country they love, whatever the risk to themselves.
Based on the true story of the 6888th Postal Battalion (the Six Triple Eight), Sisters in Arms explores the untold story of what life was like for the only all-Black, female U.S. battalion to be deployed overseas during World War II.
---
Marie Benedict and Victoria Christopher Murray
In her twenties, Belle da Costa Greene is hired by J. P. Morgan to curate a collection of rare manuscripts, books, and artwork for his newly built Pierpont Morgan Library. Belle becomes a fixture in New York City society and one of the most powerful people in the art and book world, known for her impeccable taste and shrewd negotiating for critical works as she helps create a world-class collection.
But Belle has a secret, one she must protect at all costs. She was born not Belle da Costa Greene but Belle Marion Greener. She is the daughter of Richard Greener, the first Black graduate of Harvard and a well-known advocate for equality. Belle's complexion isn't dark because of her alleged Portuguese heritage that lets her pass as white—her complexion is dark because she is African American.
---
Denny S. Bryce
In a stirring and impeccably researched novel of Jazz-age Chicago in all its vibrant life, two stories intertwine nearly a hundred years apart, as a chorus girl and a film student deal with loss, forgiveness, and love…in all its joy, sadness, and imperfections.
"Why would I talk to you about my life? I don't know you, and even if I did, I don't tell my story to just any boy with long hair, who probably smokes weed. You wanna hear about me. You gotta tell me something about you. To make this worth my while."
1925: Chicago is the jazz capital of the world, and the Dreamland Café is the ritziest black-and-tan club in town. Honoree Dalcour is a sharecropper's daughter, willing to work hard and dance every night on her way to the top. Dreamland offers a path to the good life, socializing with celebrities like Louis Armstrong and filmmaker Oscar Micheaux. But Chicago is also awash in bootleg whiskey, gambling, and gangsters. And a young woman driven by ambition might risk more than she can stand to lose.
2015: Film student Sawyer Hayes arrives at the bedside of 110-year-old Honoree Dalcour, still reeling from a devastating loss that has taken him right to the brink. Sawyer has rested all his hope on this frail but formidable woman, the only living link to the legendary Oscar Micheaux. If he's right—if she can fill in the blanks in his research, perhaps he can complete his thesis and begin a new chapter in his life. But the links Honoree makes are not ones he's expecting . . .
---
Parker J. Cole
No one knows that rough, tough stagecoach driver Par Pen is really Purity Pennington. She ran away years ago to escape an unwanted marriage. So it's a complete surprise to her when she receives a letter from a man stating he'd be glad to marry a kind, sweet, gentlewoman like her! The last thing she wants to do is go back to last Chance, but someone back home has a lot of explaining to do. Livingstone 'Caspar' Smith can't wait to meet his future bride — a sweet, God-fearing frontier widow in the far-off land of Nebraska. They've corresponded for months and he's already in love with her. Well, at least that's what he told her. Really, he just wants to get away from his uncle's controlling ways and if marrying some sweet, gentle backwoods woman is the way to do it, so be it! When the stagecoach is robbed, Caspar is forced to spend several days with the surly, but manly Par Pen. But there's something odd about the man he can't quite figure out. Purity wants nothing to do with the scared, squeamish back East Negro man who doesn't know a horse from a dog. But they're stuck together for the time being. Surely, she'll be able to keep her secret for that long and not shoot him in the process. Can't she?
---
The Girl at the Back of the Bus
Suzette D. Harrison
Montgomery, Alabama, 1955
On a cold December evening, Mattie Banks packs a suitcase and leaves her family home. Sixteen years old and pregnant, she has already made the mistake that will ruin her life and disgrace her widowed mother. Boarding the 2857 bus, she sits with her case on her lap, hoping that the driver will take her away from disaster. Instead, Mattie witnesses an act of bravery by a woman named Rosa Parks that changes everything. But as Mattie strives to turn her life around, the dangers that first led her to run are never far away. Forging a new life in a harsh world at constant risk of exposure, Mattie will need to fight to keep her baby safe.
Atlanta, Georgia, present day
Ashlee Turner is going home. Her relationship in ruins, her career held back by prejudice, she is returning to the family who have always been her rock. But Ashlee's home is not the safe haven she remembers. Her beloved grandmother is dying and is determined to share her story before she leaves…
When Ashlee finds a stack of yellowing letters hidden in her nana's closet, she can't help the curiosity that compels her to read, and she uncovers an old secret that could wreak havoc on her already grieving family. As she tries to make sense of what she has learned, Ashlee faces a devastating choice: to protect her loved ones from the revelations, or honor her grandmother's wishes and follow the path to the truth, no matter where it may lead.
---
Piper Huguley
1866 – Oberlin, Ohio
Devastated by her father's death days after her triumphant graduation from Oberlin College, Amanda Stewart is all alone in the world. Her father's unscrupulous business partner offers her an indecent proposal to earn a living. Instead, to fulfill a promise she made to her father, she resolves to start a school to educate and uplift their race. Sorting through her father's papers, she discovers he had carried on a mysterious correspondence with a plantation in Milford, Georgia. She determines to start her teaching work with the formerly enslaved. However, when she arrives, the mayor tells her to leave. There's nowhere for her to go.
Virgil Smithson, Milford's mayor, blacksmith and sometimes preacher man with a gift for fiery oratory, doesn't want anything to do with a snobby schoolteacher from up North. On top of everything else, the schoolteacher lady has a will hard enough to match the iron he forges. He must organize his fellow formerly enslaved citizens into a new town and raise his young daughter alone. Still, his troubled past haunts him. He cannot forget the promise he made to his daughter's mother as she died—that their child would learn to read and write. If only he didn't have secrets that the new schoolteacher seems determined to uncover.
To keep THE PREACHER'S PROMISE, Amanda and Virgil must put aside their enmity, unite for the sake of a newly-created community in a troubling age, and do things they never imagined. In the aftermath of the flood that was the Civil War, God set his bow upon the earth to show love and understanding for humankind. To reflect God's promise, these combatants must put aside their differences and come together–somehow.
---
Beverly Jenkins
Valinda Lacy's mission in the steamy heart of New Orleans is to help the newly emancipated community survive and flourish. But soon she discovers that here, freedom can also mean danger. When thugs destroy the school she has set up and then target her, Valinda runs for her life—and straight into the arms of Captain Drake LeVeq.
As an architect from an old New Orleans family, Drake has a deeply personal interest in rebuilding the city. Raised by strong women, he recognizes Valinda's determination. And he can't stop admiring—or wanting—her. But when Valinda's father demands she return home to marry a man she doesn't love, her daring rebellion draws Drake into an irresistible intrigue.
---
Sadeqa Johnson
Born on a plantation in Charles City, Virginia, Pheby Delores Brown has lived a relatively sheltered life. Shielded by her mother's position as the estate's medicine woman and cherished by the Master's sister, she is set apart from the others on the plantation, belonging to neither world.
She'd been promised freedom on her eighteenth birthday, but instead of the idyllic life she imagined with her true love, Essex Henry, Pheby is forced to leave the only home she has ever known. She unexpectedly finds herself thrust into the bowels of slavery at the infamous Devil's Half Acre, a jail in Richmond, Virginia, where the enslaved are broken, tortured, and sold every day. There, Pheby is exposed not just to her Jailer's cruelty but also to his contradictions. To survive, Pheby will have to outwit him, and she soon faces the ultimate sacrifice.
---
Mary Monroe
The daughter of a prostitute mother and an alcoholic father, Maggie Franklin knew her only way out was to marry someone upstanding and church-going. Someone like Hubert Wiggins, the most eligible man in Lexington, Alabama—and the son of its most revered preacher. Proper and prosperous, Hubert is glad to finally have a wife, even one with Maggie's background. For Hubert has a secret he desperately needs to stay hidden. And Maggie's unexpected charm, elegance, and religious devotion makes her the perfect partner in lies . . .
Their surprising union makes the Wiggins' the town's most envied couple—complete with a son, Claude, whom Maggie idolizes. Until he falls in love with the worst possible fiancée. Terrified, Maggie won't let Daisy destroy her son. And when her employer's brother sexually harasses her, Maggie knows something needs to be done about him as well. In fact, she realizes there are an awful lot of sinning "disruptive" people who should be eliminated from her perfect world . . .
But the more Maggie tries to take control, the more obstacles are thrown in her way. And when it seems like the one person she always expected to be there is starting to drift away, Maggie will play one final, merciless game to secure what she's fought so hard to earn . . .
---
Vanessa Riley
Born into slavery on the tiny Caribbean island of Montserrat, Doll bought her freedom—and that of her sister and her mother—from her Irish planter father and built a legacy of wealth and power as an entrepreneur, merchant, hotelier, and planter that extended from the marketplaces and sugar plantations of Dominica and Barbados to a glittering luxury hotel in Demerara on the South American continent.
Vanessa Riley's novel brings Doll to vivid life as she rises above the harsh realities of slavery and colonialism by working the system and leveraging the competing attentions of the men in her life: a restless shipping merchant, Joseph Thomas; a wealthy planter hiding a secret, John Coseveldt Cells; and a roguish naval captain who will later become King William IV of England.
From the bustling port cities of the West Indies to the forbidding drawing rooms of London's elite, Island Queen is a sweeping epic of an adventurer and a survivor who answered to no one but herself as she rose to power and autonomy against all odds, defying rigid eighteenth-century morality and the oppression of women as well as people of color. It is an unforgettable portrait of a true larger-than-life woman who made her mark on history.
---
Joan Vassar
In August 1831, Nat Turner leads a group of escaped slaves in a rebellion that rocks the South. The revolt comes to a quick and violent end. In November, Nat is publicly hanged, and as his body swings, a false sense of peace washes over Jerusalem, Virginia.
Unbeknownst to the world, on the day Nat Turner dies, his son, Nat Hope Turner, is born. Reared by Big Mama on the Turner plantation, young Nat's identity is kept secret to keep him safe. As Nat grows to manhood, he leads his own uprising against slavery and is forever after known as Black.
Fate – by way of Big Mama – leads Black to rescue a young female slave, Sunday, before the plantation owner can sell her. Black has lived for liberty until the day he comes face to face with the alluring Sunday. As the two embark on a sexually charged ride toward love and freedom, they set off a chain of events that forces Black to risk his own liberty for hers.
Black shares the appealing tale of a passionate love between a man and a woman bound together to change their destiny.