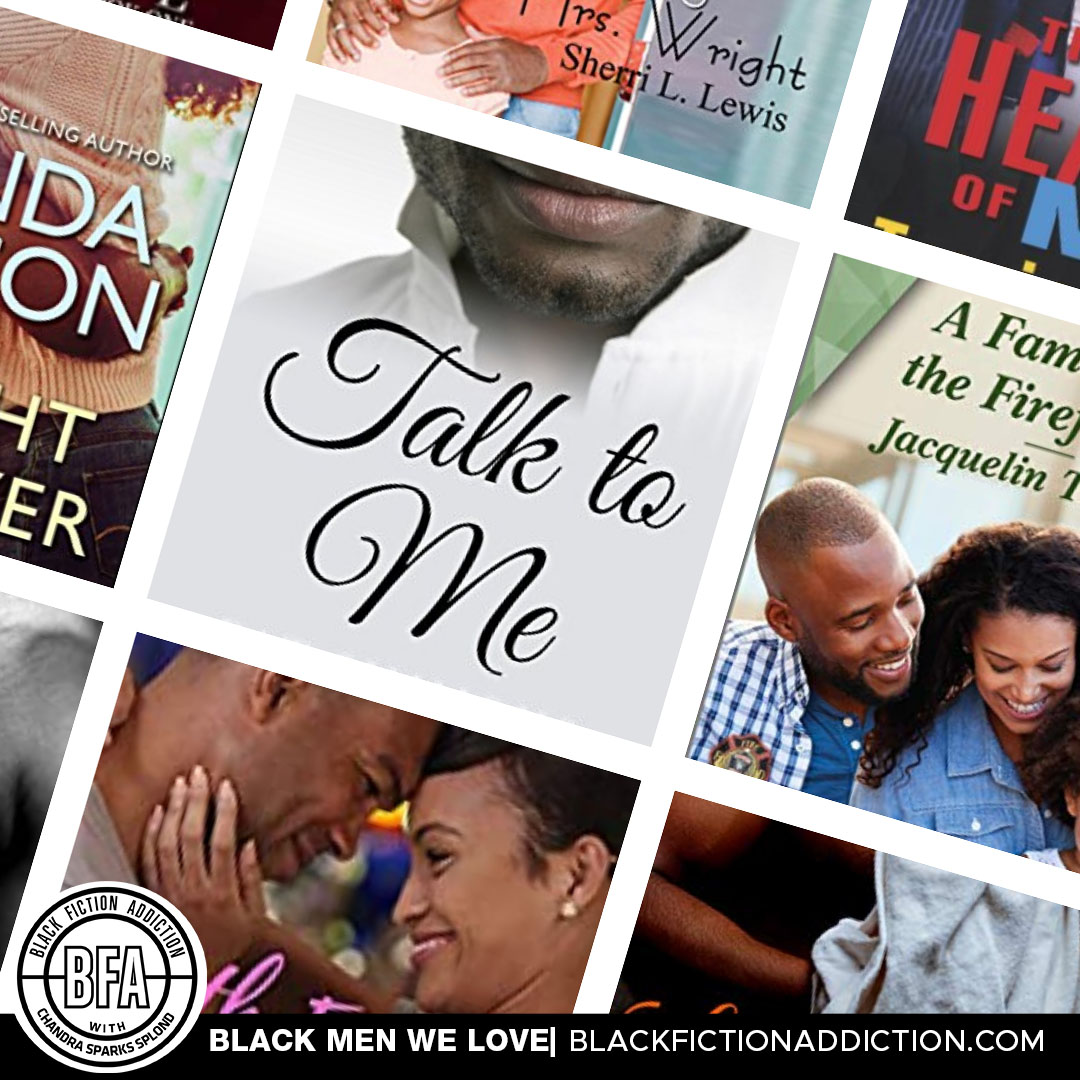 Father's Day is almost here, and what better way to celebrate than by sharing some of the black men we love in books?
McCall Family series
Natasha D.  Frazier
From Book 1: She has nothing to lose, but loving her could cost him everything. Is he willing to risk it all a second time around when she has less than thirty days to live?
Renowned motivational speaker Nina Marie Robinson has received a grim prognosis. With the little time she has left, she's giving one last commencement speech at her alma mater Jackson State University and taking a well-deserved vacation to the Bahamas. Nina is also determined to show her college sweetheart she's still in love with him, but can she convince him to drop everything and board that plane with her?
Andrew McCall is one step away from being promoted to professor at Jackson State University. If anything goes wrong, Andrew will find himself in the last place he wants to be—chief executive officer of McCall Resorts as his father's successor. When Nina comes to town and requests that he accompany her to the Bahamas, will he have to choose between the woman he's always loved and everything he's worked for?
---
Them Boys series
Alexandria House
From Book 1: A chance encounter and one night of passion leads to a mutually beneficial arrangement for two souls from different worlds. When love creeps into the equation, neither is sure how to feel or what to do. The only thing either is certain of, is their need for the other.
Set is book one of the Them Boys novella series.
This novella includes strong sexual content and profanity. If these elements do not appeal to you, this may not be the read for you.
---
Travis Hunter
Tall, dark, and handsome, Prodigy Banks was once a playboy. Now he's a man any mother would be proud to call her son, and when he meets Nina, the mother of the young boy he mentors, it seems that life is going to get even better. But when his past threatens his newfound respectability, Prodigy has to act fast to protect his new relationship.
Bernard Charles is haunted by childhood memories of abandonment and poverty. His workaholic ways frustrate his wife, Diane, and leave her vulnerable to another man's advances. After her betrayal, will Bernard move on or move out?
Winston "Poppa Doc" Fuller has a fix for what's ailing the younger generation. Married for more than forty years to his beloved Ethel, Winston brings healing to everyone he touches. Yet despite his best efforts, he hasn't been able to reach his own thirty-three-year-old son—a situation that soon requires urgent resolution, because as Poppa Doc tells his son: "I love you, but I'm not proud of you. Make me proud of you before I leave this earth."
In his marvelous debut novel, Travis Hunter has crafted a tale that is funny, sexy, and touching—revealing what it truly means to have the heart of a man.
---
The Madaris Family series
Brenda Jackson
Meet the sexy Madaris men and the women who tame them… Don't miss a single reader-beloved story in this unforgettable collection from New York Times bestselling author Brenda Jackson!
Tonight and Forever
After her marriage ends in bitter divorce, Lorren Jacobs returns to her roots in Texas to escape the trouble and heartbreak men cause, but then she meets physician Justin Madaris. Lorren has vowed never to give her heart to another man, but she can't stop herself from responding to the handsome widower's sexy, sensuous seduction…
Whispered Promises
When Halston Parker calls his daughter Caitlin to his deathbed, she's shocked to discover that her ex-husband, Dex Madaris, has been summoned as well. It's been four years since Caitlin felt the heat of Dex's touch, the urgency of his kisses and the promise of an everlasting love that never was. Soon, Halston's real motive for the unexpected reunion comes to light. As does the daughter Dex never knew existed, a secret Caitlin has kept too long from the only man she's ever loved…
Eternally Yours
Attorney Syneda Walters and fellow attorney Clayton Madaris are just friends…the last two people likely to end up as lovers. Syneda holds all men at arm's length because of the father whose name she never knew. Clayton has always been a playboy, and no woman has ever come close to keeping his interest for very long. But when go on vacation together, all lines are about to get crossed…
One Special Moment
Sterling Hamilton is determined not to get close to anyone, not even the beautiful Colby. But this Hollywood heartthrob wants a child, and the second he lays eyes on Colby, he knows she's exactly what he needs. Colby counters his terms with one of her own: a marriage of convenience or the deal is off. It isn't long, however, before a simple agreement turns into a passionate bargain…
---
Sherri L. Lewis
All Devon Wright wants is peace and some time to chill with his boys. He's jerseyed up and waiting for his boy, Charles, to show up with tickets to the Atlanta Falcons' season opener. Instead, at his front door he finds "Satan's little sister," aka Quartisha Shauntae Randall, his baby momma. Once again, she's dropping off their daughter unexpectedly and ruining his plans.
Devon doesn't mind, though. His daughter, Brianna, is the most important thing in his life. He's worried about the poor example Shauntae (He refuses to EVER call her by her first name) is setting with her ghetto-fabulous lifestyle. He can't believe he ended up with such a crazy baby momma. He's vowed to stay away from all women for a while—until Charles introduces him to Cassandra.
Cassandra is nothing like Shauntae.  She's a good, church-going woman. Devon is pleasantly surprised to find out that Cassandra's not what he thought a Christian woman would be. Cassandra Parker is not only fine; she's also smart, sassy, and sexy. Devon is intrigued, and he wants to get to know Cassandra better, but how will he be able to handle his daughter, his crazy baby momma, and a new woman in his life?
---
Falling for a Rose series
Stephanie Nicole Norris
From Book 1: Small business owner and financial advisor, Samiyah Manhattan is mourning the death of her six-year marriage when she vows never to trust men again. Alone at a local bar, Samiyah attempts to put her situation in perspective when she is drawn inexorably to the presence of a nearby patron.
Celebrity ex-boxer and heavyweight champion turned business mogul, Jonas Alexander Rose never takes women too seriously. They only attach themselves to him because of his star-studded status. However, when he meets the beautiful Samiyah Manhattan mulling over a mimosa at his favorite bar and grill, Jonas is overwhelmed by the heart throbbing heated attraction, and now he is on a mission to explore this thing called love. But can Jonas break the barrier that Samiyah's put up and is he even ready? Find out if Jonas and Samiyah are a match made in heaven or if they will miss out on their happily ever after in Safe With Me. Book one in the Falling For A Rose Series.
The Falling for a Rose series follows each member of the Rose family as they explore this thing called love. However, each book is just as enjoyable if read as a standalone as it is if read in the series order.
---
Pat Simmons
Despite being deaf as a result of a fireworks explosion, CEO of a St. Louis non-profit company, Noel Richardson, expertly navigates the hearing world. What some view as a disability, Noel views as a challenge—his lack of hearing has never held him back.
It also helps that he has great looks, numerous university degrees, and full bank accounts. But those assets don't define him as a man who longs for the right woman in his life.
Deciding to visit a church service, Noel is blind-sided by the most beautiful and graceful Deaf interpreter he's ever seen. Mackenzie Norton challenges him on every level through words and signing, but as their love grows, their faith is tested.
When their church holds a yearly revival, they witness the healing power of God in others. Mackenzie has faith to believe that Noel can also get in on the blessing. Since faith comes by hearing, whose voice does Noel hear in his heart, Mackenzie or God's?
---
Jacquelin Thomas
He's a courageous man…
But can he rescue himself?
Firefighter Leon Rothchild had endured his share of grief. Still, honor compelled him to look after his late friend's ex-wife and daughter. Though it was obvious the lovely Misty Brightwater could take care of herself, she welcomed Leon into her three-year-old's life. Their family was a marvelous glimpse into the warmth of the one he'd lost and desperately missed. And perhaps it was the push he needed to risk everything again…
---
Bailey West
The week of the culinary conference was Xander Northcott's time to shine. Fresh out of a long-term relationship, he cemented his newly single status by accepting Piper Andrews's invitation back to her room that first night. It was all fun and games until a few months later, when he received a phone call from the woman he barely knew.
She was pregnant—with his child.
Heralded as a culinary savant, Angel Saint Rose studied alongside the world's best Chocolatiers. It wasn't just a job for her. When honing her skills with chocolate confections, she was in her element—until she received a phone call that changed her life.
And killed her passion.
When Xander and Angel's roads converge, can they call on each other to help find their way back?