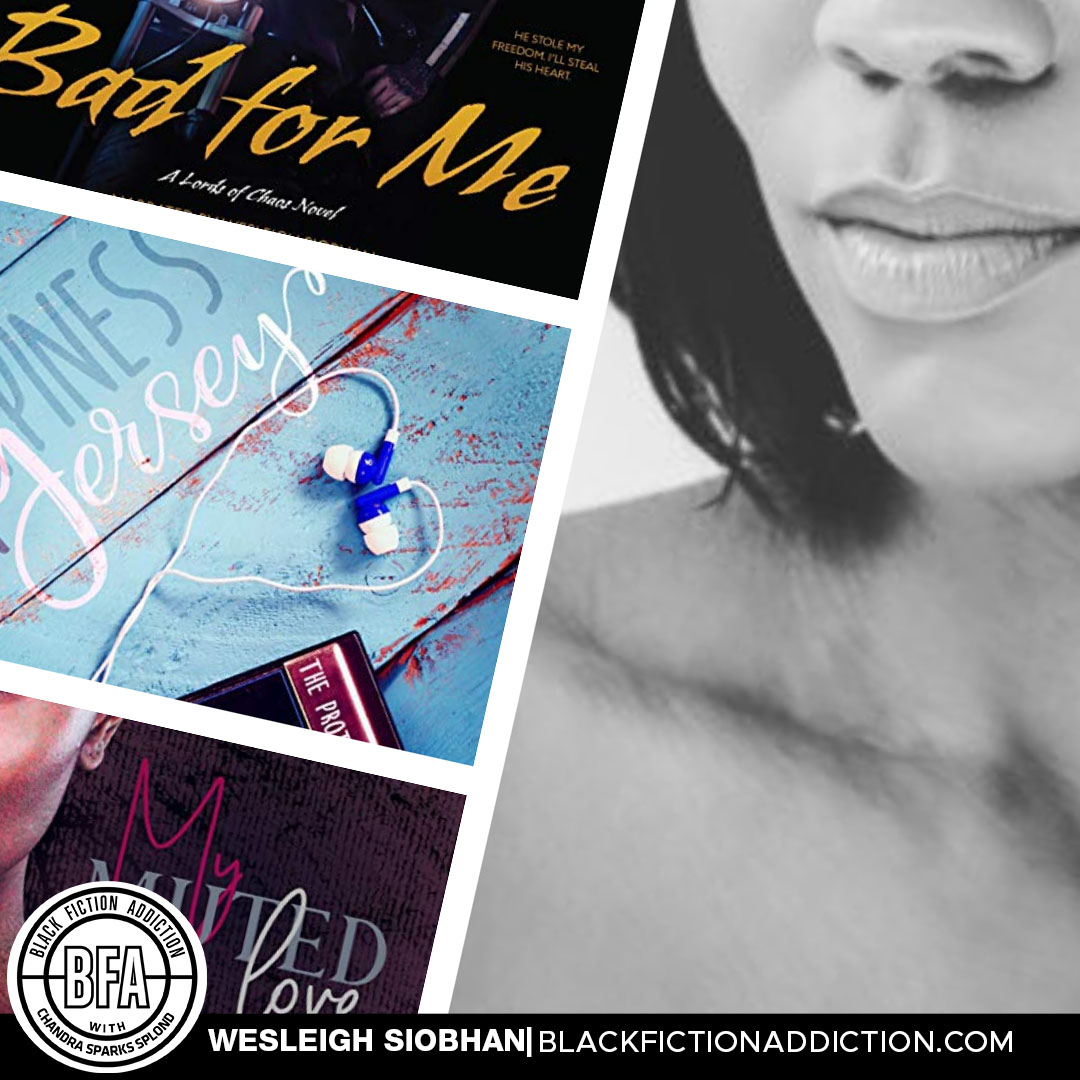 Today, Black Fiction Addiction is starting a new series where we're shining the spotlight on some of our favorite narrators. First up, the fabulous Wesleigh Siobhan.
About the Narrator:
Love is an ageless challenge of a journey.  So in the world of audiobooks, the tour guide matters. Wesleigh Siobhan brings innocence, experience, depth and spontaneity to the romantic escape. Black Romance offers an escape to Utopia.   As a narrator, Wesleigh Siobhan is a gatekeeper into Romantic escapism.
Her titles range from Young Adult, Contemporary, Erotica, Urban, Motorcycle Club, LGBTQ, and Thriller, with characters spanning from youthful nerd, to aspiring business woman and even deadly assassin.  Her quirky personality, mature perspective, youthful energy and sexy voice have no limits.
She has worked on projects with Tantor, BlackStone, Audible, Recorded Books and several independent projects. Wesleigh Siobhan takes listeners on aural journeys of love, sex, joy, hope, to the satisfaction of the Happily Ever After.
Here are a few of Black Fiction Addiction's favorite titles narrated by Wesleigh Siobhan:
---
Love Belvin
Never judge a book by its cover. One of the world's most common clichés.
Though sage advice, the age-old aphorism is rarely followed. Take Tori McNabb and Ashton Spencer for instance, who, based on appearances, believe they have no reason to breathe the same air. But when startling circumstances align their paths on the campus of Blakewood State University, the two have no choice but to look beyond their exteriors.
McNabb is a fighter in life as well as in the ring. She knows what she's capable of…and she doesn't want to be tested. Her only goal is to never return to Millville, New Jersey; she just wants to fly under the radar on the BSU campus.
Spencer, the most popular athlete on campus, is well on his way to success as a professional athlete. He is confident that the stars are aligned in his favor. But being tested by the underdog is something he though he'd never fail at.
Join this unlikely pair on a journey inside the pages of their ugly covers.
This book contains some profanity and sexually explicit content. It is intended for mature listeners.
---
Jacinta Howard
The only things in Jersey Kincaid's world that she has time for are keeping her grades up so that she doesn't lose her scholarship to South Texas University, playing the bass in her band, The Prototype, and satisfying her coffee addiction. Oh, and the occasional random hook-up she indulges in to pass the time.
Love? Eh, not so much. Save that crap for a Katherine Heigl or Natalie Portman movie.
Jersey's seen enough in life (courtesy of her Pops) to realize that undying romance is nothing more than a myth used to sell books and movie tickets. As she knows too well, the only thing inevitable in life is death – love is definitely not promised.
That's why when Jersey meets Isaiah "Zay" Broussard, with his soulful gray eyes, quick wit, and easy charm, she's determined to remain aloof. She doesn't have time to get sidetracked by fleeting fantasies, even if she does feel an unexplainable connection to Zay she's never experienced before.
But when his interest in her only seems to intensify, despite her attempts to brush him off, she gets to see a side of him and herself she didn't expect….
---
Tay Mo'nae
While trying to balance her family bakery, losing her mother, and learning a few secrets is a lot for anyone, Amara was walking with the weight of the world on her shoulders. Trying to gain control of her life again seemed impossible, but falling in love with her best friend might be what the doctor ordered.
Knowing what it's like to lose his parents and feel lost, Khalil promises Amara to stay by her side and help her through the pain. What he wasn't expecting was his feelings for her to grow stronger as well as their bond!
They say once one door closes, another opens, and Amara and Khalil are about to find out just how right that is.
Contains mature themes.
---
Sabrina B. Scales
Two must-listen novellas from best-selling author Sabrina B. Scales
Naughty: Recently separated from her on again, off again boyfriend, Darryl, Nedra Brooks finds herself in the arms of her handsome neighbor Justin Steele. Years of sexual tension finally come to a head when she seeks, and finds, temporary satisfaction in Justin's arms.
After the climax settles, deeper feelings are unearthed, and they stumble into more than either of them had bargained for. Will the two of them be able to leave it in the bedroom and move on? Or will this sexy Christmas gift exchange turn into something more?
Nasty: Two innocent bystanders are introduced by their siblings with nothing in common but a sexual attraction that they couldn't act upon without breaking all the rules. But rules are made to be broken, right?
That's just what happens when Seth and Phalin finally come face to face for the second time, and sparks fly that won't be so easily extinguished. One thing leads to another and before either of them knows it, things get nasty in the best kind of way. The trouble starts when the heat leaves the bedroom and attempts to travel some place else. Some place deeper. Some place closer to love.
Contains mature themes.
---
Shanora Williams
From New York Times best-selling author Shanora Williams comes a deliciously sinful stand-alone Motorcycle Club romance with twists you won't see coming….
There's a myth that floats around in my city. They say the president of the local biker gang is ruthless, heartless, and that once you cross him, you'll spend the rest of your life looking over your shoulder.
There are whispers that he was once lost in a forest, and when he was found, he was surrounded by a pack of wolves that were protecting him. Many will tell you he'd never let his guard down for a woman, and that if he ever did, it would be bad for her.
The one thing this city doesn't know about me is that I'm not your average woman. I'm a fighter, and when someone messes with my family, I will fight, and when my freedom is stolen, I will do whatever it takes to get it back.
When I'm done with him, the rumors will come to an end because I'll be the woman who tamed this infamous biker president.
I'll be the woman who, in the end, was bad for him.
---
Tia Williams
Will a 40-year-old woman with everything on the line – her high-stakes career, ticking biological clock, bank account – risk it all for an intensely lusty secret romance with the one person who could destroy her comeback, for good?
Jenna Jones, former It-girl fashion editor, is broke and desperate for a second chance. When she's dumped by her longtime fiancé and fired from Darling magazine, she begs for a job from her old arch nemesis, Darcy Vale. The beyond-bitchy publisher of StyleZine.com, Darcy agrees to hire her rival – only because her fashion site needs a jolt from Jenna's old school cred. But Jenna soon realizes she's in over her head. She's working with digital-savvy millennials half her age, has never even "Twittered", and pretends to still be a Fashion Somebody while living a style lie (she sold her designer wardrobe to afford her sketched-out studio, and now quietly wears Walmart's finest). Worse? The 22-year-old videographer assigned to shoot her web series is driving her crazy. Wildly sexy with a smile Jenna feels in her thighs, Eric Combs is way off-limits – but almost too delicious too resist.
Written by the best-selling author of The Accidental Diva, The Perfect Find is a scandalously sexy, laugh-out-loud funny, utterly quotable saga about star-crossed love and starting over.