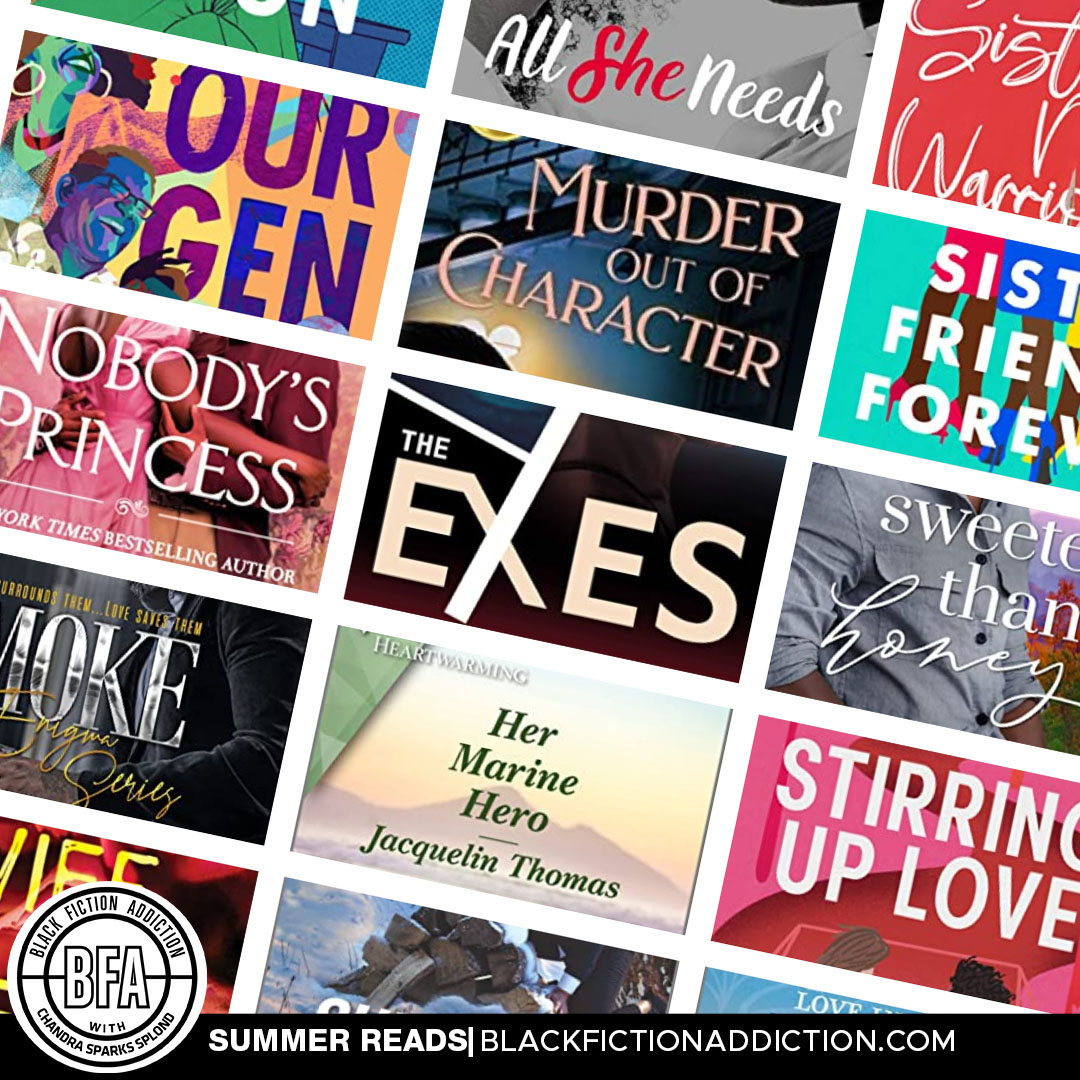 Although the temperatures seem to say otherwise, summer officially hits this week, and along with it are some great new releases from some of your favorite and soon-to-be favorite authors. Here are a few I'm excited about:
Aja
Mystery, crime, and grit surrounded his family, often bringing power-hungry enemies right to his doorstep. Never one to back down from any opposition, he often stood victorious. But this new threat is something different and not at all one he is prepared for until an old love comes to save him.
Elijah Lewis aka "Smoke" has to decide what to do with the gift of knowledge he's received. Does he deliver more pain to the people responsible for trying to take him out, or does he take well-meaning advice and get out of this line of work? For people like him, there were only so many places he could go and the top two were: to jail or to hell.
---
A.C. Arthur
When Rita McCall discovers her husband's affair, there isn't a lick of surprise—not a single tear or broken heart. Just a wife and mother who's over it and ready to watch her twenty-three-year marriage go up in flames. Sticking close, thick as thieves since childhood, Rita's unfailingly loyal cousins Jemel and Sharae become her lifeline. They stand beside her as she contemplates a new career and navigates the murky waters of being a preacher's daughter disgraced by scandal.
Although she would never turn her back on her cousin, Sharae has her own issues to deal with after learning of her father's jailhouse death and an inheritance she doesn't want. The last things she needs right now are a handsome lawyer snooping around in her business and a secret that comes back to bite.
With the cousins at life-changing crossroads, it'll take the wisdom of the Aunts and their family's legacy of feeding the soul to guide them through the painful secrets, betrayals, and empowering revelations ahead. They'll learn that what matters most is holding tight to love, to the promise of happiness, and most of all to each other.
---
Joy Avery
A talented baker and a small-town sheriff forced into a fake relationship decide whether to take a chance on love in this delectable romance from Joy Avery.
Baker extraordinaire Rylee Harris has a recipe for everything—except love. It's been five years since she lost her husband, but romance is still a struggle for Rylee. In her small hamlet of Honey Hill, North Carolina, Rylee knows she'll be the talk of the town when she finds someone new.
To ease her mother's worries about her love life, Rylee impulsively invents a fake relationship with the only man who's caught her eye: the town sheriff, Canten Barnes. It's supposed to be a secret, but secrets don't last long in Honey Hill. One bit of gossip leads to another, and soon the whole town thinks Rylee and Canten are an item.
As Rylee and Canten embark on a make-believe relationship to save face, they slowly realize that their feelings for each other aren't fake at all. Can Rylee and Canten keep the charade going—or will the town's prized baker and respected lawman take a real chance on love?
---
Kianna Alexander
In the high-stakes world of hip-hop, these opposites work hard and play harder as Kianna Alexander's 404 Sound series continues.
From the recording studio to the bedroom,
he's hitting all the right notes…
Renowned sound engineer Teagan Woodson prides herself on maintaining her professionalism. But guitarist Maxton McCoy challenges all her self-imposed boundaries. He's too talented, too sexy…and too off-limits! Which is only confirmed when their innocent flirtation becomes an all-consuming affair and emotional demons from their past are resurrected. Soon Maxton's fear of losing Teagan the way he tragically lost his sister threatens everything—including their album. Are they destined to become hip-hop's latest power couple…or just a one-hit wonder?
---
Chandra Blumberg
After doing her time in corporate Chicago, Simone Blake returns to small-town Illinois to tackle a new venture: her grandfather's barbecue restaurant. The secret, as they say, is in the sauce. Simone's plan is to sell Honey and Hickory's signature sauce to put her hometown on the map.
But she's not the only one with a recipe and a plan: chef Finn Rimes from nearby Springfield has a similar vision. To jump-start his dream of opening a culinary school, he shows up at the local farmers' market with his own barbecue sauce.
When Simone's plan to outsell Finn falls flat, she auditions for a reality show to pitch her brand. But she's horrified to discover Finn's had the same idea. As Simone and Finn wage barbecue war on television, their feud turns into an undeniable attraction.
With their livelihoods on the line, it may not be so much about making the best sauce—but finding their way to each other.
---
Zuri Day
All it takes is one glam makeover for this nanny to feel like falling for her boss. It's a nanny 911 as The Eddington Heirs series continues, only from Zuri Day!
She'll solve his nanny problem
And maybe his playboy problem, too…
When a casual weekend romp ends with an unexpected baby on his doorstep, CEO Desmond Eddington needs Ivy Campbell's nanny help pronto! Ivy dotes on the precious little girl.Her powerful playboy single father? Not so much. She's instantly smitten, but struggles to guard her heart. Painful pasts have left both her and Desmond wary of love. But will their undeniable attraction—and growing attachment—be a nanny game win after all?
---
Nina Foxx
His boat came in, but Denise Martine's husband, Charles, wasn't on it. Almost a year later, with his death still a mystery, Denise retreats to their vacation home on Kiawah Island to begin to sort out his affairs and her feelings amongst a group of her friends, only to be confronted with the mystery he left behind. Although she must go on, Denise feels as if something is not quite right with her husband's mysterious disappearance. Her suspicions are compounded as an old flame from college, Trent, shows up and begins to poke around in what Denise considers to be a very private matter.
---
Jasmine Guillory
Margot Noble needs some relief from the stress of running the family winery with her brother. Enter Luke: sexy, charming, and best of all in the too-small world of Napa, a stranger. The chemistry between them is undeniable, and Margot is delighted that she lucked into the perfect one-night stand she'll never have to see again. That is, until the winery's newest hire, Luke, walks in the next morning. Margot is determined to keep things purely professional, but when their every interaction reminds her of the attraction still bubbling between them, it proves to be much more challenging than she expects.
Luke Williams had it all, but when he quits his high-salary tech job in Silicon Valley in a blaze of burnout and moves back to Napa to help a friend, he realizes he doesn't want to tell the world—or his mom—why he's now working at a winery. His mom loves bragging about her successful son—how can he admit that the job she's so proud of broke him? Luke has no idea what is next for him, but one thing is certain: he wants more from the incredibly smart and sexy woman he hooked up with—even after he learns she's his new boss. But even if they can find a way to be together that wouldn't be an ethical nightmare, would such a successful woman really want a tech-world dropout?
Set against a lush backdrop of Napa Valley wine country, nothing goes to your head as fast as a taste of love—even if it means changing all your plans.
---
Suzette D. Harrison
New Hampshire, 1796. "My name is Ona Judge, and I escaped from the household of the President of the United States. I was the favored maid of George and Martha Washington, but they deemed me a slave and thought me property, and I hear ten dollars is offered as reward for my capture. Now I must write the truth that I have lived, and tell my story…"
Chincoteague, Virginia, present day. Rain soaks Tessa Scott as she runs from her car to the old, vine-covered property she has been called to survey. She's too busy to accept a new job, but doing this favor for the grandmother of her childhood sweetheart delays a painful decision she must make about a future with her controlling boyfriend.
But when Tessa finds a tattered journal carefully hidden inside the house's ancient fireplace, the tragic story of how Ona was ripped from her mother's arms to live and work in the palatial Mount Vernon, and the heart-shattering betrayal that led her to risk her life and run, has Tessa spellbound. Could discovering this forgotten scandal at the heart of her nation's history force her to confront her own story? As she races to reach the final page, will anything prepare her for the desperate moment when Ona's captors find her again? Will it inspire Tessa to take ownership of her own life and set herself free?
---
Brenda Jackson
The biggest mistake of Jaye Colfax's life was letting Velvet Spencer leave. For three years, they were together exclusively and it was great—at least for Jaye. But Velvet wanted more. Jaye wouldn't commit to anything because he just didn't believe in love or marriage. Tired of waiting, Velvet left him without so much as a goodbye. Only then did Jaye realize he'd been too proud to admit he loved her. But it was too late—his stubbornness had cost him the love of his life.
It took Jaye two years to find where Velvet had gone. Now, he's come to Catalina Cove to prove his love and win back her heart. He'll do whatever it takes, even buy the local bank and move in next door. But will Velvet have him?
---
Kwana Jackson
Sometimes fireman Lucas Strong feels like he can only find any peace and quiet at the local laundromat, where every day is rinse and repeat — until a fateful run-in with his high school crush.
Hoping to attract more customers to his family's knitting shop, Lucas Strong participated in an FDNY charity calendar and accidentally became a local celebrity. The only place he can find solace is Scrubs—a 24/7 laundromat where he can disappear for a couple of hours. But Lucas's soapy sanctuary is shaken by an inquisitive little girl with a late-night interest in knitting, whose mother is his old school crush.
Sydney Harris knows that Harlem is like any other small town, and everyone is probably whispering about how she left such a good man—and a good life—behind to wash and fold laundry by the pound. If only they knew the truth. But Sydney will always put her daughter's happiness first, even if that means moving back to Harlem and facing her past.
What Sydney never expected was to see Lucas again. A long-forgotten attraction kicks into high gear as Lucas and Sydney start to spend time together at the laundromat, and they must decide if this is true love or just an infatuation, thin and fragile as a soap bubble.
---
Tiffany D. Jackson
When Springville residents—at least the ones still alive—are questioned about what happened on prom night, they all have the same explanation . . . Maddy did it.
An outcast at her small-town Georgia high school, Madison Washington has always been a teasing target for bullies. And she's dealt with it because she has more pressing problems to manage. Until the morning a surprise rainstorm reveals her most closely kept secret: Maddy is biracial. She has been passing for white her entire life at the behest of her fanatical white father, Thomas Washington.
After a viral bullying video pulls back the curtain on Springville High's racist roots, student leaders come up with a plan to change their image: host the school's first integrated prom as a show of unity. The popular white class president convinces her Black superstar quarterback boyfriend to ask Maddy to be his date, leaving Maddy wondering if it's possible to have a normal life.
But some of her classmates aren't done with her just yet. And what they don't know is that Maddy still has another secret . . . one that will cost them all their lives.
---
Michelle Lindo-Rice
Her biggest rival
Is also her greatest temptation…
Shanna Jacobs has ambitions to be the next superintendent. But when a cheating scandal rocks her school, she's put under the supervision of her sexy ex, Lynx Harrington. Also a school principal, Lynx has his eye on the same job. Working to clear an accused cheater's name—albeit a beautiful one—only complicates the plan. But their attraction is undeniable. And Shanna's kisses are a perfect ten. Maybe their fledgling partnership will make the grade after all?
---
Sheryl Lister
One woman must learn to love again with the help of her supper club friends and the man next door in this delightful enemies-to-lovers small-town romance.
The best meals. The perfect company. And just enough sparks to make it complicated . . .
Serenity Wheeler's Supper Club is all about getting together with great friends, incredible food, and a whole lot of dishing—not for hooking up. Still, Serenity knows inviting her friend's brother to one of her dinners is just good manners, but the ultra-fine, hazel-eyed Gabriel Cunningham has a gift for saying the wrong thing at the really wrong time. Especially when it comes to her cooking.
Gabriel isn't quite sure how they got off on the wrong foot, but something about Serenity makes him nervous. Maybe it's because he's new to the small-town vibe. Maybe it's because the woman is so gorgeous that he can't think straight. Or maybe it's because there's an attraction between them he can't seem to shake.
Though refreshments and camaraderie may be the supper club's mantra, Serenity and Gabriel know there's more between them than just sharing delicious meals. But she can't let herself fall for Gabriel. Because while cooking with love is one thing, trusting it is quite another…
---
Brandon Massey
Divorce can be deadly…
Seven years ago, Austin Dash's dangerously jealous wife, Naomi, nearly stabbed him to death, an act that landed her in prison. Freed from her influence, Austin filed for divorce and took their young son to Atlanta for a fresh start. He established his own business and met the loving, gentle-hearted Brooke. Swept up in a charmed romance, they marry and prepare to welcome a new baby into their lives. But memories of Naomi haunt Austin's nightmares…
And now, she's back.
Recently released from prison, Naomi has one mission: to reunite her family. She'll do whatever it takes to bring Austin and their son back home, and she's got plenty of help. Her mother. Her sister. And her father–the whole tribe of Austin's ex in-laws, who might be as treacherous as Naomi…
But Austin and Brooke, with their new family on the line, won't give up without a fight.
---
Diane McKinney-Whetstone
The Gen—short for Sexagenarian—is an upscale fifty-five-plus community located in the bucolic suburbs of Philadelphia. Main character Cynthia befriends the Gen's two other Black residents, Bloc and Tish, as well as Lavia, who everyone assumes is from India. They regularly convene to smoke weed, line dance, and debate politics and philosophy as the wine goes down like silk. Their camaraderie is exhilarating.
But beneath the fun and froth, storms gather. With its walls of windows gushing light and air, the Gen becomes the catalyst for secrets to be exposed.
Shifting the narrative between the characters' pasts and the present day, Diane McKinney-Whetstone deftly builds suspense as she captures with insight, poignancy, and humor, the scars, tenderness, and swagger of those not yet old, but no longer young, coming to the mean acceptance that life is finite after all, who knew.
---
Olivia Matthews
Marvey, a small-town librarian,
finds a mysterious list of names…
and what happens next can't be a coincidence!
If you love Hallmark mystery movies,
you'll love this cozy mystery
with humor, intrigue, and a hint of romance.
Marvey, still adjusting to life in Peach Coast, Georgia, is at a library fundraising event when she comes across a list of four names. One is the name of someone who recently died—and who may have been murdered. Another is Spencer Holt, the handsome newspaper owner who's become one of Marvey's best friends.
The four people appear to have nothing in common other than living in Peach Coast. Spencer dismisses the list at first, but before long, he has to admit he may be in danger. As Marvey prepares for a visit from her parents, can she, Spencer, and their intrepid librarian friends stop a killer bent on long overdue revenge?
---
Rhonda McKnight
Can a recluse like Jackson Bennett step outside of the world he's built for himself to find love with a woman who's about to live her life more publicly than either of them can bear?
---
Tyora Moody
A mother pleads for help to find her missing daughter.
At first, law enforcement thinks the girl ran away with her boyfriend. When the boyfriend's body is found, it becomes imperative to find the missing young woman.
Evidence is pointing towards the woman not really being in danger but on the run after committing murder. Not sure what to believe, PI Serena Manchester is starting to wonder if she should have taken this case on at all.
The clock is ticking as Serena and her crew go down a rabbit hole, trying to find a woman, who may or may not want to be found.
---
Shirlene Obuobi
Ghanaian-American Angela Appiah has checked off all the boxes for the "Perfect Immigrant Daughter."
Enroll in an elite medical school
Snag a suitable lawyer/doctor/engineer boyfriend
Surround self with a gaggle of successful and/or loyal friends
But then it quickly all falls apart: her boyfriend dumps her, she bombs the most important exam of her medical career, and her best friend pulls away. And her parents, whose approval seems to hinge on how closely she follows the path they chose, are a lot less proud of their daughter. It's a quarter life crisis of epic proportions.
Angie, who has always faced her problems by working "twice as hard to get half as far," is at a loss. Suddenly, she begins to question everything: her career choice, her friendships, even why she's attracted to men who don't love her as much as she loves them.
And just when things couldn't get more complicated, enter Ricky Gutierrez— brilliant, thoughtful, sexy, and most importantly, seems to see Angie for who she is instead of what she can represent.
Unfortunately, he's also got "wasteman" practically tattooed across his forehead, and Angie's done chasing mirages of men. Or so she thinks. For someone who's always been in control, Angie realizes that there's one thing she can't plan on: matters of her heart.
---
Kayla Perrin
A woman determined to clear her name.
A lawman sworn to justice.
After fleeing Sheridan Falls to escape her past, Shayla Phillips is back in town to clear up old rumors by joining forces with Tavis Saunders—whose cousin was one of the victims of a past crime. The former cop won't rest until he solves the case and thinks Shayla might have the answers. But can they uncover the truth before more lives—including Shayla's—are lost?
---
K.D. Richards
She thought she'd escaped her past…
Has it caught up with her?
Erika Powell has lived in hiding for years to protect her son from his wealthy, tyrannical grandfather. Wary of strangers, she's suspicious of James West, who's renting a neighboring cabin, despite their sizzling chemistry. But when attempts are made on Erika's life, James fears he may have endangered her—because the undercover PI's investigation of Erika may have led someone dangerous right to her.
---
Erica Ridley
Nothing happens in London without Graham Wynchester knowing. His massive collection of intelligence is invaluable to his family's mission of aiding those most in need. So when he deciphers a series of coded messages in the scandal sheets, Graham's convinced he must come to a royal's rescue. But his quarry turns out not to be a princess at all… The captivating Kunigunde de Heusch is anything but a damsel in distress, and the last thing she wants is Graham's help.
All her life, Kuni trained alongside the fiercest Royal Guardsmen in her family, secretly planning to become her country's first Royal Guardswoman. This mission in London is a chance to prove herself worthy without help from a man, not even one as devilishly handsome as Graham. To her surprise, Graham believes in her dream as much as she does, which makes it harder to resist kissing him…and falling in love. But how can she risk her heart if her future lies an ocean away?
---
Vanessa Riley
Gran Toya: Born in West Africa, Abdaraya Toya was one of the legendary minos—women called "Dahomeyan Amazons" by the Europeans—who were specially chosen female warriors consecrated to the King of Dahomey. Betrayed by an enemy, kidnapped, and sold into slavery, Toya wound up in the French colony of Saint Domingue, where she became a force to be reckoned with on its sugar plantations: a healer and an authority figure among the enslaved. Among the motherless children she helped raise was a man who would become the revolutionary Jean-Jacques Dessalines. When the enslaved people rose up, Toya, ever the warrior, was at the forefront of the rebellion that changed the course of history.
Marie-Claire: A free woman of color, Marie-Claire Bonheur was raised in an air of privilege and security because of her wealthy white grandfather. With a passion for charitable work, she grew up looking for ways to help those oppressed by a society steeped in racial and economic injustices. Falling in love with Jean-Jacques Dessalines, an enslaved man, was never the plan, yet their paths continued to cross and intertwine, and despite a marriage of convenience to a Frenchman, she and Dessalines had several children.
When war breaks out on Saint Domingue, pitting the French, Spanish, and enslaved people against one another in turn, Marie-Claire and Toya finally meet, and despite their deep differences, they both play pivotal roles in the revolution that will eventually lead to full independence for Haiti and its people.
---
Kimberla Lawson Roby
Serena, Michelle, Kenya, and Lynette have been best friends since they were small children. And as sister friends forever, they have always been there for one another, through good times and bad, no matter what.
This year is a crucial turning point for each woman. Serena, still single, is questioning why love hasn't found her yet. Michelle is engaged and ready to walk down the aisle—until an old flame strolls back into her life. Kenya is happily married, but at the same time, her husband's ex-wife won't allow them or their family to live in peace. And Lynette's divorce from her cheating husband has her nervously dating for the first time in well over a decade.
During this difficult period, their friendship will be tested like never before. Yet it is that sisterly love that they will need . . . more than ever.
---
Farrah Rochon
Successful pediatric surgeon London Kelley just needs to find some balance and de-stress. According to her friends Samiah and Taylor, what London really needs is a casual hookup. A night of fun with no strings. But no one—least of all London—expected it to go down at her high school reunion with Drew Sullivan, millionaire, owner of delicious abs, and oh yes, her archnemesis.
Now London is certain the road to hell is paved with good sex. Because she's found out the real reason Drew's back in Austin: to decide whether her beloved hospital remains open. Worse, Drew is doing everything he can to show her that he's a decent guy who actually cares. But London's not falling for it. Because while sleeping with the enemy is one thing, falling for him is definitely not part of the plan.
---
Toni Shiloh
To save her animal shelter,
She'll have to work with her biggest foe…
With her emotional support dog at her side, Jalissa Tucker will do whatever it takes to ensure the survival of the local animal rescue—even ally herself with her nemesis, firefighter Jeremy Rider. As working together dredges up old hurts, putting the past aside could be the key to their future joy. But can Jalissa resist falling for the man she's always considered the enemy?
---
Jacquelin Thomas
He's ready for a change…But is she?
For fashion designer Renee Rothchild, a friendship with marine Greg Bowman was always safer than imagining a future together. The stress of dating a military man might trigger the panic disorder she's worked so hard to manage. Greg says he's ready to leave the military, but he loves his job, and she can't let him give it up for her. Can Greg convince Renee that despite their differences, they do belong together?
---
Monica Walters
Shyrón Berotte has always been the one to handle things. Although he's the middle child, he takes protecting his family seriously. Since he's a lawyer, it makes that feat a little easier to accomplish. He knows his way around the law, even when the law can't seem to protect those he loves. While he has one foot on the other side of it, his driving force is the love he has for his family. So, when he realizes his sister's best friend is in a bad predicament, he doesn't hesitate to offer a helping hand. His attraction to her only makes things more intense since she already has a boyfriend.
Brittany Davis is where she wants to be in her nursing career. Financially, she's in an okay place and her life is stable. However, her love life is stressing her out and she's been wallowing in what seems to be a loveless relationship for months. Her passive demeanor and big heart has her hanging on to a commitment she should have long ago let go of. When her best friend's brother propositions her, she doesn't know how to proceed. Although she's been attracted to him for some time, she's hesitant because of her circumstance at home.
Shyrón refuses to take no for an answer and that causes things to turn volatile. His forwardness and somewhat controlling behavior bothers Brittany, because she doesn't want to be in the same type of relationship she's trying to get out of. Will Brittany be able to let go of the fear from her past to explore her future, or will Shyrón's aggressiveness run her off before the exploration can begin?
---
Jamie Wesley
A reality star and a cupcake-baking football player pretend to be a couple in order to save his bakery in this sweet and sexy romance from Jamie Wesley, Fake It Till You Bake It.
Jada Townsend-Matthews is the most reviled woman in America after turning down a proposal on a reality dating show. When she comes home to lick her wounds, Jada finds herself working at San Diego's newest cupcake bakery, Sugar Blitz, alongside the uptight owner and professional football player Donovan Dell.
When a reporter mistakenly believes Jada and Donovan are an item, they realize they can use the misunderstanding to their advantage to help the struggling bakery and rehabilitate Jada's image. Faking a relationship should be simple, but sometimes love is the most unexpected ingredient.
Fake it Till You Bake It is a sweet confection of a novel, the perfect story to curl up with and enjoy with a cupcake on the side.
---
Shanora Williams
Samira Wilder has never had it easy, and when her latest lousy job goes south, things only promise to get harder. Until she unexpectedly meets a man who will change her life forever. Renowned pro golfer Roland Graham is wealthy, handsome, and caring, and Samira is dazzled. Best of all, he seems to understand her better than anyone ever has. And though their relationship moves a bit fast, when Roland proposes, Samira accepts. She even agrees to relocate to his secluded Colorado mansion. After all, there's nothing to keep her in Miami, and the mansion clearly makes him happy. Soon, they are married amid a media firestorm, and Samira can't wait to make a fresh start—as the second Mrs. Graham . . .
Samira settles into the mansion, blissfully happy—until she discovers long-hidden journals belonging to Roland's late wife, Melanie, who died in a tragic accident. With each dusty page, Samira comes to realize that perhaps it was no accident at all—that perhaps her perfect husband is not as perfect as she thought. Even as her trust in Roland begins to dwindle and a shadow falls over her marriage and she begins to fear for her own life, Samira is determined to uncover the truth of Melanie's troubled last days. But even good wives should know that the truth is not always what it seems . . .