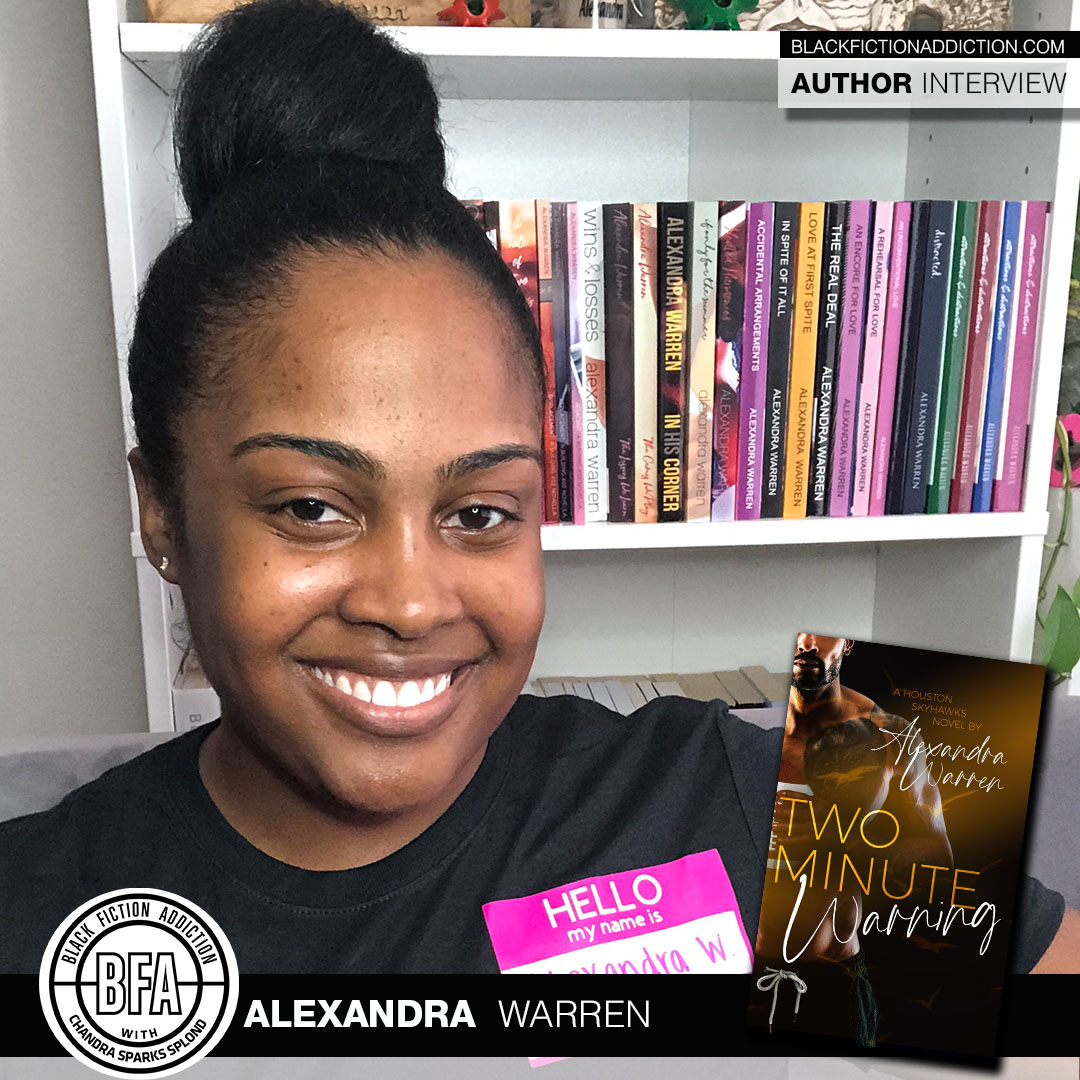 Romance author Alexandra Warren is back with the latest installment of her football sports romance series. I recently spoke with her about Two Minute Warning.
Tell me about your latest book.
Two Minute Warning follows NFL quarterback Kendall "Snoop" Dogwood and social media influencer Shakira "Kiki" Knight.
After a devastating ending to his first year with the Houston Skyhawks, the only thing Snoop is focused on this season is getting redemption. That is, until he meets Kiki at a party and finds himself intrigued.
He actually has no immediate plans of acting on his interest until a picture of the two of them goes viral, leading the pair to connect over DMs and then beyond. But when Snoop finds out that Shakira's father has deep sports gambling ties that could potentially put his career at risk, it makes for a tricky situation.
Why did you decide to write it?
I've always wanted to write a football sports romance series, which was how the Houston Skyhawks were born. And after writing the ending of book one, Can't Catch Me, it only felt right for Snoop to be the next player we followed.
What was the hardest part about writing the story?
Actually writing it lol. As someone who's been publishing for over seven years now, putting my butt in a chair and sitting at the computer long enough to get the words out has gotten a little tougher. But it got done. J
Who would you cast in a movie to play the main characters? 
For Shakira, I would probably cast Paige Hurd. And for Snoop, I would cast Rome Flynn.
When did you fall in love with the written word?
It was high school when I discovered that I enjoyed writing creatively. I remember writing a play about my friends and I in the future in a notebook and having so much fun doing so. But I would say as an adult, I fell completely in love while writing my first book.
What's something readers would be surprised to know about you?
Being an author was not a life goal of mine. I actually went to college to be a teacher and taught for a few years before I decided to try my hand at writing, and that's when it became real for me. <3
What books have you read lately and loved?
No Longer Afraid and Raised by Wolves by Christina C. Jones were both fantastic. I also enjoyed The Replacements by Shae Sanders and Free Game by Kema B.
What books are you excited to read?
I have a LONG list of them lol. But two that come to mind are Rori & Remy by Nicole Falls and Songs in the Key of Love by D. Rose.
What's next for you?
After the release of Two Minute Warning, I'll be shifting my focus to bringing you all another audiobook this summer. J
---
Use the Black Fiction Addiction affiliate link to purchase your copy of Two Minute Warning.
---
To learn more about black romance author Alexandra Warren, visit her website or connect with her on social media.
Website: www.actuallyitsalexandra.com
Instagram: www.instagram.com/booksbyalexandra
Twitter: www.twitter.com/__actuallyalex
Facebook: www.facebook.com/authoralexandraw