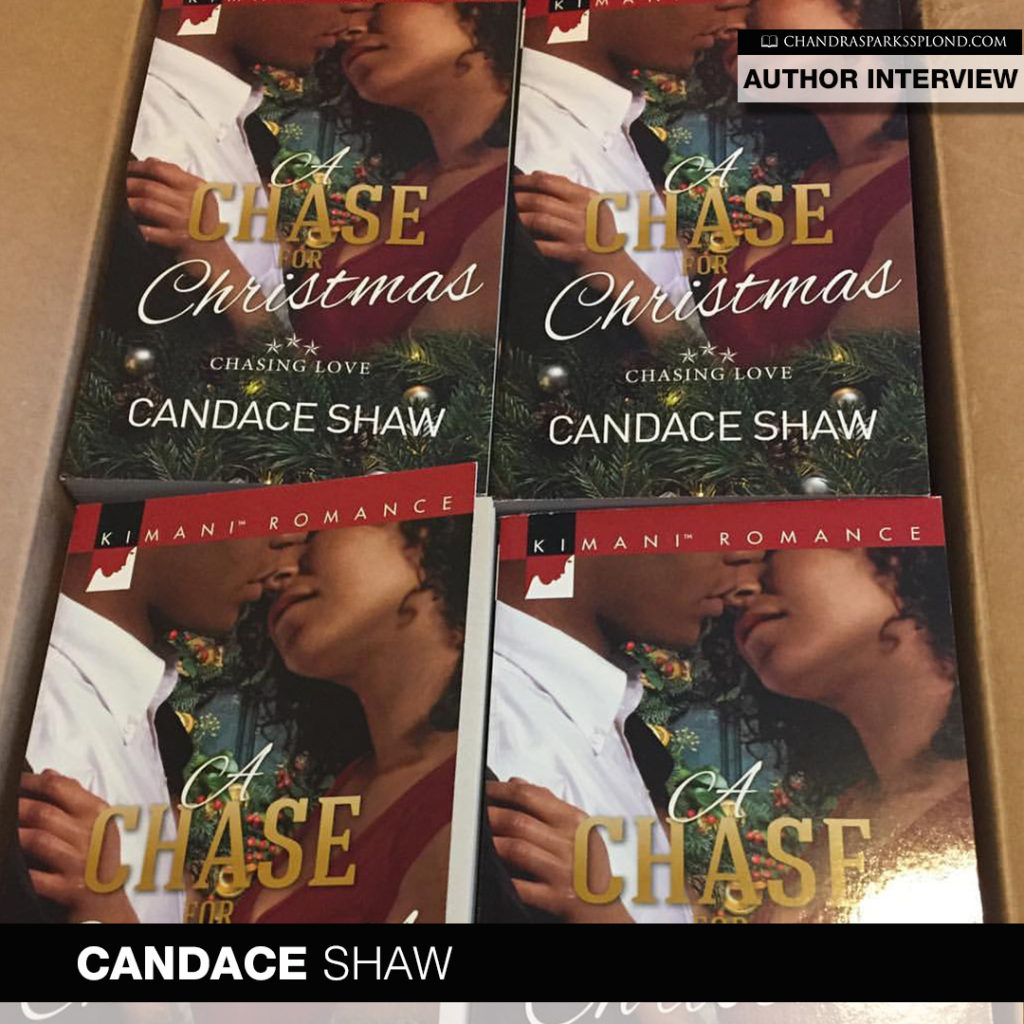 Author Candace Shaw is kicking off the holiday season with the final installment of her popular Chasing Love series. I recently spoke with her about A Chase for Christmas.
Tell me about your book, A Chase for Christmas.
A Chase for Christmas is the fifth and last book in the Chasing Love series. The hero, video game developer Preston Chase is a notorious millionaire playboy who just likes to have fun and not stress over life. He had leukemia as a child and almost died so now he prefers to live his life to the fullest. The heroine, Blythe Ventura is a cool, laid-back, earthy bohemian artist who loves a simple life and is taking a dating break to focus on herself and her Paint, Sip, Chat art studio. She's been burned by a player in the past so whenever Preston flirts with her she laughs off his advances even though she hates to admit that she is attracted to him. When he asks her to assist with his Winter Wonderland project for the children at the hospital where he was in out of as a child, Blythe says yes. From there readers familiar with the series will see a side of Preston that they (and Blythe) wasn't aware of.
Why did you decide to write it?
My editor at Harlequin called to inform me that the book was scheduled to come out in December the following year and she would love for it be a Christmas romance. At that time, I already knew the hero and heroine because they'd met in a previous book, but I had no idea how I was going to get them together but my outline was due to my editor in two months. A lightbulb went off since Christmas is a time for giving. I'd mentioned in a previous book that Preston and his dog Hope visited the children in the hospital. I decided that would be a perfect way to introduce his philanthropic side. And of course since Blythe is an artist she could assist him with the Winter Wonderland project for the children.
What do you want readers to learn from the story?
Hopefully readers will learn that it's best to know all sides of a person before making a judgment solely on the side that you know or think that you know.
Who is your favorite established author and why?
My favorite author is deceased but it's Louisa May Alcott. I always credit her as my inspiration of being an author thanks to her book Little Women. I read it in fourth grade along with all her other books within a two-year span afterward. I was fascinated with her main character Josephine "Jo" March who was a writer and how she would create short stories and plays for her family and friends to act out. I started to write short stories, and my friends would read them. I ended up writing a play and my fourth-grade teacher was also the drama teacher and over the school's talent show. She typed it for me, and my friends and I acted it out. We won second place, and I've been writing ever since.
What's next for Candace Shaw?
I'm currently working on the second book in the Precious Moments series, titled When I Fell for You. It's Reagan Richardson and Dr. Blake Harrison's book.  The setting is still St. Simons Island, Georgia. If you're familiar with the Arrington Family series, Reagan is Justin Richardson's (Cooking up Love) baby sister. So expect to see Justin and his wife, Dr. Shelbi Arrington-Richardson, make an appearance.  I don't have a date yet, and I like to take my time when writing, but sometime in the beginning months of 2017. The first book in the series (For the Love of You) was a novella. But after careful consideration, I've decided that the rest of the books will be full lengths. There's at least three more books in the series, including one with Hunter Arrington's sister baby, Addison Arrington, who made an appearance in A Passionate Night.
Do you have anything you would like to add?
I'd like to share the blurb and a short excerpt from A Chase for Christmas. It releases on November 22 in paperback and December 1 in ebook format.
Blurb
Chasing a dream of love
The pursuit of love has always been high on Preston Chase's priority list. But the video game developer has yet to find the soul mate he craves. His sister's best friend—artist and studio owner Blythe Ventura—is a world away from the shallow glam girls who've thrown themselves at him. With her creative spirit and passionate commitment, she's the ideal candidate for his Winter Wonderland project. Too bad she doesn't seem interested in being the one to win his heart.
After a string of dating disasters, Blythe isn't ready to believe in a romantic relationship with Preston. Until their work giving sick children hope and joy for Christmas brings them together—and reveals a very different side of the notorious millionaire playboy. All she has to do is trust in the feelings Preston is awakening and this just might be the year that they both find the happy holiday ending they've been searching for…
(Scene Background: Blythe and Preston have just finished working for the evening on his Winter Wonderland Project.)
Excerpt
"So, you aren't coming tomorrow?" Preston asked, walking her out to her car as he carried her roses and the box of leftover pizza.
Opening the passenger door, Blythe stepped back as he placed the items on the floor mat. "No. It's the holiday season, which means more paint parties, and I have five tomorrow. I'll be back Wednesday evening. My receptionist is handling the one I was going to have that evening." She walked around to the driver's side with him close on her heels. Inside, the paint had drowned out his cologne, but now his scent tickled her nose once again, and she needed to hurry the heck up and speed off before she gave in to her emotions or whatever the hell she was feeling.
"That's fine. We have plenty of time. I have meetings tomorrow morning, and then I'm flying to New York City, but I'll be back Wednesday evening. If you need some help, I'll be happy to assist you."
Pivoting to face him, she ended up in his personal space, and her heartbeat raced. "I should be fine. You put me ahead of schedule by assisting tonight." And I don't think I can handle any more alone time with you anytime soon.
He stepped closer, and she hadn't even thought that was possible. She gasped as his strong hands encircled her waist and drew him toward her. He gave her an arrogant smirk.
"What?" he asked, puzzled. "I was just going to hug you."
"Oh…yes…of course." She laughed nervously and leaned in for the hug. The warmth of his body oozed right through his sweater, and she could feel his hard muscles. If she didn't move, she'd be a hot, steamy puddle at the man's feet.
Pulling back, he stared down at her. "What did you think I was going to do? Kiss you?" he asked with an amused expression.
"Um…no. Well, maybe. I can never tell with you. You just surprised me. That's all."
"But you didn't push me away. I'm still holding you now, and you don't seem to mind."
"You're crazy." She shrugged with a slight laugh. "A hug from a friend is no big deal." She said it in a calm manner, but the butterflies in her stomach were fluttering rampantly.
"Mmm-hmm." He lowered his head, and his eyes darkened. "So, we're friends?"
She giggled and inwardly cursed herself for doing so. Schoolgirls giggled around their prospective crushes, and she was not a silly teenager whose crush was holding her as if he wasn't letting her go anytime soon. She shook off the fact that she was completely comfortable in his warm embrace. It was chilly out, but his body on hers had blocked out the cold air, and an electric heat dashed through her veins.
Staring up at Preston, Blythe gazed straight into his eyes, making sure she gave him full eye contact. She couldn't appear ruffled by being in his arms. It was just a friendly hug.
"You are my best friend's brother. And since I don't have any big brothers, you could be like one."
He chuckled, even though his facial expression was serious. A load of desire washed through her body as he lowered his lips to hers but didn't kiss her. Her breathing sped up as her chest rose and fell at what she knew in her heart he was going to do. Her lips parted by themselves, which resulted in another curse word in her head. The one she never spoke aloud in front of her parents.
"I don't want to be in the big brother category," he whispered.
Candace Shaw writes romance novels because she believes that happily-ever-after isn't found only in fairy tales. When she's not writing or researching information for a book, you can find Candace in her gardens, shopping, reading or learning how to cook a new dish.
She lives in Atlanta, Georgia with her loving husband and their loyal dog, Ali. She is currently working on her next fun, flirty and sexy romance.
You can contact Candace and sign up for her mailing list on her website  or connect with her on Facebook or Twitter.
Use my affiliate link to purchase your copy of A Chase for Christmas.