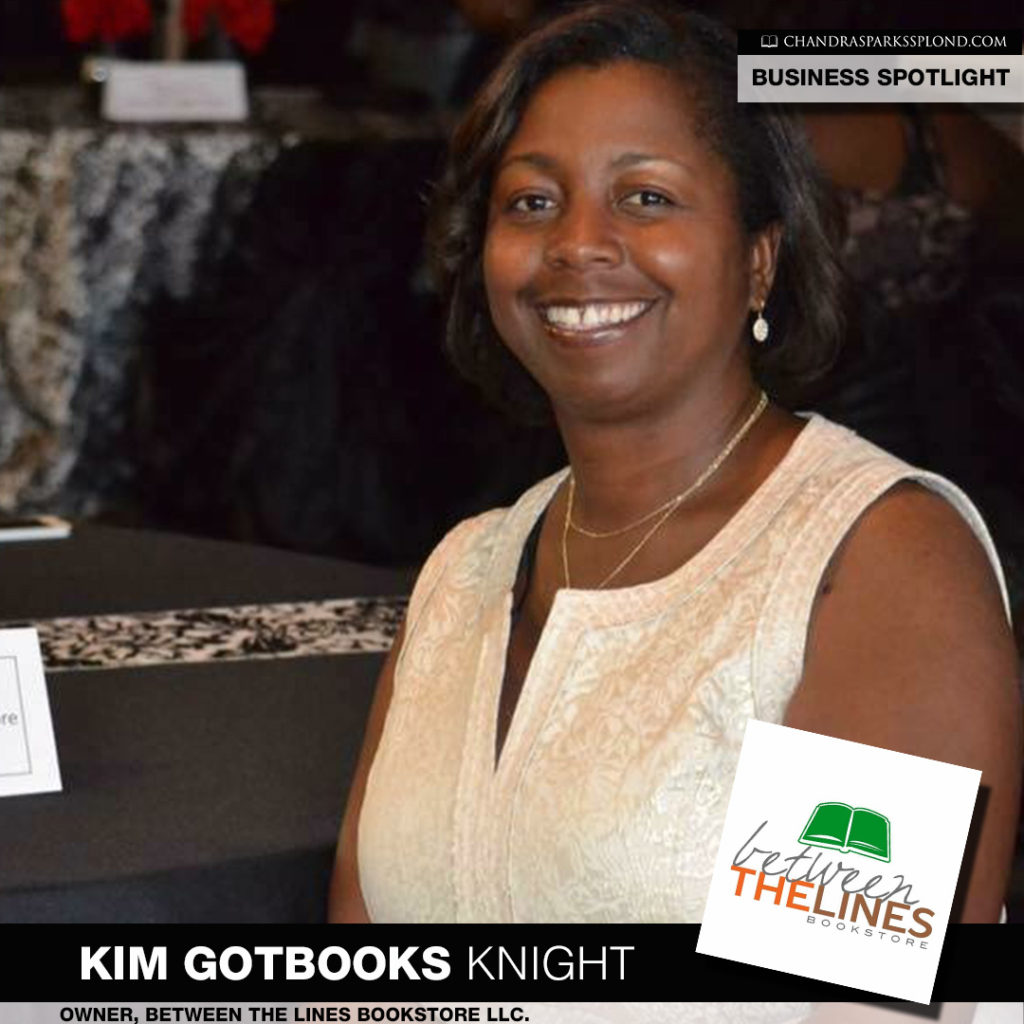 Kim GotBooks Knight is a rare breed.
I recently spoke with Knight who is the owner of Between the Lines Bookstore, one of a handful of African-American–owned bookstores still opened.
Tell me about your bookstore, Between the Lines.
Between the Lines Bookstore started November 2010 and the physical location started June 22, 2014, in the historic McKinley Alumni Center and in December 1, 2014. We recently moved to a larger space. We are a general bookstore but we specialize in African American books. Our product mix includes books, movies, music, art, textbooks, e-books and audio books. We have got books? merchandise and other sideline book-related items.   We have an online store.
Why did you decide to start it?
I have always wanted to open a bookstore since I was a child. I started with Kimberla Lawson Roby booksigning in 2010.  I was just a book vendor. The physical store came into reality when I had a classmate die of breast cancer, and I was scared that maybe I would die and never live my dream of becoming a bookstore owner. With the help of a friend, I found some affordable space in a historic building and opened the store.
What can customers expect when they buy books from you?
They can expect a personal touch. For example a book club ordered their book of the month, and I arranged for the author to call into the meeting to discuss the book with them. We strive to bring a literary experience to our customers.  Our mission is to provide a connection between authors, readers, book clubs, schools, churches, the community and the world.
What advice do you have for women interested in starting their own business?
The advice I would give to women interested in business is know God and His Word. Pray and fast. Know and trust yourself. Don't give up on yourself or your vision.  Don't take no for answer. Network and be a constant learner.  Listen more than you talk.  Partner with others.  Do it afraid.  If the industry they are in has an association, join it.
Who is your favorite established author and why?
Ralph Ellison is my favorite author because the book Invisible Man changed my life and made me understand who I was in the world and how it would see me.
Who is your favorite new author and why?
Vanessa Newton, author/illustrator. Her work is beautiful. When I see her work, it makes me smile and feel inspired to see the good in humanity.
If you could have any profession other than being a bookstore owner, what would it be?
Bookstore owner is my purpose. I have been blessed to serve in the United States Army Reserve for 24 years with two combat deployments. I have traveled to over 20 states and seven countries.
What's next for Kim "Got Books" Knight?
I want to get married. Retire from the military.  Travel internationally with my daughter. Continue to bring more activities and community projects to the bookstore.  Host some amazing literary events and authors. On January 21 from 3–6 p.m., I am partnering with the Baton Rouge Sigma chapter of Delta Sigma Theta Sorority Inc. to host author Carl Weber.
Do you have anything you would like to add?
I am excited about my future.
To learn more about Kim GotBooks Knight, visit her website, or connect with her on Facebook, Twitter, Instagram, Periscope (@btlbookstore1) and Pinterest.