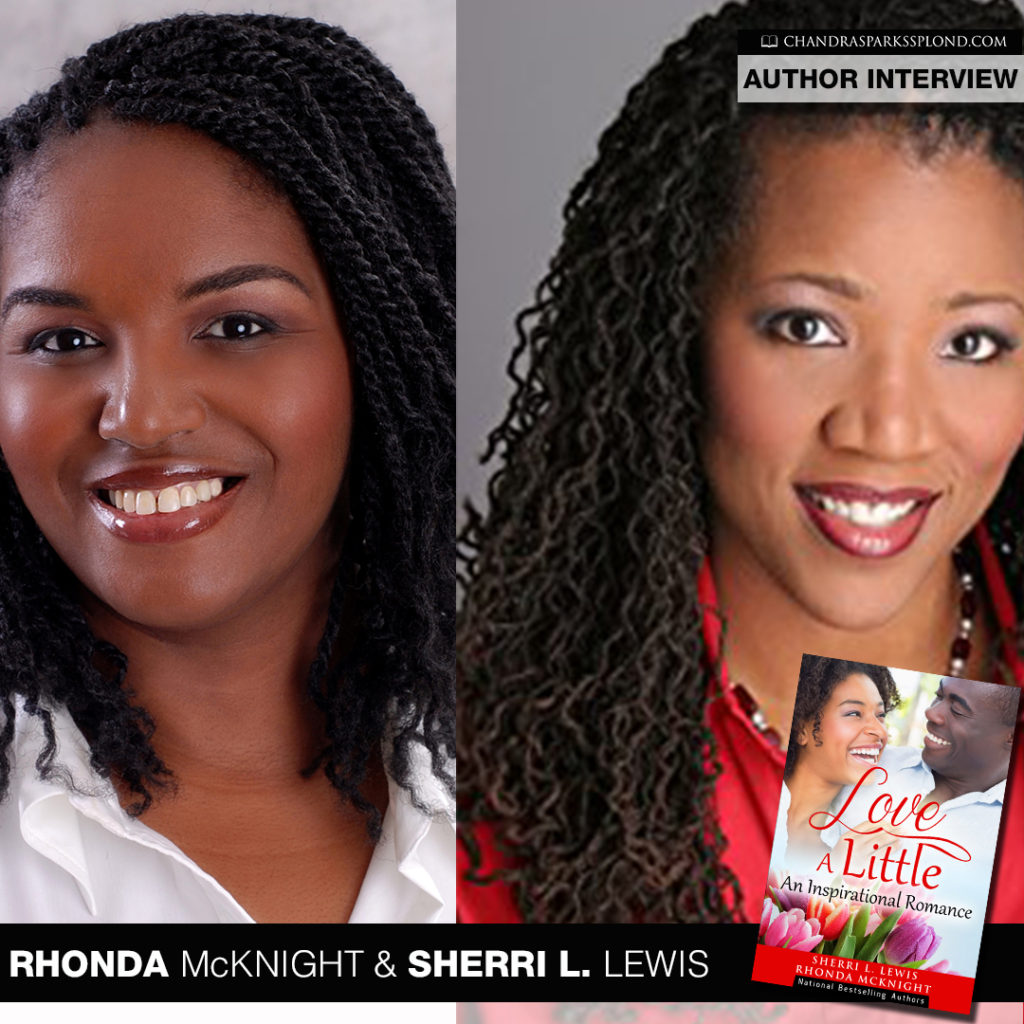 There's nothing like two authors coming together and sharing the love. I recently spoke with Sherri L. Lewis, bestselling Christian fiction author and missionary in Africa and Rhonda McKnight, national bestselling author and writing coach about their book, Love a Little.

 Tell me about your book, Love A Little.
Rhonda: Love A Little is the third story in a series of books about the Jordan family. The Jordans are good people. The kind we all want to know. They're good-looking, intelligent, successful entrepreneurs, but more importantly they love each other, their community, and the Lord.  But, even good Lord-loving people have problems. In this book, the issues in Cree Jordan's life take center stage. Cree is in her early thirties, and she hasn't had a relationship that's lasted more than a few weeks since her early twenties. Cree is an artist. She's fun-loving, free, and sometimes a bit flaky. Her family has attributed her personality to the reason she hasn't settled down with a husband or at least a steady boyfriend. What they don't know is that Cree has a secret. She made some poor choices ten years ago and she's paid for those mistakes through guilt, pain, and shame that she hasn't shared with anyone. A chance meeting, cancelled flight, and a whole lot of manipulation have her in a tug-of-war between the ex she hates and the one she let get away. The book is set mostly in Paris and Kenya, which adds another layer of interest to the story.
Why did you decide to write it?
Sherri: I fell in love with Rhonda's character Cree Jordan in her first two books in the Jordan family series. Rhonda kept dragging her feet on writing the story, and I really wanted to see it come to life. So I asked her if we could write it together. She had written the beginning and plotted most of the story. When I read what she had written, I fell in love with it and literally finished my parts of the book in less than a week. Cree is a great character, and I loved the premise Rhonda had come up with. Rhonda is such a great plotter, so it was easy to write with her.
Rhonda: Cree's story had to be told.  Readers were waiting for it, and Sherri Lewis was waiting for it. Plus it had an amazing opening that I knew would suck readers right in. What writer likes to waste good writing? Not me. But I had plotted an international story. I wasn't prepared to tell it. I kept overthinking the scenes in Paris and Kenya. I think I scared myself out of writing those chapters. Along came Sherri Lewis and her wanderlust spirit. She was ready and able. I was more than happy to work with her.
What do you want readers to learn from the story?
Rhonda: I believe readers will take away the message that God has for them, but from the writer perspective, I wanted to drill down the message that God's grace is for all of us. We can be so hard on ourselves. We tend to judge some sin as worse than others, and while there are some sins that are harder on our souls, our God is forgiving and loving.  If we can forgive ourselves, there's nothing we can't recover from. Cree has to learn this.
What do you want readers to learn from your lives?
Sherri:  From my life, I'd love readers to learn to live their dreams! You only get one life, and it's to be fully lived and fully enjoyed to the fullest. Find out what God put you here to do and go after it with all your heart. Refuse to live a normal life.
Rhonda: I hope that my life, my work, my ministry offers people hope and encouragement. I live hopeful, and I am encouraged. Even when life is tough, I think better is around the corner, on the horizon, and certainly in the new mercies of the next morning.
What advice do you have for people who want to write a book?
Sherri: Two pieces of advice: Writers write. If you want to write a book, you have to sit down and actually write it. Not just think about writing it. This seems obvious, but I've met too many aspiring writers who end up doing nothing more than aspiring. Completing a book takes commitment and discipline. Second piece of advice: Learn your craft. The difference between a good book and a great one is a bunch of little rules called the craft of writing. Learn them, study them, use them and write a great book.
Rhonda: Read! Well-written books. Books in different genres. Take writing classes. Attend a writer's conference. Network with other writers. I find the community of writers encouraging. Writer-friends will also hold you accountable.
What's next for Rhonda McKnight and Sherri Lewis (individually and as co-authors)?
Sherri: I am already working on the next book in the Jordan family series, Dream A Little. While writing Love A Little, I fell in love with the baby sister, Arielle, and she started talking to me. I'll be excited to release this is early 2017. The two of us are also teaming up with AA Christian Fiction writers Tia McCollors and Jacquelin Thomas to do a family series—The Solomons. Look for it in the spring of 2017.
Rhonda: I just released a Christmas novella titled The Winter Reunion. Some of my readers will say, "bah humbug" because many want Shame On You, the fifth book in my Samaritan Woman Series, but I had to push it back. I want the book to launch strong, and I learned from my first novel that it's almost impossible to sell anything that's not Christmassy during this season.
Do you have anything you would like to add?
Rhonda: The Jordan family series is great. Give A Little Love is the first book in the series, and it is a Christmas story. The story is set in Jamaica. Three planes land on the island, with three visitors, that cause three different emotions to rise—love, lust, and hate. It's a great story. But if you don't like to go back, never fear, Love A Little is its own stand-alone story.
Use my affiliate link to purchase Love a Little or The Winter Reunion.
To learn more about Sherri L. Lewis, visit her website.
To learn more about Rhonda McKnight, visit her website or connect with her on Instagram.