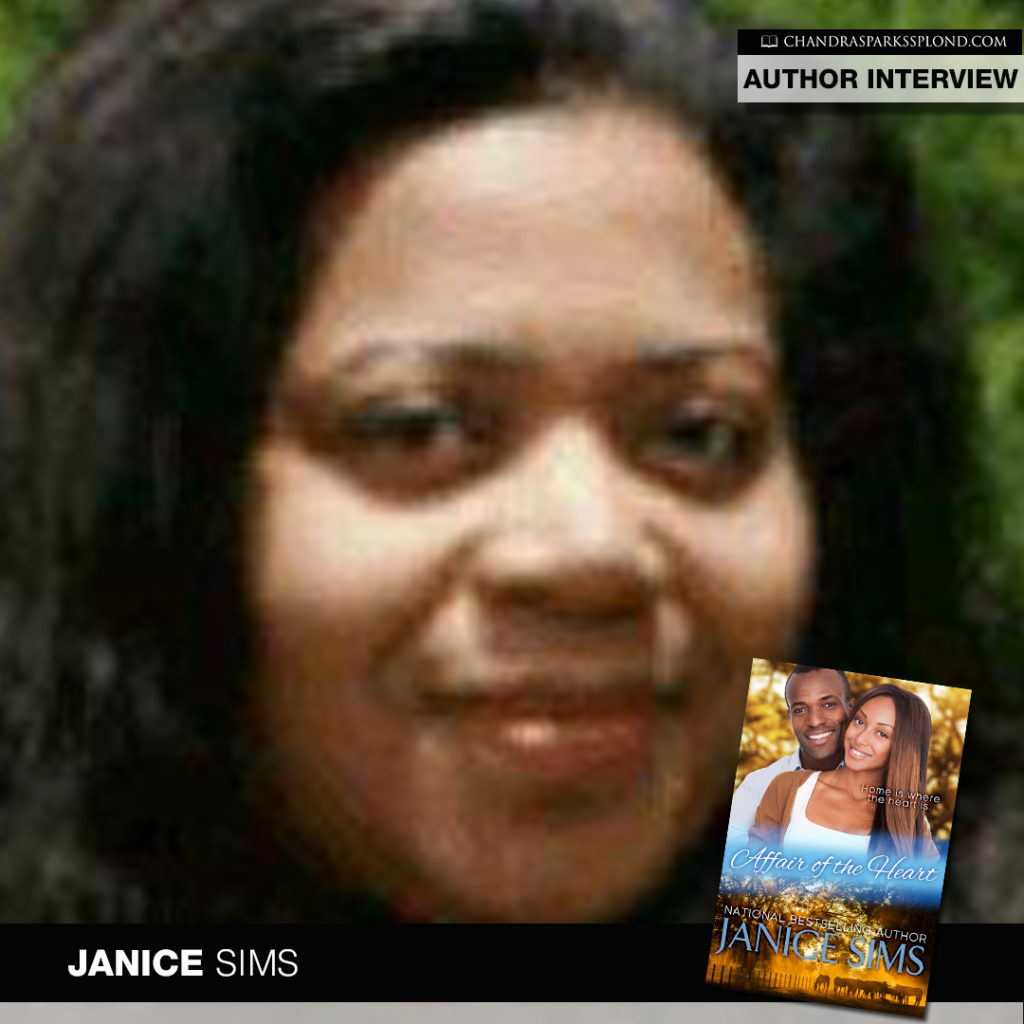 For most authors, there's no feeling that compares to having your first book published. For veteran author, Janice Sims, she is reliving the excitement. I recently spoke with Sims about the re-release of her first book, Affair of the Heart.
Tell me about Affair of the Heart.
It's an oldie, but a goodie.  It was published in paperback by Arabesque in 1996.  I'm in the process of putting my entire backlist in e-book format.  Affair of the Heart is my first published novel.  A late bloomer, I wasn't published until I was 38, which I hope encourages other writers out there who may be getting a late start in this business.
Affair of the Heart is a romantic comedy set in Kentucky.  Cara Lynn Garrett is a veterinarian who goes to her hometown of Shelbyville for a little rest and relaxation.  She meets Jordan Davidson, a construction company owner, and the man who bought and is remodeling a house she's always been in love with.  They are instantly attracted to each other, but both have been hurt in the past, so they have emotional baggage to deal with.  That baggage causes misunderstandings, plus there's this other guy, Evan Fitzgerald, a hometown boy who has known Cara Lynn for years who decides to steal her from Jordan whom he doesn't like because of a business dispute the two were involved in.  So you have that triangle, and all sorts of secondary characters who're either trying to get Jordan and Cara Lynn together, or make sure their relationship fails.  I've been told by readers that they laughed out loud and cried while reading Affair of the Heart.  That's a wonderful compliment for any writer.
Why did you decide to write it?
Oh, that's simple: When the idea came to me about a small-town girl who loved animals and grew up to become a veterinarian, I ran with it.  Being a vet was one of my childhood dreams. The setting, the people who populated the town, and Cara Lynn's family and friends were inspired by my own family and friends.  I think, subconsciously, that happens to a lot of writers.
What is the biggest lesson you want readers to learn from this story?
That true love wins every time.
Why did you decide to write romance?
It was a progressive thing.  When I was in high school, I would read at least one Harlequin romance per day.  I know that seems like a lot of reading when I also had my class work to do, but the Harlequins were quite short, and I'm a fast reader.  Let's face it: I was hooked!  I suppose it was better than being hooked on drugs. I started writing short stories of a romantic slant, and by the time I was in college, I was writing my first novel. It took me years to work up the nerve to approach a publisher, though.
Who is your favorite new author and why?
Ann Jeffries because she writes those long, detailed romances that you can get lost in!  Try An Unguarded Moment and you'll see what I mean.
Who is your favorite established author and why?
This is a harder question because I'm a voracious reader, and I love lots of writers.  My girls like Francine Craft, Beverly Jenkins, Melanie Schuster, Fannie Flagg, Donna Hill, Margaret Johnson-Hodge, Rochelle Alers, Adrianne Byrd, Bette Ford (love her).  Then there are my boys like Dean Koontz, Stephen King, Walter Mosley, F. Paul Wilson, Neil Gaiman, Colson Whitehead and the author of one of my favorite books ever, The Supremes at Earl's All-You-Can-Eat, Edward Kelsey Moore.  Please don't ask me to just pick one!
What's next for Janice Sims?
I'm working on a fantasy novel as well as the next two Gaines Sisters novels.  I wrote This Winter Night, Safe in My Arms and Thief of My Heart about three of the sisters and now I'm writing Meghan and Petra's stories.  I hope to have them done by mid-2017.
Do you have anything you would like to add?
Just that All the Right Reasons, my second novel, is now available on Kindle. And also to express my thanks to you.  I enjoyed working with you when you were editing for Arabesque back in the day, and I've enjoyed getting back with you for this interview.  Continued success, my friend.
Connect with Janice Sims via Facebook.