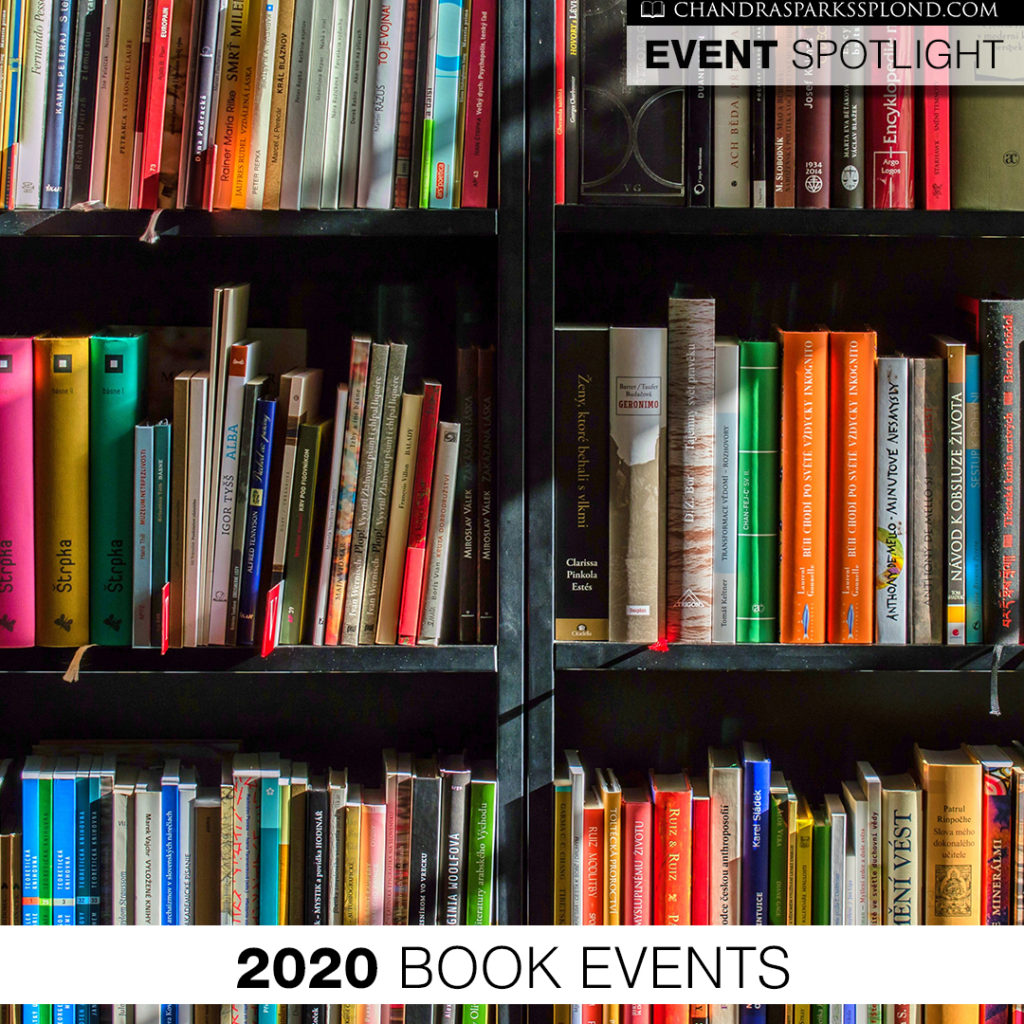 If you love books and would like the chance to meet some of your favorite authors up close, check out these events happening this year:
Book Euphoria's 2020 Carnivale Weekend
March 19–22
Rosemont, Illinois
book-euphoria.com
Celebrate and share your literary love, while intertwining some Chi-town flavor and Caribbean vibes. The weekend's theme will include carnival games, prizes, exotic costumes, soul dancing, loads of laughter and heartfelt fun! Time to flaunt your feathers and bring out your bright colors for a spring Carnivale with a special Book Euphoria twist.
Featured Authors: Beverly Jenkins, Alexandria House, Tiffany L. Warren, Cheris Hodges, Nicole Falls, Aja, Joy Avery, Alexandra Warren, Elle Wright, Nicki Night, Stephanie Nicole Norris, EJ Brock, Keith Kareem Williams, Sheryl Lister, Kelsey Green, Reese Ryan, AC Arthur, Ty Young, Angela Seals, Sherelle Green, Anita Davis
---
Calvacade of Authors Chicago
April 3–5, 2020 during the Black Women's Expo at McCormick Place
https://naleighnakai.com/cavalcade-of-authors
The 16th Annual Cavalcade of Authors will be held during the Black Women's Expo April 3-5, 2020. USA Today Bestselling author Naleighna Kai, along with national bestselling authors London St. Charles, Karen D. Bradley, Sierra Kay, MarZe Scott are the hosts.   This year we welcome bestselling and award-winning author Brian W. Smith to the Cavalcade. Many others will be added to the author lineup each month.
Featured Authors: Brian W. Smith, Naleighna Kai, Ehryck Gilmore, Janice M. Allen, J.D. Mason, Terri Ann Johnson, Michelle Rayford, London St. Charles
---
Girl, Have You Met
April 4, 2020
St. Louis, Missouri
http://girlhaveyoumet.com/ 
Girl, Have You Read is a celebration of Black love in romance novels. It's a signing event, an opportunity to talk with authors, take some pictures, have some fun, and of course… buy some books!
This signing mixer will take place on Saturday, April 4, 2020, at the Lumiere Palace atrium in St. Louis, Missouri  from 11am to 4pm. There is parking on-site.
The cost to attend the event is $20, which includes a (very cute) tee shirt, a tote bag to carry your books, and other swag! You'll also be eligible for giveaways of some very nice prizes.
Featured Authors: AC Taylor, Anita Davis, Alexandra Warren, Alexandria House, Bailey West, Bianca Xaviera, Bria Felicien, Briann Danae, Chelsea Maria, Christina C. Jones, Love Belvin, Nicole Falls, Phyllis Bourne, Sherelle Green. Te Russ
---
Romance Slam Jam
May 28–30, 2020
Norfolk, Virginia
https://rsjconvention.com/
Romance Slam Jam is celebrating 25 years. Harlequin and Entangled Publishing will be taking pitches, facilitating workshops, and serving on panels along with other industry professionals such as STCC Book Club, The Write DNA, Success Blossoms, and a growing list of authors.
Featured Authors: Stephanie Morris, Saharra K. Sandhu, Moni Boyce, Xan Tucker, Tina Martin, Bridget Midway, Fedelia Dawn, Xyler Turner, Maureen Anderson, Raynetta Manees, Roe Braddy, Shirley Hailstock, Ashley Hence, and keynote speaker, Celeste O. Norfleet.
---
Austin African American Book Festival
Austin, Texas
June 20, 2020
https://www.aaabookfest.org/
Held at the Carver Library and Museum, the annual Austin African American Book Festival promotes literature, reading and writing within the African American community. Focusing on authors and cultural leaders who have been influenced by African American literature, the event includes a keynote address, local author showcases and author interviews and discussions.
Featured Author: Kimberla Lawson Roby
---
Indie Love 2020
June 27, 2020
11 a.m. to 4 p.m.
Crowne Plaza New Orleans Airport
https://www.indielovee.com/
This epic literary event brings together authors and readers for the ultimate reading experience.
Featured Authors: Aja, Alexandria House, Alexandra Warren, Bailey West, Bianca Xaviera, Chelsea Maria, Christina C. Jones, Diana W., Farrah Rochon, Love Belvin, Nako, Sabrina B. Scales, Roy Glenn
---
National Book Club Conference
July 31 to August 2, 2020
Marriott Buckhead Atlanta
http://www.nationalbookclubconference.com/
National Book Club Conference Foundation, Inc., is a literary organization founded by author Curtis Bunn that executes one of the premier annual literary events—referred to as Literary Bliss—featuring African-American authors and readers. Hundreds of book lovers receive unprecedented, intimate access to the talent that creates the work they enjoy and appreciate.
The NBCC celebrates its 18th anniversary event at the Marriott Buckhead Hotel and Conference Center in Atlanta, July 31-August 2, 2020. Since its inception, some of the most famous and talented authors have been a part of what the NBCC calls "Literary Bliss," including Alice Walker, Walter Mosley, Terry McMillan, Iyanla Vanzant, Susan L. Taylor, Bryan Stevenson, Pearl Cleage, Michael Eric Dyson, Hill Harper, Dr. Cornel West, Tavis Smiley, Roland S. Martin, Terrie M. Williams, Tyrese Gibson, Zane, Hill Harper, Eric Jerome Dickey, Kimberla Lawson Roby, Judge Glenda Hatchette, Victoria Rowell and Stephen L. Carter, among others, including the late E. Lynn Harris, Walter Dean Myers, Bebe Moore Campbell, Francis Ray and J. California Cooper.
Important to the NBCC, however, is to introduce new or lesser-known authors that have created stories that are entertaining, informative and important.
The annual weekend, which is almost a spiritual occasion, consists of numerous book club meetings, panel discussions and other events that give readers face time with authors that rivals any literary occasion anywhere, in a fun, relaxed and intimate setting. The NBCC is where readers from across the country come together and depart friends.
Featured Authors: Tina Lifford, Eric Jerome Dickey, Leonard Pitts Jr., Cupcake Brown, Daniel Black, Kalisha Buckhanon, Tananarive Due, Donna Hill, Blacc Topp, Virginia DeBerry and Donna Grant, J.D. Mason, Mary B. Morrison, Kiese Laymon, Joan Vassar, Karla FC Holloway, Monyetta Shaw, Curtis Bunn, Akiba Solomon and Kenrya Rankin, Denene Millner, Lauren Francis-Sharma, Pat Tucker Wilson
---
Lights! Camera! Action! 2020
August 21 and 22, 2020
Raleigh, North Carolina
https://www.readyoulater.biz/lights-camera-action-2020.html
The theme of #LCA20 is We Are Family. #LCA20 will pay honor to the legendary Francis Ray. We will have several activities in her honor. In her honor Ressie Luck-Brimmerwill take us on a a journey on how to find our roots. Vanessa Riley will have a Regency Spade & Bid Whist Tournament. You will have the opportunity to get crafty with Deborah Mello and make an heritage keepsake. Iris Bolling and Siri Austin Entertainment will keep you amused with an espionage escape table with some of your favorite book characters. We will have a black and white informal day party/book signing with desserts and other treats. A from worrier to warrior panel, with the dynamic Colette Harrell and others. Sister, it is your money and your time workshop with Joyce Lavern Mayo, and other awesome panels with authors and readers. Oh, you will also get to listen to some of your favorite jams at the decades party. Dress in attire from any decade that suits your mood.
Featured Authors: Danielle Allen, A.C. Arthur, Iris Bolling, E.J. Brock, Sharon C. Cooper, Stacy Covington-Lee, Deidra D.S. Green, S.K. Hardy, Linda Leigh Hargrove, Piper G. Huguley, Denise Jeffries, Terri Johnson, Erica Knowles, Sierra London, L. Loren, B. Love, Reana Malori, Tina Martin, Casandra McLaughlin, Deborah Mello, Angelia Vernon Menchan, Erica Nicole, Stephanie Nicole Norris, Suzetta Perkins, Vanessa Miller Pierce, Marlee Rae, Michelle Ray, Vanessa Riley, Mz. Robinson, Farrah Rochon, Kennedy Ryan, Reese Ryan, Sabrina Biven, Scales, Jacquelin Thomas, Xyla Turner, Denise Walker, Loretta Wall, Altonya Washington, Bailey West
---
Chicago Urban Book Expo
August 29, 2020
3850 S. Wabash, Chicago, IL 60653
2 p.m. to 6 p.m.
https://www.chicagourbanbookexpo.com/info
The Chicago Urban Book Expo was started by national bestselling author, Jessica N. Watkins, in 2015. Since, this book festival has grown into the largest in the Chicago-land area featuring African-American authors. Readers attend from across the country to meet some of their favorite authors of African-American literature! Free to all readers, the atmosphere is fun, with a soundtrack by the hottest djs in Chicago, and lively, fueled by tasty libations.
Featured Authors: Jessica N. Watkins, K. Alex Walker, Anna Black, Stephanie Nicole Brewer, and 30 additional authors
---
Black Authors and Readers Rock Literary Conference
October 2–3, 2020
Oxon Hill, Maryland
The Black Authors and Readers Rock Literary Conference was started in 2012 by literary event planner Sharon Lucas.
This year's keynote speaker is Bernice McFadden,  the author of The Book of Harlan (winner of the 2017 American Book Award and the 2017 NAACP Image Award for Outstanding Literary Work.) McFadden, Professor of Practice in Creative Writing at Tulane University in New Orleans, will also present a 90-minute workshop on Creative Writing (seating is limited).
This year's BARR Literary Icon is Kimberla Lawson Roby, the New York Times and USA Today bestselling author and speaker of 27 books, which include her popular Reverend Curtis Black series.
---
Calvacade of Authors
Atlantis Resorts in Paradise Island, Bahamas
October 9–11, 2020
https://naleighnakai.com/cavalcade-of-authors
Three days, two nights, meals, five author events (readings, meet and greet, late night chats, one main event on Saturday.
Featured Authors: Brenda Jackson, Mary Monroe, J.D. Mason, Naleighna Kai, Pat G'Orge-Walker, J.L. Campbell, Shakir Rashaan, Lisa Watson, MarZe Scott, Michelle D. Rayford, Terri Ann Johnson, Sierra Kay, London St. Charles, Anna Black, Nakia Lashaul
---
CBLR Retreat
October 22–25, 2020
http://www.christianbookloversretreat.com/
Inspired by national and Essence bestselling author Vanessa Miller, the Christian Book Lover's Retreat is more than a book event. It's a refreshing respite to recharge readers who enjoy Christian books: inspirational, fiction and non-fiction. The Christian Book Lover's Retreat is built on the principles of Faith. Fun. Fellowship… and a whole lot of books. With this in mind we bring our attendees faith-filled events such as the Prayer Journey, Morning Glory and praise and worship. For fun we will be having a Gospelfest, pajama party, book release parties, gameshows, a pampering session and so much more… You will have the time of your life at the 2020 CBLR as you enjoy our many events and fellowship with other attendees.
Authors scheduled to attend: Vanessa Miller Pierce, Pat Simmons, Rhonda McKnight, Vanessa Riley, Jacquelin Thomas, LaDonna McCann, Michelle Chavis, Linda Hargrove, Kendra Norman Holmes, Michelle Watson, Joy Massenburge, Nicole Smith, Thea Casey, Michelle Stimpson