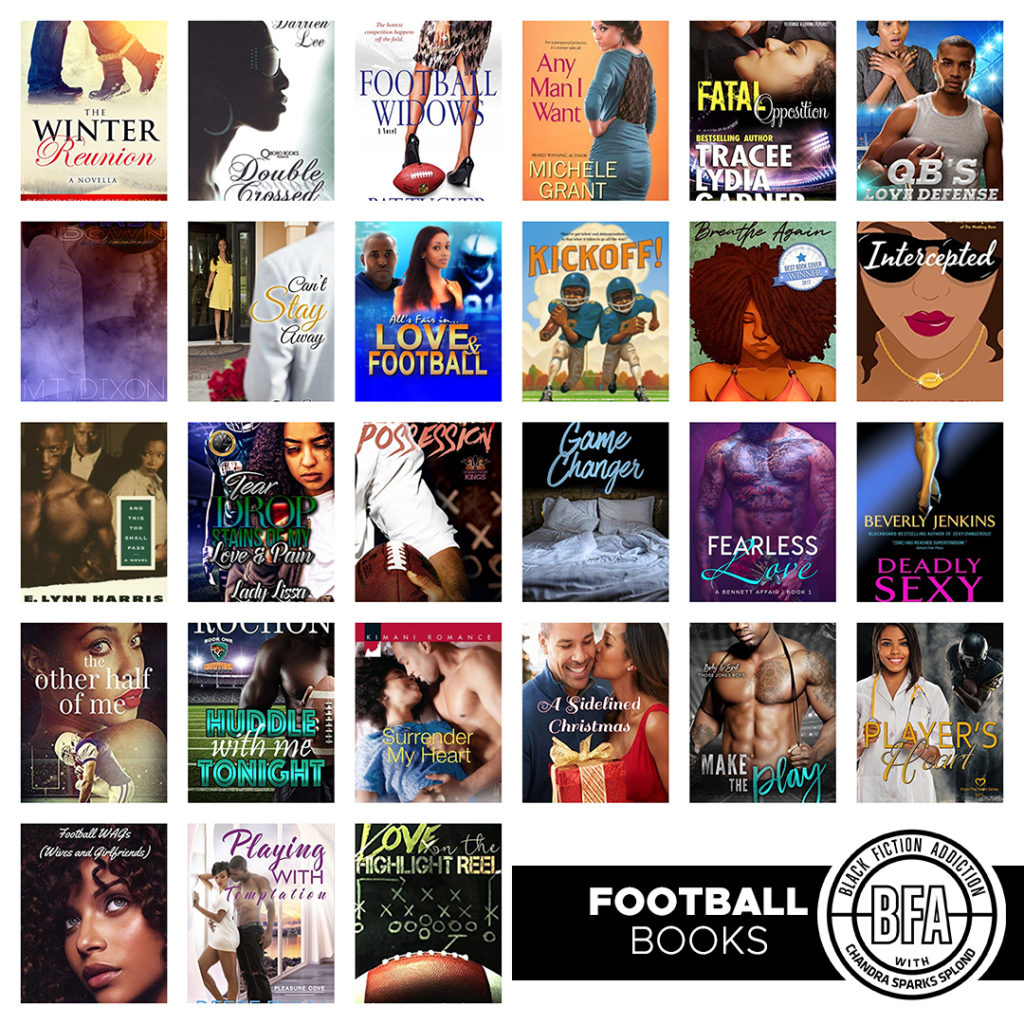 The Super Bowl is happening next week. If you're anything like me, that means…absolutely nothing. I've never been a sports fan, but give me a book about sports and some good food, and I'm there for it. If you're looking for a good read to get you in the football mood or for some reading to enjoy while you're at a football party, check out these reads for readers of all ages and fans of all genres.
YA/CHILDREN'S
Settle Down/Be Real flip book by Stephanie Perry Moore
Settle Down: Eva Blount is a salty girl with a bad rep and attitude to spare. Everyone knows not to mess with her. She speaks her mind. She does her thing. She holds her own. Guys, in her opinion, are good for just a few things: a free meal, some quick cash, and a good feeling. But one guy takes it too far. Be Real: Landon King was born with a silver spoon: he has talent, smarts, and looks to spare, so why does the star wide receiver feel the desperate need to fit in with thugs and lowlifes?
Prime Choice by Stephanie Perry Moore
Torn between his desire for sex and his desire to please God, Perry Skky Jr. needs some guidance–before he lets down both himself and the Lord. . .
End Zone by Tiki and Ronde Barber
Tiki and Ronde are ready to end junior high with a win—a big win! Their dream is to see their team in the championship, and with the Hidden Valley Eagles' undefeated season, their chances are strong. Will the team let an injury keep them from the championship? Or can they learn to work together to bring home a win?
Goal Line by Tikii and Ronde Barber
Tiki would prefer to make his mark on the field—and with the Eagles starting 4-0 and a perfect season in sight, he'll have to put a lid on his advice column and concentrate on football.
Red Zone by Tiki and Ronde Barber
The Hidden Valley Eagles are on track to make the playoffs. Full of focus and determination, every player is at his best, and the team is working better together than ever before. But when a bout of chicken pox threatens to overtake the team, will their playoff dreams disappear?
Wild Card by Tiki and Ronde Barber
The eighth-grade season couldn't be going better for the Barbers' team, the Hidden Valley Eagles. Everything is off to a strong start—until one of the key players on the team is benched for academic probation.
Go Long by Tiki and Ronde Barber
Tiki and Ronde were the stars of their Pee Wee football team, the Cave Springs Vikings. But middle school is much bigger than elementary school and it's a whole different game—on and off the field.
Kickoff! By Tiki and Ronde Barber
Junior high is a lot bigger than elementary school. The competition for starting spots is stiff, and seniority rules. If Tiki and Ronde make it past tryouts and cuts, will they get the chance to play, or will they have to spend the season watching from the bench with the other seventh graders?
---
Romance
Huddle with Me Tonight (New York Sabers #1) by Farrah Rochon
Entertainment columnist Paige Turner is known for getting under the skin of the people whose books she reviews on her popular blog. When her criticism of NFL standout Torrian Smallwood's cookbook/memoir goes viral, it sparks an online war between the city's most beloved blogger and one of football's hottest stars.
I'll Catch You (New York Sabers #2) by Farrah Rochon
Since his rookie season, Cedric Reeves has proudly worn the title of the NFL's Bad Boy. But when his agent drops him at a critical time in his young football career, the league's favorite troublemaker finds himself in more trouble than he bargained for. Cedric must find a new agent before his contract comes up for renegotiation at the end of the year, and it looks as if his only hope is…Payton Mosely.
Field of Pleasure (New York Sabers #3) by Farrah Rochon
Jared Dawson is used to taking big hits on the football field, but nothing could have prepared the New York Sabers star cornerback for the blow he experiences when he catches his long-time girlfriend cheating with an ex-teammate. When he meets the stunning new choreographer for the team's dance squad, Jared thinks Chyna McCrea may be just the kind of distraction he's looking for.
Pleasure Rush (New York Sabers #4) by Farrah Rochon
Former New York Saber Thelonious Stokes still isn't used to being on the sideline. But that's exactly where the ex-linebacker finds himself while covering the Pro Bowl in his new gig as an analyst for Sports Talk TV. Theo always anticipates a few surprises during the annual gathering of the NFL's finest, but there's nothing more shocking—or alluring—than Deirdre Smallwood's blatant attempt at seduction.
Deadly Sexy by Beverly Jenkins
Jessi Teresa Blake is one of the toughest sports agents around. She's negotiated megabucks contracts for every superstar in the business, and only the most confident of men can match wits with her. Men like Reese Anthony, the impossibly sexy trucker who gives her a lift back to Oakland.
A Player's Heart by Vivian Rose Lee
Yazair Bryant knew the minute the wisecracking and bossy doctor Zoey Howard barged into his life it would be forever changed. One thing he didn't expect was her invading his heart.
Playing with Temptation by Reese Ryan
North Carolina pro footballer Nate Johnston's career is on the line when a compromising video goes viral. In need of a miracle, the star wide receiver feels ambushed when his brother enlists Kendra Williams, media consultant and the woman he once thought he'd spend forever with, to do damage control.
Still Loving You by Sheryl Lister
Malcolm Gray is Lauren Emerson's biggest regret. Now a career-making opportunity brings the nutrition entrepreneur home, where she hopes to declare a truce with her ex-love, the star running back of the Los Angeles Cobras.
Surrender My Heart by Kayla Perrin
Local football celebrity Michael Jones is organizing a gala affair with Natalie Hart. And the sexy jock has made it crystal clear he'd like to kick off with seduction. But can Natalie let down her guard and fall for another professional athlete?
---
Fiction
Make the Play by Jamie Wesley
In the first book of the Those Jones Boys series, after signing a contract with his hometown team that made him the league's highest paid wide receiver, Carter Jones thought life couldn't get any sweeter. When he meets the beautiful real estate agent Gabby Stephens, he knows things are looking up–even if she wants nothing to do with him.
Double Crossed by Darrien Lee
Philadelphia Eagles coach Damon Kilpatrick is one of the city's most eligible and sought-after bachelors.  He meets the beautiful and sexy corporate executive Nichole Adams at a family event hosted by mutual friends.  Mesmerized by Nichole's knowledge of sports and sense of humor, Damon recognizes that she could be the one to finally make his life complete. However, all hope is lost when he finds out that Nichole is already in a relationship.
Game Changer by N.V. Promise
Everyone has an end goal, but not everyone can get what they want. Even with the best laid plans, it only takes one Game Changer… and then all bets are off.
Tear Drop Stains of My Love and Pain by Lady Lissa and Jacori
In the first of a series, Compton Cheerleader Destiny Hargrove has it all; a loving family, popularity at her school, and a bright future ahead of her. What happens when Destiny falls head over heels for hot headed football player, Jayden Roberts?
Can't Stay Away by Tesa Erven
Sabrina's longtime NFL boyfriend, Derrick St. Jermaine, finds himself involved in a scandal that has negatively affected the both of them. Desperate for help, Derrick seeks assistance from an unlikely source who may have their own agenda.
And This Too Shall Pass by E. Lynn Harris
Harris takes us into the locker rooms and newsrooms of Chicago, where four lives intersect in romance and scandal.
First Down by M.T. Dixon
Skye Johnson navigated through undergrad with her head on her shoulders, thriving in her studies, and focused on her ultimate goal—graduate on time and land a good job in the sports industry. That all changed her sophomore year when she was paired up with star football player, Vonte Curtis.
Fearless Love (Bennett Affair #1) by Donnia Marie
Sean B was once a professional football player but an injury ended his career. He has the money, fame, and Chelsea, who he considers as one of his best friends. Though they've been platonic friends for six years, there's something brewing in Sean that he can't seem to tame.
Unjust Love (A Bennett Affair #2) by Donnia Marie
Benji and Riana think they have things figured out until heartbreak shatters each of them leaving no choice but to rebuild themselves. But will they rebuild together?
Football Widows by Pat Tucker
A glimpse into the secret and unique lives of the women behind NFL coaches—game day takes on a whole new meaning as these lonely women turn up the heat off the field.
Sideline Scandals by Pat Tucker
The game's afoot once again in this sizzling sequel to Football Widows, with new members and new drama, courtesy of the women behind the NFL's biggest stars, and play is getting dirty on and off the field…
Intercepted (The Playbook #1) by Alexa Martin
Marlee thought she scored the man of her dreams only to be scorched by a bad breakup. But there's a new player on the horizon, and he's in a league of his own…
Fumbled (The Playbook #2) by Alexa Martin
A second chance doesn't guarantee a touchdown in this contemporary romance from the author of Intercepted.
Blitzed (The Playbook #3) by Alexa Martin
Maxwell Lewis has to make the play of his life in order to breach the woman of his dream's defenses.
Any Man I Want by Michele Grant
The only man Katrina Montgomery is really drawn to is the one she can't control: former pro footballer, notorious player, and family friend, Carter Evan Parks.
The Other Half of Me by D.M. Mortimer
Jasmine Blackman knows better than to fall in love with a professional athlete. Growing up with four brothers in the profession, she knows their player ways, so she has no excuse for falling for bad boy Seth Harjo, star quarterback of the Dallas Cowboys.
Love in the Red Zone (Connecticut Kings #1) by Love Belvin
Meet Trent Bailey, who is fighting for the right to continue his stellar professional football career after enduring striking legal woes in the recent past. Trent cannot and will not blow his second chance for anyone; after all, this is the blessing he's been praying for. After receiving confirmation that staying focused is all he needs, it's what he aims to do. No distractions. That's until he bumps into two unexpected overnight guests.
Love on the Highlight Reel (Connecticut Kings #2) by Christina C. Jones
Jordan Johnson is a man under pressure—from his teammates, fans, family, and the one person who wants to see him succeed as badly as he wants it for himself. He'll do whatever he has to in order to not let anyone down… and maybe find an unanticipated connection along the way.
Determining Possession (Connecticut Kings #3) by Christina C. Jones
Wil and Ramsey have enough stress on their hands, but they have to make a choice—continue their friendship as it was before, or risk it all for the possibility of something amazing?
End Zone Love (Connecticut Kings #4) by Love Belvin
The Baileys survived the red zone, that place where failure is unlikely, but still possible. But with old cast members resurfacing, can their secure love prove successful in this new position on the field?
Love's Ineligible Receiver (Connecticut Kings #5) by Love Belvin
Rut is a black, educated, and self-made man. He has no kids, and was rich and established before draft night. The odds are stacked against him, but he'll show them all. They'll understand his name before it's all said and done.
Pass Interference (Connecticut Kings #6) by Christina C. Jones
Sloane is here for a reason, and Nate Richardson isn't one of them… except, he won't let her relegate him to a non-factor.
Breathe Again by Adrienne Thompson
The moment NFL star, Malachi Douglass, lays eyes on Maria Brown, he knows she's the woman he's been praying for and embarks on a journey to tear down her walls and make his home in her heart. Maria's become accustomed to suffocating within the boundaries of her small life. Maybe Malachi is just what she needs in order to learn how to breathe again.
---
Christian Fiction
Whatever May Come by Tracee Lydia Garner
Schoolteacher Tisha Jameson flees her Virginia hometown to start afresh in Macon, Georgia. Although she hadn't planned on falling in love with former pro football player Chase Alton, Chase's son Thomas is determined to get them together somehow. Before long, the pair come to realize they are unable to resist one another and Chase will discover what a caring mother figure Tish can be for his son. But when Tish finds out that the danger she thought she'd outrun for good has followed her across state lines, Chase and Tish find out what love really means.
Fatal Opposition by Tracee Lydia Garner
Cashell Bruer has lived a sheltered life. When she meets handsome NFL rookie James Parker on her birthday, she's smitten. With him, she can truly begin to live. But will he want her when he discovers she has a heart condition?
The Winter Reunion (Restoration #1) by Rhonda McKnight
NFL Running Back Stephen Pierce is football's darling. He's spent his entire career doing community service work with at-risk kids, and endeared fans as a devoted Christian, even claiming celibacy. It's time for his high school reunion. Stephen is determined to get his ex, Tamar, to come out of hiding.
The Winter Wedding (Restoration #2) by Rhonda McKnight
When a tragedy happens, Stephen Pierce is challenged in ways he never expected. Will he stand strong in the face of adversity, or will a crisis of faith reveal who he really is to himself and his fans?
A Sidelined Christmas by Toni Shiloh
Sidelined with a career-ending injury, wide receiver Jahleel Walker is forced to return to his hometown of Peachwood Bay, Georgia, to heal. Nothing shocks him more than running into his high-school sweetheart, Lucille "Bebe" Gordon.
---
Short Reads
QB's Love Defense by Saniya Coates
Keisha is a laser-focused African American college student at Georgia Southwest, whose only dream is to be an athletic trainer for a professional sports team. After undergoing a bad break up with her boyfriend of four years, she feels completely unwillingly to dive back into the dating world. That is, until she meets Trey, the college's new quarterback.
Football WAGs by Danielle Griffin
In the first of a series, Football WAGs (Wives and Girlfriends) capture the lives of five frenemies: Alicia, Jada, Lisa, Erica, Jasmine, and their boyfriends who are all fighting to get to the top. In this tale of backstabbing and betrayal no one can be trusted.
All's Fair in Love and Football by Desean Rambo
In the first of a series, Michael has walked away from a corporate life in New York City to come back to Atlanta and pick up where he left off with Chelle. But with one of the youngest and richest football players having the apple of her eye, how can he change her mind?