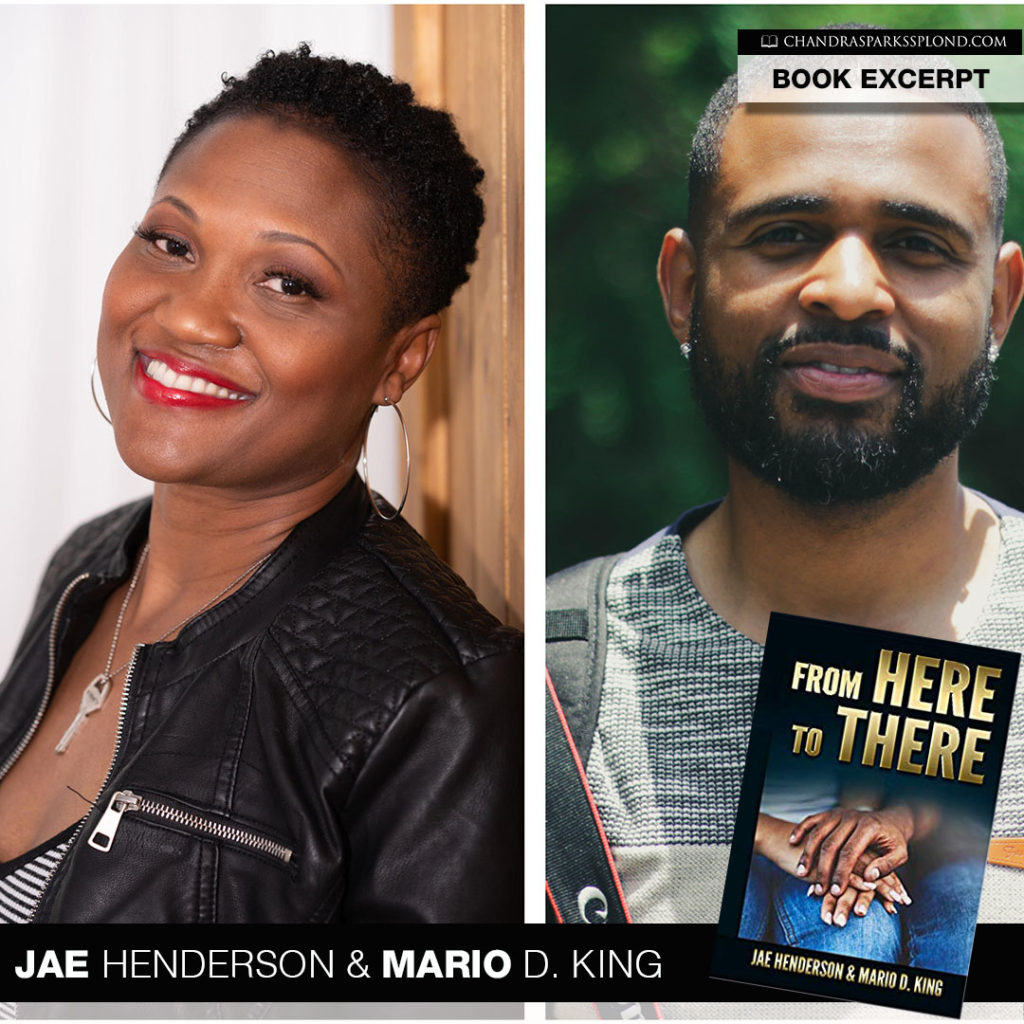 Writing duo Jae Henderson and Mario D. King are visiting today to share an excerpt from their latest release from Here to There. Enjoy!
"PUSH!! BREATHE! We're almost there!" said the doctor. My OBGYN, Dr. Sales, couldn't get here in time, so there's some man I have never met…guiding me and my little one. He sounded like a drill sergeant as he forcefully instructed me on how to bring life into the world at a time when all I wanted to do was die.
I was in no shape to be delivering a baby, and the love of my life was in another part of the hospital fighting for his life. And now I'm here pushing and breathing for dear life without him. I didn't mean to upset Marcus. I just wanted to see my man, my baby daddy, the man I wanted to spend the rest of my life with. It didn't help that as they rolled me out, I saw Chanel, his other baby momma, standing outside the door. I wanted to roll that wheelchair right over her foot and kick her in the shin. I knew the only person that could have told her was Jackson; that man is so conniving. He had the nerve to offer to be in the delivery room with me. No way!
I silently prayed while I pushed. Father God, please let Marcus be okay. Neither one of us has been perfect, but we are just starting to get it right. Have mercy on him. Have mercy on me.
"You're doing just fine, Natalie . . . NOW, PUSH!!" the doctor instructed.
I bore down as hard as I could and gave a thrust to the lower half of my abdomen. I couldn't really feel the lower half of my body thanks to the epidural, but sweat was continuously rolling off the upper half.
"Now, one more big one should do it! PUUUUUUUUUSH!" the doctor shouted.
I let out a sound that was a mixture of a grunt and a scream as I did as I was instructed. A few seconds later, he said, "Here—" then the doctor cut his sentence short.
I knew immediately that something was wrong, and I didn't hear any crying. There should be crying… Shouldn't there? I looked up at Mrs. Colbert. She hadn't said much. I knew she was mad at me for upsetting Marcus, but at least she was there. Even in her anger, she hadn't abandoned me in my time of need. She used her warm hands to give me reassuring touches the entire time, and now she gave me a forced smile as she wiped the sweat from my brow with a damp cloth. I opened my mouth to ask her what was wrong, but I suddenly felt tightness in my chest, as if someone had their fist wrapped around my heart. She looked in the direction of the doctor and stopped. Her stoic smile disappeared, and her face now held great concern.
"Code Blue. She's going into cardiac arrest!" I heard the doctor say.
"Stay with me, Natalie," said Mrs. Colbert. She said something else after that, but it was low and garbled. The kind, old woman was standing right next to me, but she sounded far away.
Out of nowhere came a blinding bright light. Then, in the glow appeared the glorious figure of a man. I couldn't quite recognize him, but the silhouette appeared to be that of…Marcus? It can't be.
Did I just die?
Is he dead?
Lord, help!
---
Jae Henderson
After embracing careers as a radio talk show host, marketing and media professional, and voice-over artist, Jae Henderson decided to add inspirational author to her roles. She first displayed her witty way with words and keen insight into the human emotion through her inspirational romance trilogy: Someday, Someday, Too, and Forever and a Day. Her other releases are Things Every Good Woman Should Know, Volume 1 and 2 and Where Do We Go From Here I & II, which she co-authored with Mario D. King. Her latest book, Husband Wanted, explores the many ways people are using to find love while delivering hilarious laughs. Jae's entertaining tales about the astounding power of love and God's ability to care for us in the midst of life's storms have been warmly received by readers.
Jae Henderson is a graduate of The University of Memphis where she earned a BA in Communications and an MA in English. She is the former host and producer of On Point, a once-popular radio talk show geared toward youth and young adults served as a contributing writer for the award-winning, syndicated Tom Joyner Morning Show. Other accomplishments include being a professional voice-over artist with commercials for McDonald's, Regions Bank, Fred's, Kroger and many others. Jae has even used her oratory skills as an engaging and effective speaker to motivate others to make wise choices and live their best life. When Jae isn't writing, speaking, or volunteering, she works as a public relations/media specialist. She currently resides in her hometown of Memphis, Tennessee.
Be sure to read Jae Henderson's other great books and visit her at www.jaehendersonauthor.com or jaehendersonaonline.com.
---
Mario D.King
Mario D. King, born in Memphis, Tennessee, is the author of several books about the complexities of everyday life, including The Crisis Before Midlife, Where Do We Go From Here I (co-author) and Where Do We Go From Here II (co-author). Mario currently lives in North Carolina with his wife and children. Low Reign is the first of three works that he will publish in 2019. Follow @MarioDKing on Instagram and Twitter or visit www.mariodking.com.
---
Use my affiliate link to purchase your copy of From Here To There.