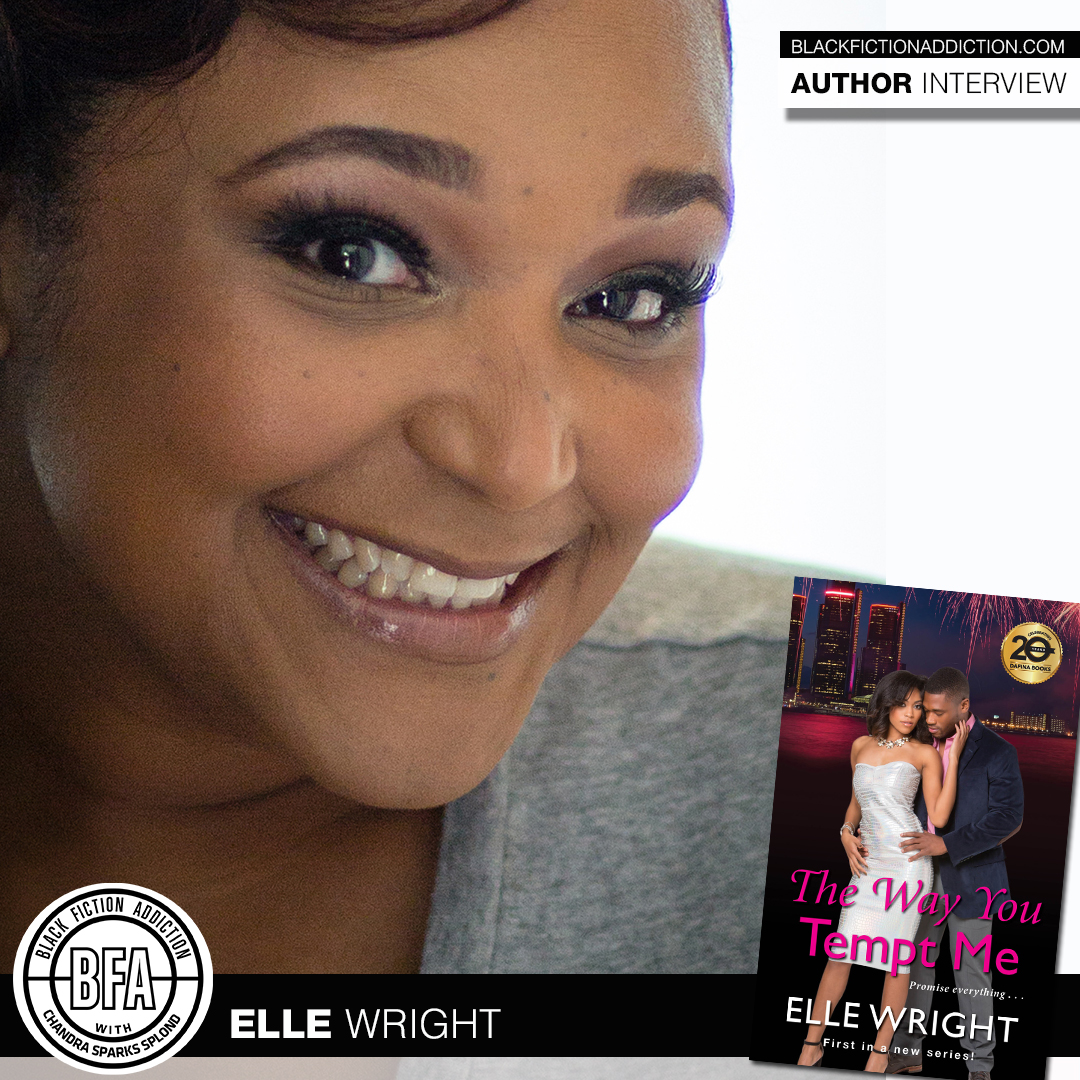 Author Elle Wright is back with the first book in a new series, and she's stopping by Black Fiction Addiction to tempt readers with all the details.

Tell me about your latest book.
The Way You Tempt Me kicks off my Pure Talent Series. I'm so excited about these characters and this world.
Xavier Starks has worked hard to prove he has what it takes to be a leader at his father's company, Pure Talent Agency. But his hopes of spearheading a new endeavor are doused when the girl next door, who is most definitely a woman now, joins the agency with every intention of taking his job.
Readers will remember sports agent Zara Reid from The Closing Bid. She's not just another pretty face. She's beautiful, talented, ambitious, and has a reputation for taking good care of her clients. Launching a new sports division at Pure Talent Agency is the opportunity of a lifetime, and she's going to make sure she lands the job—even if it puts her and one of her closest friends at odds.
Why did you decide to write it?
When I wrote The Closing Bid, I fell in love with Zara's character and the relationship she had with her client, who is the hero of that novella. Those tiny scenes made me smile, and I found myself intrigued by the life of a sports/talent agent.
Pure Talent Agency came to me shortly after. I wanted to create a talent agency committed to its mission of creating opportunities for people of color, while at the same time maintaining integrity and excellence in every endeavor.
Of course, I love a good friends-to-lovers story, and this fit the bill in spades!!! Xavier and Zara are childhood friends. They grew up together, they've lived their lives in each other's orbit. They know each other, which is an important theme throughout the entire series. It was fun to see them segue to more-than-friends.
Who is your favorite character in the book and why?
I'd have to say my FAVE character is Xavier, or X. Not only is he hot, but he's smart and giving and sexy and protective. I fell hard for him. When I think about all of my heroes, he's in the Top 5 easily. Very close to #1.
What was the hardest part about writing the story?
I loved writing this novel. The characters came to life for me. The secondary characters cracked me up, and the story flowed easily. So I guess the hardest part about writing Tempt Me was not being able to include everything I wanted in the final draft.
There's a rich history between the core families in the book—The Starks, The Reids, and The Youngs. I introduced the Young family in my novella, Her Little Secret, and Duke Young plays an extremely important role in this book as X's best friend. He's my second favorite character in the book. Actually, all of them are favorites of mine. So funny, so loyal, so real. This group of friends made my year!  Honestly. I didn't want it to end.
If you were to write a book about your life, what would be the title and why?
That's easy. Today, I Have No Regrets. I came up with the title in college when I realized that I probably wouldn't write a book about myself until I was at the "no regrets" stage of life.
What is something readers would be surprised to know about you?
I'm actually a pretty shy person. I'm totally comfortable behind the scenes. I have to psych myself out to become Elle Wright.
Tell me about a book that changed your life and why.
If you know me, then you know my answer. One word. Indigo.
Beverly Jenkins changed my life with that one book. I was at a pretty crazy point in my life, and that book pulled me in and held me until I finished it. I will forever be grateful to her for sparking my love of romance—and giving me a healthy dose of history in the process.
What's next for you?
Ooo, so much. LOL
The next two novels in the Pure Talent Series will release in the coming months. I also have several indie projects in the works that I can't wait to announce. I'm also thinking of writing a YA novel with my daughter, so I'm excited.
Do you have anything you would like to add?
I'm so grateful for this journey, for meeting so many wonderful authors and readers. I can't thank #TeamElle enough for rocking with me!
Thank you, Chandra, for the opportunity! I appreciate you!
And…stay tuned.
---
Use Black Fiction Addiction's affiliate links to purchase The Way You Tempt Me and the other books mentioned in this post.