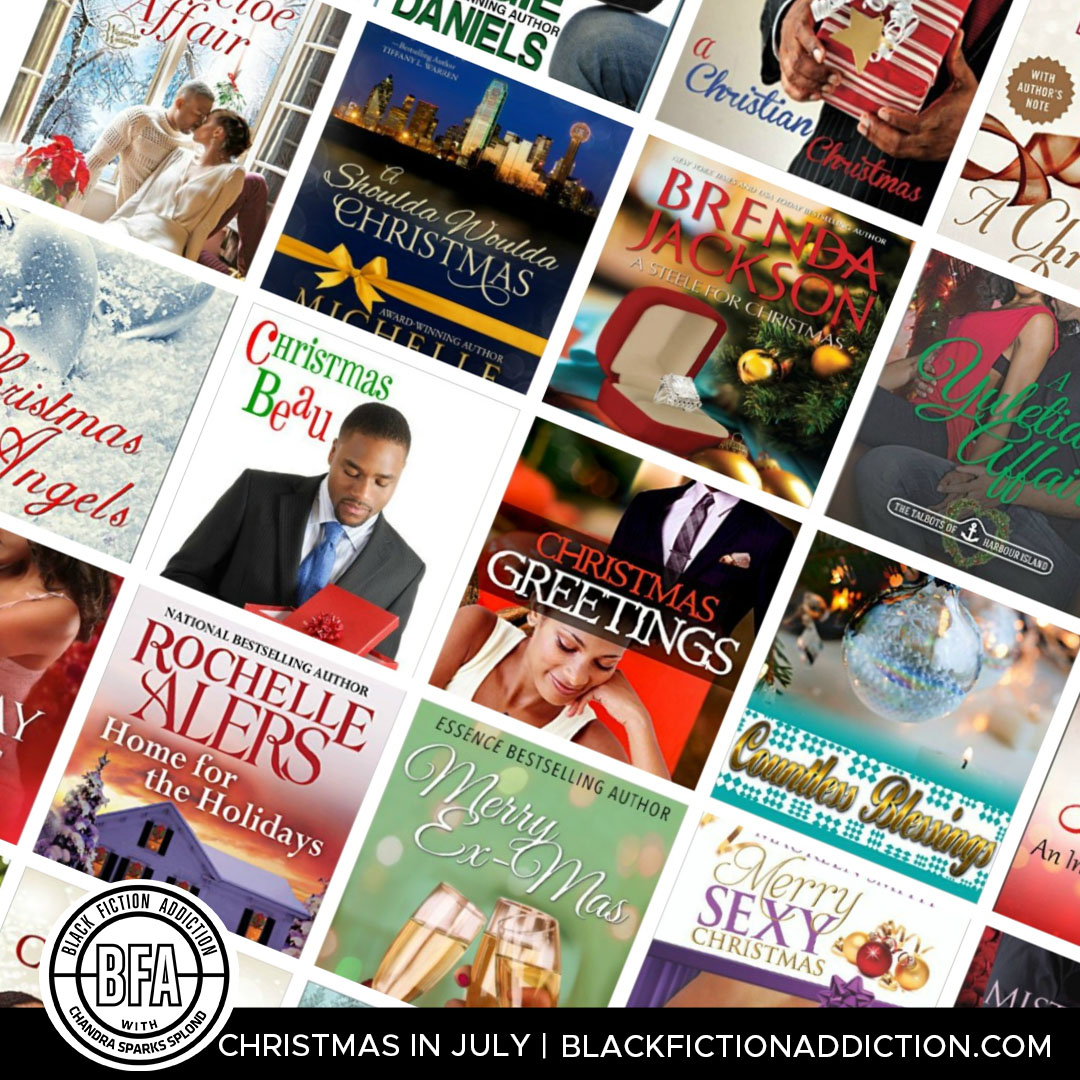 Christmas is my favorite holiday. Not only is it a time for family and good food, but there are also lots of great reads. With the state of the world right now, I thought we could all use a dose of Christmas cheer, so help me celebrate Christmas in July.
Please note this post contains affiliate links.
A Baby for Christmas
Pat Simmons
In order to win Solae Wyatt-Palmer back, fire captain Hershel Kavanaugh must resolve some past issues before convincing her she possesses everything he wants.
A Beau for Christmas
Angie Daniels
When Reese Beaumont visits Sheraton Beach for the holidays, Dominique Wellington gives in to temptation with the hopes of getting him out of her system.
A Christian Christmas
Pat Simmons
Christmas will never be the same for Joy Knight if Christian Andersen has his way.
A Christmas Prayer
Kimberla Lawson Roby
With her wedding fast approaching, Alexis Fletcher might be ready to make some holiday memories with a new family of her own.
A Mistletoe Affair
Farrah Rochon
Floral designer Vicki Ahlfors falls for her best friend's divorced brother, attorney-turned- political strategist Jordan Woolcott.
A Steele for Christmas
Brenda Jackson
Can heartbreaker Eli Steele turn his strictly business arrangement with Stacy Carlson into a Christmas filled with pleasure…and lasting love?
A Woulda Shoulda Christmas
Michelle Stimpson
After being fired twice in the same day, Chaka Stringer wonders how much worse her life can get—until she gets a shot at a passionate relationship with her high school crush.
A Yuletide Affair
Monica Richardson
Alyson Talbot returns home to plan her sister's Christmas wedding and finds an unexpected distraction in Samson Steel.
California Christmas Dreams
JM Jeffries
Can financial adviser Jake Walters come up with a loving plan that keeps the magic going with former child star Meredith Alcott past the holidays?
Christmas Angels
Tia McCollors
Atlanta's snowstorm is the perfect opportunity for Anisha Blake-Randall to plan some Christmas love with her husband, Tyson—until he shows up with a pair of surprises.
Christmas Beau
Norma Jarrett
Haven Powell issues Santa and God a challenge—to deliver her "plus one" by 11:59 p.m. December 31.
Christmas Greetings
Pat Simmons
Saige Carter loves everything about Christmas and Daniel Washington would rather skip the holiday altogether—until he reads one of Saige's Christmas cards.
Countless Blessings
Vanessa Davis Griggs
How can one of the best days of her life so quickly turn into one of the worst days of sixteen-year-old Princess Rose's life?
Give a Little Love
Rhonda McKnight
Brooke Jordan thought her Christmas was going to be boring—until she meets charming Marcus Thompson.
Holiday Hearts
AC Arthur
Keysa Donovan refuses to celebrate Christmas or to let herself fall in love— until sexy coworker Ian Sanchez catches her off guard with old holiday movies and kisses.
Home for the Holidays
Rochelle Alers
As the holiday approaches, Iris Nelson looks forward to spending it with her best friend's family . . . and their very handsome visitor.
Loving Luke
Cecelia Dowdy
Luke Barnes has hurt Kim Taylor once. Can she find the courage to trust him again?
Merry Ex-Mas
Victoria Christopher Murray
The exes of Sheridan, Kendall and Asia are back for Christmas, and the holiday season is flipped upside down.
Merry Sexy Christmas
Beverly Jenkins, Kayla Perrin and Maureen Smith
Have yourself a sexy little holiday with these three stories.
Mistletoe, Baby
Donna Hill
Alexis Montgomery's rendezvous with Graham Stone has an unexpected consequence during the holidays—one that could make them never want to walk away from each other.
My Only Christmas Wish
JM Jeffries
Store owner Eli Austin doesn't count on the irresistible urge to unwrap Darcy Bennett like a holiday surprise.
Naughtier than Nice
Eric Jerome Dickey
In this highly anticipated sequel, readers find out what happens on the other side of the fairy tale for the McBroom sisters.
Praise for Christmas
Vanessa Miller
A new baby, a wedding and an unexpected illness all collide to make this Christmas one the Marshall-Thomas family will never forget.
Rain for Christmas
Vanessa Miller
Five years ago, Donavan Walker lost the love of his life, but this Christmas he just may get it back.
The Christmas Promise
Sean D. Young
A chance encounter offers Simeon Baker a second opportunity to make this a Christmas to remember, if Jennifer McClendon will trust him enough to say yes…
The Christmas Ultimatum
Unoma Nwankwor
Freelance journalist Olanma Obinze just landed the interview of a lifetime—if she'll agree to an ultimatum.
The Christmas Wish
Vanessa Miller
When R&B diva Trinity Thomas wishes on a falling star one Christmas Eve, she sees how different her life would have been.
This Holiday Magic
Celeste Norfleet, Janice Sims and Felicia Mason
Mistletoe kisses, Christmas wishes and the joy of falling in love…
This Winter Night
Janice Sims
The blizzard that snows her in brings Lauren Gaines an unexpected surprise: a hunky stranger who shows up on Christmas Eve.
Three Wyze Men
Kendra Norman
Only a Christmas miracle will make a woman wronged 17 years ago beg Steven Wyze's pardon.
Twelve Days of Pleasure
Deborah Fletcher Mello
Vanessa Harrison's holiday spirit goes from humdrum to armed and dangerous when the filmmaker becomes an eyewitness to a crime and Kendrick Boudreaux must keep her safe.